Asian women have gorgeous hair. One of the greatest boons that can be given to any ethnicity!
Be it waves, curls, straight or even coarse hair, once maintained and styled with the right intent, you can flaunt it. Highlighting your hair is the best decision you can make if you are an Asian woman.
Related: Coolest Short Hairstyles with Highlights
There are so many bold colours for Asian women that we are sure you will love.
We are here to do that favour for you by giving you the top Asian hairstyles with highlights that can up your game this 2021.
Top Asian Hairstyles With Highlights 2021

#1 – Ravishing Purple Ombre Highlights for Asian Women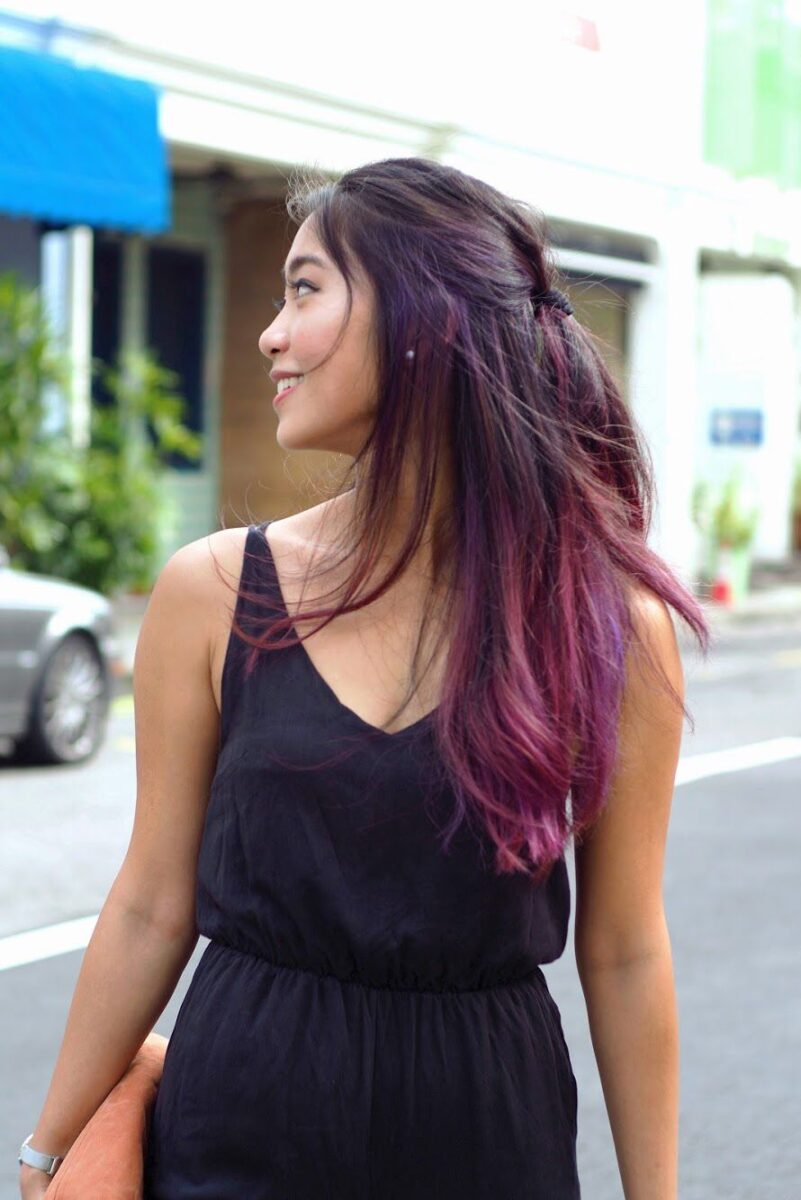 This has got to be one of the most exotic highlights out there!
The reason this one is in the beginning is because it fits in with the Asian skin tone and compliments the features so well.
Purple ombre has its way with presenting itself on people with dusky skin. The best part of having purple ombre as highlights is how much it stands out from the other colours.
You're on luck if you have wavy hair because these highlights look great with waves.

Tips
Decide on how intense you want the highlights to be. It could be lighter if you are not too confident about the colour although it can be changed over time.
#2 – Ash Bronde Highlights for Asian women
'Bronde' is a combination of brown and blonde. When used as highlights it gives an ashy and faded result which looks amazing with women with brown hair.
It has a sassy look which will ease out the pressure of dressing up. You can highlight it half down or even do highlights in regular highlights.

Tips
With these highlights, try not to wear dull coloured clothes.

#3 – Modern Shaggy Highlights for Asian Women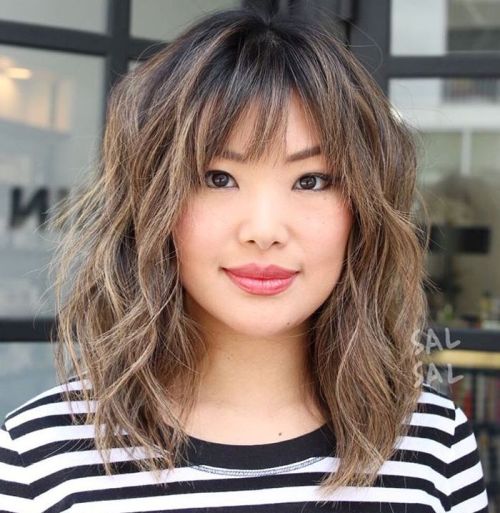 For those girls with bobs, we see you!
Highlights for the strands look the best on women with short hair. Make sure you know which colour you want since this is going on most of your hair. These highlights are there on the bigger portion of your hair and hence your choice should make sense.

Tips
Whatever colour you choose, make sure your skin colour approves of it.
#3 – Black to light brown highlights for Asian women
If you have black hair you have an ocean of choices with some hindering other features of yours. For example, there might be highlights that will look good on your short hair but won't do as much justice to your skin tone.
This caramelized look can be achieved on any skin tones. The lighter the better but it does not treat dusky tones that bad. However, if you have coarse hair, I would recommend you not to go for this. It makes the hair look rougher and in disarray.

Tips
Keep your hair brushed at all times or style it to maintain the look.
#4 – Pink Asymmetrical Bob Highlights with A-line
We all love an asymmetrical haircut. And even better when there is a bold colour as a highlight!
The pink highlight goes hand in hand fine hair. The asymmetrical bob on itself oozes confidence and the pink really ups the boldness.
Although it is perceived that people who have a darker complexion shouldn't be opting for lighter colours as highlights, this pink destroys that notion.
Tips
The asymmetrical haircut has a lot to do with face shapes so make sure yours is suitable for this hairstyle.
#5 – Choppy cut and wispy bangs with brown highlights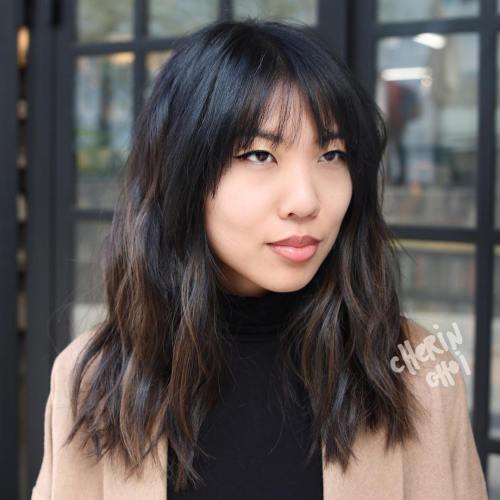 This is a super cute hairstyle that will look amazing on Asian women for the way it frames the face. The bangs are optional although it is a great add on.
The colour of the highlights can be literally anything. That is the beauty of having this hairstyle.
It allows any highlight to sit well. We recommend you not have highlights on the bangs as it will look all over the place. This is one of the most perfect choice for Asian women.

Tips
Use minimal highlighting so that it complements the framework of the hairstyle on itself.
#6 – Black and denim waves highlights for Asian women
This moody colour blends exceptionally well on black hair and looks great on any skin tone as the main aim of the highlight is that it is too subtle. Also, if you're looking for something out of the box and creative, this highlight is the one! Although denim highlights have been around for a long time, it has stayed away from the everyday look. It is without a doubt a crowd-pleaser. This works well with thick hair and curly hair.

Tips
We suggest you don't get this highlight done if you have curly hair.
#7 – Mermaid waves with side cornrows and highlights for Asian women
If you already have long hair then what are you doing if you don't have the mermaid waves!
It is the typical Ariel look that every girl has always dreamed of having! The purple highlights go so well on long hair and look gorgeous on Asian women.
Purple highlights look exceptionally well on those with dusky skin tone as it shines light on their features.

Tips
We recommend you not to try this highlight if you have frizzy hair as it is difficult to attain the look.
#8 – Side parted Mohawk with Turqoise Highlights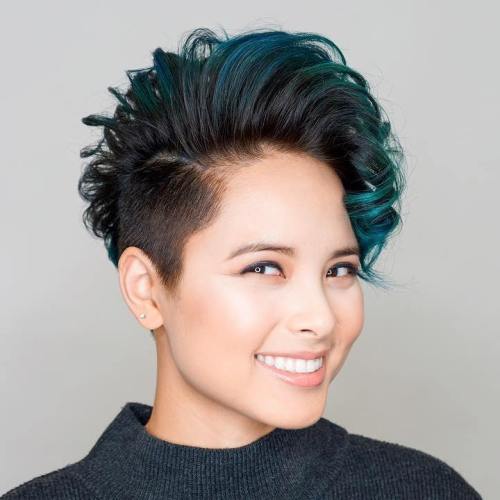 Clearly, this is a bold and extraordinary look!
Mohawks for girls is one of the most stylish and bold hairstyles that is out there. The presence of turquoise is the best part of choosing this hairstyle as it can change your look completely.
As per our observation, this is the best hair color that goes with a mohawk hairstyle and can look great on Asian women.

Tips
If you have straight hair, you might want to consider how you want the highlight.
#9 – Blue Festival braids with highlights for Asian hair
Blue highlights add a certain aesthetic and even more for Asian women because of their prominent features. Be it their facial features or their hair texture.
These festive braids are a treat. Although it can be hard to maintain, we assure you of the compliments you will receive with how this look can boost any occasion.

Tips
We recommend you not to get the extensions of these in case you change your mind.
#10- Long waves with subtle highlights for Asian hair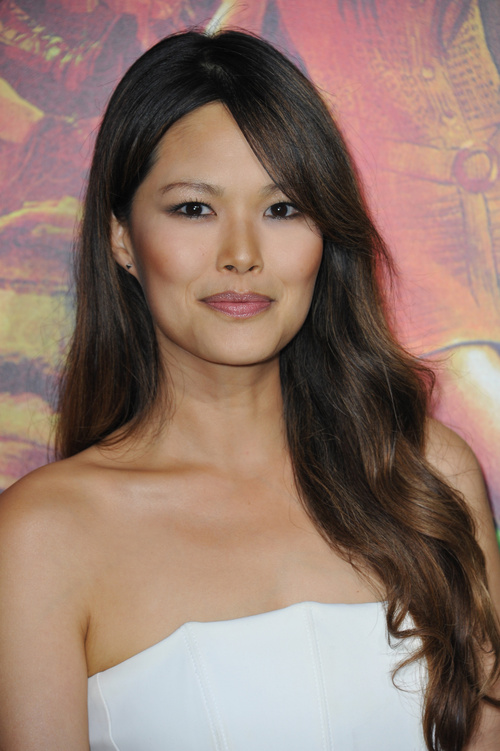 This can be attained by all Asian women as it does not take out much of your natural hair. As the name suggests, the highlights are subtle and make it look elegant. If you have long hair then you're in luck as this is sure to do justice.

Tips
Choose a dark hair color so that you keep up the subtlety.
#11 – Edgy textured bob Asian hairstyle with highlights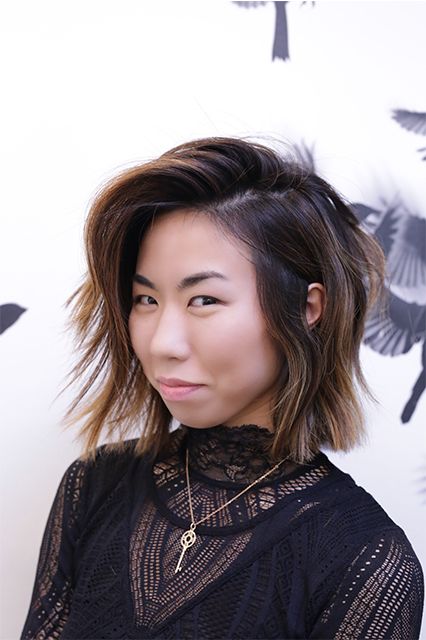 This is one of the classiest Asian hairstyles with highlights as it looks subtle and professional. If you don't want anything too drastic like neon or bronde, this caramel tone will do perfectly.
It's also one of the best highlights for Asian women with darker skin tones.
#12 – Cool silver Asian hairstyle with highlights
Silver hair isn't just a sign of aging anymore – it's a style statement! If you want to turn eyes than you can try out the silver highlights look.
But be warned this might require a lot of bleaching. I always suggest using a good hair treatment for bleached hair to help repair the damage.
Also invest in a good purple shampoo to keep your tresses silvery and prevent them from looking yellowish or brassy.
Here are some of the top quality purple shampoos for grey hair that will keep your hair healthy
#13 – Braided highlights for shoulder length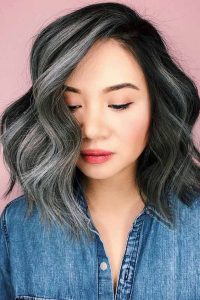 If you have shoulder length hair you can try these highlights as they add volume to your tresses.
#14 – Classical straight highlights for Asian women
Lighter, subtler highlights which are just a shade or two away from your hair add depth and dimension to an otherwise flat, straight haircut.
#15 – Shaggy lob highlights for Asian women
This is one of the edgier Asian hairstyles with highlights. Go for it if you're sure you can carry it off.
#16 – Icy purple mohawk Asian highlights
Bleaching just the tips of your mohawk and getting it a not-so-traditional shade such as purple will complete your rebellious look.
#17 – Neon long Asian hairstyles with highlights
Got boring long hair? Add some drama to it with the help of neon highlights such as these electric blue ones.
#18 – Classic bob Asian hairstyles with highlights
#19 – Wavy lob Asian hairstyles with highlights
#20 – Platinum blonde highlights
#21 – Soft Ombre Waves Highlights
#22 – Easy side downdo caramel highlights
FAQs – Asian hairstyles with highlights for women

It is given that Asian women have everything at their disposal to flaunt their beautiful features to their heart's content.
But there are some very important aspects to consider when you look at highlights. These colors have to depend on your skin tone, hair type and sometimes even your personality.
We have answered some queries to help you make sure of which hairstyle to opt for.

What Hair color looks good on Asian skin tone?
The reason we are delving deep into the subject is that it's easy to get overwhelmed with the hues and tones that everybody around us uses.
Sometimes we don't consider our own features while getting hair colors done and merely because it looks nice. Here are some guidelines to follow before you get your hair colored. 
Skin tone 
Make sure you make your peace with the fact that hair color and skin tone are directly dependent on each other. You need to find a hair color that will suit your skin tone.
A large majority of Asians have a warmer skin tone and so you can go with hues that will compliment that. 
Hair color and skin tone 
Make it a point to contrast your skin color with your hair color. This way both your hair and your face will illuminate in their own respective ways. Matching your hair color and your skin tone will only make you look paler. 
Eyes and hair color
One tip that can save you from regular visits to the
salon is that your hair
color should match your eyes. 


How long do blonde highlights last? 
If you've decided to go for
blonde hair
color then you will also have to accept the fact that there is a lot of maintenance that goes into it.
Blonde shade tends to wear off colour and hence requires a lot of attention. There are products that you can use to keep the blonde shade intact. But unlike auburn this is easy to maintain and it looks elegant too.
The main reason you have to maintain blonde hair is that the wearing off process gives a weary hair color which does not look good on the hair.
Hair specialists recommend getting a root touch every now and then. 



Do highlights ruin your hair? 

Anything that is chemical will have an impact on the hair. Especially when used too much or in the wrong way. Highlights do have the capability to take the wrong toll but not when used in moderation and maintained well afterwards. It is definitely safer than bleach but still requires constant care and maintenance. 
Read also
Here is the right way to use a hair straightener
Genuine and safe Alibaba hair vendors
Hair dye removers that are safe and good quality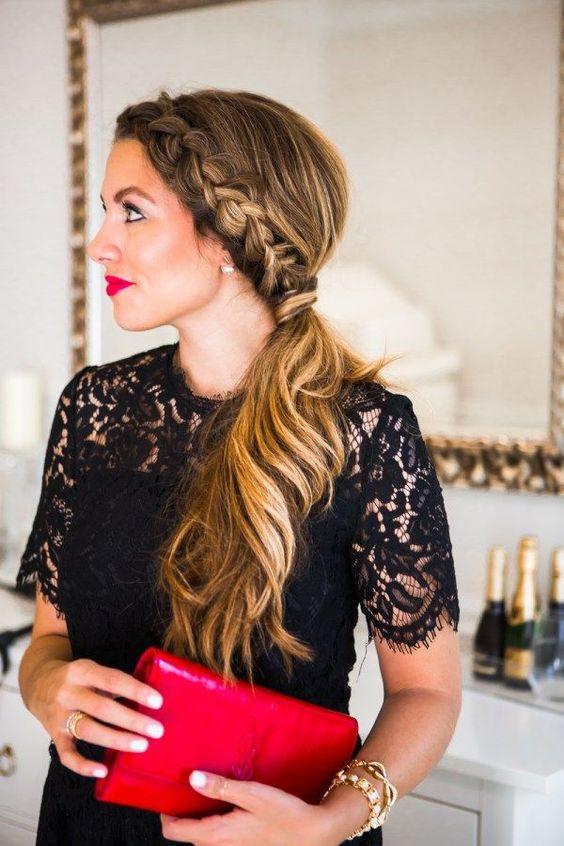 From hair care to soaring hair trends, we cover it all. We make sure you nurture your hair and stay on board with hairstyles and new hair trends. So hop on and make every day count with some of our creative and sassy hair trends.