Braids and other protective hairstyles are great for growing out your Afro hair. And to give you that length there are the best hair extensions for braids in the meantime.
These hair extensions can be of different styles like box braids, sengalese twists, or French twists. And they come in different lengths too!
Hair extensions for braids make it so much easier for African American women to experiment with their locks. These extensions are made of materials like Kanekalon which are safe on your natural hair.
From Sensationnel to FreeTress, you'll find many popular hair extension brands here. Check out our favourite best hair extensions for braids below!
Related: Best festival hair extensions
Related: Best hair extensions for thin hair
Related: Best lace wig vendors on Aliexpress
Top Hair Extensions For Braids In 2021
Sensationnel Synthetic Kanekalon Braiding Hair Extensions
Best Kanekalon Hair Extensions For Braids
As we've mentioned before, Kanekalon is one of the best materials for artificial hair extensions. And this synthetic fiber is exactly what the Sensationnel Hair Extensions are made of.
They have a brilliant natural look and feel to them. But unlike human hair wigs they're easy to work with and do not come undone.
We really liked how soft and lightweight these extensions feel on your hair. They weigh just 165g for an 82 inch length.
These Sensationnel braids are also tangle-free and flame-retardant. And you can even braid them with a hot water setting without damaging these extensions.
The best part? Sensationnel offers them in multiple colors – both natural and otherwise. So you can get brown, black, or blonde extensions along with colors like purple and red.
Pros:
Tangle-free
Flame-retardant
Lightweight
Kanekalon fiber
Cons:
Xpression Outre Synthetic Hair Braids
Best Hair Extensions For Braids Overall
X-pression is one of the top hair extensions for braids brands out there. They create soft, durable, extensions from Kanekalon synthetic fiber that looks just like natural hair.
These Outre Braids are ultra-lightweight and have a length of about 52 inches. And you can even braid them in a hot water setting.
But the most impressive thing about these hair extensions is that they are pre-stretched at least thrice. So you get a beautiful, tapered finish to your braided hairstyles.
The X-Pression Hair Braids are also pre-layered and tangle free.
Pros:
Pre-stretched
Kanekalon fiber
Available in multiple colors
Cons:
Nayo Pre-Stretched Braid Yaki Texture
Best Pre-Stretched Hair Extensions For Braids
These hair extensions by Nayo are another fantastic pre-stretched ones that we liked. What's great about these extensions is their price. Unlike X-Pression, these are more reasonably priced.
However, you won't get that premium quality like with more expensive brands. These extensions are made of regular synthetic fibers and not Kanekalon.
But what sold us about these extensions is the yaki texture. So you can wear this hair as it is, or use it for box braids, or create a Sengalese twist crochet. The choice is yours!
Pros:
Pre-stretched
Yaki hair texture
Reasonably priced
Cons:
Besteffie Ombre Braiding Hair
Best Ombre Hair Extensions For Braids
Braids don't need to be boring. If you want to add a colorful twist to your tresses, try these Ombre braiding hair extensions by Besteffie. They come in several different tones too.
Like all quality hair extensions for braids, these too are made of kanekalon fibers. So they are heat resistant, durable, easy to braid and twist, and hold up really well.
These extensions are super lightweight too! The 24 inch extensions weigh about 100gms. We liked how it didn't have that chemical smell typical of hair extensions.
Pros:
Jumbo extensions
Kanekalon fiber
Heat-resistant
Lightweight
Cons:
Hair dye might bleed while washing
Relena Goddess Senegalese Twist Crochet Hair
Best Hair For Box Braids With Loose Ends
Senegalese twist hair is one of the most stylish looking braids hairstyles. So if you want hair extensions in this texture, this pack by Relena is a good choice.
It's super-lightweight, the 24-inch extensions weigh just 110g. You also get a crochet needle for free with this 5-pack extension.
The hair extensions can be used in hot water and give a natural, shiny look to your tresses.
Pros:
Tangle and itch-free
Easy to install
No chemical smell
Shiny and soft
Cons:
Not Kanekalon hair
Not pre-twisted
HH Fashion Marley Braiding Hair Synthetic Afro Kinky
Best Hair Extensions For Crochet Braids
If you want a more fluffy, Afro-like texture to your braids, then try these Marley Braiding Hair. The tangle-free hair adds more volume to your tresses.
The synthetic hair extensions for braids are made of Kanekalon so you can expect good quality. These are also very easy to braid into different styles as required. You even get a free crochet!
It takes anywhere between 3-6 pieces to create a full head of braids. So there's a chance you might end up buying more pieces.
We also feel at 210g, these hair extensions seem a bit heavier if you have them on for longer.
Pros:
Tangle-free
Lightweight
Fluffy, Afro texture
No chemical smell
Cons:
Not enough hair if you want a fuller look
The Sassy Collection Kanekalon Jumbo Braid
Best Hair Extensions For French Braids
A jumbo braid is very useful if you want to experiment with different styles. And the fact that these hair extensions are made of Kanekalon instantly give it an advantage over others.
You can use them to create box braids or twist your hair into cornrows. If you want to French braid you can add these Kanekalon fibers as stuffing too.
It's also good for adding volume to your ponytail hairstyles. Like most Kanekalon fibers, these extensions do not tangle and are easy to twist and braid.
Pros:
Fantastic length for braids
Natural-looking
Cons:
Can't color it a different shade
Braid color seems darker than usual
FreeTress Crochet Box Braids
Best Hair Extensions For Box Braids
These FreeTress hair extensions are made of natural-looking Kanekalon fiber and are super easy to install. You can even use them in a hot water setting. They always give a tight hold.
The extensions are 20 inches long, so you get a decent amount of length.
We liked how these box braids were individually pre-looped to save you time while installation. Their quality is top-notch too.
A lot of users noticed a chemical smell to it though. So we suggest giving it a apple cider vinegar rinse before use.
Pros:
Lightweight
Soft and natural-looking
Tight hold
Cons:
What is the best hair extension for braids?
After looking at at several brands and judging them on basis of quality, price, material, etc. We've come to the conclusion that the Sensationnel Synthetic Kanekalon Braiding Hair Extensions are the best hair extensions for braids.
The Sensationnel Synthetic Braid Hair Extensions are made of Kanekalon that closely mimics the structure and look of natural Afro hair. These hair extensions are flame-retardant, high-quality, and easy to braid and twist. You can even use these hair extensions in hot water setting. The Sensationnel braids offer premium quality and come in several braid colors.
Which is the best braiding hair for sensitive scalp?
Any synthetic hair fiber including Kanekalon isn't recommended if you have very sensitive scalp or issues like rosacea or psoriasis. These fibers contain an alkaline coating that can cause irritation.
But the issue now is that human hair or remy hair isn't used for braid extensions as these are too slippery. So what do you do?
The answer is simple. You can just use a mix of apple cider vinegar and water to treat your synthetic hair extensions before wearing them.
This mixture acts as a clarifying agent that removes any pesky chemicals from your wig.
How long do braids with extensions last?
We do not suggest keeping your braid extensions any longer than six to eight weeks. After this time, your natural hair starts growing out.
These new strands can get tangled and matted into the extensions, causing damage and breakage.
What is the best quality hair for extensions?
Kanekalon braiding hair extensions are the best quality hair extensions. This synthetic material is stiff or tough to work with. And like other plastic extensions, Kanekalon doesn't have that fake shine to it.
Tokyokolan is another good material used for hair extension for braids. But we still think Kanekalon is better as it is more natural-looking.
Kanekolan hair extensions for braids use a synthetic polymer that replicates natural hair protein. So these hair extensions make your braids look as if they are real. We definitely think it makes for the best quality hair extensions for braids.
Is human or synthetic hair better for braiding?
Human hair isn't generally used for braiding as it's too soft and slippery to work with. So most hair extensions for braids come in synthetic hair materials like kanekalon, Tokyokolan or good old plastic.
Also, human hair is mostly like to unravel after a while. It's also difficult to find hair extensions that resemble your natural texture.
If you want an instant makeover, using hair extensions on your braids is the easiest way to go about it. These hair extensions for braids keep your tresses looking stylish while you grow your natural hair out.
You can pick from the different styles and length of extensions given above to suit your preferences. These high-quality hair extensions are made of durable materials like kanekalon and are safe for your natural hair.
Also Read:
Best hairspray for synthetic wigs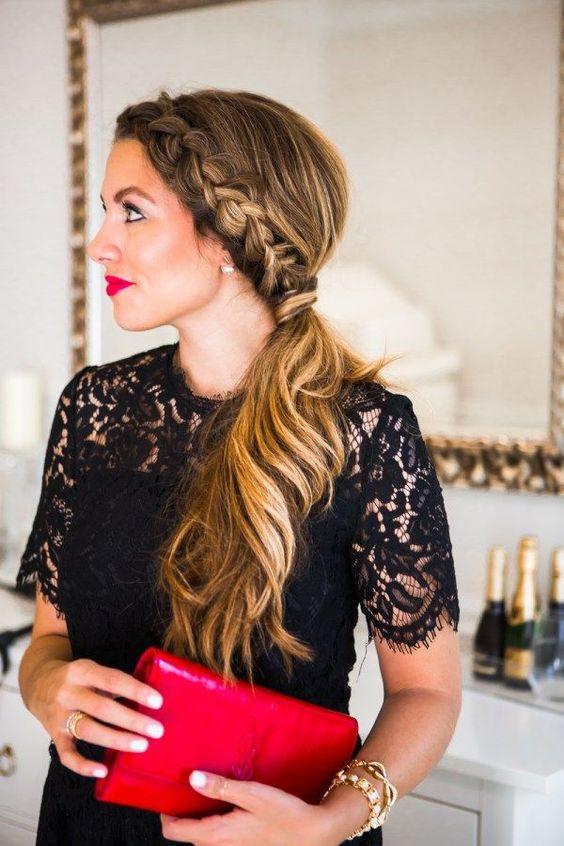 From hair care to soaring hair trends, we cover it all. We make sure you nurture your hair and stay on board with hairstyles and new hair trends. So hop on and make every day count with some of our creative and sassy hair trends.