Sarees are one of the most beautiful traditional wears for women in India. Sarees are the perfect clothing for any occasion such as farewell, weddings, company events, traditional festivals like Diwali and others. But what are the hairstyles that will suit a saree? Can you pull off a ponytail while wearing a saree? Not exactly. A saree requires a different hairstyle and it really depends on your face type as well. So what are the best Indian hairstyles for sarees? Let's find out!
Best Indian hairstyle for sarees
#1 – A Bun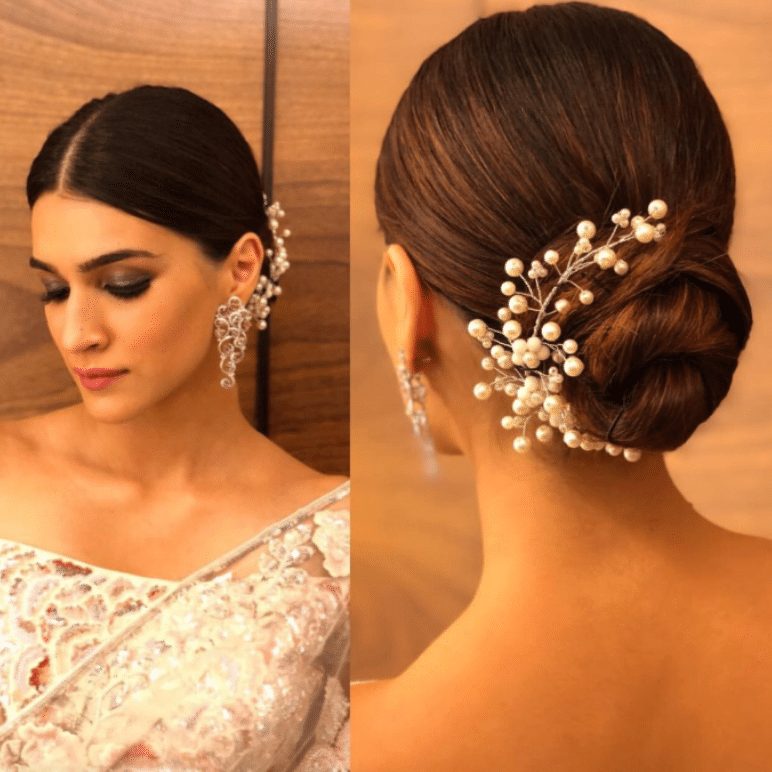 One of the most iconic and classic looks for a saree is a bun. It's a clean and polished look that will stand well and doesn't have to be taken care of during the event. If the weather is bad, your hair will still hold. There are numerous styles of buns you can create. Here are a few of them.

Sleek side bun
Twisted low bun
Side pinned bun
Ballerina bun
Low neck bun
Shell bun
Deepika Padukone is known to wear a bun when she wears a saree. She has popularized the low neck bun and it is honestly one of the best looks for a saree. Neat, elegant and your hair stays clear off the face. Best hairstyle for hot indian summers in a saree.

#2 – Loose Curls

This is a kind of a hairstyle that doesn't require you to go to a salon, but you can still get the salon effect. This is a pretty easy to execute if you have a curling iron. All you need to do to create this hairstyle is, make sure your hair is straightened with a straightener and then you use a curler to twist your hair. You don't have to curl the entire length, but you just need to curl your hair from the shoulder down. For this hairstyle you will need long hair that will let you curl it. This is a super awesome hairstyle that is simple to do and will look amazing with a saree!

#3 – Braid
The most iconic hairstyle for a saree is the braid. Also called a 'Plait'. A lot of south Indian women sport a braid hairstyle in their weddings. Apart from being pretty easy to create, this hairstyle looks super elegant as well. Braids isn't one hairstyle. There are various type of braids such as

French Style Braid
Fishtail Braid
Dutch Braid
Rope Twisted Braid
Pull Through Braid
Reverse Braid
Waterfall Braid
The most popular braid hairstyle in Indian for wedding functions is the dutch braid. A braid is a super beautiful hairstyle when wearing a saree.

#4 – Waves
Waves is another type of hairstyle that suits a saree perfectly. The only problem with this hairstyle is that, you need to ensure that you get the waves perfectly well done by a professional, otherwise, the hairstyle can look really bad. This is also a hairstyle that is not well suited for humid weather, where your hair will start to get frizzy. So in cold climates, this is a good hairstyle. So how you get waves? It's similar to the curls hairstyle but with a slight difference. If you want to sport a good waves hairstyle with a saree, then it's better to employ a professional hair stylist to come and do it for you.
#5 – Bubble ponytail
The Bubble Ponytail is a new age, trendy hairstyle that is trending in 2021. It's a very unique hairstyle that looks great, but a little difficult to execute. So how does a bubble ponytail look? A bubble ponytail is similar to your normal ponytail, except there are clamps along with your ponytail and in between the clamps, the hair has a puffy look, like a bubble. The size of the bubble depends on you. This is generally worn pretty high on the back of your head and this is a hairstyle suited for women who love the attention. This is a catchy hairstyle which looks great! 

#6 – Gajra Bun

This is the kind of hairstyle that needs a dedicated section as this is the most traditional and beautiful hairstyle for a woman in a saree. So what is a gajra bun? A gajra bun, is a normal traditional bun with flowers around it. A lot of women style it rather differently by creating two layers of flowers. One for the bun and one before, giving it a dual look. In some cases, the flowers encompass the entire bun and cover it totally, but this can make your hair look bulky. Another possible style with the gajra bun is to add a piece of jewellery to the end of the bun, while the flower surrounds your bun.

#7 – Chinese Top Knot
The Chinese Top Knot is a type of bun where the hair is rolled up on top. Why is this bun given a separate section? Well this is a super hairstyle that has the two best combinations. Easy to create and super stylish. If you wear a Chinese top knot with a sleeveless blouse, then your look will turn heads. This is a hairstyle that you can easily create at home without any fuss and it will take you only about a few minutes to create. It's easy, works with medium length hair as well and its super effective. So if you need to attend an event, and don't have a hairstyle planned, choose the Chinese top knot and rock the party!

#8 – Loop half-up

The Loop Half-up honestly is one of the most beautiful hairstyles out there. It's the most elegant hairstyle to look at. But generally, this hairstyle requires the wearer to let their hair loose. If you are fine with letting your hair loose, this will be a great look. Otherwise you can always create the half of the loop half-up. This is where you let your hair down and the bottom is rolled up and made into a loop. It's a 'classic' hairstyle which will give you the yesteryear vibes. If you want to look like a classy woman, this is a hairstyle that you should consider wearing!

#9 – Side Swept Hair
If you love to flaunt your hair, then there is no better way to flaunt it than the side swept hair. For most of the hairstyles the actual style is in the back of the head. The side swept hair is different, your hair is swept towards to the side and brought to the front. This is an awesome look that suits women with long hair and this is an awesome hairstyle for sarees as well. The best part? Requires almost no preparation. Have a quick office function or a festival to attend? Then use the side swept hairstyle to wear with your saree and be the center of attention!

#10 – Side braid + bun
Lastly, a super stylish hairstyle that I personally love. It's the side braid with a bun. A side braid is one of the most popular sarees looks. It looks like a flower arrangement and looks pretty amazing. The bun with the side braid is an additional look, that makes it a perfect hairstyle. Beautiful and easy to maintain? This is the perfect hairstyle for a saree.
#11- Low ponytail Indian hairstyle for saree
#12 – Side french braid hairstyle for saree
#13 – Crown braided bun
#14 – Bubbly ponytail with saree
#15 – Swept back bun with saree
#16 – Indian hairstyle for saree for round face
#17 – Thick Side braided bun hairstyle with saree
#18 – Puffed bun hairstyle with saree
#19 – Messy low bun with saree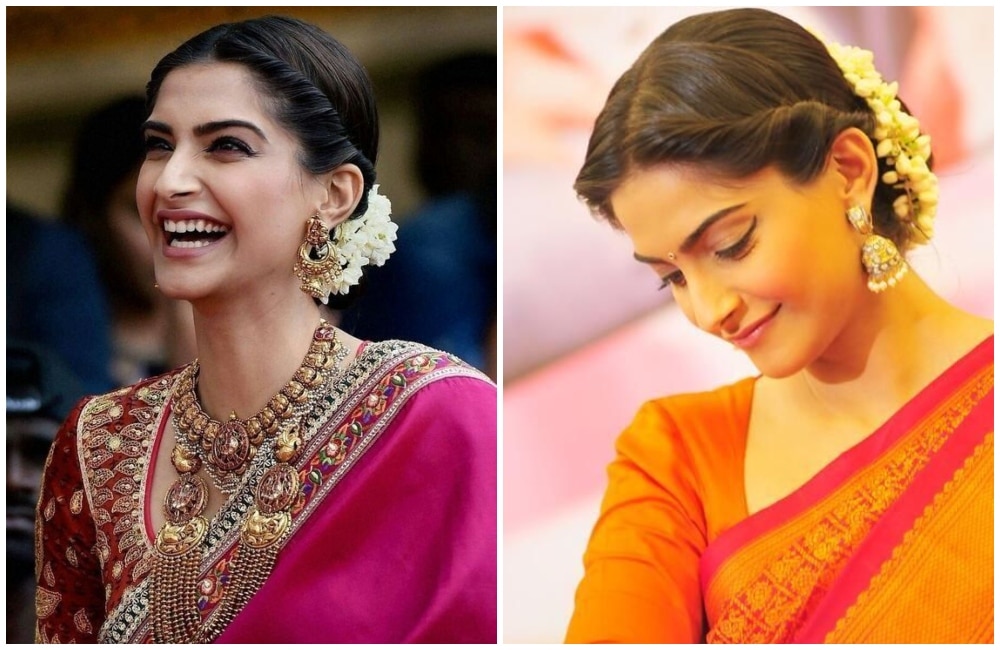 #20 – Half up half down curls with saree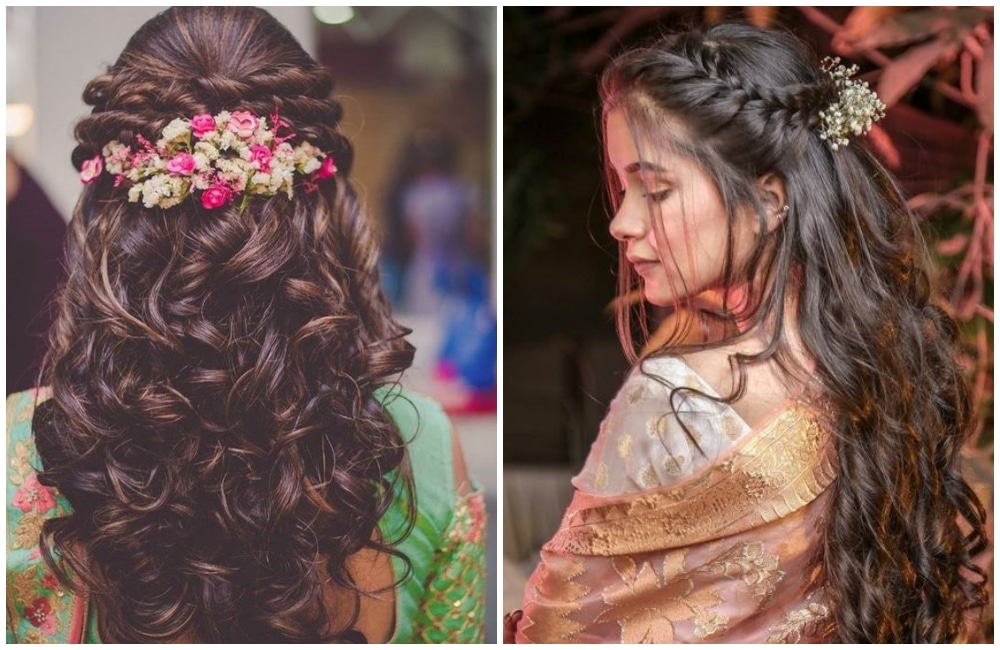 All these above hairstyles are perfect for a wedding as well. You don't need to look further than this. If you are stressed about getting a perfect hairstyle for a saree, don't be. A saree is one of the most versatile dresses. Even for medium hair sarees are a great attire.
Also Read :
Hairstyles to try out if you have shoulder length hair
Try these hairstyles if you have thin hair
Here are some hairstyles for older women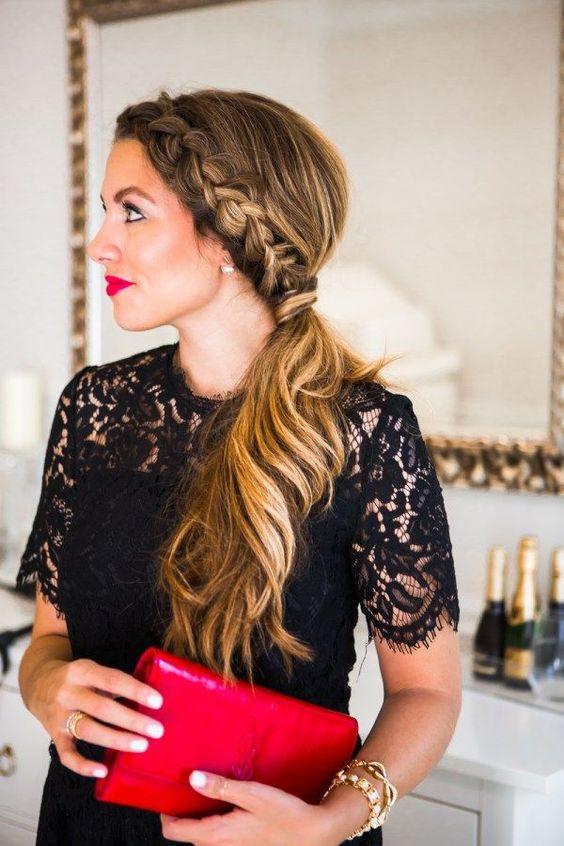 From hair care to soaring hair trends, we cover it all. We make sure you nurture your hair and stay on board with hairstyles and new hair trends. So hop on and make every day count with some of our creative and sassy hair trends.