Styling long hair can be quite a challenge. So here are some long haircuts for women. These styles suit all hair types.
Long hair can never be out of fashion. Contrary to popular belief there are several styles that you can explore with long hair.
The mantra to make long hair work is by keeping your style simple yet elegant. If you are still not convinced, we have the perfect 10 women haircuts or style for long hair.
Long Haircuts For Women 2021
#1 – Layers at the front
If you have a good volume of hair at the back and comparatively sparse at the front, then this should be your ideal haircut.
With long hair, the weight becomes uneven throughout the head. To even out, get layers at the front. Blunt edges will add more bounce.
Styling this haircut is very easy. Backcomb the layers, tie your hair in a ponytail and you are set for the day.
If you literally want to let your hair down, gather the layers at a side, and pin them. Keep the back hair free and flowing.
This hair cut is ideal for oval and oblong faces. Keep it wavy or sleek, take your pick. If you have square or heart face, keep your layers straightened for the maximum effect.
It will add more prominence to your facial features.
#2 – Side-brushed curls
The curls on the side are the perfect compliment to a long, wavy hair. This haircut is a match made in heaven for people with long hair and square faces.
After getting the hair-cut, the blow dry will set the structure. Do not rinse it immediately. To maintain this stunning look, apply styling gel, start curling with iron from root to tip. Do not do intensive curling.
Keep it wavy for maximum effect. Curl in chinks and broad sections of the hair. This hair-cut is perfect if you want a chic yet funky new look. This haircut gives you the perfect locks to highlight your forehead and cheekbone.
It softens jawbone and shape of the nose. Coloured hair extensions can compliment your attire. Your haircut will certainly stand out in the crowd.
#3 – Volume for the crown
Crown is a tricky area, yet as the name suggests is worth the adornment. So when styling your long hair, pay attention to the crown of the head.
Your main goal should be to give it a lift and add volume. To get the desired result, get a textured fringe.
Your hairstylist will typically backcomb your hair, part it in the middle and begin his magic. Whenever you take a shower, towel dries the bangs, followed by an intense blow-drying session for best result.
Daily, brush your hair outside in and tease along the hairline. The problem with long hair is that it can appear lifeless and dull due to lack of volume, especially at the top of your head.
This fringe-style is the best hair cut if you want a special something for your long locks.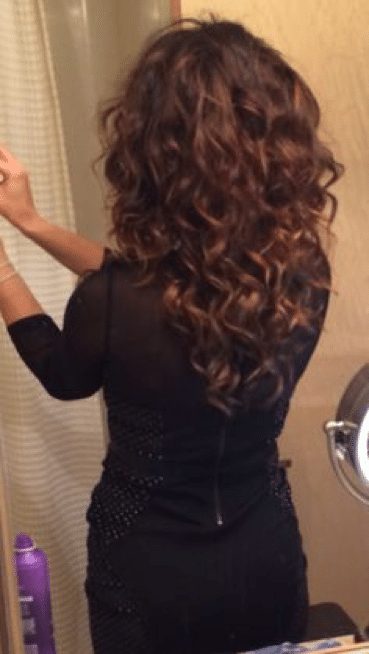 #4 – Even long curls
This look has an effortless charm. Long, loose curls are that dreamy look we all dream of to get one day.
Well if today is the day for you to get it done, then this is how you should do it. To begin with, get along U-cut or a deep V – cut for your hair. Iron the curls along the length. Keep them well-brushed.
This is a sleek and highly sophisticated look. Maintaining it might be a little difficult than others. You can densely pack your curls, it goes well with long hair cut in U or V shape. Make sure that you keep trimming the end of the curls to avoid split ends.
The more indents you get in your hair, the styling will look more unkempt. This is a perfect hairstyle for people with long hair who have sharp jaws and defined eyebrows.
#5 – Layers across
This is the low-maintenance haircut that makes you look like a superstar. To pull this look your hair must have a silky appearance and they must be naturally straight.
Getting layers across your length gives you the advantage of adding volume in sections. You can adjust according to your need.
People with a square face rock this look the best. It makes the face look much softer and brings a symmetrical appearance. The face-framing advantage that this haircut has can work wonders with a round face as well.
This is a perfect professional style that people with long hair can choose. Get highlights in a shade lighter than your natural colour.
This hair cut will give definition to your hairstyle. Avoid any type of fringes or bangs with this type of haircut.
#6 – Simple and subtle
Most probably you can picture only a supermodel with a pin straight hair. However, this look is very much achievable and easy to maintain as well.
For an evenly toned, flattened hair, ironing after a trim can give the desired effect. Make sure that you apply generously a heat protectant.
For extra shine, add a serum, before you brush your hair to perfection. Sporting this look can give an enormous boost to your confidence. It looks posh and easy to maintain. If you get split ends, remove them frequently.
The key to this hairstyle is stark straightness. Keep the frizz at bay with a serum protector. If you are considering colouring, skip the balayage and go from monochrome.
Pick a colour closest to your natural hair colour.
#7 – Sharp edges
Diagonal lines can instantly give your hair a lift. The snipped ends will bring texture and make your hair look softer.
The key to getting this look is by having a whole head of hair with the same length. The sharpened strands have a very elegant and corporate appeal to it. Often a razor is used to give more refined finishing. This haircut is suitable for every type of face. It works well with not just long but also medium hair length as well.
When tying up, pay attention to the edges. They may stand out and give your hair a rugged appearance.
Avoiding ponytail may be a good idea. Yet if you want one, tie your hair at one side. Pull off this scrunchy look with an embellished scrunchy.
#8 – Long Layered Hair with Bangs
This is a haircut that seems to stay stylish forever. Earlier it used to be means of covering up broad foreheads, but it has more to offer. The versatility of this cut has helped it stand the test of time. Its popularity is here to stay, in fact, growing. To get the best-suited bangs for your long hair that also does justice to your face, follow the rule of the triangle.
There should be a triangle formation from the top of your head to the outer corner of your eyes. Bangs are for everybody. It suits almost all face cuts.
However, if you do not like hair distracting you from time to time, give the old bangs a miss. Most people also see bang as the dash of spice to a boring long hair.
Bangs does add a bit of glamour to long hair which is cut symmetrically.
#9 – Team it up
Do you think it's impossible to have a complete makeover for your long hair, yet not compromise with length? Well, it is certainly possible.
You can get this style by opting for side bangs with layers. The side bangs add more depth to your hair at the front. To stylize the bangs comb them on the sides.
Make it fall on either side or let them gently fall at one side. It is important to keep changing the direction of the bangs to have healthy hair.
The layers will jazz up your length. For long hair, avoid getting layers above the chin. The shoulder is the best place to start getting those layers. If you have silky and smooth hair, getting layers and a side bang will be ideal for you.
This cut will give you the much-needed bounce and make your hair appear much thick. Add some hair extensions from Aliexpress too!
#10 – Layers in tiers
Instead of getting carried away with your layers, have them in two tiers only. Frequent layers need trims from time to time.
Otherwise, they can give out the appearance of untidy hair. The layers will add structure to your face and help you achieve that full-bodied hair you so desire.
Having a few layers in the place of many can also add movement to the hair. It will add to their natural flow. You must pay attention to your dream look goal. If it is a messy look you are going after, layers with waves will work amazingly.
If you want a high-end finish, do not let the layers be pronounced. A hint of layering in tiers is what princesses from fairy tales seek.
The only problem with this haircut is you need to have good hair quality. Brittle hair will not be able to live up to the expectation that this cut brings.
With so much length by your side, the options for you to explore are plenty. No matter how you style your hair, keeping it clean is essential. Always remember the two BFFs for long hair are shampoo and conditioner.
#11 – Textured bangs Long haircut for women
#12 – Volume Up Top haircut for women with long hair
#13 – Front Layers for women with long hair
#14- Tight curls haircut for long hair women
#15 – All around layers haircut for women
#16 – Long and subtle haircut
#17 – Tapered ends long haircuts for women
#18 – Diagonal lines long haircuts for women
#19 – Shallow snipped ends haircut for women with long hair
#20 – Low layers haircut for women with long hair
The above mentioned haircuts will help you embrace your long hair. But maintaining long hair can be tricky because of the length. It will depend on various aspects including your hair type.
These haircuts will sure serve as a solution to any issue that you are grappling with.
Is long hair in style for ladies?
According to me, long hair has and is still a symbol of elegance. Don't you just gape at those women with hair so flowy and long just because it looks dreamy!
However, having long hair can be dependent on how you style it. It could be based on what you're wearing or just the mood.
There are a myriad of styles you can get done with your long hair. No end to that list!
It also depends on the hair type. Straight, curly and wavy hair have their own pros. You just have to figure out the right style based on your height, style, occasion and other factors.
Maintaining your long hair is also very important for obvious reasons. To top it off, you need to keep it the right length and not let it look very jungly.
Long hair is and will always be the signature hairstyle for women.
Does long hair make a woman look younger or older?
Pulling off long hair can be a pretty millennial trend. And it is definitely the easier choice to match with all the outfits just sitting in your closet.
But long hair can make you look older than you actually are. It gives you a sense of maturity that you don't have when you have hair shorter in length.
This can also depend on the texture of your hair and the kind of haircut you are going for it.
FAQs – Long Haircuts for Women
Does long hair make you look older?
No no really. There is a misconception that long hair can make one appear older. But it's not true. It all depends on the style of your long hair.
Getting bangs or adding layers to your long hair can in fact, make you appear more youthful. However, for some women straight long hair can give the illusion of thinner cheeks, which can give a more mature look.
But it's something that can easily be fixed if you get a different haircut. You don't need to change your hair length.
Can long hair make you appear slimmer?
Yes, to a certain extent long hair can make your face appear slimmer, giving the illusion of thinness. Long hair tends to elongate round, chubby faces so they appear more oval in shape.
Wearing hair long over your ears can also hide certain areas of your face. So to the viewer your face appears slim.
These were some of the best long haircuts for women. Managing and styling long hair doesn't have to be a hassle.
With these haircuts, you can keep your long hair looking stylish always!
Also read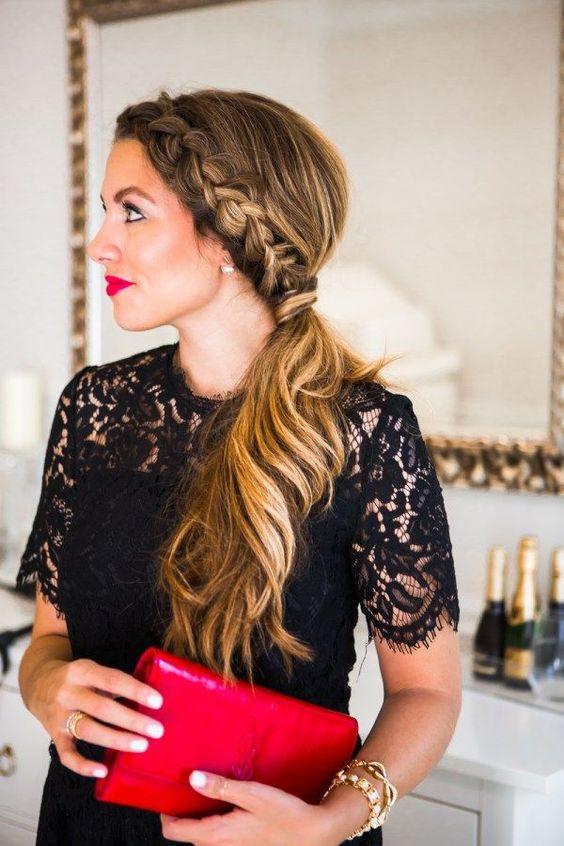 From hair care to soaring hair trends, we cover it all. We make sure you nurture your hair and stay on board with hairstyles and new hair trends. So hop on and make every day count with some of our creative and sassy hair trends.