Men don't have as many problems that women have. But there are a few problems most men think about when they grow older and that is losing hair and going bald.
There are numerous options such as a hair transplant or laser treatment that can be done. But for the average person that is super expensive.
A hair transplant can cost thousands of dollars and some of them are botched up too. So what is the other option for men to regain their glorious mane?

To use hairpieces of course! Today we find out the best men's hairpieces!
Related: Best Hair Growth Products For Men
Related: How To Prevent Hair Loss For Black Men
Related: Best Laser Caps For Hair Losss
Top Men's Hair Pieces 2021

There are a lot of questions that most men have when it comes to men's hair pieces. The most common terminology is 'Mens Hair Replacement System'.
So what is this system? A system can be anything from a wig, toupee or plugs. This is a much better solution than a hair transplant because not everybody can benefit from a hair transplant.

In case you don't have strong enough hair follicles, hair transplantation cannot be done for you. A transplant also is taking a portion of hair from one part of your body and putting it on your scalp.
A hair replacement system is much more versatile with your own choice of hairstyle, hair colour, shapes and sizes. If it suits you, you can wear it!
Getting good quality men's hair pieces is also super cheap compared to a hair transplant.
#1 – Eversilky's Men Toupee
The Every Silky' Men's Toupee should be in everybody's collection if you have balding hair or thinning hair. This is one of the most versatile hair pieces going around. It can be modified and change to any style that you so require.
The Length is about 6-inches and has two different densities – 110% and 120%.

The toupee itself comes in a variety of colours – black, brown, silver, burgundy, black & white, peppered, blonde, auburn and more.
No matter what hair colour you have and what beard colour you have, you will find the perfect colour of your choice with the Ever Silky's Men Toupee.
#2 – Simbeauty's Men Toupee
The Simbeauty's Men Toupee is unlike many other types of toupees. It is super light and has a natural silky finish unlike many other toupees out there.
It's made of 100% virgin human hair and the standard length is 6-inches, but it also comes in a bigger size. When it comes to the base of the hair, there are many varieties they offer.
Full lace, ultra thin skin, mono, lace front, Q6 and NPU. Depending on what type of base suits you, you can get your toupee done with that material.

It's available in a few colours such as black, brown, auburn and blonde. So what are the hairstyles you can try with this toupee? You can try the slick back, spikes, side part and other men's haircuts.
#3 – Tsingatowigs Men Toupee
If you have a super rare hair colour that you haven't seen before and most of the toupees out there have your standard colours, then TsingtaoWigs Toupee can help.
They have more than 50 colours for their toupees. It ranges from different shades of black to brown to blonde and more. No matter what your hair colour is, they will have an option.

Tsingatowgis toupee also comes in two colours that are 100% and 120%.
If for some reason, your hair colour isn't available, you can send a sample of your hair to the seller and their hair technician, who will find the right colour and create a dye for it and make your toupee ready.
This usually happens when the person has a not-so-common hair color like blue, balayage color, etc.
#4 – Eversilky's Long Toupee For Men
Eversilky's Long Toupee is for those guys who want longer hair. Although the toupee length is 6-inches. It does come in a variety of sizes that are 5X7, all the way to 8X10.
It comes in two different densities too, they are 110% and 120%. This toupee can be styled in any way that you want that includes side part, spikes, loose hair and so on.
These men's hair pieces come in 4 different colour options. If you are looking for good long-term toupee, then this should be your choice!
#5 – Simbeauty's Men's Toupee
The Sim Beauty's Swiss Lace is one of the top hair pieces out there for men. It is made of 100% natural virgin human hair. The standard length for the toupee is 6-inches.
It has a natural wave texture that looks natural and is super soft to the touch. The type of base is a french lace with 2-inches PU in back hair replacement.
The french lace aids breathability and it has the most natural look that looks like the hair is growing out of your scalp.
It comes in two densities that are 110% and 120%. The toupee also comes in a variety of colours that are blonde, black, grey, auburn, brown, peppered and more.
#6 – Ever Silky's Salt and Pepper
Most men who bald start balding at the age of 40+ when their hair is peppered and it starts thinning. One of the best things you can do to stand out is to wear a toupee.
When most men in their 40's and 50's are balding, if you have a head full of hair, it looks great. But a lot of toupees out there look super unnatural and it looks like you are wearing a wig, which is pretty bad.
This is why Eversliky' Salt and Pepper toupee is one of the most natural-looking ones out there. It has grey and black hair, which gives that George Clooney likes the peppered look. This is a solid product that will make the wearer look amazing.
#7 – Slim Beauty's Old Man Toupee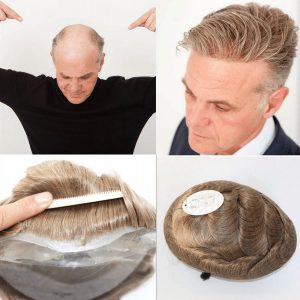 The Old Man Toupee from slim beauty is one of those natural-looking toupees which look pretty great. As you grow older, your hair starts to thin and you don't have that thick hair you used to previously have.
The Slim Beauty's oldere men toupee has the thickness and length of hair that mimics a real old man's head full of hair. This makes it supernatural and looks great!
It's available in numerous colours that include black, grey, blonde, brown, golden, and more. The standard length is 6-inches and the toupee size is 8X10.
#8 – European Virgin Human Hair
If you are European, then you might have realized that the hair texture and finish are different from hair from other parts of the world. So if you are looking for genuine Europen Virgin human hair, check this product out!
#9 – European Remy Human hair for thinning hair
The Remy hair from the European texture is a silky yet firm piece that is of great quality. Customers who have purchased the product have rated it 4 out of 5 which is pretty amazing.
This works well with all ethnicity since the colour of the hair is dark brown. The length of the hair is medium which again perfect for literally anyone looking for a hair wig.
This hairpiece is again from the Eversilky store on Aliexpress
#10 – Evasmooth Men Toupee Lace front wig
As you can see this hair wig comes in various different colours which cater to different face kinds.
In case of dissatisfaction of any customer you can just exchange it for some color you'd preferably like or prefer. The hair wig has a whopping 5-star rating from its customers,
FAQs – Men's Hair Pieces
If you have been keen on choosing the right hairpiece for yourself then we are sure you come with a lot of queries and clarification.
It is important to be sure of the process and to be aware of what kind of hairpieces to pick. So we will guide you with everything you need to know about using hairpieces.
How to take care of your toupee?

 Although a toupee is made of real hair. The way it needs to be treated and taken care is different and here are some tips on making your toupee or hairpiece or wig to last for longer. 

Wash it regularly, at least once a week 
Like real hair, you need to maintain your toupee as well. You need to gently wash it with shampoo and make sure you rinse it and dry it naturally, not under the sun.
This keeps the hair vivacious and strong! This is a must-do for the longevity of the hair. 

Combing your hair requires patience 

Hair falls out of toupees too. So you need to be careful in how you deal with tangled hair. Make sure to untangle it slowly and don't try to force the narrative by pushing down on your hair, hard. Make sure to comb it regularly and keep it well maintained. 

Do not sleep with your hair 

One big mistake that a lot of people do is sleep with their hair. This is rule number one. Never sleep with your hair. This can damage your toupee irreparably as you move around, strands of hair can keep getting plucked out. Store it in a cool, dry place. 

Do not use too much gel 
Too much gel usage can affect the hair on your toupee as it has harmful chemicals. Gels can bring down the life of the toupee considerably. So make sure to use a little bit and not too much! 

Use Warm Water and Not Hot Water 

When you are washing your hair, make sure to use warm water, lukewarm water. If you use boiling hot water, you can loosen the strength of the base and the hair as well. 



How long do men's hairpieces last? 
The durability of your hairpiece depends on how well you maintain it, the quality of the hairpiece and the base material. But in general hairpieces last for about 3- 6 months. 
Somethings to keep in mind to make your hairpiece last longer is, 
Carefully choose hair products to use on the hairpieces. It has to be dependent on the material of the hairpiece. 
Choose a good quality base material. 
One of the top things you have to do is to choose a hairpiece made up of good quality hair. It is based on this that you get to choose your hair products. 



How often should you wash your hair system? 
It is necessary to
wash the hair piece
at least once or twice a week. You can bathe with the headpiece on.
Since the colour and the texture is capable of wearing off, make sure not to use too much
shampoo or conditioner
more than required.
The way you wash your hair can also be consequential. If you scrub it too hard the texture of the hairpiece will wear off.
We suggest you go for mild products that are specifically made for hair pieces. These products will also be  dependent on the kind of material used for the hairpiece. 



What are hairpieces made of? 

Hairpieces are made up of different materials, each having its own price, impact and other effects.
The most important part of the hairpiece is the base onto which the hair is injected.
This has direct contact with the scalp and hence has to be carefully picked out. There are two materials that make up for a base. 

Mesh fabric
Mesh fabrics are either made up of nylon or polyester. The mesh fabric can't be used for a longer but gives a very natural look because of the hairline.

It is also lightweight and comfortable to wear. Although it is expensive, it is sought after because of how natural it looks. 

Polymers
Polymers are made up of silicone or polyurethane which are made to look like the skin. These are cost effective and even last longer.

It won't necessarily give a natural look since the hairline is made up of lace. It could also be hot and uncomfortable to wear. 
Men's hairpieces are of a lot of help when it comes to camouflaging baldness but it is extremely crucial to pick out the right one and abide by it. We hope we have helped you pick out the best men's pieces with our choice of products and tips.
Also Read :
Best hair vendors on Aliexpress
Best lace wig vendors on Aliexpress
Best human hair wigs on Amazon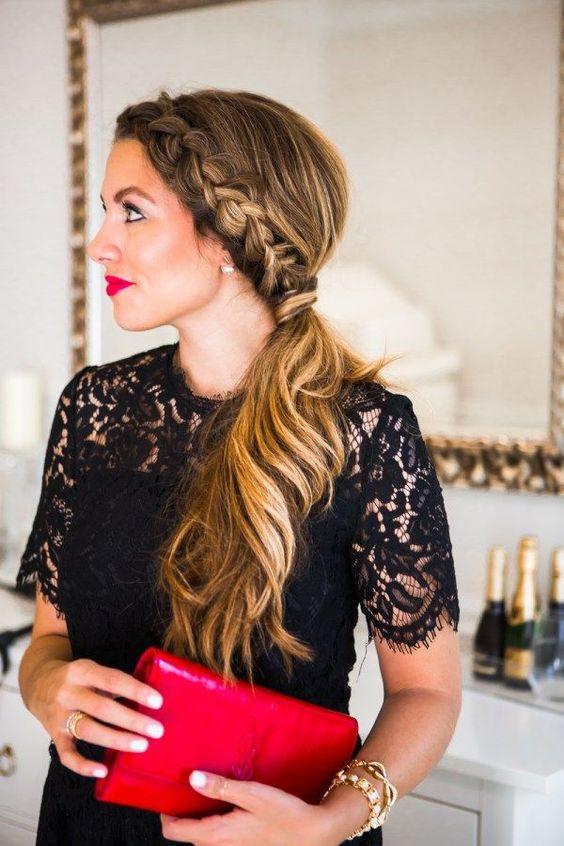 From hair care to soaring hair trends, we cover it all. We make sure you nurture your hair and stay on board with hairstyles and new hair trends. So hop on and make every day count with some of our creative and sassy hair trends.