We use heat on our hair way too much.
There's the hair dryer, straightener, curling irons and whatnot. We sometimes forget the harmful side of it just to get that hair form right.
Interestingly there are methods you can use to acquire the hair texture that you need. We are up to reveal how to curl your hair without any heat.
It might seem like a very hard nail given curls don't usually sit right even with the curler.
But with our tips and products, we are sure you will swear by these hacks and the best part is that you will keep your hair safe and healthy. So read on!
How To Curl Your Hair Without Any Heat
How to curl your hair at home
There are so many ways you can curl your hair at home. Not only are these easy to do but it can be safe for your hair strands as it is devoid of heat. Heat can lessen the strength of your hair so here are some of the best ways you can curl your hair at home
Scrunching
Using curling products
Bobby pins
Dampening hair and using paper to roll hair
We have elaborated on this tips below. So make sure to give this a read and try them for splendid results.
#1 – Scrunch Your Hair
Scrunching of the hair can be done as often as you'd like even without a curling product.
Holding your hair up and squeezing the strands when held together is one way you can achieve locks and natural curls for your hair.
Although this will serve in giving you curls, we suggest you use a curling gel or spray to hold it for longer. 
How to scrunch your hair to make it curly
Hold a bunch of your hair and press it tightly with your hands.
Repeat this process a couple of times.
Apply a curling gel or use a hair spray.
Repeat the scrunching process.
Tip
Make sure your hair is well conditioned and tangled – free.
Best suited for
Hair type – Wavy
Hair length – Long, medium
#2 – Pins And Twists
Using bobby pins is an effective way to curl your hair without any heat at home.
It is a home remedy that is used by most women as it can make the curls stand strong for longer.
This is one of the ways to curl your hair overnight without heat but can be done during the day as well if you have nowhere to go. 
How to curl your hair with bobby pins
Part your hair into small sections so that it's easier for the bobby pins to hold them.
Apply curling cream or hair spray and comb/brush your hair. You can use the product after the hair is set up but the former is more effective.
Use the bobby pins to carefully secure them. You can also use paper to curl your hair. Of course you can divide your hair sections.
We suggest you leave it on for at least 4 hours during the day.
Tips
Use paper and bobby pins equally so that your head doesn't hurt. Using too many bobby pins can be too hard on the strands.
Best Suited for
Hair type – Wavy
Hair length – Medium and short.
#3 – Leave Braids Overnight
This might seem very menial but it actually works and I'm sure you ladies agree with me on this!
The aftermath of a braid is a treat. The patterns look flowy and the curls are very spring-like.
If you want to curl your hair for a function or an event we suggest you braid your hair tight and secure and sleep on it because the curls will stay longer the next morning.
If you don't have time and need some hacks right away, you can braid your hair securely and tight and use some hairspray on it. Your hair will seem curly and springy in no time. 
How to curl your hair with braids
Braid your hair securely. You can do the fish braids or even the normal one will do.
Make sure your hair is secured within the braids unless you want the locks and bangs to be left as it is.
Use a hairspray before you go to bed.
Tips
We suggest you go for the fish braids since they are more effective to make your hair curly.
Best suited for
Hair type – Wavy, straight
Hair length – Long
#4 – Velcro Hair Rollers
Velcro rollers are generally the go-to for most people who want to curl their hair without any heat. It is used as an overnight solution for hair curling.
There is no doubt in the feasibility when velcro rollers are used and can be done quite easily. Make sure you purchase good quality velcro rollers for effective hair curling.
The curls that you will achieve with this method are more bouncy and in full form that like springs. 
How to curl hair using velcro rollers
Dampen or wet your hair.
Brush your hair strands and make it tangle free.
Separate your hair strands and use these rollers and roll them on top.
You can use the hairspray as the final touch. If you have a curling cream then it would be better if you use it right before you wet your hair.
Best suited for
Hair type – All hair types
Hair length – Long, medium
#5 – Paper Towel Spoolies
This has served as one of the easiest hacks to achieve curls without any heat. Although it may not be as effective as the rest, it does create a certain texture which is close to being curly. The hard part about this hack is using gentle paper materials like tissue as it is prone to tear off. We suggest you use chart paper or something that is more stronger.
How to curl your hair using paper towels
This process requires a lot of care since paper is delicate.
Roll your hair strands into small bundles and use strips of paper to tie them up.
Spray your hair before you attach the paper stripes so that it gets easier.
Best suited for
Hair type – Wavy
Besides these home remedies that we have presented to you, there are products that you can use to curl your hair. We have handpicked the safe ones so that it will remove doubt of harming your hair. Have a look.
#6- Old T-Shirt Halo Trick
You can try the t-shirt hack to get curly hair without any heat in two ways. The first method is to the popular Curly Girl Method or plopping hair technique.
In this method, you apply a leave-in conditioner or cream on your freshly washed hair and then wrap it with a T-shirt. You need to lower your head over a t-shirt that's spread wide over a table.
And then you wrap the ends of the t-shirt over your head and tie the sleeves behind.
Or you can try the T-shirt halo method. Here you have to roll the t-shirt into a rope and then tie it around both ends with a hair tie or scrunchie.
Next, you use this rope/t-shirt to curl your hair. You need to wrap your hair around this rope by sections and then keep this overnight.
It's best to pin them up to prevent hair from slipping out.
This method will give you bouncy ringlets!
Best Curling Products For No-Heat Curls
#1 – Cantu curling cream
This super safe organic coconut curling cream is the best hair curling product that is out there since it adheres to all hair types.
If you are looking for a quicker and safe remedy then this product has your back.
It is not that expensive and has a wide range of benefits including nourishing your hair while also styling it. It can hold your curls for a longer time. 
| | |
| --- | --- |
| Pros | Cons |
| Nourishes hair | Not suitable for sensitive hair |
#2 – Cake beauty curl defining cream
Cake is one fun product!
Besides the fact that it has a dream 0 like scent it also has the capability to hold the curls for a longer time.
The packaging might seem small but you need only a small amount of this product to keep those curls intact. 
| | |
| --- | --- |
| Pros | Cons |
| Has a nice scent. | Expensive. |
#3 – Curl Scrunch Curling Gel 
The scrunch gel is a must-have for all those of you who have wavy hair.
This works its wonders on a matter of seconds. All you have to do is apply this gel onto damp hair and then scrunch your hair two or three times and you will have spring-like curls.
It looks elegant and is super safe on the hair. 
| | |
| --- | --- |
| Pros | Cons |
| Easy to use. | Less durable. |
We hope these tips and hacks come in handy the next time you curl your hair. Why use heat when you have all of these easy ways on how to curl your hair.
Read also
Best curl enhancing products for wavy hair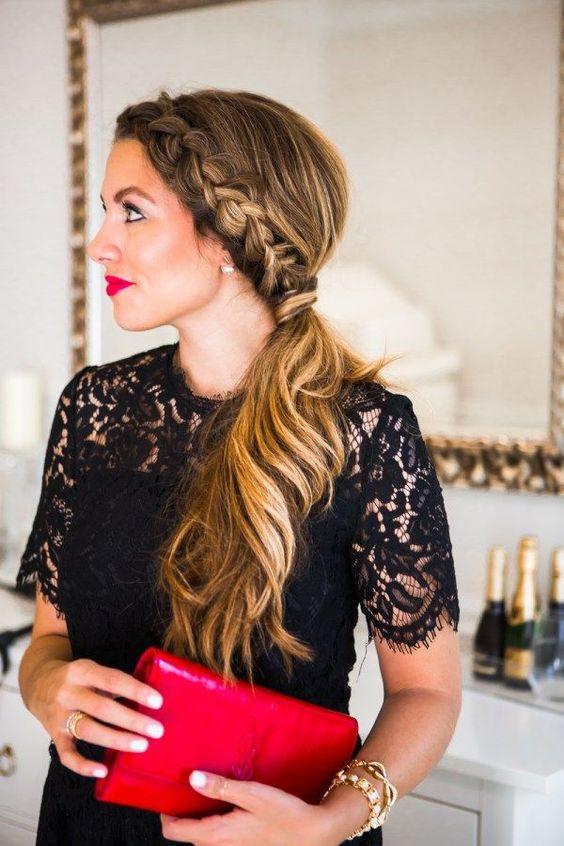 From hair care to soaring hair trends, we cover it all. We make sure you nurture your hair and stay on board with hairstyles and new hair trends. So hop on and make every day count with some of our creative and sassy hair trends.