Getting bangs done when you wear glasses is a huge style statement especially if you have the face for bangs.
Glasses and bangs have always gone hand in hand when it comes to looking cool and authentically stylish. But not all hair types have the ability to pull of bangs. So we have dug deeper and found a list of bangs styles that go great with glasses so that you can wear it with utter confidence.
So here are some bangs with glasses hairstyles that are amazing to try out.
Top Bangs With Glasses Hairstyles 2021
We could comprehend the difficulty women have had to go through to balance their nerdy glasses look with their creative fun side so we came up with the best bangs and glasses hairstyle for you to try out.
Wispy bangs are easy to get done and goes with literally any hair type as long as it is well maintained and given care. Wispy bangs are both professional and classy making it easy and appropriate for any outfit and occasion.
Wispy bangs with glasses
Wispy bangs are an amazing style for those who have a broader and bigger face. This involves your bangs being uneven and in steucture that compliments the length of your hair as well. While it suits women with longer and straighter hair, women who have semi wavy hair can pull this off too.
We suggest you apply a serum to your hair that means your hair will be well acclimated to your head and not have a frizzy appearance on the whole. 
Since these are uneven and have a different frame to your face we suggest you take an opinion from your hairdresser for the best results.
Best suited for : Wavy and straight hair
Blunt bangs
Blunt bangs are a tougher style to pull given that you need to have 'the face' for it. This usually goes amazingly well for those with a narrow face and works great for oval faces. Your forehead should be of medium length for the bangs to sit well on the face. The frame of the face does not have a particular structure to it except that it just cuts down from the forehead to the chin.
As we mentioned, this is a tougher look and requires a certain sense of confidence to pull off the look.
Since the blunt bangs are very subjective to face shapes and hair types make sure you straighten them and have them in a silky form at all times to avoid having a messed up exterior.
Your glasses are a great add on to the blunt bangs since it compliments the structure of the bangs and gives it a more exquisite look.
Best suited for : Oval and sqaure face shapes.
Curtain bangs with glasses hairstyles
Curtain bangs come to the rescue for those who have layers and steps as their hairstyle. This hairstyle idea will come in handy when you are at that stage where you want to do something creative with your hair.
Curtain bangs go sideways and don't just sit straight like your regular bangs. We love that it works well if you have a long face and it structures the face really well.
Make sure you wear big frames with this particular hairstyle as it will bring out your other features and make sure it goes with all your outfit ideas.
Best suited for : Long and oval face shapes.
Side bangs with glasses hairstyle idea
We love side bangs simply it goes with any face shape and does not require a particular structure to style it.
While this is amazing on women with straight hair it also goes really well with those with wavy hair. If you have a big forehead then this hairstyle is the best to flaunt your facial features and bring out the best of yours.
We love the glasses shown in the above picture as it sits in well with the length of the hair and the direction of the bangs. A blunt bob is an amazing choice for those who want to look neat and tidy always.
Best suited for : Shoulder length hair, striaght hair.
Long hair with bangs and glasses
Having long hair and not wanting to cut but still style it is a complex idea that exists for most of us.
Having a feathery structure to your hair that can sit well with the face shape while also making sure it is easy to maintain is key. If you have straight long hair then you are in luck because this look is for you.
The glasses are a brilliant and style-savvy add-on that will look gorgeous on any outfit which you can slay.
Make sure you comb your long hair so that there are no knots and frizz which can then compliment the bangs. The key to this hairstyle is to have a consistent texture throughout.
Best suited for : Oval face.
Short bangs with bangs and glasses
Short bangs are not for everyone!
If you are someone who is plump and can work those short bangs then add the glasses too! Cos we love them.
The whole hairstyle has a very adorable yet classy vibe to it. Women who have a chubby face seldom have options when it comes to bangs but this one does it! It can bring out the best in you and give you the right kind of focus. Make sure you have highlighted features and you are good to look bomb!
Best suited for : Straight hair
Shoulder length hair with bangs and glasses
Shoulder length hair is easy to style and has the perks of having 'the right length'. This hairstyle works the best for literally any ocassion and has its perks of allowing you to flaunt any outfit.
Wearing glasses with this hairstyle is safe as it gives equal emphasis on the hair and on your face balancing the whole look when you were it with fancy clothes.
Bangs with glasses hairstyles for round face 
If you have round face its not easy flaunting both glasses. These bangs will look great on you if you are having a hard time trying to determine the balance.
These bangs look great with big frames and sits well if you have highlights and makes your features more prominent.
We suggest you take the bold move of coloring your hair as well so that it makes up for the entire look.
Best suited for : Round face and straight hair.
Glasses and bangs for long face
Having a long face means having to choose the right hairstyle by experimenting and having two or three failed ones so that you can get to the right one soon.
The bangs with a long face is our favorite since it gives you a creative fun look while also complimenting the entire look and making you look super chic.
You can layered bangs like the one shown in the above picture or you can get wispy bangs and flaunt your bangs.
We think that the glasses are an amazing look to those with a long face. Make sure you choose glasses that are not too big on your face.
Best suited for : Wavy hair.
Bangs and glasses with an oval face
Women who have an oval face don't opt for bangs because they don't need to hid their forehead. But with this particular hairstyle you don't have to hide them whereas you can just project your facial features and give your entire look a whole new vibe.
We love the fact that glasses with frames look super cool with the bangs and completes any outfit making you look daring.
This hairstyle is also very professional and does not disrupt your style in any way.
Best suited for : Straight hair
Bob hairstyle with bangs and glasses
Bobs are the best with bangs and there are a ton of celebrities, from Jennifer Aniston to Karlie Kloss proof to that statement. 
But how surprised are you to know that glasses go extremely well with the entire look allowing you to explore your styles and make it big with your outfits.
The best best part about this is that you don't need accessories to keep this in place. All you need to do is comb it and remove the knots and you will be fine.
The frames of the glasses you choose to wear with this hairstyle can be flexible and can be literally any frame.
Best suited for : Silky hair
Straight bangs with glasses
Having straight bangs and being able to flaunt them is a boon, really!
So if you have silky short hair and need a hairstyle to go with your glasses then go for the straight bangs. The length of your hair does not matter as long as it is not too short in case of which it will tend to disrupt your entire look. Also make sure your hair has good texture and is easy for you to maintain.
Best suited for : Shoulder length hair.
Do bangs make you look younger?
Bangs are a very youthful hairstyle. But the best thing about them is that they suit women of all age groups. Bangs can hide your wide forehead and reduce the severity of your face.
It makes face look rounder, less stern and intimidating. So yes, bangs can make you look younger.
But don't worry. Combining bangs with glasses won't give you a school girl look. They look great on any age group.
Rocking bangs is not that difficult once you know which hairstyle goes with what features. We hope we have covered that aspect for you and given you a peek into the myriad of styles that can be tried out without further delaying the process of flaunting your hair.
Also read
Here are the most effective shampoos to elevate hair growth
Interesting hair colors to match grey eyes
Check out the top genuine hair vendors available on Aliexpress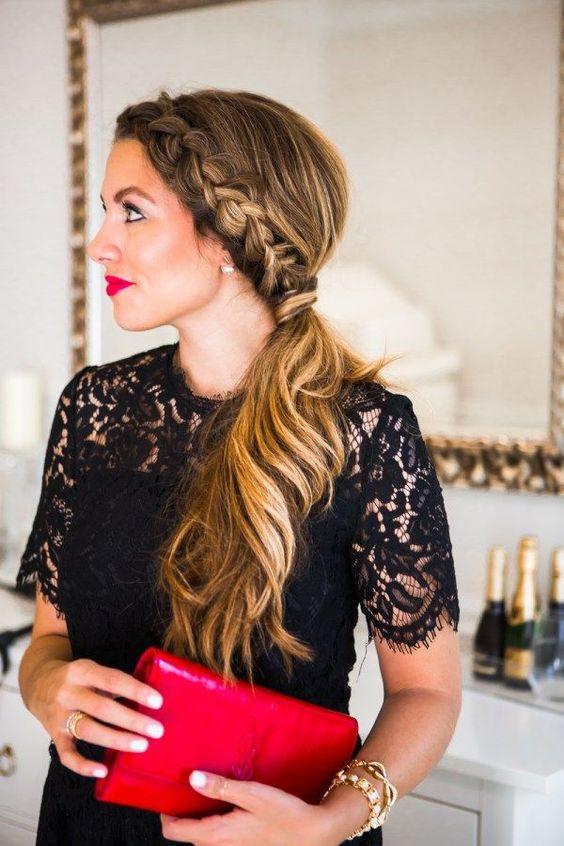 From hair care to soaring hair trends, we cover it all. We make sure you nurture your hair and stay on board with hairstyles and new hair trends. So hop on and make every day count with some of our creative and sassy hair trends.