Check out the top professional female hairstyles for interviews, business professional hairstyles female, and how to wear hair in an interview.
Dressing up for an interview can be a challenge. So we've got some professional female hairstyles for interviews to help you look your best!
Wearing formal attire and carrying yourself in the most professional manner is expected. Even your hairstyle will help to make an impression.
No matter the size of your hair, there is a formal or professional updo that you can carry. We have the perfect list for you to choose from.
Related: Buns For Shoulder Length Hair
Related: Classy Ponytail Hairstyles For Women
Professional Female Hairstyles For Interviews
#1 – Classic Bun Professional Female Hairstyles For Interview
Nothing screams of more official than a bun. Unlike the messy top knot, the classic bun is the very subdued hairstyle. It helps you look very professional.
For a corporate interview, a tight and crown placed will be ideal. For a creative profile, a loose bun will look apt. This hairdo makes you look stunning and reiterates your professional approach.
This style can be worn with pantsuits to make the most impact.
#2 – Ballerina Style Professional Female Hairstyles For Interview
If your potential workplace demands a formal and sophisticated attitude, this is the hairstyle for you. It makes you look sophisticated.
This low-maintenance bun is easy to achieve. To structure the bun perfectly, use a doughnut hair mesh. You can also use a sock, cut its end, roll to form the doughnut structure.
Wrap your hair around. Use hairspray to get rid of any possible frizz.
#3 – Pixie Cut Professional Female Hairstyles For Interviews
This bold yet understated hairstyle is perfect if you are opting for a managerial position or an authoritative role. This highly contemporary style is suitable for the official setting.
The pixie cut is very easy to maintain. It brings out your inner confidence and lets you shine.
You can get highlights or get two-toned hair in subtle colours. Try to pick colours closer to natural hair colour.
Even in today's times, wearing certain hairstyles means your hair can be holding you back in your career. So this is a professional way of wearing a more "rebellious" style like the pixie hair.
Related: Check out these easy good hairstyles for girls to look your best always!
#4 – Chignon Bun Professional Female Hairstyles For Interviews
The Chignon hairstyle is popular at many formal occasions. It is perfect for the boardroom as well.
This beautiful updo not only accentuates your beauty but also adds a high degree of professionalism to your entire look. Start with a low ponytail, divide it into two sections.
Roll it inwards, loop to form a bun like structure. Voila, you have a stylish look ready for your interview. This style is perfect for long hair.
#5 – Side Pin Professional Female Hairstyles For Interviews
This is a popular style for mid-length hair. This updo is easy to carry out. It looks well with all types of formal attire. Works best with slightly wavy hair.
Do a side parting, pull up one side of your hair and pin it with a bobby pin. Let the side sweep gather around your ear. This hairstyle keeps the hair out of your face so you can concentrate on your interview.
This hairstyle is also very retro and recalls the glamour of the 1930s and the 1940s.
#6 – Polished Ponytail Professional Female Hairstyles For Interviews
A dress or a skirt, even a pantsuit gets a whole new approach with the right ponytail. The trick to making it official is by keeping it simple and sleek.
To achieve this look, tie a neat ponytail as tightly as possible. Place it just below the crown. Use a styling spray to get rid of any flyaways.
Use a simple band to tie the knot, it should not be flashy. Skip any bejewelled bands.
#7 – Half and a half Professional Female Hairstyles For Interviews
This is a more traditional hairdo that is making a come back among the office goers. It looks formal.
You will appear professional and look stylish. It compliments just about any outfit.
Make a middle parting and twist each side of the hair. Bring them together and secure with a band. You can use your own hair to wrap the band.
Secure the tied hair with bobby pins.
Related: Check out these cute half up half down hairstyles you can wear on any occasion!
#8 – Side Bun Professional Female Hairstyles For Interviews
Women with curly hair often have limited hairstyle options. For an upcoming interview, the curly beauties can try a side bun. It looks elegant and very official.
Straight haired women can also try. Keep it low, close to the nape of the neck. To make it more attractive, braid and twist the bun. Avoid hair accessories to keep the look formal.
To best compliment the style, go for a natural look makeup.
#9 – Let your hair down
An interview needs for you to look well and professional at the same time. People blessed with beautiful tresses should flaunt it.
This style most appropriate for women with mid-length hair. Long hair may need extra dose off anti-frizz spray for best result.
Make sure your hair is shiny and there are no flyaways. To avoid hair on the face, keep them tucked behind ears. Use bobby pins to keep hair in place.
#10 – Try a wavy look
If you have mid-length hair with a natural wavy look, use it to your advantage.
Wear your hair in loose and flowy soft waves. It looks very poshly.
Appropriate and hence highly popular among different types of professionals as the office look. You can get highlights or root touch up to get a more trendy look.
#11 – Straight lob
A power hairstyle for the go-getter. This hairdo puts you in the forefront. You will surely get noticed for the simplicity yet the power of this style.
Freshers and experienced alike prefer this look as it exudes confidence and charm. Perfect for interviewees seeking leadership roles.
Comb your hair thoroughly, use a serum to smoothen any visible frizz. Finish it off with a saline hair spray.
#12 – Mid-length Layered Professional Female Hairstyles For Interviews
A great style for women with medium hair is the layers cut. It highlights the best facial aspects and looks thoroughly formal.
The easy maintenance is apt for the modern professional woman. Even if your hair is limp or lacks body, this style helps you look very well put together, which is a top criterion for the corporate environment.
#13 – French Braids Professional Female Hairstyles For Interviews
An interview is a step forward to your career growth. To make an impression, you must make a statement.
French braids are a classic hairstyle which gives you a very sophisticated and unique look. It looks best when worn in a bun. This hairstyle is suitable for all types of hair.
The intricate updo has a charm of its own. Keep your makeup minimal, avoid hair accessories.
#14 – Crown braid Professional Female Hairstyles For Interviews
This super simple braid allows great flexibility. You can adjust the thickness and placement of the braids according to your desire. This hairstyle even works with thick curly hair.
It looks elegant and keeps hair away from your face. You can use one or two braids to cover the entire circumference of your head.
No need for hairspray as a few flyaways add a unique touch to the look.
#15 – Twisted bun for curly hair
A simple but may not be able to do justice to your curly hair.
An interview needs you to make an impression. The way you present yourself, especially the hairstyle you wear can help pave the path to your future.
To get a twisted bun, part your hair in the middle, twist each section and wrap them around each other to form a bun.
#16 – A knot in the middle Professional Female Hairstyles For Interviews
If you like to keep it sleek and make a statement as well, this is the hairstyle for you. Brush your hair thoroughly, use a smoothening serum if you need.
Section the hair along with your crown, tie it in a giant knot through a single loop. Use bobby pins to position the knot. Use a hair good spray to keep the knot in place.
You can use a flat iron to get the smooth, straight look if your hair isn't already like that.
#17 – Micro Braids Professional Female Hairstyles For Interviews
Long hair falling flat on the face will not make much of an impact for you. To make the most of your beautiful strands, get micro braids.
It not only looks amazing but also keeps the hair away from your face. You will be able to focus on the interview instead of dealing with hair on the face.
#18 – A bun on the side
If you like to keep it simple yet stylish, opt for a side bun. This easy hairdo will take a few minutes. Brush your hair with a styling cream.
Pull the hair at a side and tie them with a band. You can simply knot the ponytail into a bun or make one and two braids and then tie the bun.
#19 – Fishtail Braid Professional Female Hairstyles For Interviews
A detailed hairstyle that looks professional as well as fashionable is the fishtail braid. You will have to spend a few minutes getting this hairstyle so plan your time wisely.
A few practice sessions can help you tie fishtail in under 3 minutes. Start with twisting sections of your hair and braid them together to give them an appearance of the fishtail.
#20 – Braids and a ponytail
If you want a hairstyle that speaks volume of your personality and inner strength, try this look. Begin with a bouffant and braid it till the crown.
Gather rest of the hair and tie it into a sleek ponytail. This style reflects your confidence as well as creativity as an individual. This look is sure to grab the attention of your potential employer.
How to style your hair for an interview – Tips and Tricks
For an interview, here's how to style your hair:
Choose styles that are straight and sleek
Wear your hair in natural curls or loose waves.
Make a sophisticated ponytail, bun, or long braid.
For short hair, opt for an asymmetrical style.
Consider a bob, either straight or curly.
Make a pixie cut that is neat and tidy.
Try parting your hair to the side.
FAQs – Professional Women's Hairstyles For Job Interviews
How to look profession with long hair?
Having long hair means a lot of options. You can literally pull off any hairstyle. But that does change the fact that it is hard maintaining and grooming long hair. You need a lot of options in your mind and figure out which one goes with what props.
Keeping your hair sleek is a great way to look professional with long hair. You can either pull off a low ponytail or even a high ponytail once your hair has that shiny neat look.
If you are planning to let your hair loose, make sure you have it set. Either curl ir or straighten it. Sometimes frizzy hair tends to look untidy and that can make you look unprofessional.
Always carry a comb or a hairbrush to groom it when necessary.
Is it better to wear your hair up or down for an interview?
There is no particular style to go about looking professional as long as the
hair is not in your face
and does not bother you. If you are wearing it high make sure the ponytail is brushed well so that it does not look knotty.
And if you are wearing a low ponytail we suggest you go with a
hair gel or serum
to make it look slick and neat.
How should a woman wear her hair for an interview?
To look professional and presentable during an interview, all you have to do is make sure that you hair is neat and not messy in any way.
Following this can stand true for any hair length and any hair type.
Does long hair look unprofessional?
Not at all. The best of professional hairstyles are mastered by those who have long hair. You can comb and groom it to maintain the sleek look. Figure which hairstyle brings out the best of your and which one treats your hair right and stick by it.
While dressing for an interview, remember to dress according to the industry and work culture at your probable workplace.
Same applies for hairstyling. Your face, hair and attire will create the first impression, make it count. Oh and all the luck with your interview!
Also read
Best Professional Hairstyles For Men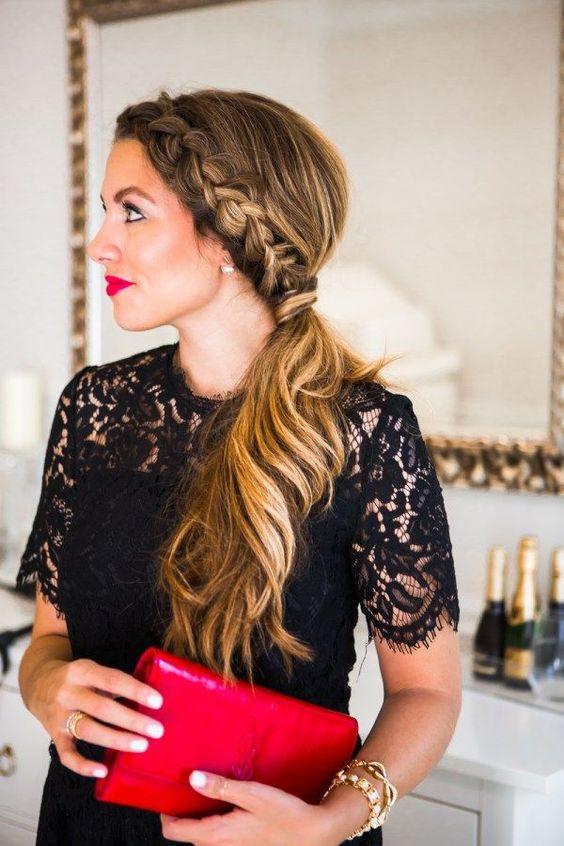 From hair care to soaring hair trends, we cover it all. We make sure you nurture your hair and stay on board with hairstyles and new hair trends. So hop on and make every day count with some of our creative and sassy hair trends.