The hairstyle you wear becomes a part of your identity. Make an impressionable choice to defines your personality.
Braided hairstyles are stunning. Though they look intricate, achieving the style is comparatively easier. Braids are a great way to protec naturally curly hair from pollution and other environmental damages.
There are many braided hairstyles that you can choose from. However, while choosing a braid style, keep two things in mind. The texture of your hair and the shape of your face.
To get that admiring look and to beam with confidence, try one of these looks today.
Top Black Braided Hairstyles 2021
#1 – Goddess Braid hairstyle
As the name suggests these braids are fit for the Goddess in you. These braids have a strong yet fashionable presence.
It looks feminine enough for a date and robust for an intensive workout. However oval faces work best for this look.
Wear them as braids or bun, depending on your comfort level.
There are many styling that you can do with the Goddess braid.
#2 – Side-brushed cornrows styles
This versatile style is ideal for young adults and women alike, no matter the shape of the face they have.
They will look trendy on any high schooler. This style is quite effective in protecting ethnic hair.
It protects from daily environmental wear and tear which the youngsters get exposed to on a regular basis. You can carry this style in both long and mid-length hair.
#3 – Long and thick braids
Need a hairstyle that will not require you to care for your hair for a few days? Get the chunky braids.
To make this style look more patterned, alternate few thin braids. The sheer length that can be covered in this style is amazing.
It looks very chic and is a super comfortable styling option. All face types look good in this style.
#4 – Dreadlocks black braided hairstyle
This super stylish hairstyle is not for the faint-hearted. It is kind of a permanent style. Before getting dreadlocks, experts advise keeping a gap of about 2 inches on the scalp.
When you decide to change your hairstyle, you can simply cut the locks and let your natural hair grow. This hairstyle takes time and patience. Looks best in square faces with strong facial features.
#5 – Box Braids hairstyle
When you specifically want something for the summer yet do not want to spend much time on maintenance, then look no further.
Box braids are the best choice for a sleek and sultry look.
For this kind of braiding you will need to have thick hair, if you lack in volume, add extensions for best result. Suitable for most facial types.
#6 – Havana twist black braided hairstyle
If you want a hairstyle to impress your date, then the sexiest choice is the Havana twist.
Similar to the Marley twist, Havana twist makes a stunning impression.
To make it look more classy and elegant add more volume with the help of extensions.
Perfect for elongated faces with sharp jawlines.
#7 – Feed-In Braids
This is one of the most popular choices in braiding.
This hairstyle can be worn with all types of outfits.
It is best suitable for oval faces. Square and round faces with thinner hair should get hair extension.
They are comprised of larger and softer chunks of hair.
#8 – Nubian twist hairstyle braids
This styling typically requires two strands of hair to be intertwined into braids. They add great volume to hair and is perfect for any face type.
They have a classy feel to it and shoulder-length hair looks best when styled in a Nubian twist.
If your hair texture is not even, then your stylist may use an extension to create the fuller and rich look.
#9 – Simple braids in a ponytail hairstyle
Braids and a ponytail sounds like a simple combination. But the styling effect it creates is simple magic. To make the look even more glamorous, use hair accessories like clips and ribbons. You can also wrap a braided strand around the ponytail to make it look cuter. This style is perfect for women with arched brows and sharp jawline, as the high ponytail draws attention to your facial features.
#10 – Yarn braids
Women who are concerned about protecting their hair the most, opt for the yarn braid as it is highly recommended. Choose the type and colour of yarn that you are most comfortable in.
Wool and acrylic both are quite good. This style is light and easy to carry. If you have any concerns about maintaining the look, ask your stylist for tips.
READ: Aliexpress Hair Review
#11 – Crochet black braided hairstyle
One of the most sought-after braid styling is the crochet braid. The effect that this braiding can create is simply mind-blowing.
The best part is the crochets are attached to your hair and they have a great finishing.
The bounce added to your hair will brighten up your spirit.
Most suitable for women with strong facial features irrespective of the shape of the face.
#12 – Ghana braid styles
A stunning style to embrace, the Ghana braids can be worn into buns or left open. You can style them as according to your need.
Ghana braids also known as banana cornrows may need hair extension as they need a lot of voluminous hair to achieve the look.
Soft facial features work wonders with this traditional look originating in Ghana.
#13 – French plaits braids styles
This is a braiding style that is popular among people of all countries and generations.
A simple style that originated in France, can transform your look in a few moments.
It is easy to do. All type of hair is suitable for this braiding.
You can wear it as a headband or simple plaits.
#14 – Dutch braids hairstyle braids
A cute and fun hairstyle that does justice to your hair texture is the Dutch braid. It is similar in looking to a French braid.
However, the technique is completely different. The Dutch braids are carried out inwards.
Many women prefer to wear Dutch braids with colorful ribbon or exquisite bead detailing for the ultimate alluring look.
You can also a headband effect with a strand of the braid to complete the look.
#15 – Braided Bob hairstyle for black hair
You may have avoided getting short hair because of your curly hair. But bob is that one style that suits all types and texture of hair.
A braided bob is sleek and a very stylish option for the woman of today. The curls will typically dangle at your shoulders.
It suits women of all ages and facial features. The best things are that these gorgeous braids require little aftercare.
#16 – Partial braids and curls
One of the most truly unique hairstyles is the deep bulk braid in combination with curly hair.
It gives you the best of both worlds in one style. You get to have the elegant touch of braids and also enjoy your natural untied hair.
You can get the braids done is any design formation of your choice. After the hairstyling is complete, you will require no extra care to maintain the look.
#17 – Fulani hairstyles braids
These are the most colourful braid styles that you can think of. This vibrant style was carried out by the Fulani people.
The most crucial aspect of this braid is to choose the beads. Select the braids as according to the occasion you are planning to visit in this hairstyle. Children are exceptionally fond of these cute braids.
And women can explore their flirty side with this funky style.
#18 – Lemonade hairstyles braids
This iconic style had been an all-time favourite among many women of colour. However, Queen Bey rocked this style in her video Formation.
To get the thickness required for the braid, hair extensions might be required.
This trendsetting style is easy to maintain and gives you a gorgeous makeover.
You can wear it with any outfit of your preference.
#19 – Twist updo braids hairstyles
This stunning style is suitable for any formal occasion. Even brides prefer this style for their wedding day.
There are multiple numbers of ways, you can wear this style.
Begin by deciding on the updo you want and then braid the hair, continue with twisting it to achieve the look of your choice.
This style is perfect for softer as well as prominent facial structures.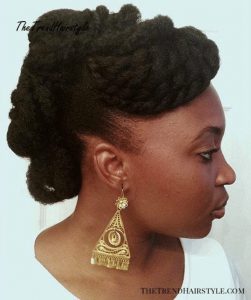 #20 – Pompadour Braid braid styles
The pompadour style of wearing hair is one of the most glamorous updos that your hair can get.
You can achieve it in natural hair and texture hair is also suitable for this style.
You can finish the style with a long braid or a neat bun.
Braids as hairstyle have stood the test of time due to its versatility. It not only presents great styling options but also acts as a protective shield for ethnic hair.
Though it takes time and patience to get such elaborate braid it is worth every step of the way. Braiding styles has easy upkeep and are extremely attractive to look at.
Now that you have so many options of braided style to choose from. Keep experimenting with different styles and rock new a look whenever you want.
#21 — Braids with Curves braids hairstyles
This is a pattern braid style that makes curves on top of your head. It's pretty epic and looks super stylish.
#22 — Thick and Thin Asymmetrical Feed in Braids
Looking for patterns that are pretty unique? The thick and thin asymmetrical feed in braids uses thin braids and thick braids and there is a pattern made that looks super unique.
#23 — Upside down Braids to Bun braid styles
This hairstyle involves braiding your hair the opposite way and making a bun out of it. Unique and great looking!
#24 — Braided Hairstyle with Jumbo French Braid
I love jumbo braids, because they are thick and big! When you braid your jumbo braids, you get braidception, which is probably one of the best braid hairstyles out there.
#25 — Triangle Box Braids hairstyle
The simple yet stylish triangle box braids is when your box braids make a triangular pattern.
#26 — Bold Triangle Parted Box Braids styles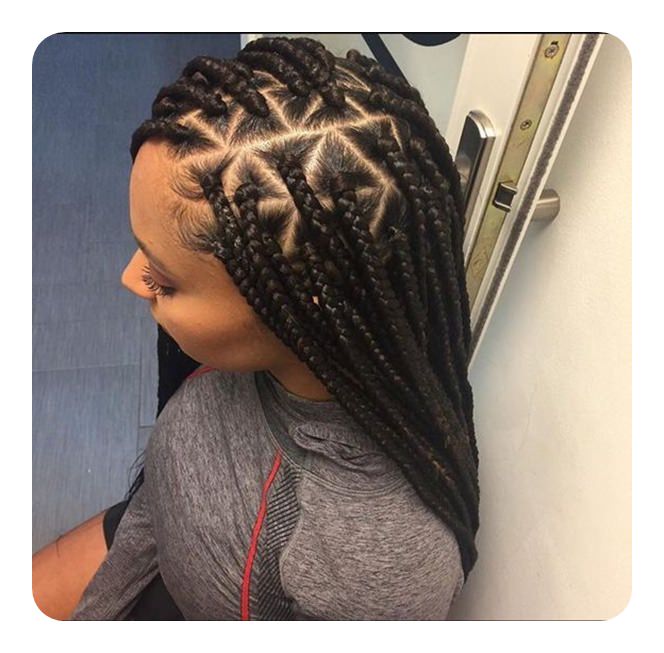 A level up on the previous hairstyle. This might seem convoluted, but its a simple hairstyle to understand. When your braids create a triangular pattern mixed with a side partition, then you get this hairstyle.
#27 — Braided Bun braid styles
A simple combination of braids with the classic bun. When you make your braid into a bun and sits on top of your head, you get this style.
#28 — Super Long hairstyles braids
When you have short hair, braids are pretty hard to maintain. When you have long hair, it's easier to maintain braids. This is a style for women with long hair.
Related: Best Relaxed Hairstyles For Short Hair
#29 — Wavy Straight Back Braids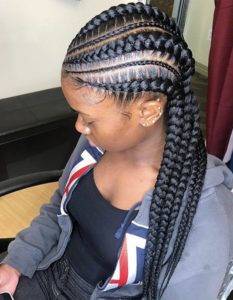 This is a beginner's level style. It involves making the braids from the top, all the way to the back. If you have wavy hair and you want braids, you can go for this style.
#30 — Braided Updo with Curls braided hairstyles
This is a combination hairstyle that mixes two of the most iconic hairstyles. There are curls on top and the braids at the bottom. Odd pairing? Think again!
#31 — Janet Jackson Braids Hairstyles
The braids style that is most synonymous with Janet Jackson is the Janet Jackson braids. It's thick, long, stylish and absolutely iconic.
#32 — Long Braided Faux Hawk black braided hairstyles
You might have seen this style on the TV show, Empire. This is a super difficult style to execute. It's basically braids turned into a faux hawk on top with long flowy hair. If you can pull it off, you are the queen!
#33 — Braided Bob braids hairstyles
One of the most unique braid styles that you'll ever come across is the braided bob. The idea is so simple, but yet only a few people implement it. It's braids paired with a bob!
#34 – Criss-Cross Goddess Braids
#35 – Dynamic Side-Swept Cornrows
#36 – Asymmetrical Goddess Braids
#37 – Long Chunky Black Braids
#38 – Cornrows Enclosed by Headband Braid
#39 – Curly Mohawk with Flat Twisted Sides
#40 – Thin Black Box Braids with Burgundy Highlights
#41 – Half updo with freely hanging braids hairstyles
#42 – Perfect black braided hairstyle
#43 – Snake black braided hairstyles
#44 – Curly hairstyle with crochet black braids
#45 – Ghana black braided hairstyle
#46 – Cornrows with high braided bun hairstyle
#47 – Feed in buns with ghana black braids
#48 – Curvy ghana braids and crown bun black braided hairstyle
#49 – Black braided hairstyle with curves
#50 – Braided black hairstyle with jumbo french braids
#51 – Poetic Justice black braided hairstyles
This is one of our favourite braided hairstyles for black hair as it keeps up with the trends nowadays. It consists of a half ponytail with the rest being braided. This looks the best if you have long and lustrous hair.
#52 – Double bun mohawk with undercuts braided hairstyles
The double braid mohawk is for them girls who want to try on something feisty and bold. We are sure this hairstyle will give you the ultimate makeover.
#53 – Intricate box braided hairstyles
Although the intricate braids are a lot of work, it pays off with how it appears. You need strong and thick hair for this hairstyle to sit well on you. Again, this is for women with long black hair.
#54 – Long Curvy braids
As the name suggests this is for long hair women who want to try on something that is casual and in style. You can wear this style anywhere and do it at home itself in fact.
#55 – Black braided updo hairstyles
This would be a functional black hairstyle which will look great on women with thick ethnic hair. This does require a lot of work and attention but once you acquire this style, there will not be a going back.
#56 – Long braided faux hawk hairstyle
A faux hawk is the second one on our bold hairstyles for black hair. If you choose this hairstyle, be prepared to get a super cool and bold look.
#57 – Cornrows with a twist black braided hairstyles
Cornrows with twists, is our favourite as it gives a functional and casual look at the same time. This is also entirely unique as it is not tried on by a lot of women. We assure you that this style is up and coming.
#58 – Long braided flowing hairstyle
The braided loose look is one of our favourite picks from the casual hairstyle list. All you need to do is adorn it with some super cool accessories and you'll be set.
#59 – Chic braided black bob
Here is one for those women with short black hair. The bob hairstyle is sure to pump up your bob look and give you more aesthetics that you already have.
#60 – Reverse flat twists braided hairstyles
Don't you just love how incredibly simple this looks! Not only does this make your hair look springy, it can also be very comfortable to wear as the hair is off the nape of your neck.
#61 – Thick halo braid hairstyle
A halo braid is something that you need if you want a very stylish and functional look to go out or for a special occasion.
#62 – Gorgeous Ponchatas black braided hairstyles
The Ponchatas look is for those girls with super long and thick hair. This will keep your hair intact and yet flowy.
#63 – Cute jumbo twists braided black hairstyle
The jumbo twists can be quite heavy on your head, but if you have thick and long hair you can pull off the look effortlessly. You can get some top notch extensions to make this look more full and thick.
#64 – Flat and twist out curls hairstyles
We love the spring curls on black hair as it looks more lustrous and in style. With this hairstyle, your hair is also kept off the nape of your neck.
#65 – Black crown braided hairstyles
The black braided crown is a true visual treat and can be pulled off at home. Your salon visit can be saved on this hairstyle. All you need to do is some good quality promenade.
#66 – Black braided mohawk hairstyles
A black mohawk is something that you need to have to bring out the best of your bold and feisty looks. Although you need to go to the salon for this one, we promise you that it will be worth it.
#67 – Two cornrow braided black hairstyle
A double braid can be so much easier for black hair as it does not pressure the strands too much and it also feels light.
#68 – Braided headband for black hair
This is one of the good teenage black braided hairstyles as you can experiment with it.
Just like the halo braid, you need to twist your hair into a different patterns, but here you take them above your forehead so they form a headband kind of look.
#69 – Half up with small braids for black hair
This is one of the cute braided hairstyles for black women. First, you need to braid your hair in smaller braids or twists. And then take the front sections of these braids and pin them up behind your ears.
#70 – Blue half up bun for braided black hair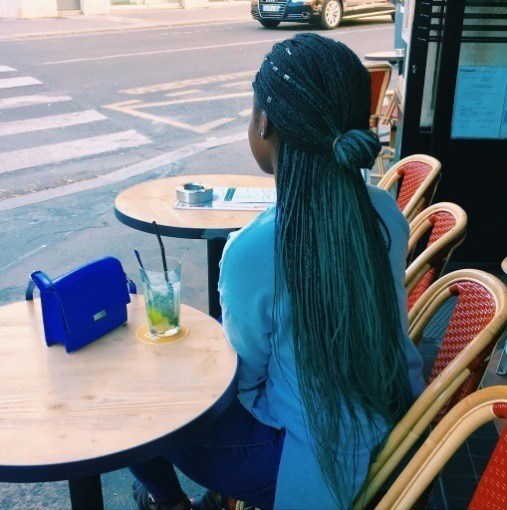 Similar to the previous hairstyle, this one too is a half-up half-down hairstyle. But the only difference here is that instead of leaving the pinned up braids loose, you have to tie it up in a small bun.
What are the different types of braids for black hair?
Here are some of the most common types of braids for black hair.
Box braids
Braided up do
Straight back cornrows
Fulani braids
Triangle box braids
Multi sized cornrows
Cornrowed double buns
Cornrows with curls
French braid
Crochet braids
Rope Braids
What are the black braids in style for women?
There are different kinds of braids that have come in and gone out of style. But don't worry, we have covered the black braids in style for women in .

#1–Box Braids
Braided Ponytail
#3–Crochet Braids
Are braids good for black hair?
Braids are a sign of luster for black hair and it has been existent for a very long time, forming a sense of recognition for the community. But are braids good for black hair?
If maintained well, yes, braids are good for black hair, given it is well woven and intact. But getting it braided is a long process and can be a lot for your hair.
So before you make the decision of braiding it, make sure your hair is in the best of health to withstand it. It also impacts the growth of the hair since the strands are not separated but clumped together.
To give the utmost care for your hair, follow these tips for the best of results.
Condition your hair thoroughly before you get it braided.
Detangle your hair completely using a detangling brush, because braiding tangled hair is only imposing further damage.
Consider using cornrows if you want extensions.
Before you put on new braids, give your hair enough break to settle in. I would say about 2 to 3 weeks.
How can I sleep without ruining my braids?
While braids can be this perfectly well-settled hair to look at, there is a lot of maintenance that goes for it to remain flawless. Here are some tips to follow while sleeping to maintain your braids,
Invest in a silk pillow. The silk treats your hair just right especially when you're tossing and turning all night!
A leave-in conditioner is a must. This makes sure you have all the moisture to be in place by the time you wake up in the morning.
Wear a headband to protect your braids from changes. Choosing the right headband is another important step in maintaining braids.
How do you shower with braids?
Showering with braids can be a tough process. While and after!
Here are some must-dos' in the shower that can help ease the process for you.
Use the right conditioner and shampoo. The choice has to adhere to anti-frizz. The way you apply it also has a great impact on maintaining braids. Apply a considerable amount on the scalp rather than on the braids.
Use the right conditioner as conditioning is one of the first things you have to follow while opting for braids. It can get tough after it dries up if it isn't conditioned.
After the shower, dry your braids by wrapping them up in a towel rather than just rubbing them against the towel which can cause damage.
How long should I keep my braids?
Opting for braids can have a lot of excitement involved which does not take the health of your hair into consideration at all.
While the braids will look creative and fun on you, you will have to make sure not to keep changing them. Ideally, it is necessary to leave the braids on for 7 to 8 weeks before you replace it.
If you have extensions imbibed within, find time sooner to change it since it can ruin the strands of the hair.

Braids are one of the most versatile hair types. You can easily look different every day of the month. But of course, you'll be spending most of your time at the salon. If you are looking for everyday hairstyles braids, then check out the options we covered above!
Is it better to braid black hair wet or dry?
We would suggest that braiding your hair when it is completely dry is what is required to have healthy hair and not have breakage.
Ethnic black hair can be quite sensitive and can break off when its still wet. It is always better off when it is dry.
Also Read:
Best Hair Sprays For Synthetic Wigs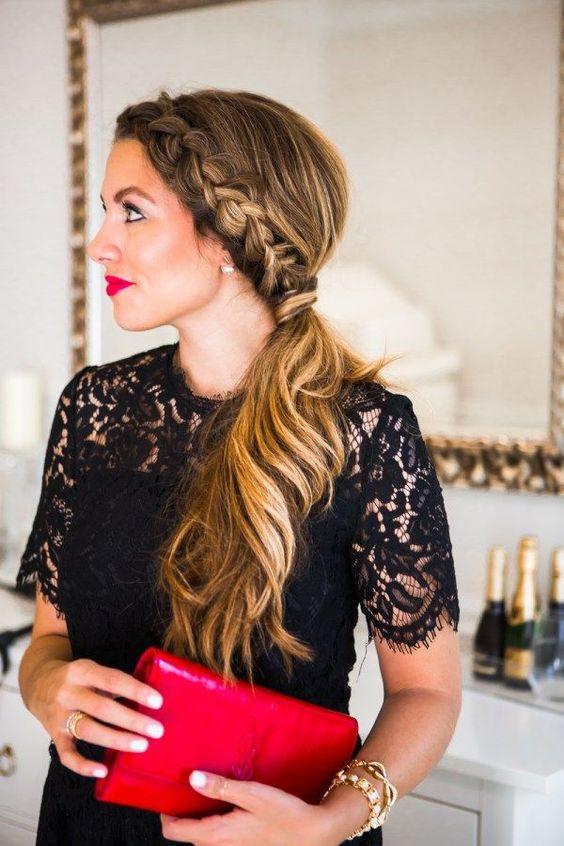 From hair care to soaring hair trends, we cover it all. We make sure you nurture your hair and stay on board with hairstyles and new hair trends. So hop on and make every day count with some of our creative and sassy hair trends.