Here are some short hairstyles for women over 50 with fine hair that help thin hair look voluminous and fuller!
Crossing 50 years of age calls for an appropriate hairstyle that you can stick with. Not only will it make you look younger it can be your signature look!
Short hairstyles for women over 50 have become extremely popular because of how elegant it looks and also the testimonies stating how convenient it is to manage the hair.
It is vital to make sure women that age do not go through hassles especially with the hair. It can be a sensitive age and short hair is the best choice for fine hair.
So here are some of our best short hairstyles for women over 50 with fine hair.
Short Hairstyles for women over 50 with fine hair 2022
There have been many questions on the internet over which hairstyle does the most justice to older women and make them look younger while also making it easy to maintain.
Long bobs and shaggy bobs are the best short hairstyles for older women to try out. These make it easy for you to maintain and gives a wonderful frame to the face. These hairstyles are the best for those with a narrow and long face where the hair compliments your face and frames it well.
#1 – Charming Boyish haircut for women over 50 with fine hair
As the name suggests this hairstyle is exactly the one for women who have fine hair and can't figure out a hairstyle.
It is quaffed and trim around the edges which makes it super comfortable.
It is also easy to comb and maintain. This hairstyle is capable of flaunting the cheekbone.
We promise you that you will stick to this once you try it out.
Tips
Make it short above the ears so that it is easier to maintain.
#2 – Modern graduated bob hairstyle for women over 50
This is an update and latest style which is being tried out by so many women mostly because of how chic it looks. It proves that style can be as fresh as ever for women who have crossed a certain age.
The bob is in layers and can be great even for fine hair. Once the layers are achieved the structure of the hair makes up for how the hair can look.
Tips
You can make it shorter on top so that it does not bother the nape of your neck.
#3 – Gray bob with black roots hairstyle for women over 50
This is one of the easiest hairstyles out there. There is not much that goes into this hairstyle and it still exhibits elegance and class.
The best feature of this haircut is that you can leave your gray hair as it is. That is exactly what comprises this hairstyle and we have got to admit it looks so good.
To complete the look you can add black to the roots to make it look extravagant.
Tips
Add the black dye inside your hair or your roots. It is best to leave it as it is on the outside.
#4 – Short undercut pixie hairstyle for women over 50 with fine hair
The pixie is the perfect solution for all those women struggling with coarse and unruly hair. This cuts short all your trouble and gives you zero maintenance and worry. The look does not even require you to colour your hair! This is one of the most comfortable hairstyles out there and we assure you that you won't go back to wearing your hair long again.
Tips
Make the length of the hair behind gradually short so that the layers are visible.
#5 – Spiky gray pixie hairstyle for women over 50 with fine hair
Here's another pixie! This one has pumped one notch because of the spikes which will make you look super stylish and chic.
The gray can stay as it is. The spikes look appropriate with straight and silky hair rather than curly hair as it is not possible for curly hair to stay upright.
The best feature of this hairstyle is that it will not age you and is one of the most youthful hairstyles out there!
#6 – Chic blonde hairstyle with glasses for women over 50
Can we just take this moment to appreciate how well blonde looks on women over 50!
This is an uneven yet neat hairstyle that looks amazing on blonde women over 50. The whole look is completed with the glasses. There are some hairstyles that just don't accommodate your glasses but not this one! As we age it is not
#7 – Long Copper pixie cut hairstyle for women over 50 with fine hair
If you are looking for something not too short nor too long, this hairstyle is definitely for you. The copper looks beautiful on the hair and gives it an extravagant look.
This is still easy to maintain and gives a very elegant look. Light and dark copper look amazing on women over 50. It is one of those colours you need to try out and create a signature look for yourself.
#8 – Short feminine bob hairstyle for women over 50 with fine hair
This is one of the most common and remarkable hairstyles for older women. The bob is feminine and brings out so much class. The best part about this hairstyle is that it looks great on different face shapes.
We would suggest this hairstyle for women with straight hair rather than curly. It looks good with wavy hair.
Tips
Try wearing this hairstyle by tucking one side behind your ear like shown in the picture.
#9 – Bob with balayage hairstyle for women over 50 with fine hair
This hairstyle looks amazing on women with fine hair especially because that is what creates the structure of the hair.
The blonde and brown colours create a beautiful mix especially if your hair has started graying. This is again medium length and can go great with the weather and maintenance.
Tips
The hairstyle is normally till the nape of your neck but you can go a bit shorter behind.
#10 – Short shag hairstyle for women over 50 with fine hair
Just with the look of it, it oozes style and class. The uneven layers on the hair can make your fine hair look thick.
Although you'll need to spend a considerable amount of time in the morning to set your hair, it is totally worth it because of how well it can sit.
This hairstyle is best suited for women with a narrow face. Hair colour doesn't necessarily count when it comes to this hairstyle since it can go with anything.
Tips
The hairstyle comes with longer sides but if you're looking at convenience we would suggest you to make it shorter.
Hairstyles for older women with fine hair
#11- Sleek inverted bob hairstyle for women over 50 with fine hair
If you have fine or thin hair, this kind of bob hairstyle is perfect. The angled cut makes it look bouncy and the streaks of brown in the hair adds an illusion of depth and thickness to your hair.
#12 – Contrasting choppy pixie short hairstyle for women with fine hair
If you're looking for something that is classy and youthful at the same time, you should try this choppy hairstyle. The multiple short layers do not just look stylish, they also make hair look thicker and more voluminous.
#13- Layered short hairstyle with bangs for women over 50
I am in love with layered hairstyles for fine hair. They make your hair look thick and bouncy. It's also very easy to maintain, especially if you have naturally straight hair.
#14 – Silver bob short hairstyle for women over 50 with fine hair
Want to go natural? This silver short bob is the perfect hairstyle to help you embrace your naturally grey locks!
#15 – Super short hairstyle for women over 50 with fine hair
#16 – Spiky dark ash blonde pixie hairstyle for women over 50 with fine hair
#17 – Messy rose gold pixie hairstyle for women over 50 with fine hair
#18 – Asymmetrical back bob short hairstyle for women over 50
#19 – Black and white short hairstyle for women over 50 years
#20 – Wake up and go contrast bob hairstyle for women with fine hair
#21 – Blonde Pixie Cut
#22 – Bouncy Bob for Women Over 50
#23 – Mature Short Layered Cut
#24 – Youthful Pixie Haircut
#25 – Voluminous Gray Pixie Cut
#26 – Angled Ash Blonde Cut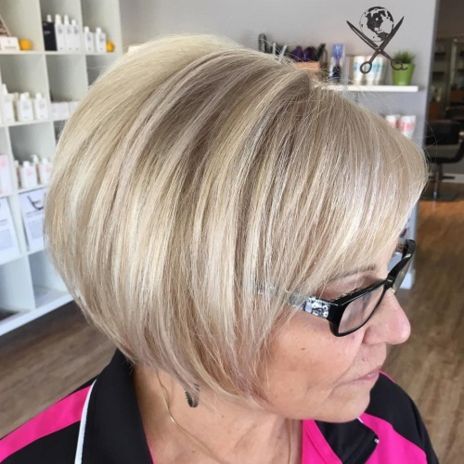 #27- Choppy Blonde Pixie with Long Side Bangs
#28 – Angled Undercut Hairstyle
#29 – Long Curly Salt and Pepper Pixie
#30 – Short Voluminous Feathered Hairstyle
#31 – Layered Pixie with Textured Bangs
#32 – Airy Gray Pixie with Lots of Layers
#33 – Wispy Silver Bob
#34 – Pixie Bob with Nape Undercut
#35 – Gray Bob with Delicate Layers
#36 – Feminine Shorter Hairstyle for Curly Hair
#37 – Tapered Gray Pixie with Textured Crown
#38 – Pure Blonde Ambition
#39 – Choppy Gray Pixie
#40 – Short Bob with Long V-Cut Layers
#41- Choppy Bob With Fringe
#42 – Edgy Crop Cut
#43 – Elegant Side Swept French Cut
#44 – Feminine Bob With Natural Grey Hair
#45 – Angled Asymmetric Bob
Now that we have given you a clear cut list of the kind of short hairstyles for women over the age of 50, let us look at other tips you can embrace with these hairstyles. It is important to keep up style even after 50 years. Read on to read on a few tips.
What hairstyle will make you look younger?
Styling your hair when you are over 50 years of age. Like women of other age groups, women over the age of 50 need to take into consideration other bodily features before choosing the best hairstyle.
Wavy bob
Creating waves with bob hairstyles is an amazing hairstyle that can be easily achieved If you have straight hair this is a great chance for you to take this hairstyle as your signature look!
Messy shag
If you want to have some fun and go retro, the messy shag will do the job for you. It is the perfect effortless look.
Face framing hairstyle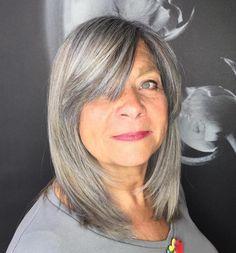 Getting bangs is an amazing hairstyle for older women. Once you frame your face it tends to make you a lot younger.
Pixie
As we have mentioned above there are different types of pixie hairstyles, this is because of how convenient and suitable it is for older women. It sure oozes style and a lot of charm.
FAQs – Short Hairstyles For Women Over 50 With Fine Hair
Does long hair make women look older?

This again depends on the hairstyle that you choose and how much it compliments all your features. But if you could choose a shorter hairstyle over wearing your hair long that would make you look younger. It could also depend on your hair volume. If you have thick and coarse hair then it would make more sense to cut it short. 
But to conclude whatever the length of your hair as long as you get the right haircut you will look absolutely good!
How to volumize fine thin hair? 

Fine hair can be hard to maintain since it is super hard to maintain and it requires extreme care to be able to keep it intact. So we have a couple tips for you to abide by so that your hair is in perfect health, 
Shampoo and condition your hair regularly but don't overuse. It is necessary to clean the grease from your scalp but overdoing it can further damage the hair. 
Find the perfect product for your hair and use it regularly without changing it ever once in a while. 
Avoid rubbing your hair with a towel and especially rubbing it hard. It is important to be gentle with your hair because it is even more sensitive when it is wet. 
Avoid styling products as it can have a harmful impact on your hair. 
Crossing a certain age does/ should not rip off your style. In fact, embracing new styles will make you feel youthful. We hope these short hairstyles will give you a chance to embrace your age and look elegant.
Also read:
Braided mohawk hairstyles for women
Best hairstyles for shoulder length hair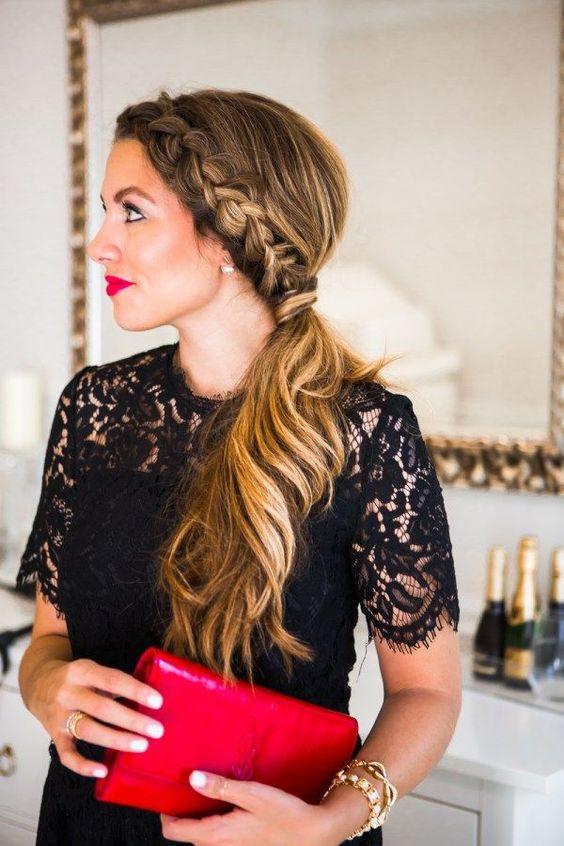 From hair care to soaring hair trends, we cover it all. We make sure you nurture your hair and stay on board with hairstyles and new hair trends. So hop on and make every day count with some of our creative and sassy hair trends.