Bouffant Bun

Feathered Bob

Natural Curls

Black and White Curls
Hairstyles for Women Over 50
What are the best hairstyles for women over 50? 
Once you hit the age of 50, your requirements for a hairstyle change. Age is quite unkind to our hair. Lots of hair related issues are faced by women over the age of 50. You also may be concerned about how your hairstyle compliments your personality. You would surely want to look your best and also dignified enough for your age.
Check out these hairstyles to best compliment your stunning 50s!
#1 – Simple bob
One of the most popular hairstyles among women over 50 is the bob. It is a hassle-free style. This versatile look is apt for any age, especially the 50s. There is something awe-inspiring about this style which women love to embrace. It works well with all types of face cuts and natural hair colours. Style your bob with gentle hair cream and you will be set for the day.
#2 – Layered midi cut
A stunning style for those women who believe age is just a number is the layered midi-cut. It makes you look glamorous. You will feel full of confidence with the bounce in your hair. Even if you have limp hair, this style will add extra volume to help your hair gain back the youthful vigour. You can have the tips razor sharpened for a dramatic feel. This styling is also suitable for any hair colour that suits your personality. So you can enhance the look further by colouring your hair.
#3 – Breezy locks
Are you a timeless beauty? Then this is the haircut for you. This style immortalizes your facial features. If you enjoy the classical, golden era, then this cut will do perfect justice to your personality. The gentle feathers take-off a year from your appearance. People will keep guessing your age. This style is appropriate for women with oval and rounded faces. If you have a square or triangular face, get the first set of feathers chin downwards.
#4 – Straight lob
Are you looking for a haircut that is not only feminine and gorgeous but also appropriate for your 50s? Then the answer is the straight lob. This is such a unique style. Many women who embrace the straight lob in their 50s, stay committed to it in their 60s and 70s as well. The elegance of this style and the ease of maintenance make it a favourite among most women.
#5 – Long bob with bangs
A long bob is a perfect haircut for many reasons. Sometimes, hair thinning common to women in their 50s may suffer from limp frontal hair. Under such circumstances, a bob may give an appearance of more dull hair. To address the issue, try some baby bangs. It adds a youthful charm to your look. You also will have more volume added to your hair. For a smooth finish try to keep the flyaways tucked in with a good hairspray.
#6 – Messy updo
The name of Susan Sarandon comes to mind when you think of eternal beauty. She is known to wear her hair in the most dreamy updos. You can give this hairstyle a shot. The best thing about this style is that it looks great on all types of faces. For the most eye-catching style, team your updo with flowy, loose curls. It should frame the face and compliment your best features.
#7 – Salt and pepper curls
Some lucky women can boast of perfect salt and pepper hair. When you have an almost equal proportionate distribution of black and grey hair, you get an exclusive hairstyle. Wear them in curls for a dazzling look. There is something serene about this look. This style acts as a testimony to your wisdom and pays homage to your amazing fashion sense as culminated over the years.
#8 – Soft curls and long hair
If you have fallen in love with your long hair over the years, give it a makeover. Get some soft curls that will make your long hair full of bounce. This style works best with glossy and well-maintained hair. You can also try a balayage or go for 100% grey coverage.
#9 – Sleek bob
An excellent hairstyle, the bob looks most elegant and trendy in its sleek avatar. But be careful when getting a sleek finish as it may let the hair fall flat on your face. A good volumizing spray can save you from the ordeal. Apply the spray, backcomb your hair, followed by straightening the surface. Get regular trims and treat your split ends for best result.
#10 – Mid-length charm
A casual and carefree style can even look charming in your 50s. This amazing hairstyle is simple yet makes a great impact. You can wear your mid-lengths with shallow layers and bangs. Comb the edges in layers. The first layer inwards, followed by the second outward layering.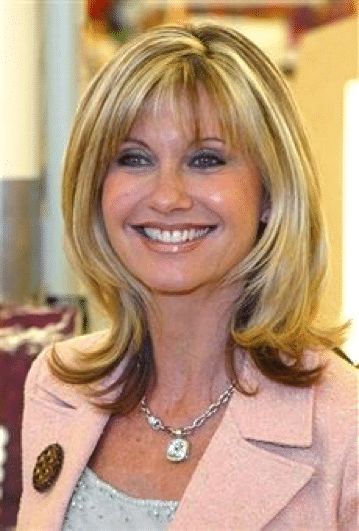 #11 – Deep part and side sweep
An adorable hairstyle that compliments any length is a deep part with a side sweep. It works extremely well with triangular or heart-shaped faces. Even oval to round faces look great with this style. The deep part hides away any possible thinning of hair at the crown. The side weep gives you a very chic and fashionable look. Keep the frizz away for the ultimate sleek finish.
#12 – Sculpted bob
Bob is a versatile haircut that can be styled in many ways. If you want more definition added to your face, try the sculpted bob. The first layer of sculpting starts from the tip of your nose d or just below your chin. It frames your face and highlights your best features. Choose a sleek or messy style to suit your personality.
#13 – Natural curls
Andie MacDowell rocks the age that she steps in. In her 50s she had immortalized her curly hair look. This style is as glamorous as it can get. A deep concern for women of this age group is thinner hair but curls bring natural volume to your style. Your hair will look healthier and more luscious. Simply brush through with a volumizing cream.
#14 – Feathered Bob
Another bob hairstyle that adorns the middle-aged women is the feathered style. This fun-filled style can make any woman feel flirty, sexy and beautiful, irrespective of age. Typically the style is carried out focusing your chin area. It looks best in women with triangular facial structure.
#15 – The bouffant bun
If you have a formal dinner invitation approaching, consider this look. Start with side brushing your hair, make a bouffant at the crest. Finish off with a bun with the gathered hair. If you want to avoid a messy look, spray and tuck away any possible flyaways. Use a salt based hairspray to add some sheen to the updo.
#16 – Classic chignon
This is the hairdo for weddings and festivities. This elegant updo does justice to the nape of your neck and gives you a slimmer appearance. A great thing about this style is the fact that this hairstyle is suitable for not only long hair but also medium hair as well. You can add a single rose or lily to make this style more sophisticated.
#17 – Chandelier bob
The key to this hairstyle is the haircut. Iconic superstar Jodie Foster embraced this look and showed the world a wonderful way of wearing the bob. The hairstylist will cut your hair in such a manner that the hair falls like a chandelier. It compliments all face shapes and looks great on women with Auburn and warmer hair colours.
#18 – Long and straight
If you are proud of your natural long and grey tresses, then why not flaunt it? If your hair has become bit wavy, smoothen with a straightener. Use a good heat protector cream before ironing. As many women in the 50 year age group suffer from brittle hair. Brush through the hair, side sweeps and secure with bobby pins. And you are ready with all your natural glory!
#19 – French twist
This classical hairdo is a favourite among women of all ages. Though by the looks of it, the hairdo may appear difficult to achieve there are simpler ways to have a French twist. Gather your hair on one side. Divide it into two sections. Secure with bobby pins. Twist upwards and tuck all the loose hair. Use hairspray to get a long-lasting hairdo.
#20 – Marylin bob
If you are to think of someone who always got the style right then Marylin Monroe is the obvious name you will come up with. A bob inspired by her and aptly called Marylin bob is the most glamorous hairstyle the trendy 50 years old swears by. The bob is cut in layers and it adds to the volume of the hair. Then it is combed outwards for a fresh appeal. You can even opt for a razor finish to make them look more appealing.
Hairstyles for Over 60
While choosing a hairstyle, always keep your profession in mind. Factors like facial structure and hair quality should also be kept in mind. Anti-wrinkle creams can make you look younger after using them for long durations. However, a change in haircut can instantly take off at least 5 years of age. With the right hairstyle, you will feel more beautiful and confident.
Also Read :