Styling long and thin hair may seem challenging at times, but, the right haircut can do wonders. The aim is to create volume and a cool hairstyle.
Do not let fine or thin hair intimidate you, there are some super fashionable haircuts that can give you a new makeover and reveal you're true, gorgeous self.
Here are 45 different styles, you can try.
Best Haircuts For Thin Long Hair 2022
#1 – Long waves and a shag
The shag is one of the most popular haircuts among with long hair. It works well for thin hair as well.
The shag and wave combination adds volume and gives you back your bounce.
Typically, the tresses in the front are shorter while the back layers are longer.
The placement of each strand of a layer adds the body to the hair. It is a great haircut and needs minimum maintenance.
#2 – Choppy layers
The beauty of this style is the fact that it is ideal for any face structure. The fine hair gets an enormous boost due to the layering.
Ideally, the layering should start at shoulder length. The body of the hair results due to the layers cut from top to bottom.
The choppy ends make the hair look more voluminous. It has a messy and almost ethereal appeal. This hairstyle looks best in its natural charm of open hair.
#3 – Hints of layers haircuts for thin straight hair
If your hair lacks in volume, cutting subtle layers can help you.
This look needs professional help. Use a volumizing spray to prevent the hair from looking limp.
The end look is stunning hair and gorgeous you. The structuring of the layers and inward curling to finish creates the illusion of volume.
Simple highlights also trap light and give the hair a luscious finishing. This haircut is suitable for all types of hair colours.
#4 – Side fringes and long tresses
For fine hair around the crown area, fringes add volume. The length of your hair is not much modified.
Only trims can make the hair look full of volume. The cutting detail adds the movement to the hair.
If you decide to colour, pay attention to the roots. This hairstyle will give you an instant boost to rock your long tresses with pride. Keep it messy for a super cute look.
#5 – Hair fountain Haircuts for Thin Long Hair
If you have darker hair colour, then this is the look for you. Even finer strands will stand out with this cut.
The trick to achieving this style is getting a few layers. Ask your stylist to go softer with the ends. If the tresses are longer and far apart, it will create the fountain look. It is super stylish and gives you a very posh look.
#6 – Light Waves Haircuts for Thin Long Hair
This hairstyle achieves the most volume for fine hair. The loose and big waves look spectacular.
Your stylist will begin by giving you big and soft layers. The stylist may offer to highlight, it will boost the volume quotient further. This hairstyle is gaining popularity for its easy upkeep.
To gain the salon like volume, even weeks after the cut, backcomb your hair.
#7 – Swooping layers Haircuts for Thin Long Hair
If you looking for a haircut that has an angelic appeal to it, then this is the one.
The wispy layering makes the hair look super trendy and magical. The result is a volume boost in the lifeless hair by cutting the ends in a strategic manner. This cut is perfect for lighter shades of hair.
#8 – Feather touch Haircuts for Thin Long Hair
A hairstyle that looks super elegant and feels super light. It is sleek and gorgeous.
This dainty cut is bold and sophisticated at the same time. For the finishing, your stylist will curl the ends outwards.
The fall of this cut does the trick of creating volumes for your fine hair. Get your roots to touch up with contrasting shades for maximum effect.
#9 – Waves in tiers Haircuts for Thin Long Hair
If you love the length of the tresses yet looking for volume, give this haircut a try. There are only two tiers in this haircut.
The long waves at each tier create the illusion of sufficient volume. The styling finishes with inward curls. Spray some volumizing gel to hold the style. This style involves the least cutting off your long hair.
#10 – Poker straight Haircuts for Thin Long Hair
Even Sarah Jessica Parker has fine strands. So taking a lesson from her, the poker straight hair can be the best hairdo for lifeless hair.
This is a very sleek style. If you want to make it edgier, finish your styling with razor sharp edges. It creates extra volume for your thin locks. Spray some light reflective serum for that glossy finish.
#11 – Jagged bangs Haircuts for Thin Long Hair
When you have very fine hair, the greatest challenge is to create the volume. To get the most bounce, select a haircut that does justice to your existing hair body.
The jagged bangs coupled with beachy waves for the length of your hair looks irresistible. The trick of this haircut is to get the layers from the chin downwards. It also shapes the structure of the face.
#12 – Midshaft layers Haircuts for Thin Long Hair
The most common problem with fine hair is thinning out in the middle. The mid-shaft cut adds great bounce to this problem area. It works extremely well with dark hair colours.
If you have a lighter natural hair colour, get darker balayage coverage. To look best with this cut, make a side parting and run the comb back through the hair.
#13 – Multi-tiered layers haircuts for long thin hair
If you have really long hair, thinning can make it look lifeless. Getting layers in multiple tiers will help add great body to the hair.
The movement will give you an awesome haircut and make you feel even more stylish. This hairdo has an unkempt attitude that sets it apart. The messy nature of this style makes your hair look luscious and vibrant.
#14 – Sliced and sharpened volumizing haircuts for thin medium hair
This is not so typical cut for long hair. It looks gorgeous when done right. Fine hair appears to fall flat at face.
So even if you have long tresses, without the right haircut, it will not do much for your facial features. This sharp and contrasting edges cut builds volume throughout your hair. It leaves you looking breathlessly beautiful.
#15 – Texture boost easy hairstyles for long thin hair
Long hair in itself is a style statement. But if you feel the need for more bounce and movement then ask your stylist to give you a texture boosting cut. The best way to do it is by, giving you a trim.
Pay attention to split ends, try getting rid of them. Subtle layers add more texture. While blow-drying, curl your hair in one particular direction. It gives a very girl-next-door vibe. One pro tip is to wear it in a side sweep.
#16 – Long fringes haircuts with bangs for thin long hair
The best way to spice up long hair which may seem boring at times, is by adding fringes.
The longer length of the fringes adds more dimension to your thin hair. For a dramatic effect, complement the fringes with subtle layers and loose waves for the length of your hair.
This effortless style looks sexy and casual. For a formal look, loosely tie your hair in a low ponytail. If kept open, add some salt water to get a sleek finish.
#17 – Surface layers volumizing haircuts for thin long hair
Ghost layers or surface layers is the latest trend to rescue your long locks. The significant point about this style is your hair can enjoy its natural growth.
But it will benefit from the additional top layers. This technique only cuts the top surface of your hair, layer formation adds amazing body to the hair. As your hair keeps growing, get the surface layers to maintain proportion. The illusion leaves you with voluminous looking hair.
#18 – Textured bangs
Long hair and bangs have a history together. The latest trend in this styling is textured bangs.
Fine hair looks limp and dull, a cut to bring texture can add life back into your beautiful hair.
The simplest way of doing is getting the bangs in layers. Instead of a simple one length bang, you get it in tiers. The frontal coverage of the head, makes your hair appear fuller.
To match the consistency, the stylist will give you similar layering all across your hair. It's one of the best chubby face haircuts for thin long hair.
#19 – Choppy contouring
The speciality of this haircut for thin hair is it adds structure to your face. Simple long and fine hair does not do much for your facial features. But a contouring cut adds definition to your best facial assets.
The top haircut highlights your forehead and chin. The second set of layers frame your jawline. This is one of the most complimentary hairstyles for girls with oval or rounded facial features.
For square faces, the top shaft should get additional layering to look best.
#20 – Curly layers
This style is worthy of the red carpet. After the stylist finishes with the look, no one will guess you have thin hair.
After long and detailed layering of the hair, the stylist will curl the hair inwards in big chunky pieces. The end look is fabulous. It gives mind-blowing volume for the even the thinnest hair strands.
#21 – Wavy choppy long layers for thin hair
#22- Subtly layered caramel hairstyle for thin long hair
The subtle caramel layers add a sense of depth to the hair, making them look thicker. The light and dark hair colors create an optical illusion of sorts, giving body to thin, long hair.
#24 – Chocolate fountain haircut for thin long hair
#25 – Long A line hairstyle for thin long hair
#26 – Perfect ponytail for thin long hair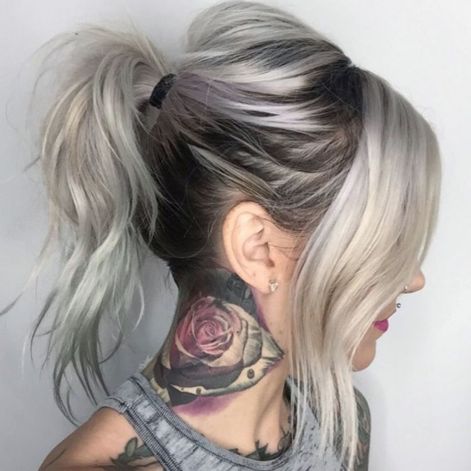 #27 – Asymmetrical side swept haircut
The assymetrical layers add volume and body to hair. And if you sweep it sideways, instead of wearing them flat and straight with a middle parting, your locks can actually look thicker.
#28 – Curly frizzy haircut for thin long hair
#29 – Straight thin long haircut
#30 – Long angled side layers haircut for thin long hair
#31 – Highlighted layers for thin fine hair
#32 – Chin length layered hairstyle for thin long hair
#33 – Feathered layers for long thin hair
#34 – Tousled blonde V haircut for thin long hair
#35 – Side feathering long thin hair
#36 – Long layered ombre hairstyle for thin hair
Ombre hair colors are perfect for long thin hair as they create an optical illusion of thickness thanks to the subtle move from light to dark.
#37 – Overlapping long layers for thin hair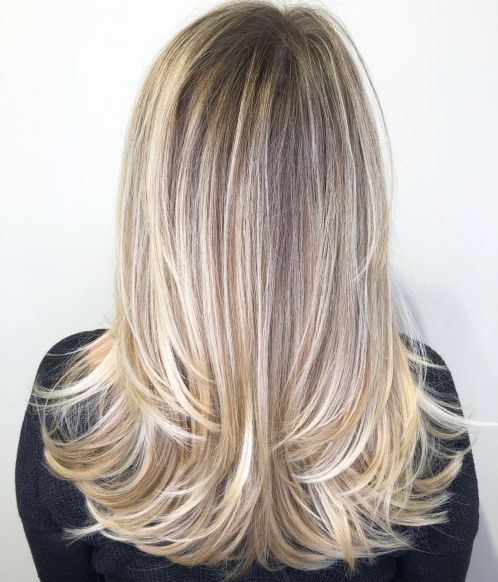 #38 – Layered fine hairstyle for long hair
#39 – Chunky highlights for fine hair
#40 – Flowy curls for thin long hair
Even if you have long, thin hair, it'll look bouncy and flowy when you curl it. But be careful constant curling especially using heat-based products can leave hair damaged.
This hairstyle is good only if you have healthy hair. The styling process can damage thin, fragile hair further.
#41 – Face Framing Highlights
This is the best haircut for long thin hair and round faces. The bold face-framing highlights slim down your chubby face and gives the impression of both thick hair and a sharper jawline.
#42 – BedHead Curls
This is one of the best volumizing haircuts for thin medium hair. If you're looking for haircuts for thin long hair to look thicker the this is the easiest one as it requires low maintenance.
#43 – V-Cut with Thin Layered Ends
This type of feather cut for thin long hair can help add volume to your tresses.
#44 – Braided Updo
The braided updo is among the beautiful haircuts for thin long hair that you can wear to parties and special occasions.
#45 – Straight Hair with Reverse Waterfall Braid

This is probably one of the more low maintenance haircuts for thin long hair as it just requires you to have long fine tresses. The waterfall braid can be done in minutes any time you want.
Knowing which haircut is best suited for your thinning hair is important but so is knowing how to maintain it and enhance your hair growth to increase your volume. Here are some tips to increase volume and have better voluminous hair.
What is the best haircut for thin long hair?
Some of the best haircuts for thin long hair include:
Long waves
Choppy layers
Side fringe
Asymmetrical side-swept layers
Feathered cut
Perfect ponytail
Jagged bangs
Hair fountain
Layered hair with ombre highlights
Layers with caramel highlights
FAQs – Haircuts For Fine, Long Hair
Here are some questions I get asked about maintaining and styling long, thin hair.
How can you thicken your hair? 
Having thick hair is definitely a virtue but sometimes it is developed over time. It can be disheartening to have thin, fine hair. But there are remedies that can help you get past your bad hair days. 
Use hair oils. These contain nutrients that your hair lacks to get thicker. Massage your hair well with your fingers for at least 5 minutes before you wash it off. 
Choose
shampoos and conditioners
that don't contain a lot of chemicals. It has to enhance your hair growth and not make it fall out. If you realise a certain product is not working for you, change it immediately. 
Brush your hair gently. Rough handling of hair is one of the prime reasons for hair fall. It can damage your hair strands and restrict it from growing. 
Protect your hair from dust and other pollutants. 
Get rid of dandruff. Using lemon is one of the most effective ways of freeing yourself from the grasp of dandruff. 
Why causes hair to become thin and fine?
Thinning of hair can be caused by a lot of aspects. It could be the genes, lack of maintenance and usage of unnecessary elements as part of a haircare routine.
However, these can be changed once you start to look into the matter and incorporate new habits. 
Eat vegetables and fruits. 
Oil your hair on a regular basis and use the right brand. 
Wash your hair with the right products. 
Brush your hair every day. 
Be gentle with your hair. Rough combing or handling of the hair can cause it to fall off. 
Dandruff is another major reason why you might have hair fall. 
We assure you that incorporating these habits into your daily routine will give you lustrous and thick hair. 

Is a layered haircut good for thin hair? 
Layers and tresses are the best options for women with thin hair. When layers appear in different lengths it makes the hair look more puffy and fuller.
And not to mention it has an appeal of its own. Layers have always been in style. 
However, if you don't have the shape for it you could try other haircuts that boost your volume. 
Layers can tend to make your look more thin so we would suggest you don't opt for it if your hair is extremely thin. If you have
curly hair
, you can give it a try as your hair still holds a chance in exuding volume. 
Can you have long hair if your hair is thin?

The length of the hair does not matter when it comes to your hair volume. However it matters what kind of products you use to make your hair worse or better. 
If you want to maintain your long hair, then you need to tend to it in a special way. Use only the right and safe products.
Make sure your brush your gently with the right comb lest your hair strands fall out. It is important to maintain your hair really gently if you have long thin hair. 
What colour is best for thin hair? 
Dark brown or lighter cocoa is the best suited for thin hair since darker dyes have a lesser chance of damaging your hair than lighter dyes. Not to mention
ombre hair
and balayage hair has such a cool look.
Also if you do streaks it will serve the purpose better. Darker dyes compliment most skin tones so you don't have to ponder about it too much. 
What haircut makes your hair look thicker?
If you want to make your hair look thicker, you can try out the following haircuts:
Pixie Cut: Thin and long hair is more prone to breakage. Long length hairstyles appear thinner as well. So if you want to hide your fine hair and make it appear thicker, you can go and get a pixie cut. This style makes it impossible to tell if your hair is fine or thin.
Asymmetrical Bob: The sharp, asymmetric angles created by this haircut adds depth and thickness to your hair. You can even add side swept bangs with this asymmetric bob for a fuller front section. To takes things further you can even add layers to the bob.
Long Bob: If you don't want to full short and get a bob, you can try an asymmetric lob. This long bob gives your hair depth and dimension and makes it appear fuller. The blunt ends make hair appear thicker and denser.
Bangs: Bangs do the job of taking attention away from your long, thin hair and focusing it on the front. It also makes the front section of your hair look thicker.
Long Layers: If you have long straight hair, it tends to appear too fine and stringy, especially at the ends. so you can cut your hair in multiple layers to give an illusion of volume and thickness.
Try any one of these haircuts and hairstyles and see the difference yourself. To get a stylish new look, try a haircut that truly suits you. The touch of the scissors can do magic for your tresses.
Also, keep your hair well-hydrated. Use a good conditioner and ditch the regular serum. Step out in confidence tossing your bouncy tresses.
Also read
Hairstyles for plus size women
Stylish quick weave hairstyles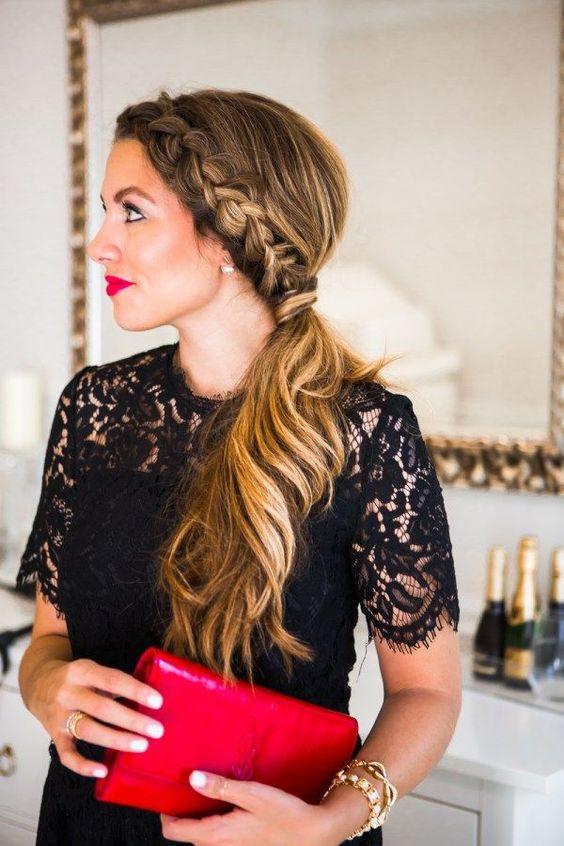 From hair care to soaring hair trends, we cover it all. We make sure you nurture your hair and stay on board with hairstyles and new hair trends. So hop on and make every day count with some of our creative and sassy hair trends.