Wouldn't it be awesome if we could change our hairstyles or hair colours every day? Curly hair on Mondays, short bobs on Tuesdays? Wacky colours on Wednesday?
In a perfect world, it would be a piece of cake. But in reality, there is only so much experimenting you can do with your hair.
The resulting damage, frizziness and breakage are just not worth it. Now, this is where wigs come in.
Related: Best Hair Sprays For Curly Hair
Related: Best Moisturizing Sprays
Wigs are the perfect solution to your thirst for a drastic hair transformation. And with a wig, you'll definitely need hairsprays for synthetic wigs.
The fibres on these wigs are sensitive and may not withstand the heat from styling tools. Plus, your regular hair sprays are no good for them either.
The best hairsprays for synthetic wigs are those with a water-soluble, gentle formula that gives enough hold to set the hairstyle in place.
To make things easier we've decided to make a list of the best hairsprays for synthetic wigs. Here are our top 12 picks:
How I tested the best hairspray for synthetic wigs?
I used these top hairsprays for synthetic wigs on the hair I have and I recorded my reviews below. I tested them chiefly for 3 factors that I've listed below and rated them on a scale of 1-5.
Holding Power: The hairsprays need to have a strong hold that will keep hairstyles in place for long
Safety and Gentleness: I checked if they were free of alcohol and other chemicals that can harm synthetic hair
Residue Free: I also checked if it left white residue or any stickiness behind
Top Hairsprays For Synthetic Wigs 2021
Revlon Finishing Spray for Synthetic Hair
While most synthetic wigs come pre-styled, it does become necessary to shape them into a different hairstyle. This is where the Revlon Finishing Spray comes in.
The alcohol-free formula is gentle on the fibers of your synthetic wig while still providing a good hold. And if you want to change things up again, the hold is also flexible enough to allow reshaping.
The hairspray also helps tame that frizz on your wig and protects it from humidity. It is environment-friendly and has really low VOC components.
Great for – Frizzy hair
Pros
Makes styling very easy
Suitable for stiff wigs
VOC is low
Environment-friendly
Resistant to humidity
Flexible and superb hold
Static frizz can be tamed
Cons:
Sticky texture
Scent too strong
My Ratings:
Holding Power – 4/5
Safety and Gentleness – 4.5/5
Residue Free – 3/5
Awesome Synthetic Wig Leave-in Conditioning Spray
The water-soluble formula of the Awesome Leave-in conditioning spray makes it the perfect match for your synthetic wig.
We know how tiresome it can get to work out the knots from synthetic fibres, but with this spray, it is a breeze. The best thing is that it also adds shine and volume to the wig while making it super-easy to run a comb through. 
And if your wig has started to look less like hair and more like a limp rag, then the Awesome conditioning spray can work its magic in seconds.
The spray leaves the wig soft, silky and frizz-free. The cherry on top of the cake (or should we say the crown on top of the wig)? The spray doesn't leave behind any gluey residue.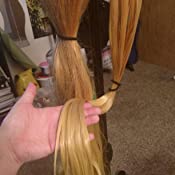 Great for – Damaged hair
Pros
Adds shine
Adds volume
Frizz-free
Suitable for damaged hair
Cost-effective
Cons:
Sticky texture
Smell too strong
My Ratings:
Holding Power – 4.5/5
Safety and Gentleness – 4.5/5
Residue Free – 3/5
Hair U Wear Restore
Among the best hairsprays for synthetic wigs and one of our favourites is Hair U Wear Restore. Why? The aerosol-based leave-in conditioner detangles hair, softens the fibres and leaves your wig looking brand new.
Plus, we love the pleasant scent it leaves behind. This product is great if you like styling your wig often as it protects from heat damage.
And if you're as concerned about the environment as you are about your wigs, then you would love the Hair U Wear Restore spray. Reason? It is completely cruelty-free and made from eco-friendly materials.
The teensy little problem we have with the spray is that it might leave some white residue behind, but that's easily fixed.
Great for – Protection against heat
Pros
Detangles Hair
Wig looks brand new
Environment-friendly
Heat protected
Strong hold
Easily washable
Easy styling
No build-up
Softens hair
Cons:
Sticky texture
Smell too strong
May not work well at times
My Ratings:
Holding Power – 3/5
Safety and Gentleness – 4/5
Residue Free – 3/5
ON Organic Natural Premium Oil-Free Weave & Wig Conditioner & Detangler Tangerine
If you're someone whose wig collection includes both synthetic and natural weaves, we definitely think you should check out this conditioning spray from Organic Natural.
It contains no alcohol or oil but does boast of an ingredient list that includes mango, shea butter and tea tree. So, you can use it to detangle, soften and defrizz synthetic and natural wigs too. 
It's also fragrance-free and doesn't cause itchiness after you put on the wig. Plus, it gives your synthetic weave an amazing shine. The catch here is that too much of this product can dry out the hair, so use it sparingly.
Great for – Greasy synthetic hair
Pros
Detangles hair
Softens wigs
No frizz
Pleasant smell
Conditions hair
Cons
Makes hair hard
Cause dry hair
My Ratings:
Holding Power – 4.5/5
Safety and Gentleness – 3.5/5
Residue Free – 4.5/5
BOBOS Remi Wig & Weave Detangle Spray
Another versatile product that you can use on both your synthetic and human wigs is the BOBOS Remi Wig & Weave Detangle spray.
It's packed with all the good stuff like green tea and nanosilver that makes the wig smooth, shiny and clean. The best part is that you don't have to worry about the weather with this spray handy. It works perfectly in humidity as well.
We also like how it leaves behind a pleasant scent on the fibres. But be warned, using too much of this detangling spray can stiffen your weave.
Great for – Greasy hair
Pros
Detangles hair
Softens hair
Preserves shine
Pleasant scent
Good hold
Manges hair well
Cons
Stiftens hair
Cause breakouts
My Ratings:
Holding Power – 4.5/5
Safety and Gentleness – 3/5
Residue Free – 4/5
BeautiMark Brilliant Shine Spray
The Brilliant Shine Spray by BeautiMark gives your synthetic wigs…well, a brilliant shine. But that's not all it does. The product extends the life of your wigs and softens the fibres too. And all this without weighing them down. It also gets extra points from us for being free of toxic parabens.
All the ingredients in the spray are natural too. There's aloe vera, bamboo extracts and berries. So if you're planning to use this product on your human hair wig, go right ahead.
Great for – Sensitive hair strands
Pros
Contains no parabens
Increases lifespan of wig
Preserves the shine
Preserves the color
Suitable for human hair
Great texture
Holds well
Cons
Suitable only on damp hair
More effort required
Time-consuming process
My Ratings:
Holding Power – 4.5/5
Safety and Gentleness – 4/5
Residue Free – 4/5
Jon Renau Fiber Love Holding Spray
When it comes to hairsprays for wigs, Jon Renau Fiber Love is the champion. It was created especially for synthetic wigs.
That's why you wouldn't find any parabens or sulphates in the ingredient list. Just beautiful hair… we mean wigs. Oh, what the heck. A bit of this spray and your wig would like natural hair anyway.
It defrizzes the wigs, softens the fibres, adds shine and provides long-lasting, flexible hold. All this without leaving any visible product residue.
The formula is super-powerful so be careful while spraying on the wigs. Too much product will only leave them damp and heavy.
Great for – Natural hair
Pros
Hold lasts long time
Paraben & Sulfate free
Increases lifespan of wig
Suitable for natural hair
Scent is light
Cons
Costly
Improvement needed on the spritzer 
My Ratings:
Holding Power – 4.5/5
Safety and Gentleness – 4.5/5
Residue Free – 4.5/5
Bonfi Wig Shine Spray
Wearing your wig out every day might seem fun, but all that sun exposure can take a toll on the hair. But not to worry, the Bonfi Wig Shine spray is here to the rescue.
It contains vitamin E that adds softness to hair and keeps the frizz away. There's also a complex blend of ingredients that brings the shine back to dull weaves. 
The best thing about this spray is that the formula gets absorbed quickly into the fibres, making it easy to reshape hairstyles without getting the wig all greasy.
It also helps reduce friction between the wig fibers, reducing the chances of breakage during combing. Oh, and we just love the fragrance.
Great for – Hairstyling
Pros
No matting
Pleasant smell
No frizz
Natural glow
Adds volume
Conditions hair
Cons
Too much greasiness
Damp hair look
Too oily
My Ratings:
Holding Power – 4.5/5
Safety and Gentleness – 4.5/5
Residue Free – 3/5
African Essence Control Wig Spray
If you want your synthetic hair to look like the real deal, then this spray from African Essence is a must-have. It not only adds shine and softness to the wig but also gives it a texture similar to natural hair. The three-in-one spray is great for detangling your wig too.
We like how this spray does not leave any oily residue or build-up behind. But it does tend to get a bit sticky. Our advice is not to overuse it.
Great for – Detangling hair wigs
Pros
Oily residue not found
Detangles hair quickly
Softens hair
Produces shine
Adds volume
No build-up
Moisturizers hair
Cons
My Ratings:
Holding Power – 4/5
Safety and Gentleness – 4.5/5
Residue Free – 3/5
ROP Rene of Paris Protect Holding Spray
Want the hairstyles on your synthetic wig to last longer? Try the Rene of Paris Protect Holding spray. The formulation gives a firm yet gentle hold on the wig. So you can change or reshape hair easily. We like how this hair spray doesn't burn a hole in your pocket.
If you want an inexpensive option that doesn't leave behind flakes or build-up, go for this product. You might want to go easy on the spray, though. Too much and it can cause the wig to stiffen in place.
Great for – To make hair more silky
Pros
Gentle formula
Budget-friendly
Non-sticky
Produces shine
No build-up
Strong hold
No flaking
Cons
My Ratings:
Holding Power – 4.5/5
Safety and Gentleness – 4/5
Residue Free – 3/5
Hairobics Unlimited All Day Leave in Conditioning Synthetic Wig Spray
Constant styling can leave your synthetic wigs dry as a desert. So a spray containing natural oils, like coconut oil-infused products is a great choice. The Hairobics Unlimited All Day Leave in Conditioning spray detangles the wig, adds shine and leaves the fibres soft and silky.
So no matter how much you love styling the wig, it lasts long and looks amazing. The spray has a mild, pH-balanced formula too. It keeps the wig fibres protected from harm and doesn't weigh them down. As far as sprays for synthetic wigs go, this one is not a bad choice.
Great for – Protecting integrity of the hair wigs
Pros
Moisturizers wig
Eliminates dirt
Affordable
Produces shine
No build-up
Cons
My Ratings:
Holding Power – 4/5
Safety and Gentleness – 4/5
Residue Free – 4/5
Brandywine Wig Spray, Aerosol
One of the more famous products on our list is this spray by Brandywine. It's inexpensive. It has a wig-safe, water-soluble formula. It provides a stronghold.
Basically, the Brandywine spray checks all the boxes. Just a little spritz and your wig looks shiny and new.
There are no colourants in the formulation, and it does not leave any residue behind. Nor does it make hair sticky or gummy after spraying.
There might be a bit of chemical smell that lingers afterwards, but that's a small price to pay for the amazing sheen and manageability the Brandywine spray gives to wigs.
Great for – Thick hair wigs
Pros
Provides long-lasting hair look
Dries quickly
Does not stick
Produces shine
Adds volume
Build-up is less
Easy maintenance of synthetic wig
Cons
My Ratings:
Holding Power – 4.5/5
Safety and Gentleness – 4/5
Residue Free – 4.5/5
While wigs are nothing new, we are amazed by the variety and quality offered today. The latest ones are so good that it would be hard to tell the difference between real hair and a wig if you saw someone wearing them.
But the catch here is that you have to take care of your wigs, just like you'd do for your own hair. So we've tried to answer a few questions that are often on wig owner's minds'.
FAQs – Best Hairsprays For Synthetic Wigs
Is it okay if I use regular hairspray on synthetic wigs?
No, it's a bad idea. Trust us on this one. Most people seem to think that the plastic fibres on synthetic wigs are stronger than human hair ones. But the exact opposite is true.
Hairsprays meant for human hair often have ingredients like silicone and alcohol that weaken the fibres of synthetic wigs. Also, these chemicals might not react with plastic the same way they would with human hair wigs.
If you did persist on using regular hair sprays on synthetic wigs, it would shorten their lifespan and cause immense product build-up. It's always best to use a mild, water-soluble hairspray on synthetic wigs. 
Should I choose a wig made from natural or synthetic hair?
If you asked us to choose between the human hair wigs and synthetic wigs, we would be in quite a dilemma. On one hand, human hair wigs have superior quality.
They shine brighter, move naturally and are adaptable into different hairstyles. On the other hand, they can get difficult to maintain and are expensive too. 
But there's no reason why a synthetic wig, especially a high-quality one should be any less than a human hair wig. In fact, they require minimal styling and can last for months if you use the right hairspray.
How do I defrizz my synthetic wig?
Just like real hair, synthetic wigs can get frizzy too. How do we get around this? A simple way would be to simply wash it. And if you use a non-static shampoo, then all the better.
Rinse the wig with cold water and air dry, and voila, it's smooth and silky again. But if you do not have time for a complete cleanup session, then try using fabric softener.
Yes, you hear that right. Fabric softener, when mixed with cold water and sprayed on the wig, leaves it soft and manageable in minutes. Sometimes rubbing a few drops of natural oil over the wig also helps. 
But if you ask us, the best way is to use a conditioning mousse or hairspray. Spray the conditioning formula from root to shaft and brush using a wide-tooth comb or your fingers to smoothen out any tangles. 
Can you wash a synthetic wig?
Yes. If you use the correct products. We even recommend washing your synthetic wig every four to six weeks. Or if you use it quite often, after every 30 wears.
Plus, if you're around heavy odours or if the wig looks too tangled or lifeless, it might be time for a cleaning. Don't forget to soak your wig for at least five minutes before you wash it.
And never wring, twist or rub it while cleaning. A tip we found useful was to brush out the wig before you wash it. This clears out any tangles and even helps remove product build-up easily. 
How do you get hairspray out of a synthetic wig?
Like most products hairsprays leave product build-up on your hair and scalp with regular use. Similarly, hairspray for synthetic wigs also leave build up on them.
On natural hair or even on human hair wigs, using an apple cider vinegar rinse or a clarifying shampoo is recommended to remove this build up.
If you're using a mild, conditioning hairspray using a sulfate-based shampoo should be enough to remove the residue. It is okay as synthetic hair will not get damaged by sulfates like human hair does.
But if there is a lot of residue caused by hairspray on synthetic wigs, you can use a baking soda solution to remove the product build-up.
You need to take 3 tablespoons of baking soda and mix it in a sink full of water. Immerse your synthetic wig in this solution and let is soak for a minute. Swish it around in the water so the synthetic wigs are clean.
Synthetic wigs are a blessing. Look at all the fun things you can do – get elaborate updos, stylish braids, funky colours, and so much with little effort and almost zero damage to your hair.
But these synthetic wigs need the right hair sprays to help prolong their life and make them look their best. So take your pick from our list and get to styling!
Also read: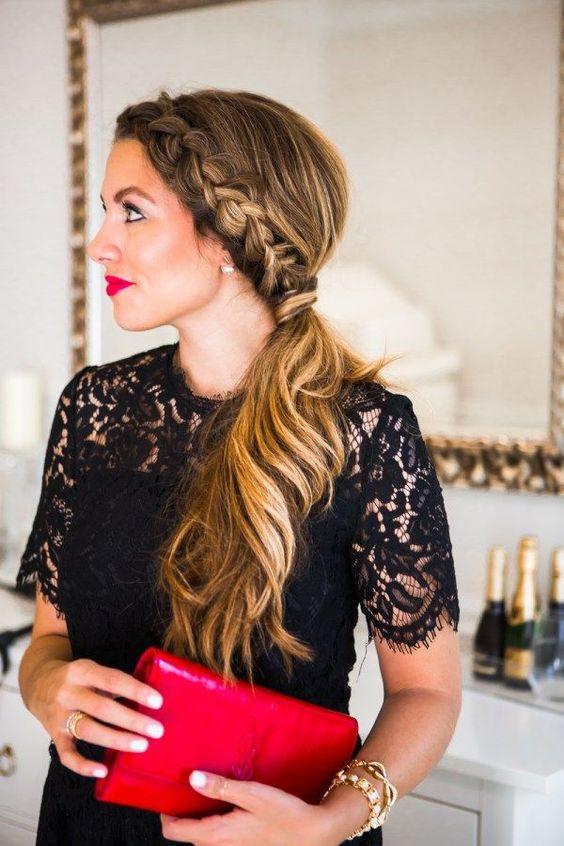 From hair care to soaring hair trends, we cover it all. We make sure you nurture your hair and stay on board with hairstyles and new hair trends. So hop on and make every day count with some of our creative and sassy hair trends.