A wedding invitation calls for serious consideration for a hairstyle for Indian wedding function and Indian bridal hairstyles.
Indian women are known for their stunning beauty. To complement their natural look and the traditional attire most women wear at weddings, the choice of hairstyle becomes an overwhelming task.
To look your best, pick the top bridal hairstyles that looks exquisite on you.
Most wedding hairstyles require detailing. The little nuances and care put in the styling make the your bridal hairstyles look so delightfully elegant.
Related: Check out some of the most best Indian hairstyles for sarees for any occasion!
Hairstyle For Indian Wedding Function 2022
Gajra Braid Bridal Hairstyles
Any Indian wedding you go to, the first thing you will notice is the greetings of the fresh garlands. These floral accessories are also known as gajras.
While doing a braid, the gajras are intertwined to give a unique blended hairstyle. It looks gorgeous and is ideal for all functions included in the wedding repertoire.
Elaborate Low Bun Bridal Hairstyles
Most Indian women have long hair. Thus the choice of the bun for a special occasion is thus obvious. To obtain the bun different combination and placement of braiding is done.
The buns are adorned with pearls and semi-precious jewels. Typically the front of the face is structured with frills of hair in loose to deep-set curls for a dramatic effect.
Waterfall Braid Bridal Hairstyles
This enchanting style is apt for someone looking to show off those beautiful long tresses. This style takes about 15 minutes, depending on the length of your hair.
It is also ideal if you are facing hair loss and want a simpler hairstyle that will not cause any damage to the hair roots. Loose set curls at the end, best compliment this style.
Diagonal Gajra in Half up Half Down
This dreamy hairdo is popular for ceremonies like Sangeet and Mehndi. If you are wearing an over the top lehenga for the reception and looking for a simpler style, then you also can try this styling.
An easy diagonal braid accompanied by your favorite mogras will set you up for the party. I also like how it's among the top Indian wedding hairstyles for medium hair.
Puffed Fishtail Braid Bridal Hairstyles
This hairdo offers princess-like charm. The front portion of the hair is simply parted on one side, you can also work with a mid parting. The fishtail has extra volume.
The trick to getting such puffed or flared braid is backcombing the length of the hair. Tease it a little to get a messy look. Finish with adequate hairspray.
Daisy Braid Bridal Hairstyles
This is a centre braid. It has daisies embedded at every cross.
The number of daisies you would like depends on your outfit. To make the braids stunning, go for flattened braids. Take chunky strands of hair to tie the braid and avoid tightening of the plaits.
The loops can be twisted for additional detailing.
Mermaid Twist Bridal Hairstyles
This hairstyle is inspired by the mythical sea creatures – the mermaids. This style comprises of a combination of braids and waves. You can wear it loose or in a big braid like formation. Variety of amazing hair ornamentation is used to decorate this style. A garland at one side or a loose bunch of flowers can also be used to beautify it even more.
Juda Bridal Hairstyles
Since Indian women have long hair and buns are there favorite, they also have specific bun hair clips or judge. It is a beautiful piece of jewelry.
Often judas is heirlooms passed down through generations. Adorning such a piece of familial heritage is common on a wedding occasion.
A simple or extravagant bun, Judas are the perfect accessory. Judas can even be worn without the traditional bun. A half-up top-knot can also hold the juda and make you look stunning.
Floral bun and bouffant
This is one of the classiest looks for the wedding. A simple bun accompanied by a bouffant or pompadour and decorated by flowers.
Traditionally the most chosen flower has been rose. Nowadays carnations and other orchids are also quite popular. You can get matching flowers with your outfit.
Knotted twist buns look best when decorated with flowers. You can place the flowers in a half moon formation, crescent shape or simply on the sides.
Oversized mang tika with loose waves
A mang tika is an integral part of wedding attire. A chunky or oversized tika can transform any hairstyle. You can wear it with flowy curls on layered hair.
It can also equally compliment sleek, straight hair. While choosing the tika to keep your outfit in mind.
A tika can be stone-studded or simple gold or metal ornament. It accentuates your entire look for the occasion.
Aryan updo hair style for marriage function
A simple bun with lots of volumes makes the Aryan updo. It is also framed with petal formation. The twist which forms the petals can be easily accomplished by twisting hair.
Many women prefer to wear this style with flowers. For others, the preferred ornament for this updo is crystal attached bobby pins. A single flyaway can ruin the look. So keep a hairspray handy.
Side swept hair with curls
This is one of the easiest yet the sassiest hairstyle for the wedding. The perfect compliment for your lehenga, salwar suits or even western outfit for the wedding.
The best thing about this style is it takes only 15 minutes. So if you are running late, heat up your curling iron. Section your hair.
Twirl the end of the chunky strands. Finish the look with side brushing your hair.
Braid with jewelry
Start with a simple side braid. To make it glamorous, halfway through start weaving braid jewels.
Also, the entire length of the braid can be covered with chain jewelry with a floral or traditional star and moon motif. Many women receive such jewelry as a part of her bridal trousseau.
In fact, Indian classical dancers wear them as well. You can get such jewelry at a costume shop.
Braided high bun
A combination of braids can be used to form braids. This is a complicated looking style. But the finished bun looks breathtakingly beautiful. Start with a half down. Braid multiple strands to get at least 4 plants.
Twist them around each other to form the bun. Try to place the intertwined braids as high up as you can go for that sophisticated look.
Ringlet bun hair style girl for wedding
Start with a middle or side parting. Section your hair in two parts. Form multiple ringlets using a curler. Make sure the rings are not too loose. Use hairspray to tighten the rings.
Wrap these rings around a doughnut. You will need tons of bobby pins to set the rings. To finish off, wrap a garland of your choice around the ringlet bun.
Front twist hair style indian wedding
A elegant and ultra feminine hairstyle is the front twist. You can complete the look with a bun or by keeping the hair open.
A deep side parting is ideal. Leave a two-inch gap at the parting and begin twisting your hair. Form a hairband-like structure outlining your face. It especially looks great on oval and round face.
Wavy layers
Running late? Need the easiest hairstyle to compliment your gorgeous saree? If your hair is cut into layers then you already have an advantage. Just curl the tip of your hair. It will have a beautiful fall on your back.
If you do not have layered haircut, curl your hair in a way that the curls form a deep U shape. This style creates a beautiful garland like effect.
The way layers also have a slimming effect on your face. So it's a great hairstyle for plus size women too.
Traditional puffed top braid
A classical hairstyle that is highly popular in the wedding function is the puffed top braid. The hair at the crown is turned into a bun like structure.
To achieve it, hair is wrapped around a doughnut. Then the length of the hair is gathered t form plaits. These types of braids are highly bejewelled.
Low chignon
This classy western-inspired hairstyle is even ideal for short hair to medium hair. It looks amazing on women with a round, triangular or square face.
To complete the look, wear chandelier or pendulum earrings. Tease a little hair at the front and you have the perfect fun and festive look.
Puffed half up
This hairstyle can be a simple one or a more detailed style. If your attire for the occasion is embellished, then go for a simpler look.
Simply puff up the front hair, form a braid hairband and tuck in your tresses. If the colour of your choice of outfit is pastel or lighter shades, go for a dressier hairdo.
Add a gajra on the sides or a subtle mang tika to further enhance the look.
To achieve any of these looks, keep the following things handy
• Elastic bands
• Spray
• Wide-toothed comb
• Bobby pins (lots of it)
These hairstyles will definitely make you feel like royalty. Even though they look complicated, most of these styles are easy to accomplish.
Pick a style as according to the wedding segment you are attending. For Sangeet and Mehendi wear simpler style. The main wedding reception, where everybody tries to look their best, make your mark with a more intricate style.
Bubble Braid Hairstyle
Bubble braid is fluffed up partitions of hair ceaselessly tied to ooze ethnic charm. These regular fluffs can be adorned with flowers or jewelry to bring out the festivity of the occasion.
Sectioned Braid Hairstyle
This semi-open hairstyle involves the additions of gold pins holding up voluminous sections of hair to create a flowy illusion. The sectioned braid is minimally decorative but does not fail to stay festive.

Indian Bridal Loose Hairstyles
Think casual hairstyles will make your wedding look grim?
Try adorning it with flowers and jewelry whilst flaunting the texture of your hair. Loose hairstyles help frame your face well so that your best features stand out. Your hair could either be gathered to one side or let loose against your back according to the style of your dress.

Sleek Braids Hairstyle With Jewelry
Braids are a beauty by itself! But imagine it accessorized to highlight its form?
Silver jewelry can be planted at regular intervals of the braids to create a sparkly continuation.

Floral Half Braided Hairstyle
Making a garland and placing it on the half braid, let loose from midpoint can attract a lot of attention. The flowers will do justice to your look if you have chosen a happy color rather than a royal color.
Bubble Braids Hairstyle For Indian Wedding Function
One of the best Indian wedding hairstyles for long hair is the bubble braid. This style is easy to do and can be decorated using ornaments, flowers, etc.
To create this hairstyle you need to start off with a normal low ponytail, use a hair band to tie your hair a few inches above the end. Then add another band in the middle of the existing two.
Rose Bun Reception Hairstyles For Saree
A rose bun is among the preferred hairstyles for Indian wedding guests. It's simple yet looks glamourous. You just need to create a bun of choice and add a blooming rose bud to it. Secure it with bobby pins to keep it in place.
South Indian Mogra bun
Another fantastic wedding hairstyle for Indian woman is the gajra bun. It's similar to the rose bun. Here you create a simple low lying bun and wrap a fresh stalk of jasmine flowers around the bun. Use bobby pins to secure the gajra in place.
For the south Indian style, use more than one gajras to create a fancy look. You can even add a clip or hair comb in the middle of the bun for a glam look.
Tight bun with flowers Bridal Hairstyles
Want to wear tight bun hair styles for Indian wedding? Just add a gajra round the bun for the extra dose of glamour.
Minimalistic Gajra bun Bridal Hairstyles
If you want a simple makeup and hairstyle for Indian wedding, try the minimalist bun with gajra. You don't need several lengths of jasmine flower.
Just a few buds are enough to add a subtle effect. This is a great Indian wedding hairstyle for medium hair.
Royal Red Bridal Hairstyles
Another easy hairstyle for wedding function is to replace the traditional gajras with red roses. The red tone matches with your bridal lehenga to create a royal look.
Crown Braid Bridal Hairstyles
Loose flowy waves braided haircut for Indian wedding function
Princess crown braided wedding haircuts
Massive Bun with Spiral Floral Arrangement
Mesh Mogra Bun
Pastel Floral Bun
Braids with Multiple Loops of Gajras
Kareena Kapoor Bridal Hairstyle
Multiple Bubble Braids
Dual Tone Floral Bun
Floral Crown With Low Ponytail
Elaborate Gravity-Defiying Updo
Open Hair With Floral Braid
Those were some of the top hairstyles for Indian wedding functions. A time for celebration, Indian weddings are a time to look your best!
These hairstyles make it easy to decide your look and match your ensemble too!
They are super easy to do and you don't have to rely on a hairstylist as well.
Also Read :
Short Hairstyles For Indian Women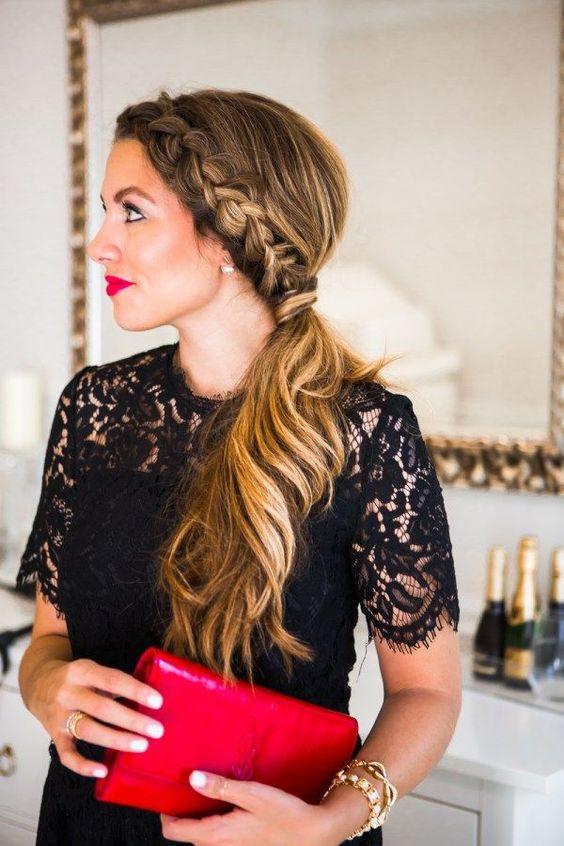 From hair care to soaring hair trends, we cover it all. We make sure you nurture your hair and stay on board with hairstyles and new hair trends. So hop on and make every day count with some of our creative and sassy hair trends.