Men's professional hairstyles have changed over the years. In the past, men were all expected to dress the same, look the same. The most common style was a side part that was oiled and side parted. And wearing suits were also very common. But the styles these days are super different. There are super strict offices where men wear suits and there are casual offices where mean wear shorts and flipflops.

So we will cover office hairstyle for men with different types of hair.
Professional Hairstyles for Men
Today we cover 22 of the best hairstyles for the office for men!


Best Office Hairstyle for Men
#1 – The Crew Cut with Beard

The crew cut is the most classic hairstyle out there. It looks super professional and you don't need to prep your hair before a big day or a big meeting when you get a crew cut. But in this day and age, a crew cut by itself is super boring. So to add a bit of substance to your style, you can do the crew cut with a beard. A beard that can be stubble or a good beard with look great with a crew cut and will give you respect in the office. SO instead of looking like a goody boy, you will look like a man who demands respect.

#2 – The Side Part

The side part is an old school hairstyle that you would see men sporting from the ads in the '50s. But the thing about the side part is, there isn't just one type now that will make you look like a school choir boy. But side parts come in various varieties. You can have a raised side part or a side part with short hair. A side part is easy to comb and easy to take care of. You just have to comb your hair towards one side. You can never go wrong with a side part. We will cover a few other side part variations below.
#3 – The Classic Taper

If you are one of those men who need to look presentable but can't be too bothered about the style, then you need to go for the classic taper. So what is a taper. A taper is when the hair on your sides and the back of your head get smaller and smaller as they go down. This means, the hair closes to your neck will be the thinnest. So what does this do?

Run an experiment. Taper your hair on the sides and the back and let it be for a week and see how easy it is to maintain and compare it with without tapering. When you don't taper, the hair on the sides and the back grow too quickly and you'll need to visit the barber every week.

Taper your hair and look presentable for a much longer time.

#4 – Ivy League

This style is called the ivy league as its sported by most of the college kids who pass out from prestigious schools such as Stanford and Harvard. Ivy leagues are not a complicated hairstyle at all. It's similar to a crew cut, except there's more hair on the top of the head. Now what you choose to do what that hair is entirely dependent on you. Most guys tend to lift it up and gel it up or spike it up a little bit. The sides and the back of the head is tapered a bit and this ensures your hair doesn't get messy quickly. The ivy league is the perfect hairstyle for those long business travels where you don't have to take care of your hair. The hair takes care of you!
#5 – Slicked Back Hair

We've seen all the stock market movies and the gangster movies. From Ray Liotta in Goodfellas to Michael Douglas in Wall Street to even Leonardo Dicaprio in Wolf of Wall Street, they all have the slicked back hair.

The slicked-back style is the best sort of style that can make you look super sharp and also intimidating. If you are in an environment where you need to look good and the competition is high. Slick back your hair, make yourself look menacing and let not anybody intimidate you, because you mean business.

A classic slick is super simple when your hair is wet, you comb it back completely and use a gel to set your hair that way.
#6 – Side Swept Hair

Now the side swept hair is a mix between formal and casual and depends on how you treat it. When you work in an ad agency or a marketing agency or a company like that, you are allowed to look a bit more formal and stylish. The side swept hair will be the perfect hairstyle for that.

It's characterized by pushing your hair towards the side. You can initially do it with your hand and your hair will automatically grow that way. It's super stylish, it's simple and gives a slightly rough edge to a formal environment.
#7 – Slicked Back with Side Part
Another super interesting hairstyle is the slicked back with a side part. At the outset, this might seem like a complicated hairstyle, but it isn't. A slicked back with a side part is when you start combing your hair backwards but slowly move towards a certain side instead of going fully back. If you want to look sophisticated and look prim and proper with a classy hairstyle, then you need to go for the slicked back with the side part.

The only thing with this hairstyle is, it takes a bit to maintain and you need to use the right oils and gels to make sure your hair sits in the right place.
#8 – Messy Hair Slick Back

People with messy hair have it hard when it comes to having professional office ready hair. This is because, when their hair grows, it automatically becomes messy and troublesome to maintain, so they are forced to cut it short. But this doesn't have to be the case. You can always click back your messy hair. So even though your hair is messy, if you slick it back it will still look good and you will look well put up.

This way you don't have to keep your hair super short or leave it messy.
#9 – Thick Quiff with Short Sides
A quiff is basically when the top of your hair is raised. Not like spikes, but they are raised up. Generally, a quiff is seen as an unprofessional hairstyle, but that is only because the sides are not styled properly. People with Quiffs either go too short on the sides with a undercut or they keep it too long.

The best strategy for any office hairstyle is to have a classic taper. So a quiff with a taper is an incredible hairstyle that will look good and will make you look neat as well.

#10 – Combover
The combover is one of the most classic styles out there for men. A combover is basically running a comb over your hair to the side. In the old days, a man had to part his hair and comb it neatly and that's where this style gets its name from.

A combover is an old-school style, but it still suits young professionals.

#11 – The Short Pompadour

Generally, when we speak of the pompadour, we think of Elvis Presley. The long hair brushed back and raised and looks like a rockstar. You might wonder, how a style like Pompadour could ever make it to a list like this. The truth is, it can because there isn't the only the style of pompadour. The short Pompadour is basically the top of your hair that is left, is made into a pompadour. This doesn't look too big or it doesn't look unprofessional at all. In fact, it's one of the most stylish office hairstyles a man can pull off.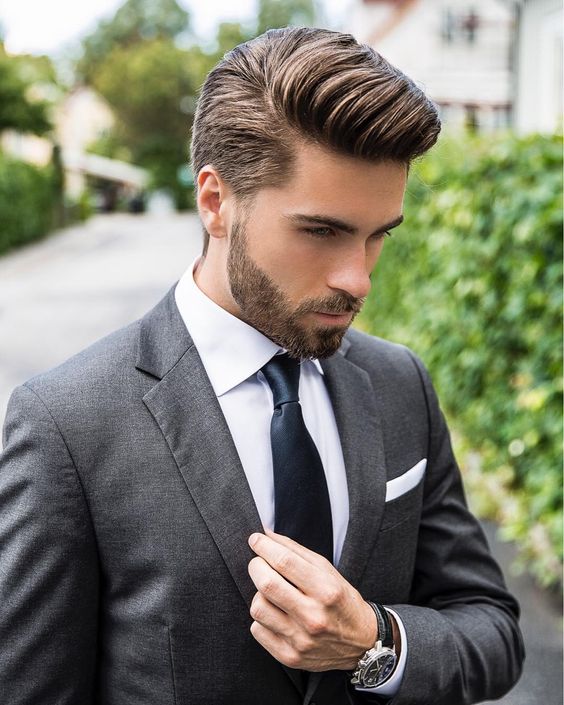 #12 – Butch Cut 

If you've seen Prison Break. It's the hairstyle that most men have. It's called a Butch Cut. Its short, easy to maintain, it keeps you from sweating. It looks good with a suit, casuals and super formals. It's a perfect hairstyle for the office. 
#13 – Short Curls 

Who says curly hair needs to be cropped? You can let the curl, unfurl with short curls that don't take away from the look and at the same time, it's super neat for work. Short curls are a perfect hairstyle for the office. 
#14 – Side part with a quiff

More often than not, when you combine two classic styles, it goes awry, but sometimes it's just magic. In the case of the side part with a quiff. You part your hair towards the side and then quiff it a little bit. It's an interesting hairstyle that has a lot of class.
#15 – Short Waves with Part

If you have super wavy hair and you can't do anything else but crop it, we have an alternative. If you want to look professional with wavy hair, then consider the short waves with a part. When you cut your hair short, you will still be able to see the waves.

#16 – Medium Length Hair 

Most office hairstyle lists don't contain medium hair. But medium hair is gaining more and more prominence over these years. Men look great with well maintained medium hair and here are a few examples of medium hair for the office! 
#17 – Office Hairstyle for Long Hair 

Have you seen a man with very long hair, that is maintained well and is wearing a suit? You don't see that sight often because most men don't have long hair and they sure as not as working in offices. But if you like long hair and work at an office, you should sport this hairstyle that makes you look good! 
#18 – Business Hairstyles for Men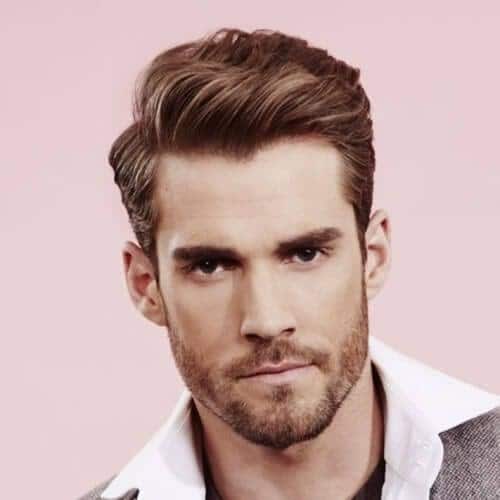 The best business hairstyles for men are the ones that simple and doesn't make you look haggard. It doesn't matter if you have long hair, short hair or no hair. It should make you look well put-up and in a classy way. 
#19 – The Messy Ivy League 

The classic ivy league we've covered above, but what about its alternative? The messy ivy league takes the classic ivy league and gives it a little twist. The front is a bit messy, but the sides and back are tapered and cut to perfection.

#20 – Side Swept Fringe with a high taper 

Generally hairstyles with the hair on the face is a big no no in office situations. But the side swept fringe with high taper cannot be missed. It's an uber cool hairstyle that looks great, is different from the other hairstyles and will make you look good.

#21 – Textured spiky hair 

I was a little apprehensive to cover this hairstyle in the mix because it's generally the style of frat boys who are in college. But if done well, this can be a nice hairstyle at the office that can make you stand out. Just because you need to look professional doesn't mean you need to look plain and bland. Want to stand out at the company? Go for the textured spiky hair.
#22 – Low fade with brushed up hair 
When you combine thick hair with super thin hair, you often have a balanced hairstyle that looks incredibly great. The low fade with brushed up hair is that kind of hairstyle that balances thickness with thinness.

Business Hairstyles for Men
Some of the best business hairstyles that you will actually encounter are something different but that still looks good. Don't hesitate to look good and stylish for work!
Short Pompadour

Combover

Slicked Back Hair

Side Swept Hair
Official Hairstyle for Men
Best Hairstyles for men for the office!