Indian men have different sort of hair. Most Indians have black hair which has a different texture to other types of hair.
Indians are also pretty good at taking care of their hair through oil treatments and such that gives them luscious thick hair. A lot of Indian guys are also now more conscious about their looks and buy hair gels and pomades like the Set Wet Hair Gel to keep their stylish new hairstyles in place.
The hairstyles for Indian men in the past has been limited to a few, but now there is a big hairstyle trend and craze with many young Indian men sporting different hairstyles and looking sharp.
Related: Best haircuts for guys with big foreheads
Related: Best Indian male hairstyles for thin hair
Related: Best short haircuts for men
Haircuts For Indian Men 2023
Here are few of the popular haircuts for Indian guys.
#1 – Classic Spikes with Fade
Ever since David Beckham made the spikes popular, ever Indian boy had wanted spikes. But most Indian mothers wouldn't approve of this hairstyle. The classic spikes with a fade is a hairstyle that is stylish and also mother-friendly.

It's characterized by having short hair throughout and the top of the hair has a bit of spike. This is a super smart hairstyle that one can wear in the office as well.

The sides are faded meaning, the hair on the back and the sides get shorter and shorter. This is an easy to maintain hairstyle without too many hassles. Looks super stylish for the office and outside as well.

#2 – Long Hair
A lot of Indian men actually don't have long hair and they consider it feminine. But long hair is super stylish and especially let loose can be super attractive. It helps to have straight hair as long hair that is wavy can be hard to control and maintain.
Long length hair might be seen as inappropriate for work by many, but it actually can be quite professional if it is tied together. If you are in college or quite young, this is a perfect opportunity for having long hair, as men when they grow older they tend to cut their hair shorter for easy maintenance.
#3 – The Classic Slick Back
The Slick Back is one of the most popular styles going around. It is characterized by having long hair that is pushed back and combed to the back. This is a hard look to achieve with wavy or curly hair and this might not be a style that suits young boys, but it's a perfect look for grown men.

The classic slick back is not that hard to achieve as it requires conditioning your hair regularly. Which is, you need to comb your hair backwards and then apply the gel for it to stay. If you are looking for a movie like look like the picture below, then you need to use a hair gel and a hair set that will make your hair sit back.

The classic slick back is a perfect hairstyle that pairs well with a beard like in the image below, otherwise, it might look odd.
#4 – The Side Slick
If you are looking for a trending hairstyle for Indian men in 2022 is the side slick. This is a pretty impressive hairstyle that will make heads turn. It is characterized by your hair is combed and slicked towards the side. This is a super amazing look and looks stylish in any occasion. At the work or even for a casual evening.

The side slick is pretty easy to achieve. You need to grow the top hair long and start combing it from the side. So come to think of it, it is a side partition with the hair long. This is a style that won't work too well with wavy or curly hair.
#5 – Crew Cut

The Crew Cut has been around for a long time and has an interesting backstory.
The Crew Cut is a popular hairstyle worldwide and its the perfect hairstyle for Indian men because of the hot summers. This is super easy to maintain, you reduce the visits to the barbershop and it looks good on any occasion. It's also a look that makes you look cut and defined.

The crew cut by itself is a pretty boring style, so if you want to spruce it up a bit, then the crew cut with an interesting facial hairstyle would be the way to go.
#6 – The Messy Style For Indian Boys
Kartik Aryan has been a big heartthrob of India in recent times and he has a signature style that is the boy next door look. This is primarily achieved by the messy look.
The messy look is to have a lot of hair on top and not really combed. You can't plan for this look. You need to let your hair grow in any direction you want and naturally go with that style.

This might not be a great look in the workplace, but perfect for younger men. This is a type of hairstyle that girls love as well.

#7 – Small Pompadour Hairstyle For Indian Men
The Pompadour's origins are pretty epic. This hairstyle has been around for centuries!
The Pompadour is basically a raised slick back. Your hair is combed upwards and then slicked back. This is one of the most popular hairstyles for men in 2022 and its a perfect style for Indian men.
Although the pompadour is a good look, it's pretty hard to maintain and is a hairstyle that should be restricted for only major events.
Why it's hard to maintain is because all the hair should stay in one place and under Indian weather it can go wary.

Also, the pompadour style suits straight hair and not so much for wavy and curly hair. There is a slick back wavy style that will suit wavy haired guys better.
#8 – The Under Cut with the Faux Hawk
The Ex-Indian cricket team captain loves to play with hairstyles and the one below is a super stylish hairstyle that can suit a man of any age as long as you maintain yourself. MS Dhoni is 37 years old and he is rocking the Under Cut with the Faux Hawk.
So What is a Faux Hawk? Just one of the coolest mens haircuts!
It is basically a mohawk but the spiked hair is only for a stretch of hair, but the entire hair on top. Also, the undercut is for the sides and the back of the head. The Undercut is very very short hair on the sides and back that gives a clean look.
This is a super stylish hairstyle and perfect hairstyle for 2022 for Indian guys.
#9 – Braided Rows Hairstyle For Indian Boys
Braids for Indian guys are up and coming and it sure has created a buzz among guys. The braids can begin from the forehead or it can start midway. The braids can end in a bun or can be left as it is and be free-flowing.
#10 – Guy Next Door Haircut for Indian Men
Siddhart Malhotra has one of the most casual and sexy hairstyles. But it is also subtle and free flowing and that is something that is trending now in India. This is easy to acquire and also low maintenance. This can be done on any hair length and hair type.
#11 – Curly shag indian hairstyle for guys
The shag is one of the easiest curly hairstyles for Indian guys with long hair. It is best suited for square shaped and broad face shaped guys. Thick and lustrous hair have the best chance at pulling this off.
#12 – Comb over with quiff haircuts for Indian guys
This hairstyle is one of the biggest trends for the guys. This is one of the most recognised hairstyles among the youngsters in India. The best patriot about maintaining the hairstyle is that you can pull this off on any hair length.
#13 – Caramelised boho haircuts for Indian guys
The boho haircuts for Indian guys is a head turner for sure. The caramelized look blends in so well with the Indian skin tone and gives a more stylish look. We suggest a medium length hair for this hairstyle to flaunt the colour and the texture of your hair.
#14 – High and tight haircut for indian guys
Maintaining short hair is one of the biggest conveniences there is with the weather. Also there are so many options with this haircut. You can have a fringe, a fade or even a slight quiff with this.
#15 – Back mohawk haircuts for Indian guys
A little punk in your hairstyle will go a long way in making you cool and casual. The side part of your head will be shaved and the rest of your hair can remain the same. We would suggest you don't make the sides too short else it will affect the look. This is also a safe way to keep it in case you change your mind on the length.
#16 – Subtle undercut haircuts for Indian guys
Virat Kohli's undercut haircut is a boon look for those with short hair. It makes the face look more fresh since you don't have hair on the face. It structures the face so well as the hairline is so well around the face.
#17 – Crisp Recession line haircut for Indian guys
This crisp haircut is something you need if you want to maintain your professional look. Try this one if you have medium length or long hair. You match your beard with this haircut as well.
#18 – Natural wave haircut for Indian guys
Ranbir Kapoor's hairstyle has made quite the buzz for how effortless it looks. The waves are a charm for sure. If you have thick wavy hair, what better way than to adopt this super charming hairstyle. You don't even need products to keep your hair intact.
#19 – Crispy curly hairstyle for Indian guy
If you have curly hair, this is one of the easiest hairstyles to do. It looks a lot similar to 180 waves hairstyles what Black men with type 4c hair wear.
But you can create something similar on your hair with help of a good hair gel and constant brushing. The best part about such hairstyles is that it doesn't look very over the top and yet has that hint of style and elegance to it.
#20 – Indian afro hairstyle
A lot of Indian men have type 4 hair too, they just don't know it yet! If you have hair that curls naturally, embrace that side of your and let it flow freely.
Sure, this is an unconventional hairstyle for many, but it's also very YOU. And that's all that matters!
It can be a bit of upkeep, you'll need the right products, especially leave-in conditioners and pomades to get an Afro right! But it's so worth it.
#21 – Flowy Indian long haircut
The new Indian man isn't afraid of experimenting! So if you've decided to let your hair grow, we salute you.
So a new look for you can be to simply let your locks open and loose. This look doesn't require a lot of maintenance. But you'll need healthy hair for it to look good.
#22 – Indian beard guy hairstyles
The instant way to make your hairstyle look good is to add a beard to it. A simple hair cut with short hair on the sides and longer bangs on the front is made extra special due to Siddharth Malhotra's five'o clock shadow.
#23 – Patchy beard haircut for Indian guys
Another example of a beard enhancing a classic look. Indian men have been wearing their hair slicked back for ages. But Hritik Roshan's barely there French beard frames his face so well.
If you have a square jawline, this type of hairstyle can look really good on you.
#24 – Colored Indian haircut guys
#25 – Bushy haircut for Indian guys
This one is for the boys with thick hair. Especially thick, curly hair. Curls grow differently from straight hair. So due to shrinkage, they can make hair length appear shorter than it actually is!
This is usually troublesome, but can come handy if you don't want your hair looking too long. The puffed up curly hair can add quite a bit of volume to your tresses.
#26 – Slicked back high bun for Indian guys
A man bun is still something that no every guy feels comfortable with. The most common complaint about it being that it doesn't look professional enough. But not this slicked back bun!
It's absolutely perfect for your office as well.
Unlike regular man buns this one's sits a bit higher atop your head, so you probably would need longer hair to accomplish this style.
The hair isn't keep messy in the front, but slicked back with help of gels or clays to give a neat, professional look.
#27 – Crunchy Spikes Virat Kohli
Who hasn't love Virat Kohli's cool hairstyles over time! He's a fashion icon for every Indian guy. So we wanted to take a leaf out of his book for our next look.
This hairstyle is simple. You need a fade at the sides and at the back and a little extra length at the top.
Just like your regular spikes you need to comb these hair strands upwards and lock them in with a strong hold gel or pomade.
#28 – Silky smooth curls for Indian guys
Another fantastic hairstyle for curls! This one allows you to flaunt your curly hair while keeping them short and out of your face.
The hair is cut short in a way that frames the curls on your face and doesn't let them get too wild. This type of curly hair almost reminds one of the Greek hairstyles of the past.
The use of hair gels and products gives it a smooth, shiny look!
#29 – Gelled-up Dapper Do
For a sensual and gentlemanly look, use lots of hair gel to slick back your hair. This hairstyle look great if you're hair is growing out and you find don't want it to get in your face.
#30 -Medium Shag
If you have medium length hair, this hairstyle is the best for you.
The shag can be as messy as you want! You can create a side part like Ranveer Singh to add volume to your locks. Or part it straight for a boyish look.
#31 -Spiky Crop
Unlike other spiky hairstyles shown here, this one is more prominent and rebellious. You can use a different color on the spikes, my favorite is the frosted tips look (spikes with silver or platinum blonde color).
#32 -Natural Wave with a Man Ponytail
For hair that is shoulder length or almost there, you can create a small ponytail at the end.
If you have naturally wavy hair, add volume to your locks through a texturizing spray to make it appear fuller.
You can even add a pompadour to this hairstyle.
Which is the best haircut in India for guys?
Here are some of the best hair cut in India for guys:
Classic spiked with fade hair cut
Classic slick back hair cut
Crew cut
Undercut hair style with faux hawk
Curly shag hair cut
Small pompadour
Comb over with quiff
Side slick hair cut
Does long hair suit Indian guys?
Long hair is now popular thanks to fictional characters like Jon Snow or through celebrities like Ranveer Singh who've mastered the art of long hair .
But is this hairstyle good for Indian guys. Short answer – yes! Absolutely. And if you're worried about what mom will say, these hairstyles can look neat and professional as well
If you're an Indian guy you can try long hairstyles like the following:
Long layered hairstyles that add volume and suit round faces
Slick back hairstyles for square jawlines and a professional look
The classic man bun hairstyle that suits almost everyone
Easy side part for wavy hair textures
Push up hairstyles
Mullets for a retro, 80s vibe
Surfer style careless waves if you are brave
Dreads if you want to go full boho
Also Read :
Best clippers for fade haircuts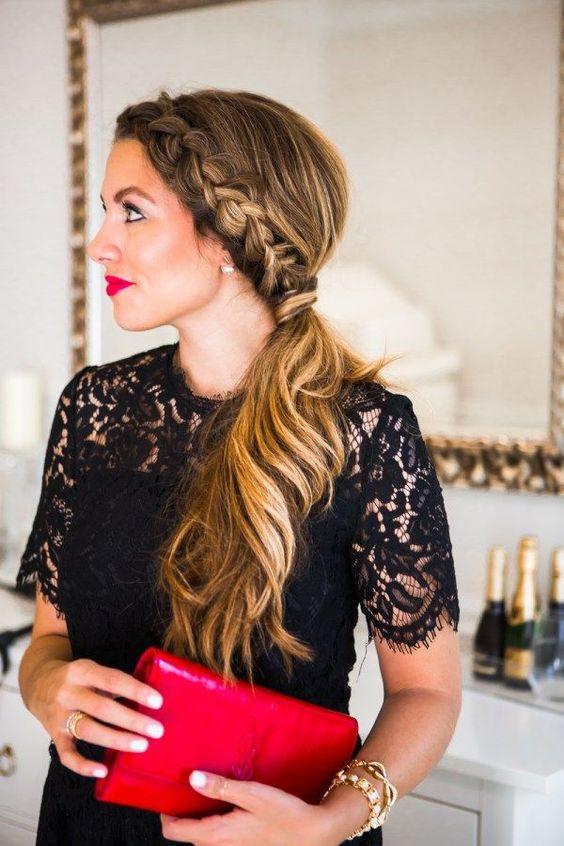 From hair care to soaring hair trends, we cover it all. We make sure you nurture your hair and stay on board with hairstyles and new hair trends. So hop on and make every day count with some of our creative and sassy hair trends.