The quiff. It's the hairstyle every boy dreamed of when he was young. I mean, it's such a simple hairstyle that Google's definition is

"A piece of hair brushed upwards and backwards from a man's forehead."

It couldn't get simpler than this. This is a hairstyle that makes girls swoon. This is a hair that has turned heads for the past many years.

According to some data conducted by a dating app, it's the hairstyle that women love swiping right to. Does this hairstyle need a better introduction?
Best Quiff Hairstyles For Men 2021
The Quiff like most crazy hairstyles started as a rebellious hairstyle of a young teenager in the '50s and the '70s.
When most of the hairstyles during the wartime were short and flat, the quiff was this defiant hairstyle that stood when people expected your hair to be down.
Related: Professional hairstyles for men
Related: Long hairstyles for men
Over the years, it has become a style statement and the quiff is one of the best styles to wear now.

Now a lot of people think that a quiff is similar to a pompadour and that is true to a certain extent. There are various types of quiff hairstyles that we will get into detail.
#1 – The Curly Quiff
One of the sexiest hairstyle out there. This is the style that makes girls choose bad boys. The curly quiff is the McDreamy of hairstyles.
It's suave, sexy, stylish and will get you a lot of love from the ladies. One of the biggest advantages of curly hair is that it has a lot of volumes and it stands in one place.
You can put it to good use, by growing your hair slightly long and pushing it up in a quiff style and the curls will do the rest.
The curls will automatically move to different directions giving you the out of bed look.
It's one of the sexiest hairstyles out there. If you can pull it off, then nothing like it.
#2 – Thick Wavy Quiff
Quiffs don't always have to be straight. Sometimes the straight quiff looks a little weird, as the super straight hairstyle makes you stand too much.
If you want a neater look, the best strategy is to use a side-swept quiff. So how does that work?
Work on your usual quiff with a product and then push your hair towards the side a bit.
Do not use a comb, because then it'll become a side slick back. You still want your hair to be a little raised and not flat. The side-swept quiff is a supremely neat hairstyle!
#3 – Textured Quiff
The classiest of quiff hairstyles is the textured quiff. When you think of the most stylish quiff, this is the hairstyle you need t o go for.
This is the chocolate boy quiff. Have you seen Justin Beiber's most popular hairstyle? That's the textured quiff. So how do you get a textured quiff?
You need to have straight hair and you need to get a textured cut.
When you prop up the hair, you get a textured quiff. This is one of the best hairstyles out there, along with the curly quiff that has been already covered.

#4 – Short Quiff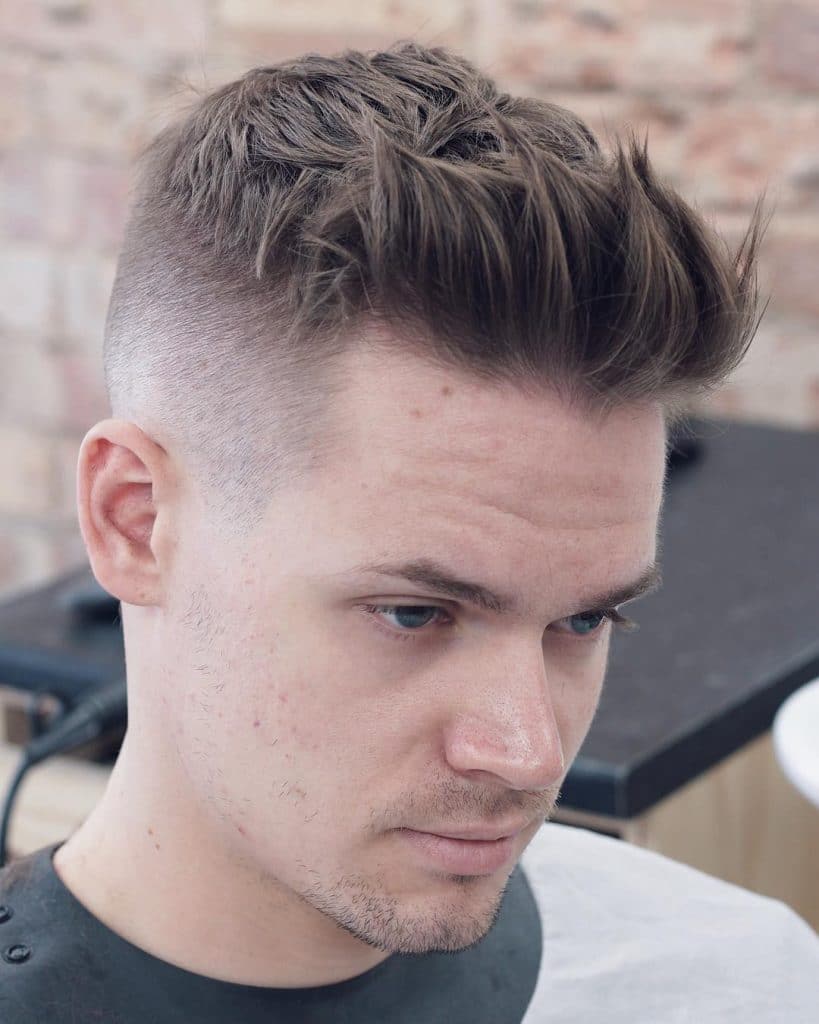 One of the best hairstyles to experiment with, when you have short hair is a short quiff. A short quiff is basically a normal quiff but with short hair. It's an incredible hairstyle and well suited for short hair.
Just because you have short hair, doesn't mean you need to keep it flat. The short quiff is well suited for short hair and gives you a better height even though you have small hair.
It's also a good hairstyle if you want to sport short hair, but have a big forehead.
#5 – Wet Quiff
We've all seen enough mafia movies to figure out, that you need to have wet hair to look like a badass.
The Wet Quiff is that kind of hairstyle that is perfect for occasions. You can't obviously go around running your everyday errands with a wet quiff.
If you want to look good for a professional event where you are required to wear a suit, the wet quiff is an awesome hairstyle for that.
It's pretty easy to set up, you just have to ready a normal quiff and add a bit of wet set gel to it and you will get your wet quiff look.
#6 – The Faded Quiff
A quiff by itself is a pretty alluring hairstyle. But a quiff paired with a fade is even better.
This is one of those hairstyles that pairs the old-school quiff with the new-age fade to give a modern look.
What makes this hairstyle great is the contrast between the shortness of the fade paired with the thickness and abundance of hair of the quiff.
If you are looking for a modern day hairstyle, then look no further than the faded quiff. You could call this Zayn Malik's quiff.

#7 – The Thick Quiff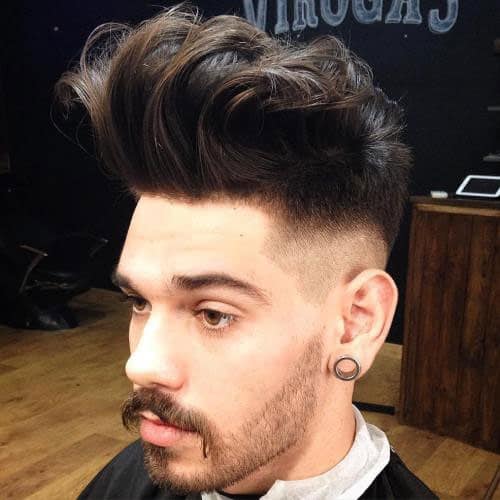 If you are in for an adventurous hairstyle, then the thick quiff is a contender.
The thick quiff is basically when you grow your hair long and you keep a long quiff.
You might need a product to keep your hair straight. This is a hairstyle that is perfect for parties.
It might not be appropriate for office wear. If you have long, straight hair, then it's a good hairstyle to try.
#8- The Long Quiff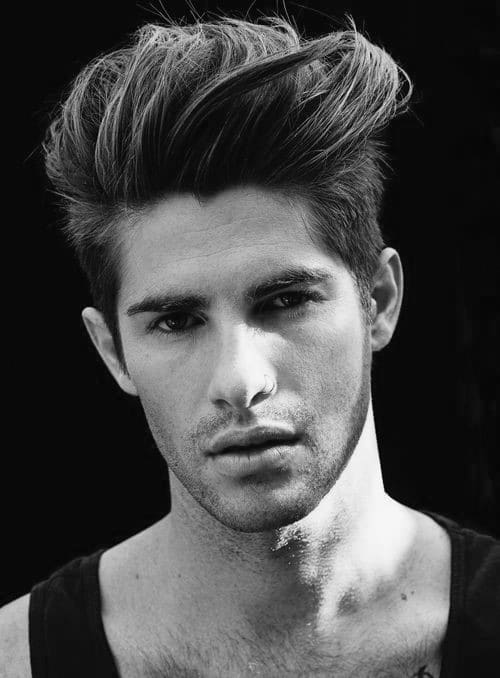 If you want to absolutely rock it with your look, then the best style is possibly the long quiff. The long quiff is certainly an admirable style. It's basically when your hair is pushed up back and up.
You'll need long hair to pull this look off! If you're looking for David Beckham's quiff, then this is it!
#9 – The Side Swept Quiff
The side-swept quiff is a unique hairstyle. It's a bit different from the other quiff hairstyles considering that from the front, the quiff isn't very clear.
This is a very classy and suave hairstyle that will look great with a suit. It's stylish, classy and also gives you a sophisticated look.
#10 – High Quiff hairstyle
#11 – Short sides with long quiff hairstyles
#12 – Modern quiff with fade and beard
#13 – Thick quiff with high fade and beard 
#14 – Taper fade with fade men's hairstyles
#15 – Classic quiff with undercut hairstyle for men
#16 – Short quiff with high fade and design men's hairstyle
#17 – Fade with side swept quiff hairstyle for men
#18 – Long textured quiff with beard
#19 – Low skin fade with quiff men's hairstyle
#20 – Mid fade and quiff hairstyle for men
#21 – Tangled Strands With Tapered Sides
#22 – Ben Hardy quiff hairstyle
#23 – Combed quiff hairstyle
#24 – Long top side brush quiff
#25 – Highlighted wavy brush quiff
#26 – Loose Quiffed Elephant Trunk
#27 – Neat Semi Waved Brush Up
#28 – Side Parted Quiff With Retro Glasses
#29 – Gentlemanly Side Sweep with Slight Fluff
#30 – Disconnected Quiff
With the given quiff hairstyles for men you can make 2021 stylish and different. But just choosing a nice looking hairstyle is not enough.
You need to consider everything that pertains to a good hairstyle. We have curated some answers to give you a wider idea about how to pull off this style.
How to style a quiff hairstyle? 
Styling a quiff is a little more complex than other hairstyles. Just with the look of it you know, it looks complex and hard to get done.
But we have a simple way for you to style a quiff hairstyle. Just follow these simple steps to achieve the perfect quiff.
After a shower, partially dry your hair with a towel and apply a considerable amount of hair gel on to your damp hair.
Comb your hair in the desired direction or form to create an elevated illusion.
Blow dry your hair and make sure your hair is in perfect condition to hold itself.
We suggest you get wax or pomade for the styling process since a quiff can be hard to hold. Make sure you apply wax in minimum quantity. Too much of it can tend to damage your hair to a large extent.
How long should your hair be for a quiff?
The identity of a quiff is that the hair in the middle is longer than the rest. For that your hair has to be 3 inches long in the middle and the sides are cut short. This can be modified according to your face shape and other requirements. But the ideal length of a quiff is 3 inches.
Are Quiffs attractive?
The quiff is considered one of the most sexy and classic hairstyles, even when compared to a pompadour. But this does not apply for all men.
If you are someone with a plumpy face, then we suggest you consider another hairstyle. The quiff is the most suitable for men with round faces.
It also depends on how you wear this hairstyle. Consider the list we have provided for you above and make your pick based on your facial features.
How do you get a textured quiff?
The textured quiff comes as a relief to those with unruly hair. It helps tame and keep the hair in place. The hair is cut short gradually from the bottom.
It resembles a razor cut and comes in layers.
If you are planning to do it yourself then you'll have to make sure you gradually reduce the layers from the sides.
We suggest you not cut the hair in the middle by yourself. Going to a barber would be the better option in that case.
Also Read :
Best hair vendors on Aliexpress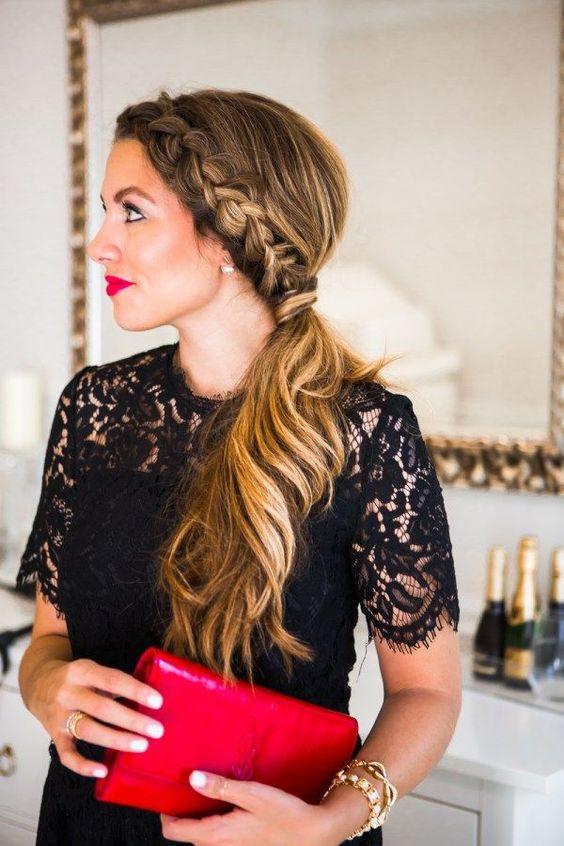 From hair care to soaring hair trends, we cover it all. We make sure you nurture your hair and stay on board with hairstyles and new hair trends. So hop on and make every day count with some of our creative and sassy hair trends.