Hair Care Pomade For Men
Product Name: Smooth Viking Hair Pomade
Product Description: It comes as a water-based styling as this hair pomade is the perfect product for styling men's hair.
Brand: Smooth Viking
Offer price: 11.95
Currency: USD
Availability: InStock
Teenage Hairstyles
Which is the best hairstyle for a teenage boy?
When I was a teenager I literally had no training in hairstyles. I had mentioned in the previous article that my dad would just ask the barber to give me a crew cut, every time. But by the time I turned 14, I started experimenting with gelling my hair and spiking it. When you are a teenage guy, hairstyles are one of the most important things. And the worst part? If you get it wrong, you'll get ridiculed!
So here are the best hairstyles for teenage boys.
Stylish Hair Boy
#1 – The Undercut
If you are a teenage guy and if you want to know the most popular style of hairstyle in 2020, then it's the undercut. The undercut is basically the sides and back of a portion of your head are shaved short and the top has any style you choose. The top can be a pompadour, it can be a slick, it can be a spike. Whatever you name it. The undercut bodes well for low maintenance and if you are the type who doesn't like maintaining his hair, then it's best to go for an undercut.
#2 – Taper with texture cut
A taper with a textured cut is one of the most stylish hairstyles going around and I personally prefer this style. So what is a taper and what is a textured cut?
A taper as the name suggests is a slow fade. The barber basically keeps your hair at a certain height at the top and as he goes, the hair gets thinner and thinner.
A textured cut is a non-cut and this is for people who don't want to look like they've just got a haircut. A barber, for a textured cut, doesn't cut your hair straight, but cuts it at an angle, what this does it, gives you a natural style and texture.
This is a pretty popular style among teenage guys.
#3 – Slicked spikes
A slick is generally wet. That's why slick backs styles have a lot of gel in the hair. A slick spike is similar. It is basically spiking your hair, but only in the front with a slick style. So the rest of the top of your hair will be kept short and your sides and back will also be short. Slicked spikes aren't the hairstyle to choose if you want to keep your parents happy. But this is an incredibly stylish hairstyle and most teenagers can pull it off with elan.
#4 – Combover
If I actually tell you why the combover originated, you will probably not try that hairstyle ever. A combover was first introduced for bald men to cover their balding portion of their head. They would run the comb at an angle to cover the bald spot. But now, the comb-over has taken a different form altogether.
The combover is one of the stylish hairstyles going around. This is perfectly suited for guys who have straight hair. So if you are a teenage guy with straight hair, I would suggest a comb-over. It's pretty stylish and looks great on most people.
#5 – Short Fade
The short fade is basically fading of the sides and the back hair, but the fade starts slowly and gets super short when it goes further down. The short fade is the most in a haircut.
#6 – Curls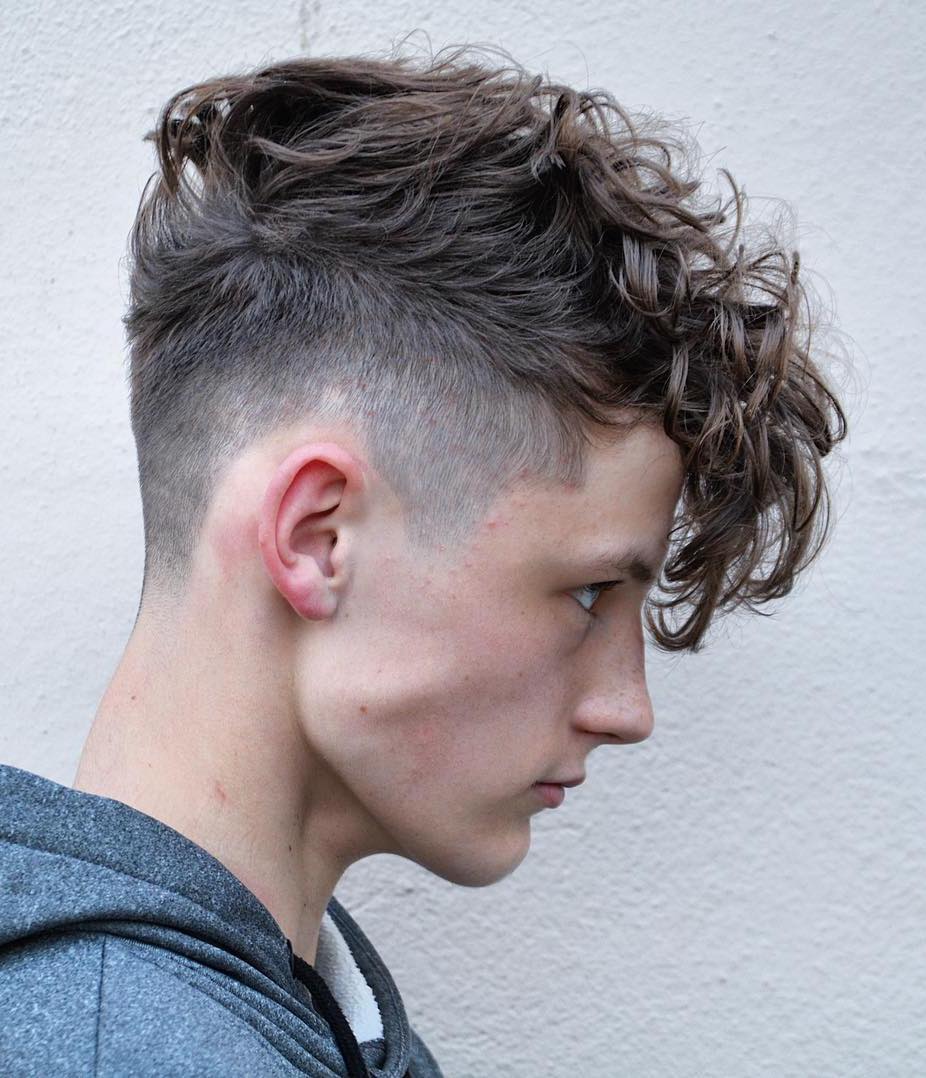 For this hairstyle, you need to have curls and the curls are cut into a mohawk like style while the sides are kept short with a fade.
#7 – Side part cut
The side part cut is one of the most popular styles. The barber when cutting the hair makes the top hair short and combs it over to the side. This means the traditional side part cut remains the same, but the styling can be different. A good side part cut can be raised or it can be brushed back. The side part cut is one of the best styles for a teenage boy.
#8 – Pompadour
There are hairstyles and there are HAIRSTYLES. If you want to stand out from the crowd. If you want to be the centre of attention, then this style is for you. But be warned, if you are meek and don't have enough confidence, then you cannot pull off this look. This requires great confidence, self-belief and the thought that you can pull it off. Presenting the pompadour. The pompadour is basically a slick back that is raised and is high. So your hair will be high. This is a look for special occasions.
#9 – Ivy League
An ivy league is basically a crew cut with a difference. This is characterized but super short sides and back while the front-top is left with a little extra hair that can be styled into a side part. An ivy league is smart, and it's well suited for any occasion and it looks fantastic in formal and informal clothes.
#10 – Fauxhawk
Most people know what this hairstyle is, but don't know the name given for it. A fauxhawk or a fohawk is a better version of the Mohawk. The Mohawk is characterized by completely shaved sides and back and the top of the head has a small raised spikes. The faux hawk is a better version, where the sides and back of the head have hair, but the top portion is entirely spiked. It kind of similar to David Beckham's hairstyle in the early 2000s. This is one of the best looks in the present day and its perfect for a teenager.
READ: What's Trendy for Teenage Fashion
#11 – Long fringe
If you are going through an emo phase or don't really like to cut your hair, then consider a long fringe. The long fringe can be considered an out of the bed look, where your hair is in front of your face, it looks messy, but it still makes you look good. For this, it doesn't matter what kind of hair you have, except curly. The long-fringe is easy to maintain, but it does take time to dry your hair after washing it, because of the volume of hair.
#12 – Quiff
The Quiff is a style that suits teenage boys and that will keep their parents happy as well. The quiff is basically a bunch of hair on the top and the front that can be used to style well. It can be spiked, it can be slick backed, it can be made into a fringe. A quiff is a useful hairstyle to have.
#13 – Hedgehog
The Hedgehog is a stylish hairstyle, especially for teenage boys. It's characterized by straight hair throughout on top. This is like a mohawk, except there is hair on the sides and back. This is a super trendy hairstyle and will catch the attention of everybody.
#14 – Side Bangs
Side bangs are not a style that only women wear, but its a perfect style for boys as well. Side bangs are basically long hair in the front that is moved to the side. This is the bad boy or emo look. This is especially stylish for teenage guys who have long hair.
#15 – The Teenager Bun
We've all heard of the man bun, but have you heard of the teenager bun? No? I'm not surprised because I just made it up. Who said a young man can't sport a man bun? You sure can and it will look great! It just requires you to grow your hair to a certain length and then tie it up into a bun. This is a rare style that not a lot of teenagers will sport and this is your chance to shine!

#16 – Braids
One of the best times to pull off a braid is when you are a teenager. Braids might seem like an irresponsible hairstyle on a grown man, but its definitely not for a teenager. Granted, it's a difficult style to maintain, but if you want to try braids for once in you life, the best time to do it is when you are a teenager.

#17 – The Short Cut
If you can't be bothered about styles and trends and other things, it's best to go for a short cut. It's perfect during the summers and it's super easy to maintain. And the best part? You don't even need to go to the barber to get this haircut, you can take the clippers you have at home and then shave it off short.

#18 – Natural Curls
Teenage is a time when you are conscious about the way your hair looks and how its styled and so on. But if you have curls, it's time to flaunt it. The trends this year is, curls are in. Natural curls can be super stylish and there's no need to cut them. If you got them curls, let them flow!

#19 – Side Part Long Cut
If you are looking for a super edgy yet, super stylish hairstyle is the the side part long cut. This hairstyle is characterized by a long side part on one side and a drop fade on the other. It's super stylish and amazing hairstyle.
Also Read :