When I was a teenager I literally had no sense of hairstyles. I had mentioned in the previous article that my dad would just ask the barber to give me a crew cut, every time. But by the time I turned 14, I started experimenting with gelling my hair and spiking it. When you are a teenage guy, hairstyles are one of the most important things. And the worst part? If you get it wrong, you'll get ridiculed!
So here are the best hairstyles for teenage boys.
Related: Best short haircuts for men
Hairstyles for teenage guys
#1 – The Undercut teenage guy hairstyles
If you are a teenage guy and if you want to know the most popular style of hairstyle this year, then it's the undercut. The undercut is basically the sides and back of a portion of your head are shaved short and the top has any style you choose. The top can be a pompadour, it can be a slick, it can be a spike. Whatever you name it. The undercut bodes well for low maintenance and if you are the type who doesn't like maintaining his hair, then it's best to go for an undercut.
#2 – Taper with texture cut teenage guy hairstyles
A taper with a textured cut is one of the most stylish hairstyles going around and I personally prefer this style. So what is a taper and what is a textured cut?
A taper as the name suggests is a slow fade. The barber basically keeps your hair at a certain height at the top and as he goes, the hair gets thinner and thinner.
A textured cut is a non-cut and this is for people who don't want to look like they've just got a haircut. A barber, for a textured cut, doesn't cut your hair straight, but cuts it at an angle, what this does it, gives you a natural style and texture.
This is a pretty popular style among teenage guys.
#3 – Slicked spikes teenage guy hairstyles
A slick is generally wet. That's why slick backs styles have a lot of gel in the hair. A slick spike is similar.
It is basically spiking your hair, but only in the front with a slick style. So the rest of the top of your hair will be kept short and your sides and back will also be short.
Slicked spikes aren't the hairstyle to choose if you want to keep your parents happy. But this is an incredibly stylish hairstyle and most teenagers can pull it off with elan.
Check out more slick hairstyles for guys.
#4 – Combover teenage guy hairstyles
If I actually tell you why the combover originated, you will probably not try that hairstyle ever. A combover was first introduced for bald men to cover their balding portion of their head. They would run the comb at an angle to cover the bald spot. But now, the comb-over has taken a different form altogether.
The combover is one of the stylish hairstyles going around. This is perfectly suited for guys who have straight hair. So if you are a teenage guy with straight hair, I would suggest a comb-over. It's pretty stylish and looks great on most people.
#5 – Short Fade teenage guy hairstyles
The short fade is basically fading of the sides and the back hair, but the fade starts slowly and gets super short when it goes further down. The short fade is the most in a haircut.
READ ALSO: Top Teenage Fashion Trends
#6 – Curls teenage guy hairstyles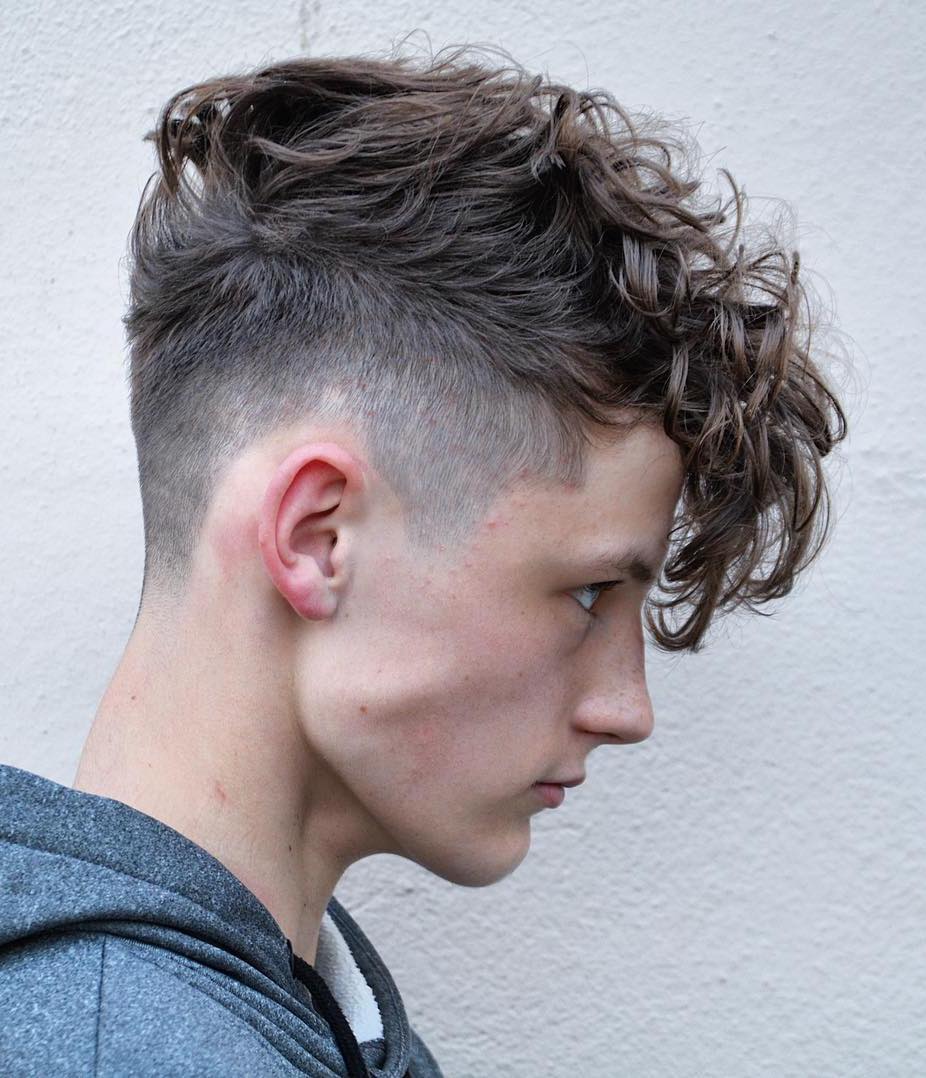 For this hairstyle, you need to have curls and the curls are cut into a mohawk like style while the sides are kept short with a fade.
#7 – Side part cut teenage guy hairstyles
The side part cut is one of the most popular styles. The barber when cutting the hair makes the top hair short and combs it over to the side.
This means the traditional side part cut remains the same, but the styling can be different.
A good side part cut can be raised or it can be brushed back. The side part cut is one of the best styles for a teenage boy.
#8 – Pompadour teenage guy hairstyles
There are hairstyles and there are HAIRSTYLES. If you want to stand out from the crowd. If you want to be the centre of attention, then this style is for you. But be warned, if you are meek and don't have enough confidence, then you cannot pull off this look.
This requires great confidence, self-belief and the thought that you can pull it off. Presenting the pompadour. The pompadour is basically a slick back that is raised and is high. So your hair will be high. This is a look for special occasions.
#9 – Ivy League teenage guy hairstyles
An ivy league is basically a crew cut with a difference. This is characterized but super short sides and back while the front-top is left with a little extra hair that can be styled into a side part.
An ivy league is smart, and it's well suited for any occasion and it looks fantastic in formal and informal clothes.
#10 – Fauxhawk teenage guy hairstyles
Most people know what this hairstyle is, but don't know the name given for it. A fauxhawk or a fohawk is a better version of the Mohawk.
The Mohawk is characterized by completely shaved sides and back and the top of the head has a small raised spikes.
The faux hawk is a better version, where the sides and back of the head have hair, but the top portion is entirely spiked.
It kind of similar to David Beckham's hairstyle in the early 2000s. This is one of the best looks in the present day and its perfect for a teenager.
#11 – Long fringe teenage guy hairstyles
If you are going through an emo phase or don't really like to cut your hair, then consider a long fringe.
The long fringe can be considered an out of the bed look, where your hair is in front of your face, it looks messy, but it still makes you look good.
For this, it doesn't matter what kind of hair you have, except curly. The long-fringe is easy to maintain, but it does take time to dry your hair after washing it, because of the volume of hair.
#12 – Quiff teenage guy hairstyles
The Quiff is a style that suits teenage boys and that will keep their parents happy as well.
The quiff is basically a bunch of hair on the top and the front that can be used to style well. It can be spiked, it can be slick backed, it can be made into a fringe. A quiff is a useful hairstyle to have.
#13 – Hedgehog teenage guy hairstyles
The Hedgehog is a stylish hairstyle, especially for teenage boys. It's characterized by straight hair throughout on top. This is like a mohawk, except there is hair on the sides and back. This is a super trendy hairstyle and will catch the attention of everybody.
#14 – Side Bangs teenage guy hairstyles
Side bangs are not a style that only women wear, but its a perfect style for boys as well. Side bangs are basically long hair in the front that is moved to the side. This is the bad boy or emo look. This is especially stylish for teenage guys who have long hair.
#15 – The Teenager Bun hairstyles for teenage guys
We've all heard of the man bun, but have you heard of the teenager bun? No? I'm not surprised because I just made it up. Who said a young man can't sport a man bun? You sure can and it will look great! It just requires you to grow your hair to a certain length and then tie it up into a bun. This is a rare style that not a lot of teenagers will sport and this is your chance to shine!

#16 – Braids teenage guy hairstyles
One of the best times to pull off a braid is when you are a teenager. Braids might seem like an irresponsible hairstyle on a grown man, but its definitely not for a teenager. Granted, it's a difficult style to maintain, but if you want to try braids for once in you life, the best time to do it is when you are a teenager. Experiment on the different braided hairstyles and figure out which one's best suited for you.
#17 – The Short Cut teenage guy hairstyles
If you can't be bothered about styles and trends and other things, it's best to go for a short cut. It's perfect during the summers and it's super easy to maintain. And the best part? You don't even need to go to the barber to get this haircut, you can take the clippers you have at home and then shave it off short.

#18 – Natural Curls teenage guy hairstyles
Teenage is a time when you are conscious about the way your hair looks and how its styled and so on. But if you have curls, it's time to flaunt it. The trends this year is, curls are in. Natural curls can be super stylish and there's no need to cut them. If you got them curls, let them flow! Use curl enhancers or hair sprays if you are having a hard time keeping the curls intact.

#19 – Side Part Long Cut teenage guy hairstyles
If you are looking for a super edgy yet, super stylish hairstyle is the the side part long cut. This hairstyle is characterized by a long side part on one side and a drop fade on the other. It's super stylish and amazing hairstyle.
#20 – Sharp side part teenage guy hairstyles
The sharp side hairstyle for teenage guys is the most stylish and comfy hairstyle for guys who care a lot about style and fashion. The top part of the hair is long with the slides being trim and short. This goes extremely well for teenage guys with narrow face shapes. Plump guys may not look good with this hairstyle but if styled well, it might not look bad.
#21 – Cristiano Ronaldo teenage guy hairstyles
#22 – Traditional brush teenage guy hairstyles
#23 – Soft taper teenage guy hairstyles
#24 – Textured top and temple shave teenage guy hairstyles
#25 – Side blown undercut teenage guy hairstyles
#26 – Teenage boys undercut ponytail hairstyle
#27 – Handsome layers for teenage guys
#28 – James Deen teenage guy hairstyles
#29 – Straight mohawk with fade teenage hairstyle
#30 – Razor up and sweep mohawk teenage guy hairstyles
#31 – Slicked style teenage guy hairstyles
With spikes and shaved sides the hairstyles are best suited for boys who are between age of 13 – 16. This does not violate school rules of having trim styles. You can also have a line up and make it subtle instead of highlighting it on the scalp.
#32 – Boys long undercut
This buzzed hairstyle is for long hair and can be done so well if your boy has wavy or curly hair. It creates a slight sweep and maintains the length of the hair while also keeping it neat and trim.
#33 – Side blown undercut teenage guy hairstyles
The length of the hair on top can be a reason to flaunt your locks. The side sweep is a very popular look among teenage boys and creates a sense of style. If you have short hair, this can be a hard hairstyle to pull off. But otherwise, it goes well with other hair lengths.
#34 – Cool curly teenage guy hairstyle
This hairstyle is great to flaunt your curls. With shaved sides and the top of your hair just being as it is, is what this hairstyle is all about. Not only does this hairstyle make you look smart, its also smart and trim.
#35 – Textured waves with low fade teenage guy hairstyles
Wavy hair for teenage guys is a boon if you know how to style it well. There are many styles you can pull off with this and this hairstyle with an addition of low fade can be truly rewarding.
#36 – Haircut for thick hair
If you have thick and wavy hair, this haircut will make sure it stays tamed and give a different structure to your face altogether. The fade out to the skin is the best part about styling thick and wavy hair.
#37 – Popular side part cut hairstyle
A side cut is in style right now with how much it goes with all ahir types. It does not matter if you have thick or thin hair, you can style your hair with ease. However, you will need a good quality product to style your hair.
#38 – Spiky faux hawk for teenage boys
Spikes have always been a trend among teenagers. This gets exciting because the spikes come with the faux hawk. Try on this hairstyle and only get the best reactions. Make sure your hair is long and curly for the best results.
#39 – Modern long top fade teenage guy hairstyles
The long top fade hairstyle makes sense only for teenage guys who have thick and long hair. You can texture it in a way that you like and bring the best out of your looks. This is not very inappropriate to wear to school.
#40 – Undercut ponytail for teenage guys
A ponytail can be super cute for teenage boys. If your boy has long hair and you want to know how to style it in a cool way, this is how to do it. Tying your hair back as a ponytail with an undercut can be super cool and trendy.
#41 – Easy hairstyle for teenage guys
#42 – Spikes for curly teenage hair
#43 – Greasy bob with a crest teenage guy hairstyle
#44 – Wispy bangs teenage guy hairstyle
#45 – Stylish and classy fowhawk teenage guy hairstyle
#46 – Shaggy hairstyle for teenage guys
#47 – Undercut with messy bangs teenage hairstyle
#48 – Highlighted strands teenage guy hairstyles
#49 – Textured crest teenage hairstyle
#50 -Spiky bangs low fade teenage guy hairstyle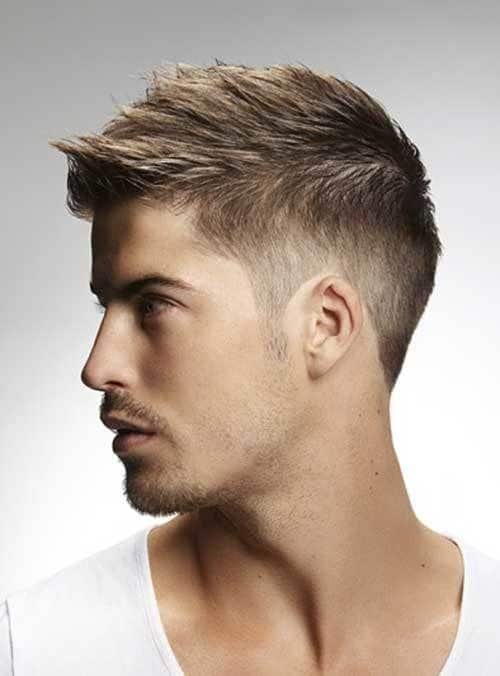 What are the best hairstyles for teenage boys?
Undercut
Texture with Taper Cut
Slicked Spikes
Combover
Short Bangs
Ivy League
Pompadour
Crew Cut
Side Part
Short Curls
Faux Hawk
Textured Waves
Spiky Bangs
Quiff
How do I trim my teenage son's hair at home?
You can easily style your teenage son's hair at home. All you need is a pair of clippers, scissors, a mirror, and a comb.
There are several hairstyles you can choose from as shown above. If you want to just give your teenager's hair a little trim, here's how you can go about to do it.
Using the clippers just trim the hair on the back of his neck. You can give a fade haircut if you want to.
Wet the hair a bit, and using the comb, partition your hair into the style you want.
If you want to give it a trim, just take the hair into the comb till a few inches are over the comb bristles.
Take the scissors and cut these extra inches off.
Make sure you don't cut across horizontally like you would a piece of paper
Instead, snip the hair from the ends vertically. This allows you to control the length as well.
We hope that you are able to style your hair based on our top 30 hairstyles for teenage guys and make the best of your style.
Also Read :