Long Side Part

Jon Snow Hairstyle

Long Bangs

Side Sweep
Best Long Length Hairstyles for Men
What are the best long length hairstyles for men? 
It's not girly anymore to sport long hair for a man. There are a few examples of men with long hair and rocking it – Jason Mamoa and Chris Hemsworth. But they are both superheroes and you might very likely be an ordinary bloke, just like me. So will the long hairstyle suit you?

Let's find out in this article where we cover long length hairstyles for men.
#1 – Long Combover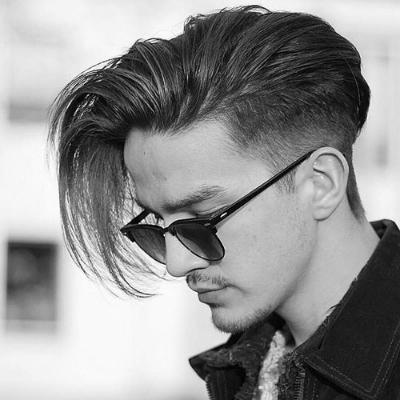 A combover is a very popular hairstyle for men. If you have long hair, then you can take a comb-over to the next level. A comb-over with long hair is called a Long Combover and it looks super stylish and it's one of the sexiest hairstyles out there for men with long hair.

It's characterized by having straight hair and running a comb through your hair when your hair is wet. This sets your hair back and it looks smart and super stylish.
#2 – Long Side Part
The Long Side part isn't a style that everybody will want to have or that everybody can pull off. The Long Side part makes a person look edgy and rugged. It's a very interesting style that is characterised by your hair being parted from the side and combed to one particular side that your hair hangs.
It's an interesting look!
#3 – Jesus Cut
The Jesus cut is a tribute to well, Jesus himself. This is characterized by long straight flowy hair. A perfect example of somebody who rocks the Jesus Cut is Oscar winner, Jared Leto. He's grown his hair nice and long and has added a bit of shading to make it pop. This is a particular style that requires confidence and generally goes well with a beard. When you are not on the Jesus look, you can always tie your hair up or put it into a bun.

But remember, this is not an easy hairstyle to take care of. If your hair isn't naturally straight, then you need to use a straightener to straighten your hair regularly and use a lot of creams and lotions. It also takes quite some time to dry. So if you have time on your hands to groom yourself, then the Jesus cut is perfect.
#4 – The Man Bun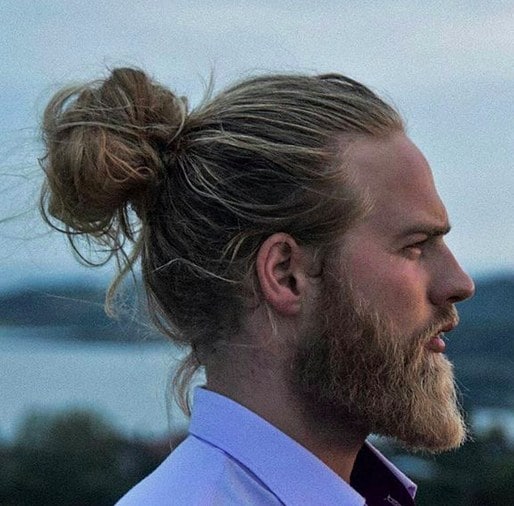 The Man Bun is one of the classic styles for men with long hair. It actually doesn't take that much hair to get a man bun. Just enough to make a bun. Again, this is a style that looks great with a beard on, without a beard, this hairstyle can fall flat. Many celebrities at different points of time have had a man bun. For guys who think, the man bun is pretty informal and will not look good in a formal situation, then you are wrong. A man bun looks super smart with a suit on.

Similar to the Jesus cut, it takes quite some time to take care of the man bun. So be prepared before you get into this hairstyle.
#5 – The Ponytail
For many years, the ponytail was the domain of a woman. It was the hairstyle sported by many sportswomen with long hair. In the '80s, the trend of having long hair for men started and by the time it was the 90's men started sporting ponytails and it's one of the most stylish hairstyles for men. A ponytail is smart and suave and immediately catches the attention.

The most popular ponytailed celebrity was Antonio Banderas in the movie Desperado. A ponytail with a beard is a great look.

A big disadvantage with the ponytail is if you don't groom yourself and if your hair is all over the place, then you will look dishevelled.
#6 – The Long Slick back
The Slick Back is a popular hairstyle, for long hair, it's called the long slick back. This is a pretty awesome hairstyle where the top of the hair is pushed back and combed over till it reaches the endpoint.

This is a super stylish hairstyle for men with long hair. This is a perfect hairstyle for any occasion, especially formal.
#7 – The Side Sweep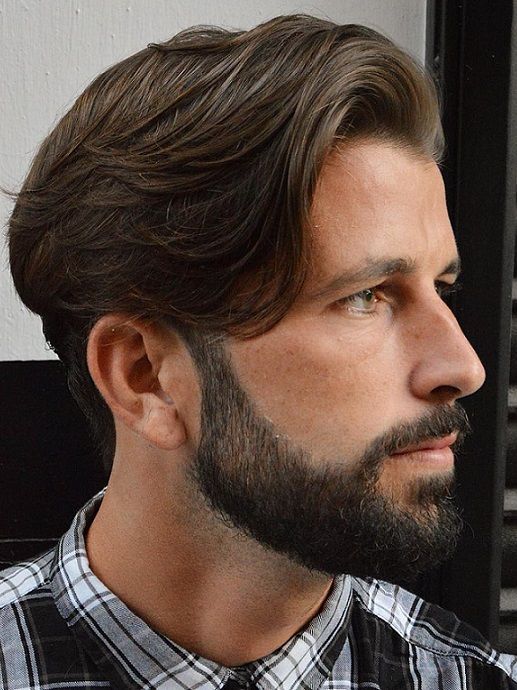 The Side Sweep is the stuff of dreams. This is the hairstyle that makes girls swoon. This is the hairstyle that makes you look great and stylish when you run your fingers through your hair.

The side sweep is basically a long fringe but that is side swept, which is a lot neater. For the side sweep to work, you need to have a side partitioning and you need to have long hair on top.

For people who don't comb their hair regularly, then the side sweep will take some time to set because your hair hasn't been conditioned yet. So if you want a side sweep, keep combing your hair towards one side with your fingers or the comb whenever you get an opportunity.
#8 – Long Bangs
If you are a younger male in your teens, then the long bangs can be your perfect companion. The long bangs are characterized by the hair falling on the front of the face and it gives a "messy" look. There are many styles of long bangs. Long bangs that are curly, that are straight.

This is one of the most stylish hairstyles for men with comparably longer hair.
#9 – Pompadour
The Pompadour is built for long hair. The Pompadour is one of the most out there hairstyles for men. To have a successful pompadour, there are a few things you need to do right. You need to have long hair on top, it needs to be straight and you need to have a good hair day. Basically, a pompadour is a slick back but is raised and looks like it's hanging. It's styled and put in place with gel.

Now the Pompadour just requires long hair on top and you don't need much anywhere else. So if you have hair that is pretty long in the front and you don't want to cut it, but at the same time you want it to look neat?

The Pompadour should be your go to hairstyle.
#10 – The Jon Snow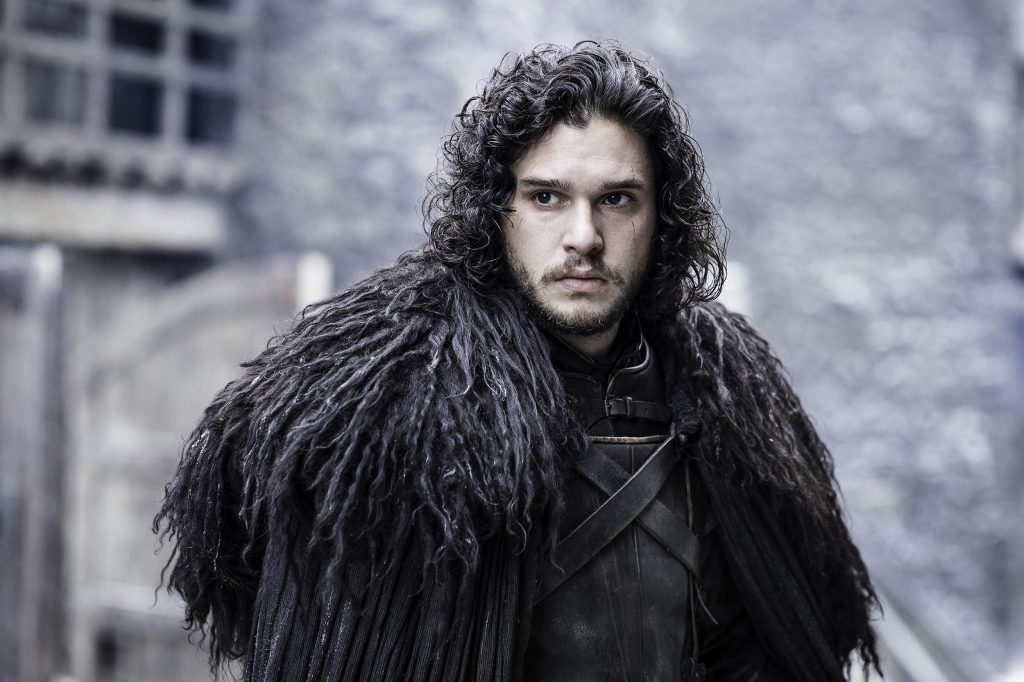 Many of you might look at this style and think, "No, Jon Snow doesn't have a hairstyle!". Well, it's a TV show and he does. The Jon Snow hairstyle is the perfect style for men who have wavy hair, but at the same time want to grow long hair.

The Jon snow hairstyle involves parting the hair in the middle and letting your curls or wavy hair flow. But the parting shouldn't be absolute and should be a very light parting. This is an amazing look and it's super stylish. This style can also be made into a bun or a ponytail when your hair grows longer.
#11 – The Long Spikes
If you have pretty long hair and want to style it differently, then you can consider the long spikes. Long spikes are basically when your hair is spiked and it stands up straight. Now, this isn't a look that a lot of guys might not be interested in, but this is surely a good look.
#12 – Long Textured Waves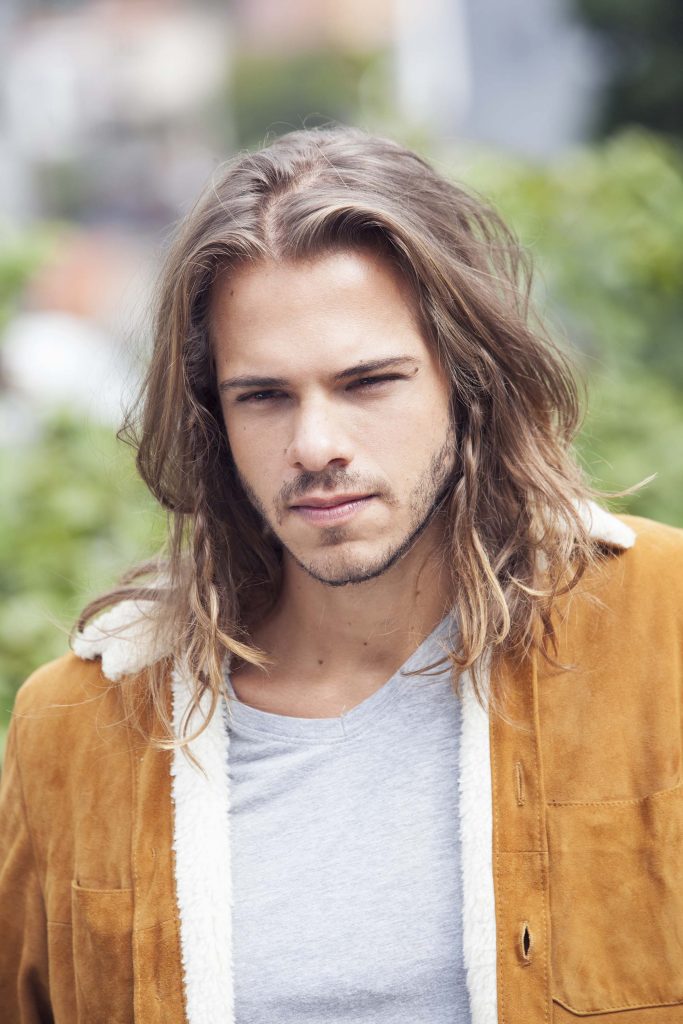 The long textured waves hairstyle is something that is routinely sported by celebrities. It gives you a bad boy look and it's an awesome hairstyle for men with long hair. If you want to know how this style looks, just look at Jason Momoa and see pictures of him with long hair. To get this style you need to use a little of gel, make your hair look messy and immediately dry it off. Where it stays in place.

#13 – Long Hair with Part
Men with long hair generally don't do parts. But this can be a super good looking hairstyle for men with long hair. If you want to know what I'm talking about, then check out Axl Rose' hairstyle when he was a young man with long hair. The part can be a side part or a middle partition. This is an interesting hairstyle that won't look good on everybody. But if you have long hair, it's something you can try.

#14 – Half-Up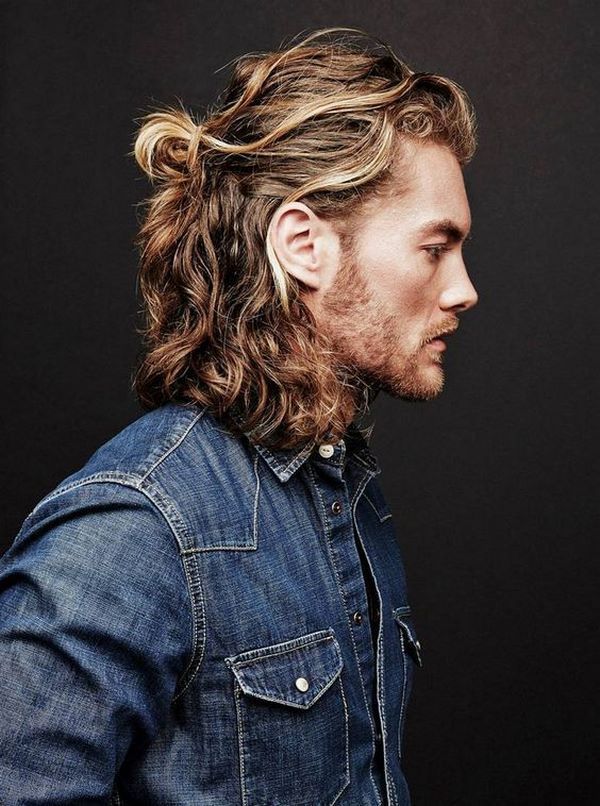 The Half-up is a super unique hairstyle that oozes sexiness and confidence. So what is a half-up? A half-up is a cross between letting your hair loose and at the same time tying it up into a bun. To create a half-up look, you need to prop-up a bit of your hair at the back and make it into a ponytail, while leaving the other portion loose. It's super simple to create this style, which gives you long hair, another dimension.
#15 – Long Braids
If you love to push the boundaries and go for something bold, then you can try the long braids. Braids, as you know, are the intertwining of hair that has a certain pattern. The best part about long hair is, you don't have to braid your entire hair. You can braid certain portions of it without any fuss. This is a super stylish hairstyle and the styles are unlimited. Make sure to go to a good barber and create some amazing braid styles.
#16 – Dreadlocks
This one is for the Rastafarians in the house. How are you going to look different, if you don't have a different hairstyle? One of the styles you can do with long hair is the dreadlocks. It's a super awesome hairstyle that suits certain faces and shapes. But if you are able to pull it off, then you should absolutely run with it. It's a super awesome style, not great for super-official offices.

#17 – Long Undercut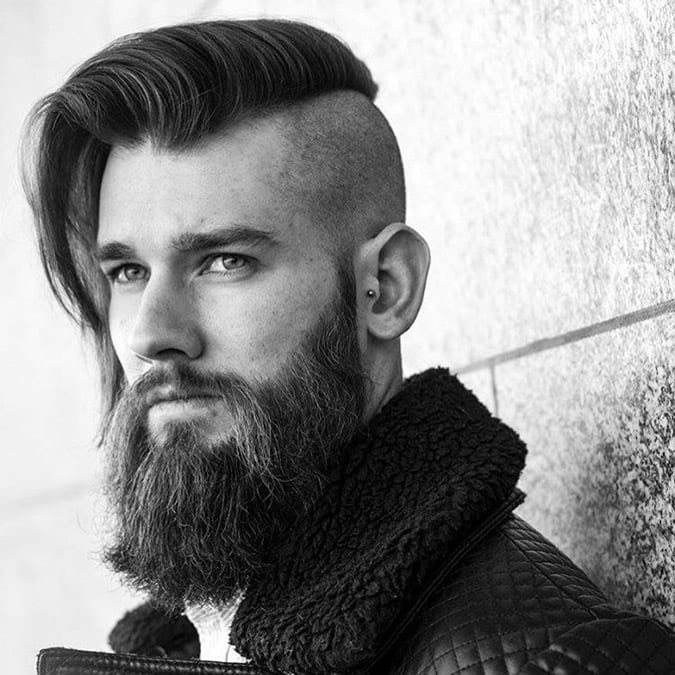 The trend of undercuts is here to stay. If you want a different look that is a bit of a risk for a lot of people are marrying the long hair with the undercut. If you have super long hair, you can keep your sides super short with the undercut. This is a unique hairstyle that isn't for everybody. But if you love different and funky styles, try the long undercut!
Best Long Hairstyles for Men
What can men do with long hair?
Men can do quite a lot of things with long hair. Here's a list of things men can do with long hair
Long Combover
Long Side Part
The Man Bun
Ponytail
Long Slick Back
The Jon Snow Look
The Jesus Christ Look
The Long Spikes
The Pompadour
How long is long hair for guys?
It really depends on each guy. If you are in a professional setting, shoulder-length hair is considered long hair. But generally, if you have hair hanging beyond the nape of your neck is considered long hair.

What does long hair on a man mean?
Long hair on a man means many things. But primarily it means, he's confident and is creative and not boring and is ready for experimenting. A man with long hair can also be considered a rebel, an off the cuff kind of guy, an off-roader. It could also mean, he really likes long hair.

How long is medium length hair male?
Medium length hair is hair that comes above the shoulders and the sides are a bit long.