You would think, men don't have much hair to go with, what can one do to be stylish?
There are plenty!
Short haircuts for men are popular because it's easy to handle and there isn't much required to do to take care of them. If you're wondering if you can style them, yes you can!
What is a good low maintenance haircut?
A good low maintenance haircut is one that requires minimal styling and upkeep. Here are some low maintenance haircut options:
The buzz cut: The buzz cut is a very low maintenance haircut that requires no styling at all. It features short hair all over the head, typically cut with clippers.
The crew cut: The crew cut is another low maintenance haircut that is easy to style. It features short hair on the sides and back, with slightly longer hair on top that can be styled with a small amount of product.
The short crop: The short crop is a versatile haircut that is easy to maintain. It features short hair all over the head, typically cut with scissors, and can be styled with a small amount of product for added texture and volume.
The textured fringe: The textured fringe is a low maintenance haircut that features longer hair on top that is styled with texture and volume, with shorter hair on the sides and back. It can be styled with a small amount of product for added texture and hold.
The shaved head: The shaved head is the ultimate low maintenance haircut, as it requires no styling or upkeep at all. It features hair that is shaved completely off, leaving a smooth, bald head.
Overall, the key to a low maintenance haircut is to keep it short and simple, with minimal styling required.
Related: Short Sides Haircuts For Men
Short Haircuts For Men 2023
Here are the best short haircut styles for men! Latest trends include the following.
#1 – The Buzz Cut
The Buzz Cut is one of the most popular hairstyles for men. It's a short summer haircut that doesn't need maintenance and it's easy for the barber to cut. He runs the electric clippers through the hair and removes the hair off.
It's evenly spread out and there's the same amount of hair everywhere.
The Buzzcut comes in various styles, one of them being the flattop. But be wary, this military haircut doesn't suit everybody! It can make you look bald.
Make sure you have a good jawline and also make sure you aren't too overweight as this can imbalance your look.
#2 – Short Textured Crop
The short textured French crop is a very popular haircuts for guys this year. It's characterized by a super thin buzz cut on your sides that is called a fade. On the top, there is enough hair to play with.
This can be styled into many things such as a pullback, a side split, a messy look, a spiky look or just leave it like that.
A short textured French crop looks good with a beard. If you can grow facial hair, this is the perfect hairstyle for you.
#3 – Spikes styles for men
The spike hairstyle was popularized by David Beckham in the early 2000s. It became a rage back in the day with every kid getting a bunch of Brylcreem and spiking his hair.
The spikes are still in and it looks great on many mean and give you a head full of voluminous hair.
These days the spikes are characterized by a drop fade, which is basically a short cut around the sides, while the middle on the top of your head can be spiked in different styles.
The messy spikes, the straight spikes and more. This is one of the top, cool hairstyles for straight hair and wavy hair textures.
#4 – Short Taper Fade Hairstyle
The short taper hairstyle isn't as complicated as it sounds. Instead of a fade on the sides, the barber cuts of more hair on the sides than on the top.
This doesn't require the use of the clippers. This is very good to style with and can be a perfect hairstyle for both a formal and an informal situation.
Taper styles are getting quite popular in 2021 and are making a big splash.
#5 – Burst fade for Thick Hair
The burst fade haircuts are specifically a perfect hairstyle for thick hair. It is characterized by a very sharp electric clipper cut on the sides.
For people who have thick hair, their hair on their sides grows very thick and fast and becomes unruly in a matter of weeks.
The burst fade gives the hair some time to grow and keeps you looking neat for a longer period. So it's perfect for black hair in professional settings like an office. And this means, lesser barber visits!
#6 – Crew Cut with Beard and Skin Fade
Many people assume that a crew cut is exactly the same as a buzz cut, but it's actually different.
A crew cut has a fade and a buzz cut doesn't. Due to that, a crew cut can be styled much better than a buzz cut.
A crew cut with facial hair and a fade is one of the most popular hairstyles out there.
#7 – Military flattop
A military flattop is a niche hairstyle that has been gaining a lot of followers. A military flattop is essentially a crew cut, the top is high and tight and styled in a specific way such as a side slick back.
But if you look at the hair, it will be flat and will not be raised. This is a great look.
#8 – Slick back with fade Short Haircuts For Men
Since Di Caprio had his hair slick back in Titanic, this has been a very popular look.
Even all the mafia movies had characters with slick backs, like Ray Liotta in Goodfellas.
The slick backs make a person look very suave and smooth. But the slick back has taken a whole new dimension this year with the slick back with fade.
This is characterized by your traditional slick back, while the sides have a simple fade that is created using electric clippers.
#9 – Medium Shag Short Haircuts For Men
If you are unclear about what cut to get and you couldn't be bothered by all the different styles out there.
A medium cut is your best friend. Tell your barber to give you a medium cut and he'll know what to do.
A medium does not use electric clippers but relies on scissors. The barber just shortens your hair exactly along the top your sides and back.
#10 – Short Side Swept Haircut For Men
If you couldn't be bothered about hairstyle and do not want to maintain your hair at all. A short cut is the best.
The barber runs electric clippers through your hair and shortens it as much as possible, he also leaves a whiff of hair on the top to let you stylize it.
This is the perfect non-maintenance hair.
#11 – High and Tight Short Haircuts For Men
The High and Tight is one of the most classic hairstyles that is famous world over. It was popularized by military men back in the day. Being bald was a style that a lot of military men got bored with.
So they came up with the high and tight. The high and tight is super simple to cut, easy to maintain and requires no barber type skills.
All you need is an electric clipper and some time. A high and tight is super simple. Some hair on the top of the head is left alone and the ones on the side and back are trimmed clean.
If you want to know how much hair you want to keep on top, just place your hand on top of your head and cut the rest. There are various styles of high and tight.
Some with more hair and some with less. This is always a classic shorter hairstyle.
#12 – Short Side Part Short Haircuts For Men
The side part is a forgotten look. Men of the old days used to sport a side part and that was super popular. Now the side part is making a comeback as an old-school style with a modern touch.
A short side part is super easy to create. You partition your hair from the side and comb it over towards one side.
This is a neat and clean hairstyle that can be sported by anybody. You don't require much hair for a side part to fall into place. You can make do with little hair.
#13 – Short Quiff Haircut
A quiff like I've mentioned in the other articles is a mix between a mohawk and a pompadour. When you take a pompadour and don't finish it and style it like a mohawk, it becomes a quiff hairstyle.
A quiff also doesn't require too much gelling, it naturally stands up for men who have styled their hair towards the sky.
This is a super stylish hairstyle that you can make look like you have a lot of hair without having too much hair. Some men don't like to have that "bald" look in the front and the short quiff is the perfect option for them.
#14 – Short Spikes Short Haircuts For Men
One of my most favourite hairstyles for men has always been spikes. It's a very underrated hairstyle that not a lot of adult men have the guts to pull off. But the short spike is a whole new beast. It's, in fact, better than the long spikes.
When hair is cut short and it's no longer than the first line on your index finger, then you have enough hair for short spikes. Short spikes are characterized by raising your short hair with gel in a spiked style.
This is a very stylish hairstyle that is perfect for short spiky hair and does not require too much prep time.
#15 – Buzz Cut and Mid Fade hairstyle for men
The Buzz Cut, we've covered on the top. That's a classic style. But these days, the styles are way different. The Buzz Cut with a Mid Fade is when the classic buzz cut gets a modern-day fade.
A fade is basically when the hair tapers off from the side and the back.
But with a mid fade, the taper is pretty dramatic from the middle of your sides. This is a super stylish hairstyle that is easy to maintain, looks good, makes you look young and is also easy to cut.
You could probably get a mid fade done for yourself.
#16 – Short Slick Back + Drop Fade Hairstyles For Men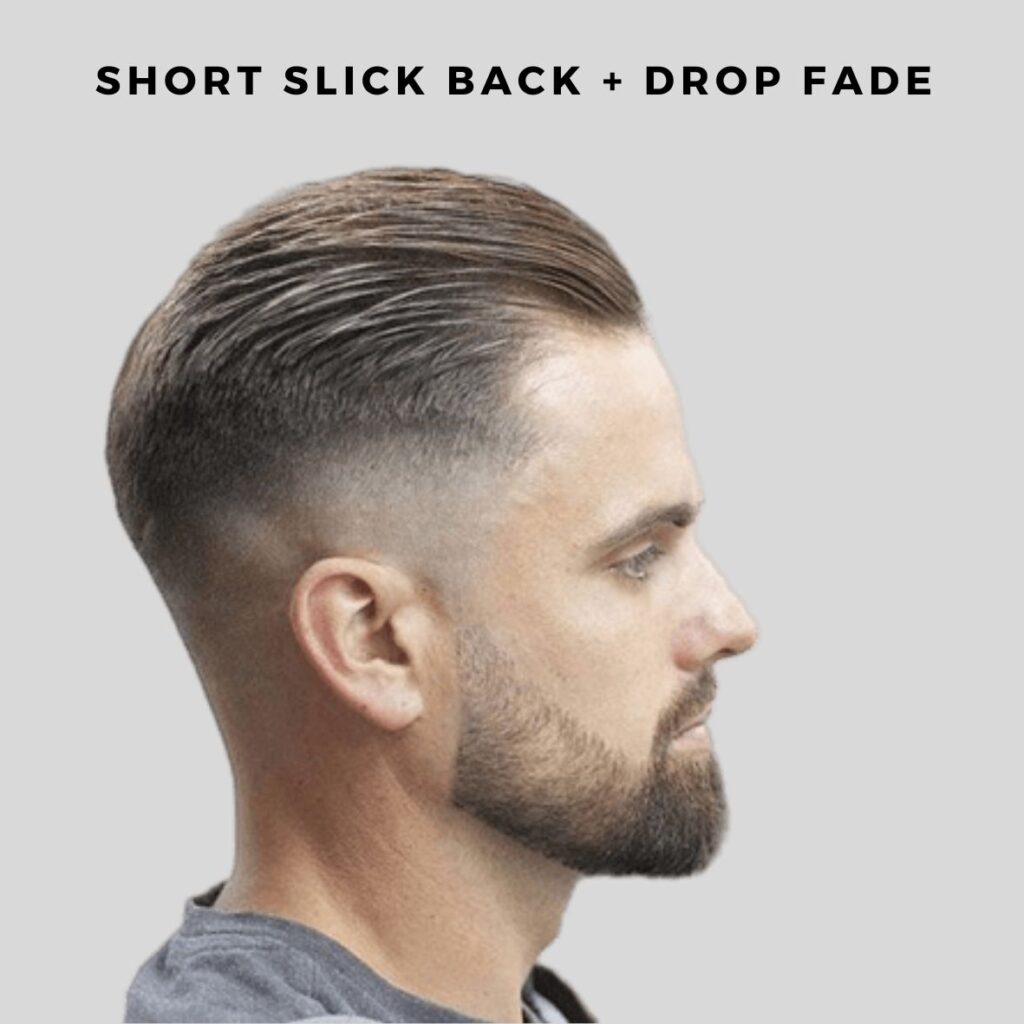 When anybody ever uses the word slick back, then think off only one thing and that is Leonardo Dicaprio's hairstyle in the Titanic.
If you are too young to have seen that movie, then Google it! The Slick Back is basically when your hair is combed over towards the back side.
The truth of the matter is, you don't need too much hair to get a slick back hairdo. You can do it with short hair.
That old-school hairstyle is mixed with a drop fade to give you an envious short hairstyle. A drop fade is when the sides and the back of your head have shorter hair. This is a classic mixed with a new age style.
#17 – Short Bangs Haircut For Men
The Short Bangs is something that nobody has heard of because it is primarily seen as a woman's hairstyle.
But men have bangs too! This hairstyle is best explained by the description of one of the most popular characters on TV and that is Spock. Spock's hairstyle in the show Star Trek can be considered a short bang.
A short bang can also be described as hair that does not cross the eyebrows.
This is a perfect, fuss-free hairstyle that suits a lot of people. It doesn't take too much to maintain and also looks good with clothing of all types.
This is a highly recommended hairstyle for people who don't care too much about hairstyles.
#18 – The Short Mohawk Hair Cut For Men
Well we've all seen the Mohawk. To me personally, the Mohawk has been a hairstyle that is super out of bounds. Why?
I don't want to stand out from the crowd so much. When we think of a mohawk, we think of a punk rocker with razor-sharp spikes that is dyed pink. But that is doing injustice to the mohawk.
The mohawk is much more. You can get a short mohawk, which is basically, hair on the top that is centred and everything else is cut.
No spikes, but just a stretch of hair. This is a super neat hairstyle and makes a man look really good.
#19 – Short Pompadour Hairstyle Men
The Pompadour is a grandiose hairstyle. It's big and rich and shiny. But you can sport the pompadour, without all the pomp.
With shorter hair, it's called the short pompadour and it's basically the same hairstyle but looks much neater and less "done-up".
Unlike the pompadour, the short pompadour can actually be prepped in the house by anybody by applying some gel and using a comb.
A smart hairstyle perfectly suited for short hair.
#20 – Brush Cut Men Haircut Styles
The brush cut might be considered a goody boy haircut, but it's one of the easiest hairstyles for short hair.
When you comb your hair towards a particular side with a brush, it's called a brush cut.
This hairstyle ensures that even though your hair is long enough to be combed, it still can be maintained with ease.
#21 – Crop with a Fringe
A short crop with a fringe is one of the coolest short hairstyles for men. It looks stylish and gives you a modern look.
A simple crop is good, but a crop with a fringe makes it look like you've styled your hair.
When you pair this with a deep fade, then you have a short hairstyle that is pretty awesome.
#22 –Messy Texture with a High Fade
Textured cuts are a barber's go to weapon when they want to do something simple yet effective.
Textured cuts uses scissors to cut your hair in a criss cross fashion. A messy texture is when your textured haircut gives a messy look.
This style paired with a high fade is a good short hairstyle for men.
#23 – Short Curly Hair with a Drop Fade
There are a few ways to deal with curls. Unleash it in total or keep it short. The short curly hairstyle is a great look.
It's an awesome way to tame the curls and look neat. You don't have to straighten your hair, this modern style is a way to embrace your natural texture.
#24 – Side Swept Hair
One of the most classic looks is the side swept hair. You take a side part and sweep your hair from one side to another.
This is an easy to maintain hairstyle and looks good with short hair. You could leave the tips of your hair a little long to give that extra cool factor!
#25 – Scissor Cut
When the barber uses a scissor to cut your hair, then it's called a scissor cut. It's better than a clipper because a clipper cuts your hair really short.
With a scissor cut you can choose the length you want and the style you want. For men who really don't like super short hair, then this scissor cut is your friend.
#26 – Natural Part
The natural texture part hairstyle is the one I go with most of the time. I let my hair grow naturally and part it where it normally splits.
This lets your hair grow naturally without having to force-fit it in a certain way.
#27 – Side Brushed Texture Cut
Combining two unique styles and making a new style is the flavour of the season. The side brushed texture cut is cutting your hair in a textural manner and side brushing it with a comb. This is a unique hairstyle that looks pretty awesome!
#28 – Blowout with Tapered Sides
A blowout for short hair can be super stylish and convenient. This tapered haircut keeps the hair upright and neat.
If you want to look casual, you can add products and wax. We promise you that you will not regret this style.
#29 – Bowl short haircut styles for men
A bowl haircut is not popular now but can look aesthetic on men who have the face type that will favour fringes around the face.
This looks great on men who have straight and long hair.
#30 – Bowl cut with side swept bangs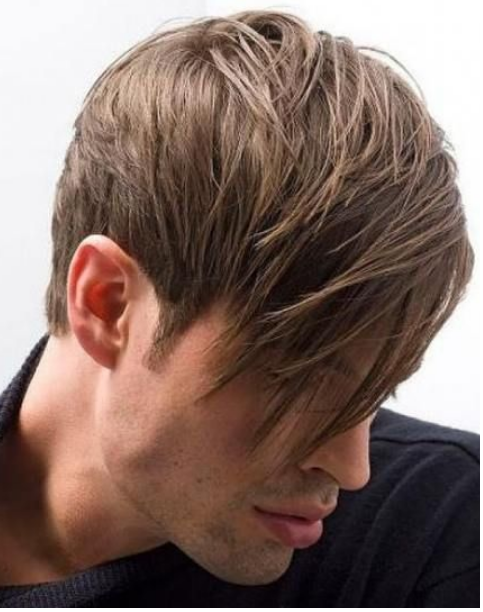 The bangs are a great addition to the bowl cut and in fact makes it look even better. Your face has better structure.
#31 – Buzz cut with design styles
Getting a design on the buzz cut makes it even more prominent. Buzz cut is usually really short and the design is seen highlighted from the short layer of hair.
#32 – Caesar haircut style for men
A Caesar's haircut is usually done for those having a hard time maintaining their hair.
It is super short all over the head and makes it really easy to maintain.
But the important thing is you need to consider all your face structure because it might not suit men with a chubby face.
#33 – Classic Comb Over Short Haircuts For Men
This is a very professional look and comes in handy for men who have to go the office. You can add a small amount of gel or wax to fix your hair a certain way. Make sure you have medium length hair to be able to pull of this hairstyle.
#34 – Classic pompadour Short Haircuts For Men
Pompadour is one of the most well known styles for men. This is because it gives a certain structure to the hair which can be then customized in a favourable way. You can adjust your hair according to your mood.
#35 – Short comb over styles for men
This is for men with short hair and want an easy way to style your hair. This messy hairstyle manages to look super classy. To try this, you don't need special products. Use a hairbrush to get rid of tangles and the rest is set.
#36 – Disconnected Undercut Fades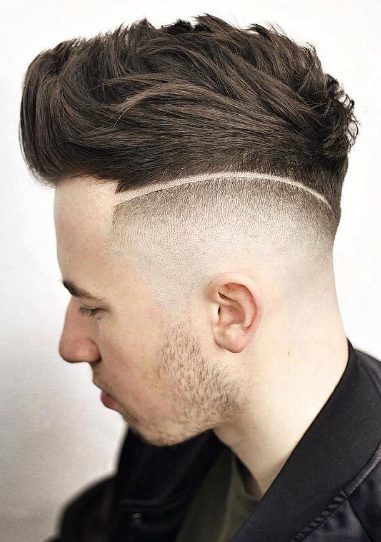 #37 – Flat top short hairstyle
#38 – Short caesar hairstyle for men
#39 – Firm short quiff hairstyle
#40 – Modern mohawk Short Haircuts For Men
#41 – Side part bangs Short Haircuts For Men
#42 – Buzz cut with designed shaves
#43 – Induction cut hairstyle for men
#44- Modern quiff with under shaved sides
#45 – Curly quiff Short Haircuts For Men
What is the best haircut for short hair?
Some of the best haircuts for short hair include:
Buzz cut
Pompadour
Crew cut
Modern quiff
Fade with side part
Ivy league
Military flat top
Men with rectangular and olbong faces look great with short hair styles. This type of hairstyle also suits an oval face as this facial structure is very versatile.
It's also believed that short hair types can make those with rounder face shapes look chubbier, so it's best if they avoid shorter haircuts.
Also Read:
Best Men's Haircuts And Hairstyles
Best Professional Hairstyles For Men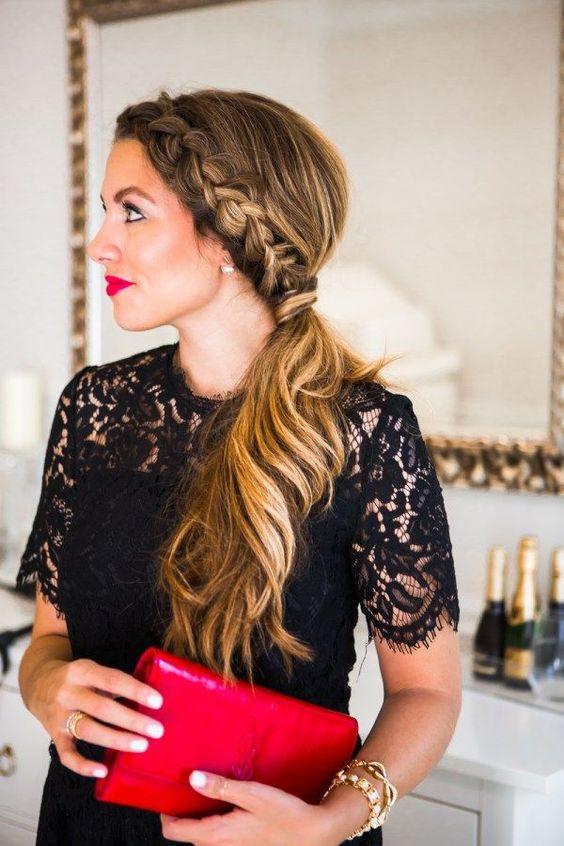 From hair care to soaring hair trends, we cover it all. We make sure you nurture your hair and stay on board with hairstyles and new hair trends. So hop on and make every day count with some of our creative and sassy hair trends.