If you have receding hairstyles big forehead hairstyles and hairstyles for men with big foreheads can help you out. These hairstyles that cover forehead male look really stylish too!
A lot of you think I'm replacing the term "receding hairline" with "big forehead". That's not true!
The reality is, there are a lot of men with big foreheads. There are also, several hairstyles for men with big foreheads.
When you have a big forehead, it looks like you're balding to other people and that's not a look that you want to carry. This problem is also solved if you use Toppik Hair Rebuilding Fibers along with the right hairstyle. It gives an illusion of thickness and volume to your hair.
Check out this awesome hair volumizer on amazon.com!
This is a perennial problem that can only be solved by one thing and that is sporting a very particular hairstyle depending on your requirement. So here are the best hairstyles for guys with big foreheads.
Related: Check out the best short haircuts for men to look your dashing best!
Top Hairstyles For Men With Big Foreheads 2022
#1 – Simple Fringe Hairstyles For Men with Big Foreheads

The fringe has been a long time friend of men who have had big foreheads. There are different types of fringes and the fringes sported by a woman is different.
A man's fringe is basically hair that comes down a bit to lessen the length of the forehead.
The truth of the matter is, it doesn't have to look bad or weird and it can look absolutely natural.
Some fringe styles like the one below can make you look rugged and also give you the "untamed" look.
If you want to go for the traditional fringe, then the barber brings your hair to the front and cuts it parallel to give you a straight fringe. This is also one of the best men's short haircuts for thin hair

#2 – The Long Fringe Hairstyles For Men with Big Foreheads
The Long Fringe honestly is one of my favourite hairstyles irrespective of whether you have a big forehead or not.
This is that kind of a style that can easily be pulled off in an official setting as well as a part setting.
It doesn't matter what kind of hair you have. It could be wavy, curly or straight, a long fringe will absolutely suit you.
This is one of those trademark hairstyles for a younger man and if you are young and have a big forehead, this hairstyle acts as a good concealer while being stylish at the same time.
This might not be the perfectly suited hairstyle for an older man. The long fringe is also easy to maintain. This is one of the classic hairstyles for guys.
#3 – The Side Swept Fringe Hairstyles For Men With Big Forehead
If you are looking for a bit more panache and a style that you could pull off in official gatherings, then I would suggest the side swept fringe.
The side swept fringe is also one of the most classic cuts you will ever encounter.
It looks super stylish and it's short enough to be used as a hairstyle at work. It covers a portion of your forehead and cuts the space.
It's personally one of my favourite hairstyles and one that I've worn quite regularly.
The only requirement for this hairstyle is that you should have enough hair and if it's too short, you can't sport a side swept fringe.
It's a classic cut that works for wavy hair and straight hair. It doesn't work that well on curly hair. It's easy to maintain and it's a look for the ages. 

#4 – The Wavy Hair Swept Hairstyles for Men with Big Foreheads
I've been a big fan of wavy hair, as it looks the most rugged and gives the person a "natural" look. Wavy Hair that is grown long and swept to a side has hair falling on the forehead.
This immediately covers a portion of the forehead and makes it look smaller.
This is a very "natural" hairstyle to cover up a large or big forehead and it doesn't take much in terms of upkeep.
You just need to maintain it well. This is a good look and looks super stylish and hip and it's something you might want to consider if you have a big forehead.
#5 – Side Swept Quiff
Now, you can't be always insecure and decide to cover up your forehead all the time.
So a good hairstyle to make sure your big forehead isn't always prominent is a quiff.
A quiff is basically hair on top that is pushed up. So why does a quiff work for big foreheads? It's all about balance.
When you have a large forehead and your hair is really short, the forehead gets all the prominence.
But if your hair is grown and pushed up, it balances out the size of your forehead. This is one of the best styles, that is hip, modern, stylish and works really well for a person with a big forehead.
#6 – Short Hair with a Beard haircut for men with big foreheads
Say you want to go with short hair on top and you don't want anything else. This poses a problem as your forehead will stand out distinctly. The only way to counter that and to balance it out is to have a good beard. A good beard takes the attention of the person and they won't even notice your big forehead. 
#7 – Clean Shave haircut for men with big foreheads
One of the best looks that one can sport if they have a big forehead is going fully clean shaved.
This is a no nonsense haircut and it solves the issue immediately. A clean shaved head makes you look tough and rugged and is very easy to maintain.
If you don't want to be bothered by any hairstyles, then this is the best look to go for!
Some of the most famous celebrities like Jason Statham, The Rock, Pitbull sport this look!
#8 – Short Hair with a Moustache haircut for men with big foreheads
Another great style to counter a big forehead is to have a moustache. A big moustache will take the attention from a large forehead.
#9 – Swooping Fringe

The Swept Up Fringe is a good hairstyle for men with large foreheads. For people who don't like a flat hair look, you can fringe your hair a little bit and then sweep it up a bit. This covers a bit of your forehead also props up your hair.
#10 – Wavy Style Textured Top

A great way to distract people from a big forehead is by adding an element of style to your hair. The wavy style textured top involves having waves on the top of your hair that comes from having a textured cut. This hair style adds dimensions to your hairstyle that cuts the size of your forehead.
#11 – Short Curly Style Haircut For Men With Big Foreheads

This is a very interesting way to cover a large forehead. The short curly style requires slightly longer hair to fall over your head and extend a bit that covers your forehead. This is one of those natural, unkempt looks.

#12 – Slicked Back Style
This is one of those styles which is counter intuitive. Instead of trying to hide your forehead, you can go for the slick back which will raise your hair and make your hair long. This balances out the width of your forehead with a bigger hairstyle. 

#13 – Textured Fringe

One of the most popular styles going around is the textured fringe. It also is perfect for making your forehead look smaller. It's a very popular hairstyle and that is similar to the quiff mentioned above.

#14 – Brush-up Standing haircut for men with big foreheads

This is one of those styles that can be a bit of a hit or a miss.
For men who are balding and their forehead is big, this is a hairstyle that is basically brushed up above similar to a quiff.
Yes it does show a bit of your balding head, but it still looks good!
#15 – Classic Ivy league
You can't go wrong with the ivy league. No matter how big your forehead is, you can't look bad with an ivy league.
This is a short hair that is just pushed up and neatly parted and pushed towards the side!
#16 – Flowy Wavy Blowout

The blowout is all about making your hair look bigger than it is to show a bigger proportion of hair compared to your forehead.
This requires a bit of trickery with the hairdryer. This is a good style for men who have slightly long hair and for those who have wavy hair too.

#17 – Comb Over Hairstyles for Men with Big Foreheads

The comb over is a classic cut. This hairstyle is so neat and trim it will make your forehead look smaller.
When you have hair that is messy and all over the place, it makes your forehead look big, but a neater hairstyle like the combover is much more clearer.
#18 – Brushed Back with Fade and a Beard haircut for men with big foreheads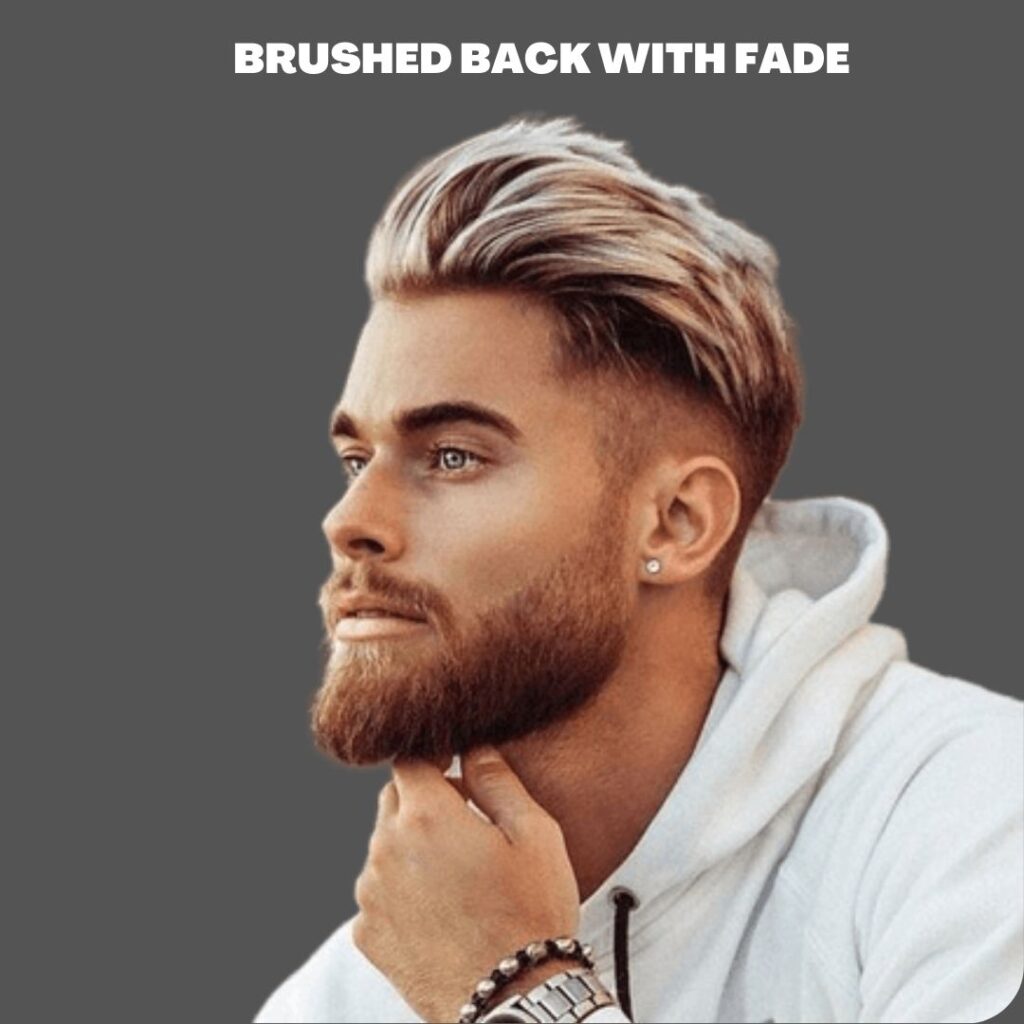 Sandwiching your forehead between the hair on top and a beard below is a great idea to take away your forehead' significance. This is a classic style that looks pretty awesome.
#19 – Short Pompadour haircut for men with big foreheads
The Short Pompadour is another great addition for men with big foreheads. It's basically a pushed up hairstyle that is slightly slicked back.
This is one of those stylish hairstyles that look good no matter the size of your forehead.
#20 – Aaron Paul's Short Brushed Hairstyle
We all know how distinguished Aaron paul is when it comes to his facial features. It is known to be because of how he wears his hair in such a way that it camouflages his large forehead.
He has always maintained short hair so that has effectively proved that his hairstyle suits guys with big foreheads.
#21 – Flowy blowy wavy haircut for guys with big foreheads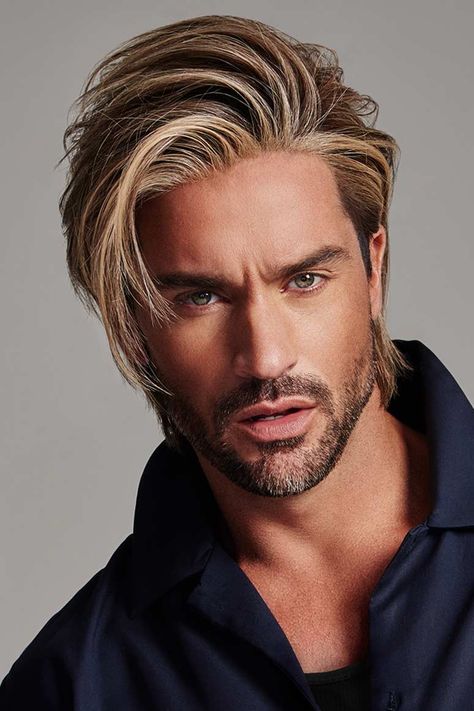 A good blowout does your big forehead a lot of good. While it is true that it exposes most part of your forehead, it does not serve as a matter of hindrance.
It looks sexy and gives a more confident look. This haircut could be a way of embracing your forehead just in case you don't have favorites from our list.
#22 – Brushed up with a side part haircut for guys with big foreheads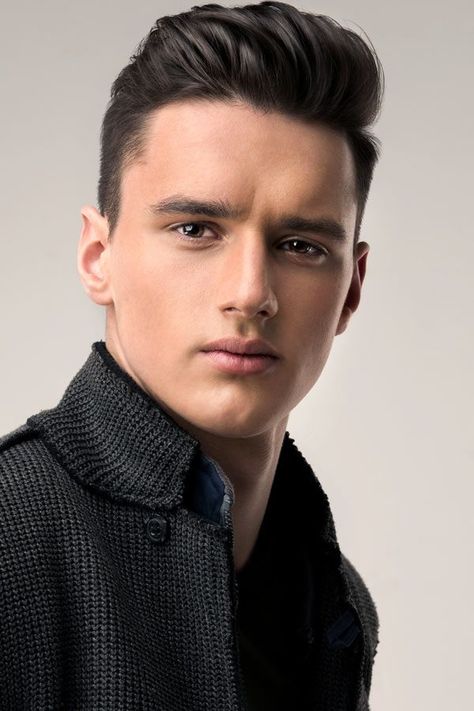 This mid length hairstyle is a big savior when it comes to guys with big foreheads as it can take the highlight off of your big forehead.
Once styled well and in a creative way, this hairstyle can go a long way for your hairstyling plans.
Just make sure you don't make it a slick back and stick it on your scalp too much.
#23 – Drop Fade With Wavy Texture
The fade brings out your facial features throwing light on your best features. This way the attention is taken off your forehead.
It does not look too bad on the eyes either. We suggest you match it with a beard to complete the whole look. It will make you look much more attractive.
#24 – Business Cut Inspired Burst Fade
This hairstyle is mellow and does not look too much on your face. It covers the forehead and keeps your other facial features in check and not expose your forehead. It takes the role of playing the professional haircut and highlights your whole profile instead of just your forehead. O
One tip that will come in handy when you are opting for this hairstyle is to have a bunch of hair products ready to use them.
#25 – Perfectionist's Side Part Hairstyles For Men With Big Foreheads
The perfectionist's side part is one of the most opted for hairstyles for guys with bigger foreheads. If you have thick hair and don't want to lose a chunk of it, you might want to check this out.
You can maintain your lush hair with this particular hairstyle. The side part is a great style that guys have started to explore. Again, this hairstyle stands genuine only for guys with thick hair.
#26 – Sticky Style Brush Up
This hairstyle requires longer hair and a slight bit of hair gel or wax to keep the hair upright.
We suggest you blowdry your hair to keep it firm all day.
The hair is brushed backward and creates a very bold look making the forehead look smaller and not that prominent. Another aspect of this hairstyle is that it makes you look taller since the hair is brushed up back.
#27 – Tapered pompadour with widow's peak
A pompadour is a perfect option when it comes to appearing professional and clean.
Only tweak to that is the V shape that gives your face a special structure. All you need to make sure is that you don't have a plump or chubby face as it could make it look plumper. But otherwise, this hairstyle should be your go-to hairstyle.
#28 – Brushed back taper fade for guys with big forehead
Brushing back hair can seem kind of intimidating if you have a big forehead but this style will definitely help camouflage your big forehead.
On its whole the taper fade is very low maintenance, the only thing you need to tend is the hair on top.
Once you brush it back using a hair gel or wax, there's nothing to worry about. Make sure it's securely brushed back till the nape of your neck.
#29 – Side Combed Thin Hairstyle For Big Foreheads
If you have thin hair and are confused on what to do for your forehead, then here's one.
This brushed back hairstyle tilts slightly to the side to hide your forehead. Make sure you have an appropriate hair gel that will keep the hair onto your scalp. A side comb is always a lifesaver when it comes to bigger foreheads and thinning hair.
#30 – Neat Pompadour Haircuts For Big Foreheads
A pompadour can be quite a look stealer because of how trim and neat it looks. This one will be best suited to those who have a narrow lower face. You can spike it up or leave it brushed towards one side. Either way you will look trim and neat.
#31 – Medium long slicked back
Who wouldn't want to have a Johnny Depp look!
This looks great if you have had long hair and want to maintain it while also tending to your big forehead. You can gel it up to make it look more stylish and great.
More often than not you will prefer to have this hairstyle because it is functional and professional.
#32 – Caesar haircut for big foreheads
Caesar's haircut for big foreheads is ideal because not only does it have a fringe but it's also professional. The bangs only cover one part of the forehead making it seem even on top of the forehead. This is very low maintenance, all you need to do is keep it combed at all times.
#33 – Buzz haircut for guys with big foreheads
If you want something to define your hairline, then the buzz haircut is definitely the one. Maintaining a short and bald look is also a way of keeping the forehead in shape at all times.
This makes you look super cool and casual. The best part is that it does not require any kind of maintenance whatsoever.
#34 – French crop haircuts for guys with big foreheads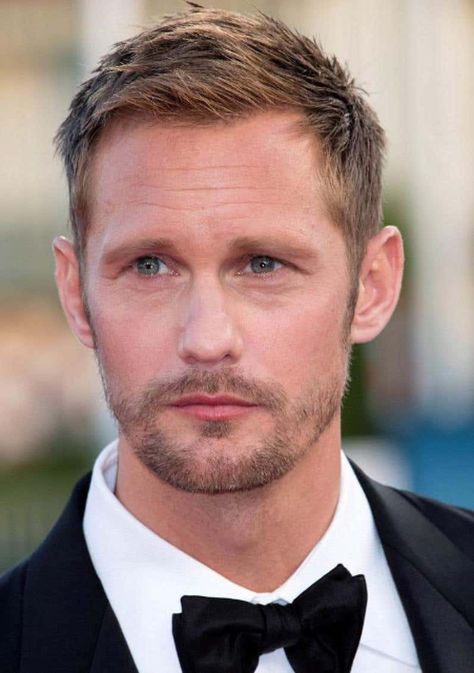 The French crop is a kind of pompadour. It comes with a fringe and keeps the face shape compact at all times. All you need to do is make sure that the fringe looks relatable to your other facial features.
#35 – Crew haircut for guys with big foreheads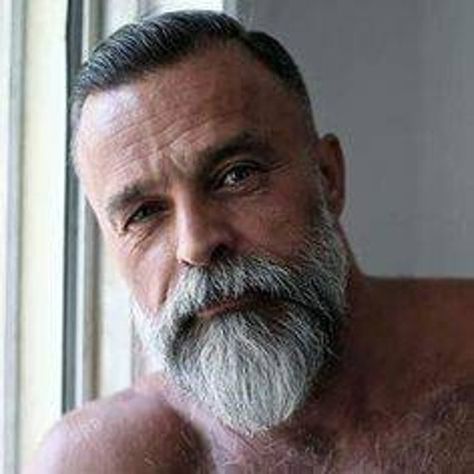 The crew cut is also another short haircut that is slightly longer than an Ivy league hairstyle. You can choose this if you are not sure if you want your hair long or short. This looks perfect for all occasions. You can look trim and neat at all times with this hairstyle.
#36 – French crop
One of the best hairstyles for guys with a larger forehead is the French crop. It is very similar to a crop top fade. You can choose to have variations with shorter or a longer bangs, depending on your preference. It's also a good way to add some hair texture.
#37 – Swept Back Hairstyle
If you want to add volume to your locks then this is the perfect hairstyle. All you need is a good pomade and a head full or hair. And you're done.
This is one of the cool hairstyles as it gives the old-school gentleman vibes. It's also good for bringing out your facial structure.
#38 – Trimmed bowl cut
A bowl cut or mushroom cut is a simple haircut for large foreheads. It consists of a long fringe that will cover the top of your face completely.
#39 – Get A Clean Shave
Bald looks are in. If you're worried about how uneven a receding hairline looks, consider going bald and growing it back again.
#40 – Military Haircut
If you add a mid or high fade to a regular military haircut, then it helps reduce the attention on your large forehead.
What are some hairstyles for men with big foreheads?
Fringe Hairstyle
Bowl Haircuts (Mushroom Hairstyle)
Buzz Cut
Side Swept Fringe
French Crop
Choppy Crop
Crop Top Fade
Pompadour Haircut
Choppy Bangs
Textured Hairstyles with Fringe
As you can see, there are numerous styles to cover a big forehead and in this day and age it's not a problem at all. You can choose from any of the styles stated above.
Does a buzz cut make your forehead look bigger?
A buzz cut is when the length is so short that it makes you look almost bald. Such haircuts go really well with big foreheads since there is no hairline to determine if your forehead is big or not.
Make sure you have the right kind of fade with the buzz cut so that you can continue with the hairstyle and make it your signature look.
How can a guy cover a big forehead?
Choosing the right haircut is the only solution to over your big forehead. Like we have listed above, there are so many that you can try out.
Getting a hair transplant is another option if you are really worried about the condition. Although it is an intense step, this could really serve your purpose.
Wearing a wig can also help reduce the pressure of exposing your forehead too much. Just make sure the wig goes well with your facial features and does not look disproportionate. 
Also Read:
Best Professional Hairstyles For Men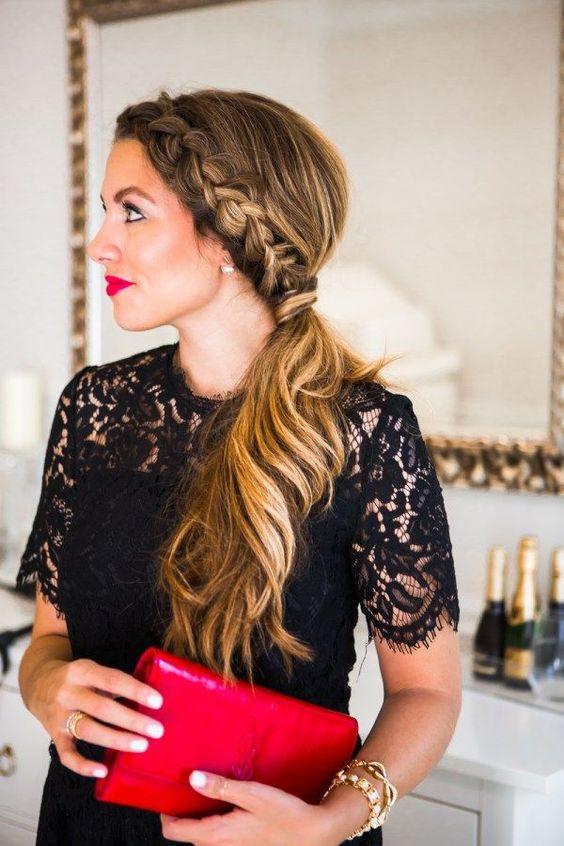 From hair care to soaring hair trends, we cover it all. We make sure you nurture your hair and stay on board with hairstyles and new hair trends. So hop on and make every day count with some of our creative and sassy hair trends.