Women have been lying to us all these years. Men have been going clean-shaven for years thinking what women like. But the hairstyles for men with beards will always be a favorite!
The truth is, women like men with facial hair. So I did what any man my age would do. I grew a beard and grew my hair out. 
Related: Popular Beard Styles For Men
Related: Best Beard Shaping Tools
The end result – I started looking like a deranged caveman. That's not a look I wanted to go for and I ended up shaving and people told me I look better with a beard.

So what the hell do I do? I decided to dig in, do some research and find out the best hairstyles for men with beards. 
Best Hairstyles For Men With Beards 2021
#1 – Classic Quiff with Stubble
This is my absolute go to hairstyle. If you aren't sure of what will make you look good, then don't think at all. Just go for the classic quiff with a stubble.
A 3 to 4 day stubble will look fantastic and it's a perfect hairstyle and beard combination for everyday of your life. I've always been complimented on my classic quiff hairstyle with stubble look. 
#2 – Short Hair with Short Beard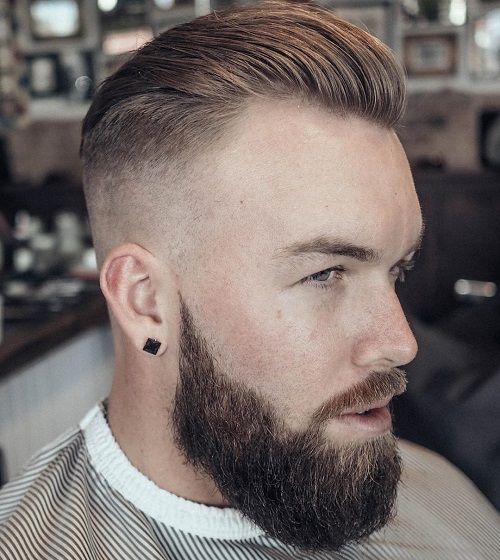 One of the sexiest hairstyles for men that will make you look like a suave beast is the short slicked back hair with a slightly long-ish beard.
Most men think that when you have a beard that you can run your fingers through, it becomes too long. But that's not the truth.
If it's cut well and groomed well, a big beard can look really good. Paired with a nice slicked back hairstyle, this is one of the best hairstyles with beard combos. 
#3 – Long Hair Undercut with a Beard
You might have seen this hairstyle on a few men on Instagram. This is a super popular cut that is gaining prominence.
But I'll tell you one thing, you should be able to pull it off! This hairstyle is characterized by long hair on one side with an undercut on the other, that is short hair. 
When you pair this style with a long beard then you get a great long hair with a beard that looks attractive.
#4 – Textured Medium hair with a medium beard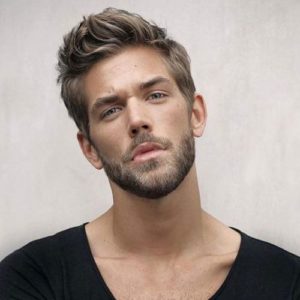 If there is one hairstyle that you can takeaway from this article, then let it be this. This is probably the most practical and easiest to try for the average person.
A textured medium haircut is basically a cut in textured format that is cut to a medium style and then you have a medium beard that is groomed well. 
So what is a medium beard? A beard with one month of growth that is groomed well is the perfect medium beard. 
Related: Check out these best beard growth oils to help grow your facial hair faster!
#5 – Very short hair with beard
The true viking look is the bald hair with the long beard. I'll say this with a caveat. This isn't a style that is suitable for everybody. But it's a great style for those who want the rugged look.
#6 – Beard with Fade Haircut
One of the styles of the season is the high fade combover with a long beard. 
A high fade comb over is a nice hairstyle that looks great even without a beard. Its when the hair is combed over to a side and the sides of the hair is cut to make a high fade.

When you pair this with a long beard, you get a classic look for the ages. 
Check out our elaborate list of fade haircuts for men with different facial features.
#7 – Long Hair with a Stubble
I also call this the Jesus look. The best examples of this hairstyle is from Jared Leto and Russel Brand.
This style is characterized by long flowy hair that is paired with a stubble. If you can pull this look off, you can pull off any look with ease. 
#8 – Long Hair with Long Beard
When all else fails. Pull out the big guns. The long hair with a long beard can either make you look like a hillbilly or it can make you look like a total and complete badass. It depends on how you maintain your hair. 
This style is characterized by long hair and at the same time you sport a long beard. I will say it right now, this is not for your average joe because this hairstyle and beard style requires a certain discipline to maintain it well.
#9 – Messy hair with a groomed beard
One of the sexiest hairstyles going around is the messy hair with the groomed beard look. This is a tale of contrasts that looks uber stylish and gives you the look that makes women weak in their knees.
So how do you go about getting this cut? 
Let your hair grow out naturally to a point where it's long and it attains the messy look. Even a messy look is staged using gel and other products. 
At the same time if you have a one month beard that is groomed to perfection, you have the perfect beard and hairstyle combo. 
#10 – Man bun with a beard
The hippy look of the past was long hair with dreadlocks. The hippy look of this present era is a man bun with a beard. This is a great look that will make you look different from the rest of the crowd.
If you are able to pull off a man-bun then nothing like it. 

#11 – Bald Head with a Goatee

If you are Breaking Bad fan, then you will know this hairstyle. The classic bald head with a goatee is a badass look.
If you are balding, it's better to shave your head off and pair it off with a nice goatee. You can also do a full beard which will look pretty great. 
#12 – Natural Wavy Hair with Unkempt Beard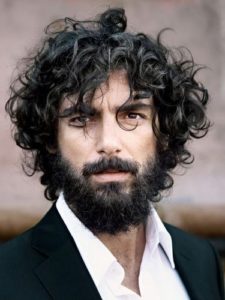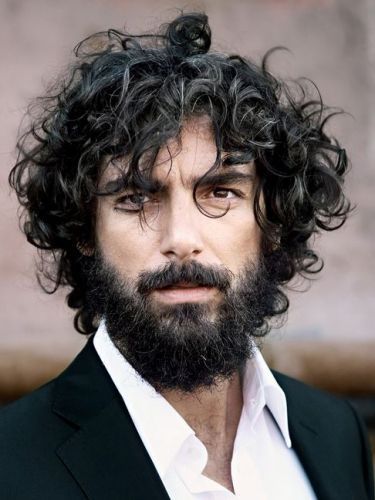 Natural wavy hair before was suppressed because straight hair was in demand but now the wavy hair look is the in thing.
When you pair that with an unkempt beard, you look absolutely great. An unkempt beard also has its charm provided its short.
An unkempt beard looks great on some people when too much of a groomed beard does not look good on a person. 
#13 – The Short Hair with the Handlebar Mustache
Lastly. It's a great style combination. I've always loved the top heavy and bottom loaded sort of look and nothing can be a better embodiment of this than the short hair with a handlebar mustache combination.
The handlebar mustache is a classic look that involves twirling of your moustache until it stands up straight. 
The short hair balances out the heavy beard. A classic look for the ages!
#14 – Crew Cut with Beard
The crew cut is one of the most versatile cuts that lets you experiment. You can keep a super short beard or a long beard and it will look great.
My favourite crew cut with beard style is the crew cut with a short stubble. This is similar to Wentworth Miller in Prison Break.
#15 – Short Comb Over + Tapered Sides + Beard
#16 – Brushed Up Hair + Groomed Beard
#17 – Messy Hair + Big Beard hairstyle for men
#18 – Mid Razor Fade + Fringe + Cool Beard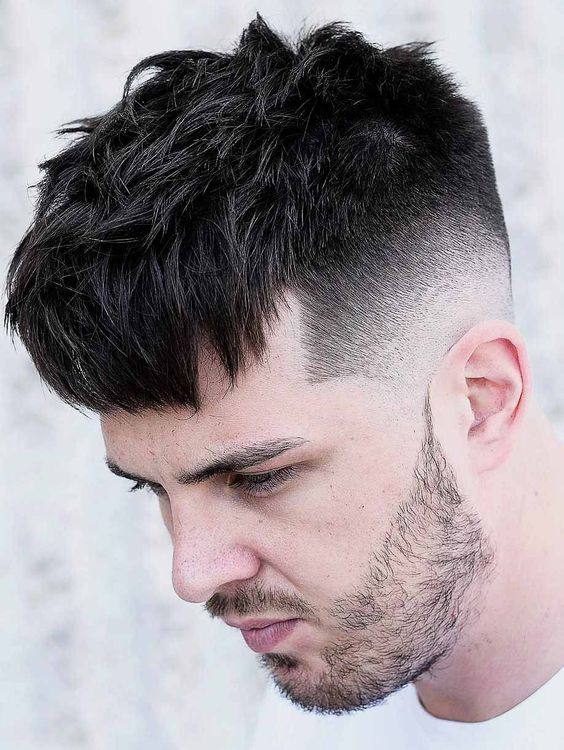 #19 – Long Comb Over + Beard hairstyle for men
#20 – Faux Hawk + Burst Fade + Design + Beard
#21 – High Skin Fade + Textured Top + Thick Beard hairstyles
#22 – Low Fade + Slick Back + Long Beard
#23 – Long Hair + Beard hairstyles for men
#24 – Short Crew Cut + Tapered Sides + Beard
#25 – Short Hair with Long Beard
#26 – Textured Crop Top + Low Fade + Thick Beard
#27 – Short Textured Hair + Taper Fade + Full Beard
#28 – Long Hair, Short Sides and Beard
#29 – Short Messy Hair + Mid Fade + Thick Beard
#30 – Spiky Hair + Skin Fade + Design
What haircut looks good with a beard?
There is a wrong notion that only certain hairstyles look good with beards.
If trimmed and groomed properly, you can make any haircut look good with a beard. Either long or short, it doesn't matter.
Do beards look better with short hair?
Some beards do. But not always. If you take the bald look with a long beard for example. That's a look that might not suit a lot of people.
But generally, beards can look good with long hair as well. Take the man bun as an example.
If you have a man bun, make sure you have a beard, otherwise, it will look weird. So beards look good with short and long hair. It depends!
What beard length is most attractive?
Stubble means trouble is the most popular quote. That's because women find a 3 to 4-day stubble super attractive.
It also shows off your jawline and gives definition to your face. In my opinion, the stubble is the most attractive.
Does a beard make you look more attractive?
I've heard it time and time again that a man with a beard looks more attractive.
My wife loves me with a beard and hates it when I have a clean-shaven look. Beards do make you look more mature and manlier!
Should you trim beard under chin?
No, you shouldn't. Trimming the beard under the chin will make your facial hair look sparse and thin.
The beard should run straight from one side of your jaw to another. Avoid making a V-shape as this can completely ruin the shape of your beard.
Why does my beard curl under my chin?
If you're planning to grow your beard longer than a few inches, you'll notice that sometimes, it tends to curl below your chin.
This happens as the hair strands are unable to take the weight of the beard and curl up. You can use beard straighteners to fix this issue or use beard oils to keep your facial hair strands strong and sleek.
Also Read :
Genuine hair vendors on Alibaba that have great quality
Grow out your hair with these awesome biotin shampoos and conditioners
Check out these awesome DHT blocker shampoos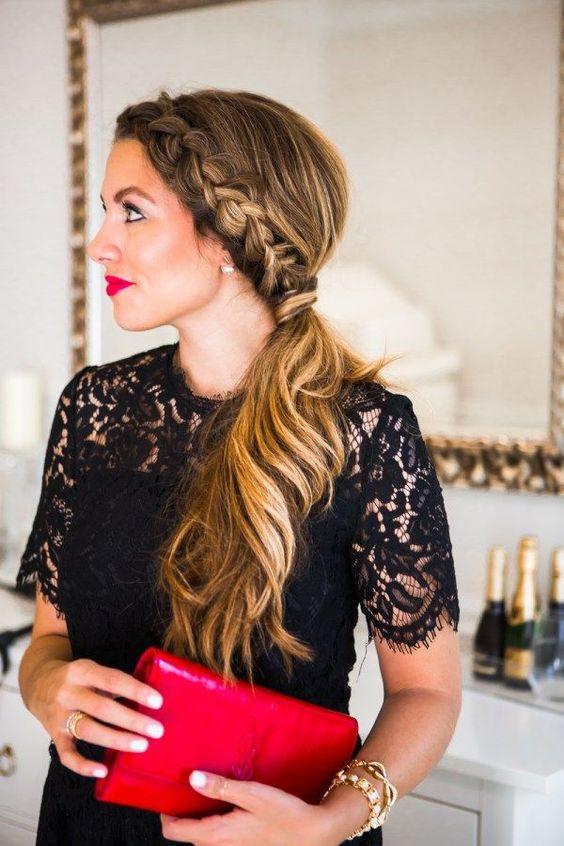 From hair care to soaring hair trends, we cover it all. We make sure you nurture your hair and stay on board with hairstyles and new hair trends. So hop on and make every day count with some of our creative and sassy hair trends.