If you have excess hair loss, it can be due to DHT. So using a DHT blocker shampoo can help with hair growth!
What's the reason behind your hair fall? Do you have dandruff? A scalp infection? Are you wearing your hair in tight hairstyles? Or using harsh chemical-based shampoos?
If the answer is none of the above, and you're still experiencing severe hair loss, the culprit could be DHT.
Dihydrotestosterone or DHT is a hormone that sometimes binds itself to the hair follicles, shrinking them. It prevents healthy, new hair from growing in these follicles and leads to hair loss.
Related: Best Shampoo For Hair Growth
In fact, excess DHT is among the top causes of androgenetic alopecia or male pattern baldness.
"Oh, snap! What do I do?" We've got good news for you. There are several products in the market that help control DHT. The easiest way is to get the top DHT blocker shampoo for your hair.
These shampoos contain DHT blockers that stop the production of the enzyme 5-alpha reductase that is crucial to producing this hormone. 
Do DHT blocking shampoos really work?
DHT blocking shampoos are designed to help prevent hair loss by reducing the levels of dihydrotestosterone (DHT) in the scalp. DHT is a hormone that is known to contribute to hair loss in both men and women. While some studies have suggested that DHT blocking shampoos may be effective in reducing hair loss, the evidence is mixed and more research is needed to fully understand their effectiveness.
Some DHT blocking shampoos contain ingredients like saw palmetto, which is believed to block the enzyme that converts testosterone into DHT. Other shampoos may contain ingredients like ketoconazole, which has been shown to reduce DHT levels in the scalp.
While DHT blocking shampoos may be helpful for some people, it is important to note that they are not a guaranteed solution for hair loss. Hair loss can be caused by a variety of factors, including genetics, hormones, and underlying medical conditions. It is important to talk to a healthcare professional if you are experiencing hair loss, as they can help determine the underlying cause and recommend the most effective treatment options.
Best DHT Blocker Shampoo we Tried
So which are the top DHT blocker shampoos in the market? There are several. But we've made a list of the best for you here. Take a look!
| | | |
| --- | --- | --- |
| Best DHT Blocker shampoo | Best Feature | Chief Ingredients |
| Ultrax Labs Hair Surge Caffeine Shampoo | Excellent for tresses | Caffeine, Argan Oil, Saw Palmetto |
| Tree To Tub Nature's Healing Shampoo For Hair Growth | Prevents hair loss | Biotin, Caffeine, Wild Soapberries & Argan Oil |
| Botanical Green Care Caffeine Hair Growth Shampoo | Works out post partum hair loss | Saw Palmetto, Caffeine, Aloe Vera |
| Honeydew Biotin Shampoo | Repair existing strands | Biotin, Keratin, Essential Oil |
| Amplixin Stimulating Shampoo | Stimulating new hair growth | Red Clover Extract, Caffeine |
| Hairgenics Propidren Hair Growth Shampoo | Restores keratin | Saw Palmetto, Keratin, Caffeine |
| Maple Holistics Biotin Shampoo | Increases volume and texture | Argan Oil, Biotin, Saw Palmetto |
| Watermans Grow Me Shampoo | Good for sensitive scalp | Argan Oil, Allantoin, Saw Palmetto, Rosemary, Caffeine, Biotin |
Ultrax Labs Hair Surge Caffeine Shampoo
The Ultrax Labs Hair Surge Caffeine is the top DHT blocker shampoo, according to us. Why? Its powers are not just limited to its DHT-blocking properties (which, by the way, are amazing).
It also contains a host of other nourishing ingredients that are excellent for your tresses.
There's saw palmetto, of course, which is the main DHT blocker. But there's also caffeine, which helps stimulate the hair follicles to grow new strands and even increases the length of the growth cycle.
And if you're troubled by scalp infections or dandruff, this shampoo contains 0.2 percent of ketoconazole that has antifungal and anti-inflammatory properties.
We also liked how this shampoo contains mango butter to keep your hair moisturized. If there's any problem we have with this product, it is this – sulfates!
Yes, the shampoo does contain sodium laureth sulfate. So if you've got color-treated hair, we don't recommend this shampoo.
Pros:
Clarifies scalp
Boosts hair follicle growth
Moisturizes dry hair
Cons:
Contains sulfates
Not for color treated hair
Tree To Tub Nature's Healing Shampoo For Hair Growth
This product from Tree To Tub is not just a top DHT blocker shampoo, but it's also our favorite. The major reason for this being it's herbal, chemical-free formula.
There are no sulfates, parabens, gluten, or artificial scents in this shampoo – just the goodness of nature!
What it does contain is a blend of DHT blocking botanicals, which includes saw palmetto, pumpkin seed extracts, rosemary oil, and more.
There's also soapberry. It comes packed with saponins that produce a lather and act as a natural cleanser.
If you've got a sensitive scalp, we think you should go for the Tree To Tub Nature's Healing Shampoo. Its 5.5 pH-balanced formula cleanses your hair without drying them out or irritating the scalp.
The shampoo not only prevents hair loss, but it actively boosts new hair growth too! It comes with a mix of biotin, caffeine, and multiple vitamins that nourish your strands.
If you're thinking, it can't get better than this…well, you're wrong. The shampoo is also vegan and cruelty-free!
Pros:
pH-balanced formula
Vegan and cruelty-free
No sulfates or harsh surfactants
Soothes scalp inflammation
Good for sensitive scalp and psoriasis
Cons:
Botanical Green Care Caffeine Hair Growth Shampoo
To say that this top DHT blocker shampoo has got an interesting ingredient list is saying something.
As the name suggests, the main component of this Botanical Green Care shampoo is caffeine. It is excellent in boosting new hair growth!
Then there are saw palmetto, grape seed cells, guarana extracts, and other bioactive plant-based extracts that stop the release of hair loss-causing DHT hormone.
This shampoo comes with biotin and keratin that repair damaged tresses and strengthen the strands.
All in all, this product is excellent if your hair is thinning and falling out because of male pattern baldness, postpartum hair loss, and several other reasons. It's also a great shampoo for alopecia.
What we liked so much about the Botanical Green Care shampoo is the spa-like experience it offers.
It contains a blend of essential oils, including vetiver, clary sage, peppermint, rosemary, and cedarwood that leaves your mane pleasantly-scented and you refreshed.
As it is free of sulfates, this shampoo is safe to use on color-treated hair as well.
Pros:
Natural organic formula
No sulfates, parabens, preservatives, or harsh surfactants
Pleasant natural fragrance
Cleanses hair without leaving it dry
Cons:
Honeydew Biotin Shampoo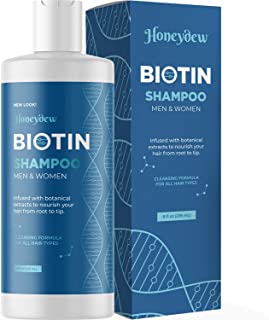 There are a lot of shampoos in the market that claim to be all-natural and chemical-free, but very few deliver what they promise. But not the Honeydew Biotin shampoo. Its label says natural, and boy does it fulfill this promise!
The shampoo is free of sulfates, parabens, synthetic fragrances, and anything else that isn't good for your hair. What it does have is a mix of DHT blockers, biotin, keratin, and zinc.
Together they reduce hair loss, repair existing strands, and boost new hair growth.
We really liked how the Honeydew shampoo isn't just good for your hair. The vegan, cruelty-free product comes in biodegradable packaging. So it's a win for the environment as well!
Pros:
Helps plump up thin hair
No sulfates or parabens
Vegan and environmental-friendly packaging
Cons:
Might make old hair fall out on use, giving the impression of hair loss
Quantity too little for the price
Amplixin Stimulating Shampoo
If you think your hair loss has become too severe to be treated just by herbal remedies, try the Amplixin Stimulating shampoo.
It's the top DHT blocker shampoo to treat alopecia, male pattern baldness, and receding hairlines.
The formulation comes packed with a peptide complex and red clover extracts that prevent the formation of DHT. Along with caffeine, these ingredients are also helpful in stimulating new hair growth.
There are no sulfates here. So you can use it on color-treated hair. We do think this shampoo can get a bit harsh on hair.
But that's just because it's got a powerful formula. What we suggest is using the Amplixin stimulating shampoo only 2-3 times a week.
Hairgenics Propidren Hair Growth Shampoo
Another clinical-strength top DHT blocker shampoo is the Propidren shampoo by Hairgenics.
It's a fantastic product if your hair is gradually thinning out as it contains a mix of biotin, keratin, and DHT blockers in the form of saw palmetto.
The biotin plumps up the strands while the keratin restores its structural integrity. It also contains hydrolyzed silk proteins that coat the hair cuticle, leaving the strands healthy and shiny.
We like how this shampoo has got a seal of approval from the FDA. It is also vegan and cruelty-free. So that's another feather in its cap.
Maple Holistics Biotin Shampoo
This one is for the dry, damaged tresses! Not only is the Maple Holistics Biotin shampoo rich in DHT blockers, but it also contains nourishing ingredients like jojoba oil and coconut oil.
If your hair has borne the brunt of chemical treatments or multiple hair coloring sessions, this shampoo's the best. The nourishing oils condition the strands while biotin repairs any damage.
Plus, it's sulfate-free. So you can use it on dyed hair without a worry.
We liked how the shampoo focuses on hair loss due to multiple reasons. It's got tea tree oil to clear your scalp of hair fall-causing infections. And then there's primrose oil to reduce the chances of hair loss due to hormonal imbalances.
Watermans Grow Me Shampoo
The Watermans Grow Me shampoo is a salon favorite. What's so great about this shampoo is that it suits every hair texture – Indian hair, 3B, 3C, tight Afros, and thin hair too!
We also liked how the product is safe for all scalp types. Apart from DHT blockers, it contains argan oil that nourishes dry scalp and tresses. Then there's allantoin, which is excellent at soothing sensitive skin.
Its pH-balanced formula is another reason why folks with sensitive scalp should give this shampoo a try.
We were happy to see that it was free of sulfates, parabens, and animal-derived ingredients as well.
Hair Restoration Laboratories DHT Blocking Shampoo
What amazed us about the Hair Restoration Laboratories DHT Blocking Shampoo was the powerful blend of botanicals it contains.
There's a mix of saw palmetto, caffeine, mushroom, green tea, pumpkin seed, pygeum bark extract, black cumin, and so many more natural DHT blockers.
And it's not all about DHT blocking, either. The formulation is designed to restore your hair from root to tip. So the ingredient list also includes argan oil, biotin, and vitamin E that help repair and condition your tresses.
We also suggest this shampoo if you've got color-treated or chemically-treated hair. It's not only nourishing but also free of any unwelcome ingredients like sulfates, silicones, or parabens.
Earth Chemistry Rosemary & Peppermint Volumizing Sea Salt Shampoo
Is it a hair gel? Is it a shampoo? This product by Earth Chemistry is both – a gentle cleanser with a sticky gel base. Now, if you've got super oily hair or thin strands in need of some volume, this shampoo is excellent!
It contains the necessary DHT blockers in the form of rosemary and peppermint essential oils. But apart from these, the formulation is also packed with sea salt crystals.
They are just amazing at exfoliating your scalp and unclogging pores. We also loved the fresh, cooling sensation it leaves behind.
If you have colored hair, you'll be pleased to know that this Earth Chemistry shampoo is free of sulfates. It also skips alcohol, parabens, and silicones, and any other ingredient that isn't good for your hair.
All the components of this shampoo are plant-based and hypoallergenic too.
Some users found the smell of this shampoo a bit overwhelming. But there's nothing synthetic about it, and we adored it.
What to look for in a DHT Blocker Shampoo?
The following products contain DHT-blocking ingredients with the most significant research behind them, including:
Saw palmetto-It is an extract from the berries of a palm found in the southeastern United States that can help lower DHT levels, remove hair follicles, and boost hair regrowth.
Finasteride is a generic form of Propecia, which is a prescription treatment for male pattern baldness.
Minoxidil-is a generic form of Rogaine, is a well-known topical treatment targeting the crown of the head
Ketoconazole – is most popular for its antifungal and anti-inflammatory properties, which is exactly why it is usually used to treat infections or certain conditions, like seborrheic dermatitis.
Pumpkin seed oil-is natural oil that may have a positive effect on hair growth. It works well by blocking testosterone from creating DHT.
Other ingredients, which don't have as much research behind them, but are just as effective include Green tea extract, tea tree oil, and rosemary extract.
Beyond DHT-blocking ingredients, also keep an eye out for strengthening ingredients, like biotin and keratin, and moisturizing ingredients, like coconut and argan oil.
If you have dry or curly hair, you may want to choose a shampoo that doesn't contain sulfates, as these can be drying.
DHT blocking shampoos are safe. However, if you have sensitivities or allergies, be sure to dab some shampoo on your wrist and wait for a minimum of twenty-four hours to see if you experience any signs of irritation.
FAQs – Best DHT Blocker Shampoo
Increased DHT levels in the body can lead to a great deal of hair fall. Obviously, this can cause a lot of anxiety in both men and women.
Your hair's your crowning glory after all! Here, we've tried to answer a few of your hair fall-related questions. Check it out!
How can I reduce DHT in the body naturally?

First (and easiest) way – use a top DHT blocker shampoo! But there are several other methods to decrease the levels of this hormone in your body. The most recommended among them is eating a healthy diet.
Foods rich in linoleic acid are known to help reduce DHT production. So this means eating a lot of seeds like sesame, grape seed, flax seeds, etc. Spices like cumin are also said to help. Fennel, licorice, kale, and bananas are certain other foods that help reduce DHT levels.
Some essential oils, like peppermint, saw palmetto, rosemary, and tea tree can be added to hair masks, oils, etc. They are super helpful in reducing hair loss due to elevated DHT levels.
Aloe vera is also rich in linoleic acid, so applying it regularly on your scalp can actually boost hair growth. Not to mention all the other benefits it offers.
Doing mild exercises like yoga and jogging is also helpful in reducing the DHT levels in the body.
Is it possible to regrow hair?
New hair comes from a follicle on the scalp. DHT binds itself to this follicle, stopping the flow of blood.
This prevents new strands from growing. But if your hair follicles are not destroyed, scarred, or closed, it's possible for it to grow new hair.
There's one thing you need to remember, though – if the hair follicles haven't produced new hair in over one year, chances are they won't be able to regrow hair.
What should I do to regrow hair?

Well, apart from the obvious solution of using a top DHT blocker shampoo, there are several ways you can regrow hair.
Supplements: Saw palmetto, a common ingredient in DHT blocking shampoos, is also available over the counter as supplements. If you feel the hair loss is getting out of hand, you can try consuming these supplements to keep it under control.
Topical ointments: For some cases of hair loss, more drastic measures are required. If DHT blocking shampoos are not able to help much, you can consult a trichologist for a solution. They'd usually prescribe you a topical ointment containing minoxidil or finasteride. Some of these ointments, like Rogaine, are even available over the counter.
Oral medication: If you've male pattern baldness, doctors might even prescribe oral finasteride or minoxidil. These are quicker and stronger than topical ointments. This medication takes time to show its effects, but users definitely see improvements in hair growth.
DHT blocker shampoos can be a blessing if you're starting to show signs of pattern baldness.
A good DHT shampoo contains a blend of blockers and nourishing ingredients.
We've reviewed the top products to make things easier for you.
Check if these shampoos fit your needs, hair texture, and budget, and choose wisely!
Also read
Most beautiful Mexican celebrities with blonde hair
Amazing brown ombre hair color examples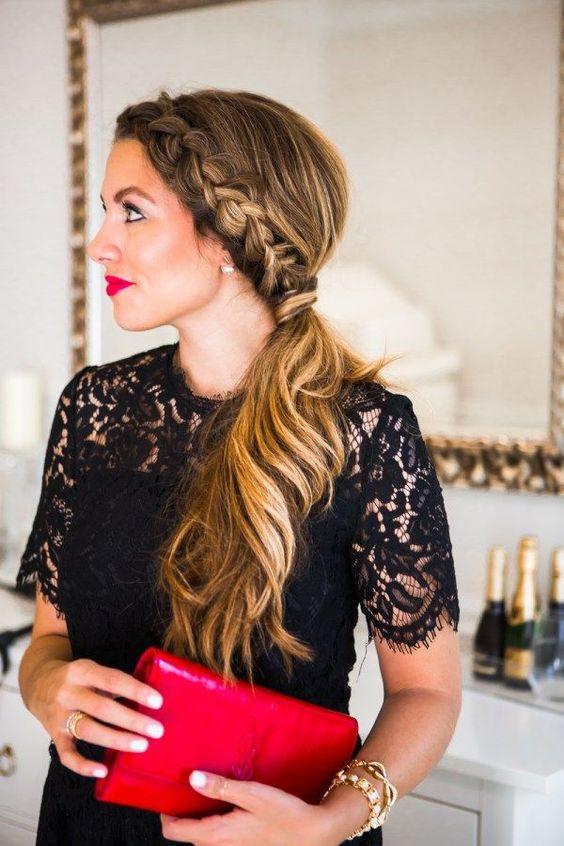 From hair care to soaring hair trends, we cover it all. We make sure you nurture your hair and stay on board with hairstyles and new hair trends. So hop on and make every day count with some of our creative and sassy hair trends.