If there is one style attribute that men by and large tend to ignore in the current generation is a moustache.
A moustache can be one of the best pairings along with a good hairstyle that can make you look really good. Men in the '80s and '90s used moustache styles to good effect.
This is the reason why a lot of boys in the current generation think of their dads as "badasses". If you want to pull off a badass look, then consider a moustache! 

Here are the best mens moustache styles.
Top Moustache Styles 2021
#1 – The Pencil Moustache
The Pencil Moustache is something that cannot be easily pulled off. It takes a lot of styling to make it look good.
But if you have the face for it or the cut for it, this can be a classic look.
A perfect example of a pencil moustache is Brad Pitt's look in the movie 'Inglourious basterds'.
It's named the pencil moustache because the hair on top of your lip is rather thin and not thick at all. It's rather easy to style, but you will need to go to a barber to ensure you get the right style. 

#2 – The Handlebar Moustache
One of the most classic styles out there is the handlebar moustache. The handlebar as the name suggests looks like the handlebars of a bike.
This is a moustache style that requires a lot of care, grooming, pruning and effort. If you are looking for an easy style, then skip this.
Coconut oil or argan oil are good choices for this!
You might want to have a good morning routine and night routine to twist your moustache. 
#3 – The Chevron Moustache
The Chevron moustache is your classic moustache that was so popular in the '80s that almost every man you saw had it. It was popularized by actors like Tom Selleck too.
This is your thick moustache that is brushed down and almost has little to no beard to support it. This is a standalone
moustache style that will make you look older than you actually are. So if you want that, then, by all means, go for it! 
#4 – The Horseshoe Moustache
The Horseshoe moustache again isn't a style for everybody.
Only a few people can pull it off and you need to grow your facial hair for at least 4 to 5 weeks to be able to pull this off.
So how does it work? Once you have grown your hair completely on your face, you need to cut out all the extra hair and shape your moustache like a horseshoe. 
#5 – Walrus Moustache
The Walrus moustache is the oldest of all moustache styles that dates back to hundreds of years. In fact, one of the most famous 'Walrus' mustache wearers was Joseph Stalin.
This is that kind of a moustache style that will make you look like a man and it's one of the best moustache styles going around.
First of all, you need to be able to grow a big moustache and you should be able to maintain it and style it. 

#6 – English Moustache
An English moustache is something that requires a lot of care and maintenance.
So how does this style look? An English moustache is a style that is curled up and more often than not pointed up. Men's moustaches don't naturally curl up.
The only way to curl it up is by proper maintenance and regular oiling. So every morning and night, you have to curl your stache with your fingers while oiling it up.
When you constantly keep doing it, your hair will naturally curl up. 

# 7 – Fu Manchu Moustache
Fu Manchu is one of the most popular fictional characters out there. But people liked him more for his moustache style.
This style, called the Fu Manchu, basically has facial hair that is thin that comes down towards your chin. 

#8 – Dali Stache Moustache
No normal man will choose to sport the Dali. The Dali moustache style is basically the exact one that Salvador Dali had. It's characterized by a long pencil moustache that is pointing upwards.
#9 – Dallas Moustache
The Dallas moustache is one of the most confident looking styles out there which is best suited for square shaped faces. It is trim and can be easily achievable.
You must have a thick moustache and it doesn't work with a thin and flaky moustache. Just make sure to be trimming around the edges to keep it looking neat and trim.
This moustache style has a lot to do with flaunting the jawline. 
#10 – Natural moustache
As the name suggests the Natural moustache aims at providing a natural look. It is the effortless and organic style some men look for.
It does look rough and masculine. The best part about having this moustache is that there is very little maintenance that goes with this.
You can match this with a beard and a short haircut for men and it will still look subtly. This goes with any face shape. 
#11 – Handlebar Moustache
#12 – Horseshoe Moustache
#13 – Two piece moustache
#14 – Chinstrap moustache
#15 – The Mustache-Goatee Combo
#16 – John Waters Moustache
#17 – Gunslinger beard moustache style
#18 – Avante Garde moustache
#19 – Anchor beard moustache style
#20 – Barber beard and moustache style
#21 – The Lando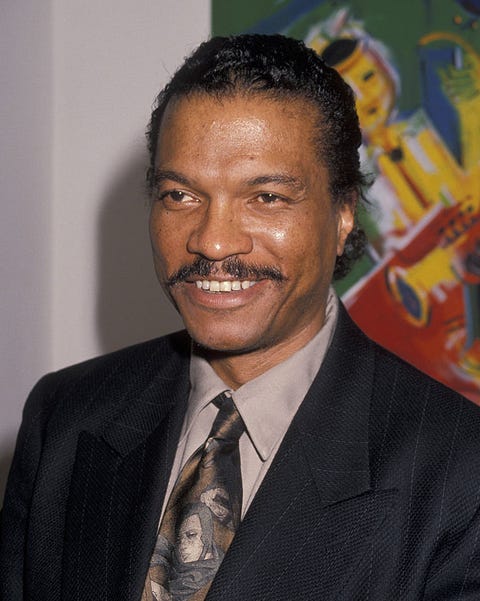 The Lando is inspired by Lando Clarrisan of Star Wars. In these moustache styles, you keep the facial hair longer in the center and taper it as you move towards the edges.
Remember, the centre divot or empty space is essential to these moustache styles.
#22 – Rectangle Moustache Styles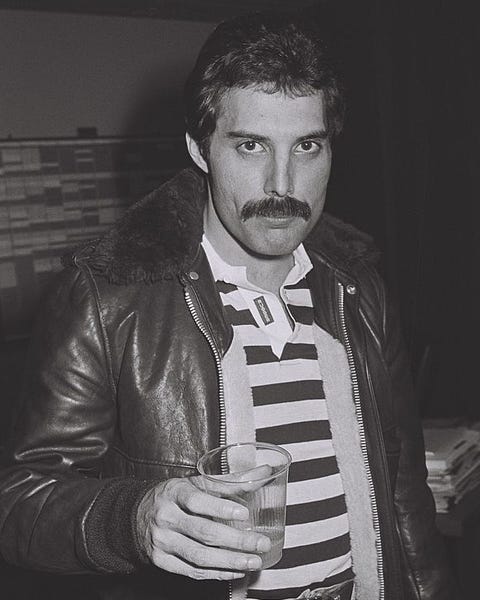 Who doesn't remember Freddie Mercury's iconic facial hair? For this style you need to grow your facial out a bit.
It looks best on full, thick hair! When you are shaping your moustache, do not follow the natural shape of your face.
Instead, make the edges a bit square and lift them up. You can choose to leave the moustache dangling a bit downwards as Freddie has here. Or you can trim it to make a proper rectangle.
#23 – The Daddy Moustache Styles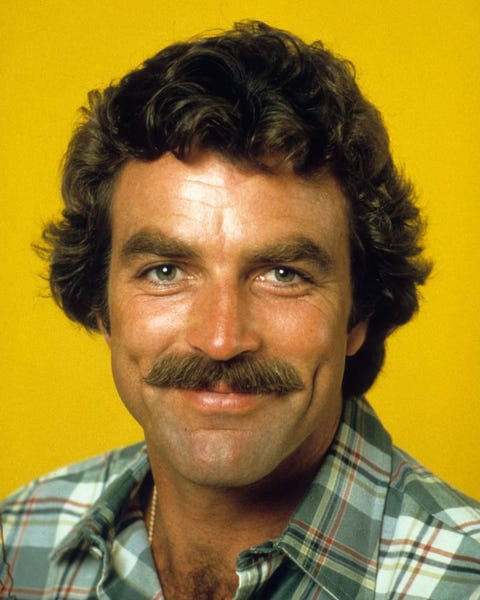 This look resembles the rectangle, but instead of the straight, boxed lines, the Daddy works with diagonal edges.
When trimming your moustache, shape the hair to taper downwards and then make the other end diagonal.
This moustache suits thicker facial hair and should be long enough to cover your upper lip.
#24 – The Comb Moustache Styles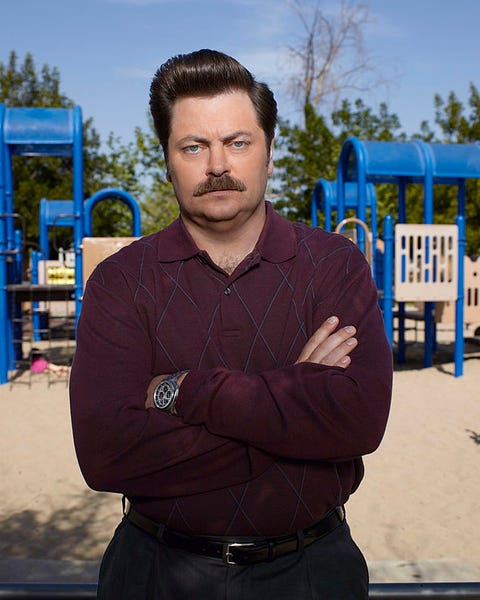 Another close cousin of the Daddy moustache style, the Comb offers a more voluminous look to your facial hair.
Instead of the moustache ends being diagonal and sharp at the corners, the comb makes them more rounded.
You might remember this style best from Nick Offerman's character Ron Swanson.
It's a great moustache style if you have a heavy set, square jawline as it adds a touch of softness (without making you look any less manly)!
How to take care of your moustache

#1 – Shampooing your Moustache

Contrary to what a lot of men think, one can shampoo their moustache. It is hair after all. You can use a mild shampoo to wash off any excess dirt from your mustache area. So yes, can you shampoo your moustache.

#2 – Keep your skin clean

One of the biggest grooming tips with regards to moustache maintenance is to keep your skin clean. You have to keep your skin clean for good facial growth.
If you maintain your facial skin terribly, then you will start losing hair on your face. It's similar to the hair on top of your head, if it's not maintained well, it will start thinning.
So a good strategy is to use nice facial wash that is mild and rid of too many chemicals. Make sure to brush under your hair and clean out the skin underneath. 
This is very essential especially if you have oily hair and skin.

#4 – Oil your moustache

One of the best ways to keep your moustache healthy is to oil it. There are numerous moustache oils that are available in the market today that are perfect for moustaches as they are lighter and less oily.
You can even get beard growth oils and use them on your stache!
Oiling your moustache can also help you style your moustache to something that you like. 

#5 – Trim it, Shave it

Trimming and shaving your moustache is art. You can do it yourself and every man needs to know how to maintain his moustache.
When it comes to trimming, you need a long pair of good quality scissors, good lighting and knowing exactly what you want! 

#6 – Exfoliate your skin

Another incredible way to grow your moustache hair is to exfoliate your skin that removes all the dirt and grime that helps your hair grow so much faster!
How do I fix a moustache gap? 
Since the moustache appears on the philtrum it depends on the size of it. People with a wider philtrum have the chance of getting more fuller moustaches.
Those with a smaller philtrum size are more prone to having inconsistent moustaches. But there are a couple of pointers you can follow to have a lustrous moustache. 
Oil the gaps and massage it across.
Don't use too many chemicals.
Trim it on a regular basis.
We hope these different moustache styles help you find the right one for you according to your features.
Also Read :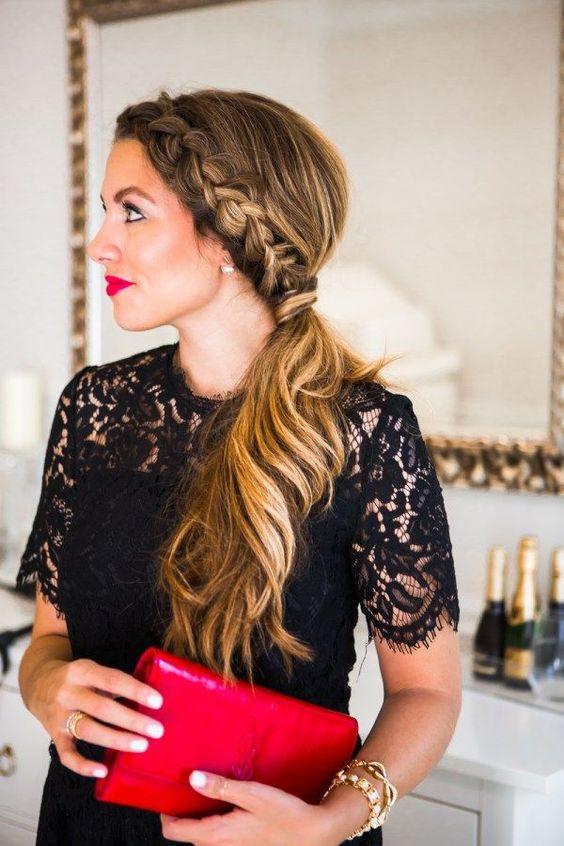 From hair care to soaring hair trends, we cover it all. We make sure you nurture your hair and stay on board with hairstyles and new hair trends. So hop on and make every day count with some of our creative and sassy hair trends.