If you see a slick back on a person in a movie, it means they mean business. Marlon Brando in the Godfather, Ray Liotta in Goodfellas, Leonardo Di Caprio in Titanic.
We all have seen slicked back hairstyles for men on these screen idols and admired them for their dashing looks! These hairstyles just scream dapper and sexy.
Want to know how to get this seductive slicked back look? Read on! We've got a few amazing hairstyles you can try out.
Top Slicked Back Hairstyles For Men 2021
Personally I've tried rocking the slick back numerous times in my life and it doesn't look good on me. It looks weird and I'm sure a lot of men would feel the same.
But there was a problem with my approach. I would gel my hair with copious amounts of product and then use a comb to slick my hair back. Here are the best men's slick back styles. 
#1 – The Classic Slick Back
This is the most popular slick back hairstyle ever. There is nothing better than this. If you are able to pull off this look, then you can look like an absolute badass.
To pull off the classic slick back, you will need straight hair. So how do you get your hair ready for a slick back? 
Wet your hair a little bit so that you can style it. Take a comb and run it from the top of your head, all the way to the back. Do it in one sweeping motion, therefore your hair is straight and there are no zig zag lines.
Once you are happy with the style, you can add a little bit of pomade, that way it sets or you can use a hair spray. This keeps it effectively in one place. 
#2 – The Pompadour Slick Back
The pompadour is a super popular hairstyle, but it can be a bit much for a lot of people. The Pompadour Slickback, on the other hand, can be the perfect blend of style and also understatedness.
The classic pompadour can be a little too pomp. The only problem with the pompadour slick back is, you need the exact amount of hair. 
If you have too much hair, it won't look good, if it's too little, it won't set.
To style a pompadour slick back, you need to make a normal pompadour, and then slick it back with a comb and you need to put it in place with a pomade or other holding agent.
This works well with straight hair. Other kinds of hair will have a problem with this hairstyle. 
#3 – The Slick Back with the Undercut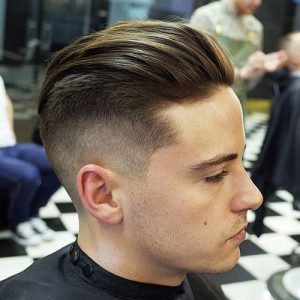 The slick back with an undercut is another mix of the old-school with the new age. The slick back is an old hairstyle that has been around for decades, if not for centuries.
The undercut, on the other hand, is a pretty new style. Initially, when I heard about this style, I was pretty surprised because I didn't think these two styles would gel well.
I still think it's not a style for everybody, but if you are able to pull it off, then nothing like it. So how does it work? 
The top of your hair is beautifully slicked back while your sides are completely removed with a drop fade. This is an edgy hairstyle. If you are in the mood for experimentation, then go for it!
#4 – The Wavy Slick Back
Now, this is closer to my wheelhouse. As I have mentioned on numerous occasions. I have wavy hair. Wavy hair does not look great with the slick back.
BUT, if you are able to style it differently. It can look pretty epic. When you are doing a slick back on wavy hair, you shouldn't flatten it out.
In fact, you should use some product like hair mousses to make it look a bit more bouncy. You can do the straight slick back or the side slick back. It all depends on you.
But you can definitely do the slick back with wavy hair and it will look good. 
#5 – The Slick Back and Fade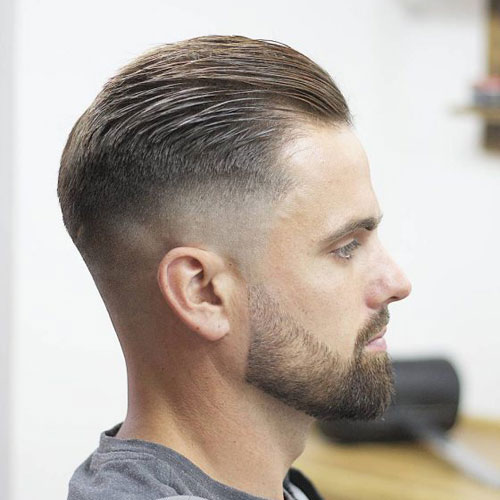 One of my favourite slick back hairstyles is the slick back and fade. This isn't a drop fade like the undercut hairstyle mentioned above.
The slick back paired with a slight low fade is one of the coolest hairstyles going around this year. It looks pretty cool and also makes you look pretty badass.
A lot of people don't like the full-on slick back. This slick back with a fade makes it much sober. This is a very good hairstyle if you have thin hair.
#6 – Pumped Slick Back with Beard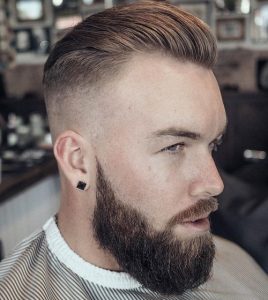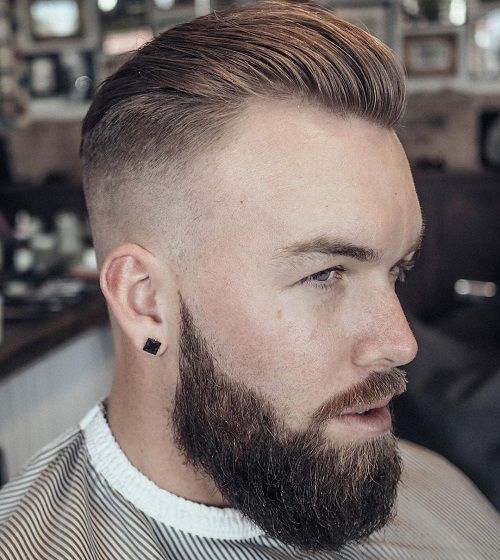 Thinking of hairstyles independently is a bad way of looking at hairstyles. You need to look at hairstyles in combination with beard styles.
The slick back mixed with a beard is one of the best looks you can go for. Why is this style good? One reason is, you won't look like the mafia while you're pulling off your look!
#7 – Slick Back + Side Part
One of my personal favourites is a slight twist on the classic slick back. The side part with the slick back is taking your traditional slick back and styling it towards the side.
This is a super pristine and clean look! If you aren't too confident of pulling off the side part slick back, then you can choose this style!
#7 – Long slick back hairstyle for men
For the perfect slick back hairstyle, you need hair longer than you normally have.
You can't have medium cut hair. It will never work. You will need long hair that you can run through your fingers pretty easily!
#8 – Man bun slick back hairstyle
While this is one of the classiest and stylish of all the slick back hairstyles, it does not suit everyone.
The beard and the slick back bun is a sophisticated combination but it does favour only a few. We suggest you look into your facial features before you get this hairstyle.
But if you are someone with long hair and a beard then you can go ahead with the hairstyle. 
#9 – High Volume Puffed Slicked Back
This hairstyle is best suited for those with thick hair because most other slick back styles don't do justice if you have thick hair.
The thick volume of the hair does not allow the hair to stay behind. This hairstyle works its way into achieving the perfect slick back in spite of your volume. 
It is best suited if you are someone with a broad face shape.
#10- Slick Back + Receding Hairline
If you have a receding hairline, chances are that you have had a hard time finding the right haircut which makes up for your hairline.
This does not camouflage the hairline but exposes it giving it a definite shape and form. We assure you that this slick back hairstyle will be your solution! 
#11- Slick Back + Disconnected Undercut
#12 – Slick Back + Drop Fade
#13 – Slick Back Half-Pony
#14 – Modern Slick Back Hair
#15 – Slick Back Short Hair
#16 – Long slick back undercut with thick beard
#17 – Low taper fade with textured slick back
#18 – High skin taper fade and thick slick back hair
#19 – Undercut Slicked Back with Taper Fade
#20 – Long slick back with high fade with edge up
#21 – Simple Cut With Combed Back
#22 – Tapered Temple with Ivy League
#23 – Slick Back Waves
#24 – Slick Back Curly Hair
#25 – Individual Stranded Slicked Back
These are the best of the slick back hairstyles for men that will go with different face shapes. But unlike other hairstyles, the slick back is not very easy to achieve.
So we have a few suggestions that would help you nail the slick back hairstyles.
How do I get a slicked back hairstyle?
If you had asked me this question a few years back, I would have told you, only a person with straight hair can get a slick back.
But after I've been in the business for quite a few years, I've realized, you don't need only straight hair. You can do it even when you have wavy hair or slightly curly hair.
The slick back is easily achievable and can be done without much effort. This hairstyle is known for its sophisticated and classy look. Let us take you through the steps to achieve this easily
After washing your hair get it dried, apply some gel on your palm and with your fingers run it through your hair.
Use a comb to neatly brush it back.
Should I use comb or fingers to slick back my hair?
The answer is that you can use both comb or your fingers to get the perfect slicked back hairstyles for men.
However, the result will vary!
If you want a classic, neat look to your slick back, you can try the comb. The thin bristles make sure to give you a more defined style. Another advantage of using a comb is that it helps spread the product around your tresses.
But if you're a fan of a more natural, textured slick back, your fingers will be the best option.
They are also great for creating slick backs on thick, curly hair.
Slick back hairstyles have always remained in style if considered with other bodily features and worn right. We hope these hairstyles help you figure out which slick back is for you!
Also Read :
Best purple shampoos for gray hair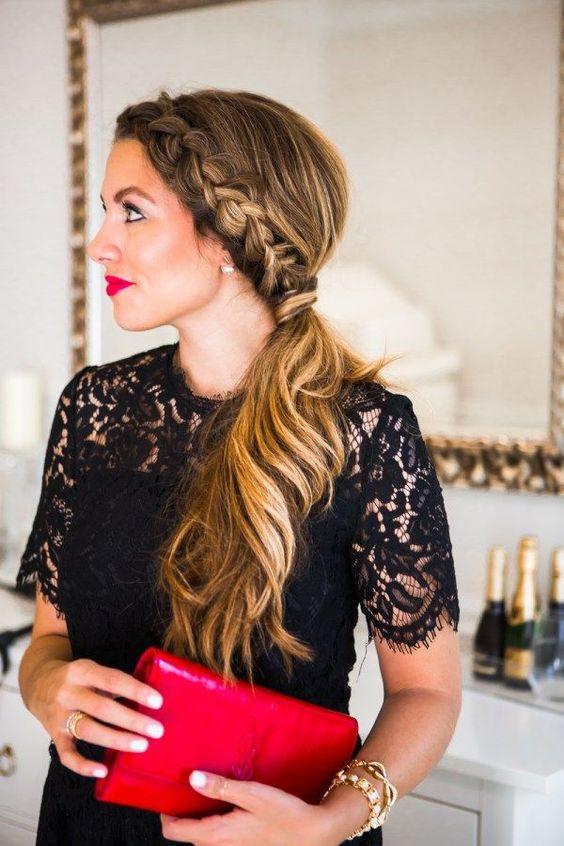 From hair care to soaring hair trends, we cover it all. We make sure you nurture your hair and stay on board with hairstyles and new hair trends. So hop on and make every day count with some of our creative and sassy hair trends.