The world goes gaga over straight hair. A lot of people tend to think it's a gift from the gods if you have straight hair. Many people also think that only straight hair can be styled into any particular hairstyle. Today we are busting myths!

When you were young, it might have been difficult to maintain curly hair and it would have been difficult to comb it and get a style of it.
Today we are here to tell you that curly hairstyles can be cute, sexy or super smart depending on what you want to do with it.

So here are the men's curly hairstyles and haircuts!
Best Curly Hairstyles For Men
#1 – The Short Curly Haircut
If your curls are untameable and you want to tame them, then cut them short! The short curly haircut is super easy to get. Ask your barber to cut it short on all sides with little hair left on top and the sides. It's basically a buzz cut, but with more hair. This ensures that you have enough hair on your head, but at the same time, the curls don't bother you. This is one of the best hairstyles for a person who has curly hair and wants to keep it crisp and clean!

#2 – The Curly Hair Fade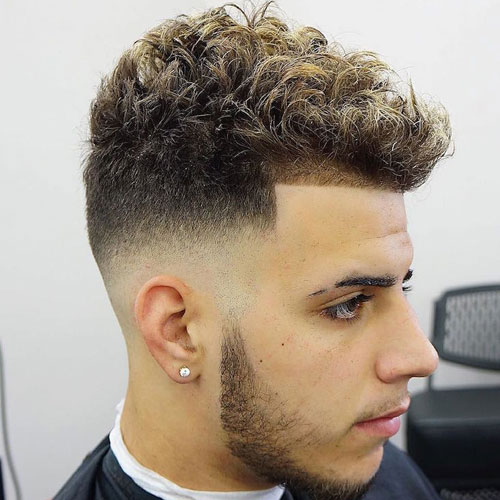 The fade style has become super popular this year and has taken the hairstyling world by storm. But it's a style that is perfectly suited for curly hair. Why? It marries the messiness of curls to the crispness and neatness of the fade.
With the curls on top and the fade on the sides, it makes your curls look more manageable and much neater. This is a great hairstyle that literally takes no effort to maintain and it's quite easy to cut. You just have to use a pair of clippers to shave off the sides while you leave the top untouched.

#3 – Curly Pompadour
The Pompadour has been a classic cut for decades. First sported by the iconic Elvis Presley, this fabulous hairstyle has taken various shapes and forms over the years. The only thing about the pompadour is that it's known to be a hairstyle that requires straight hair. So how does one do curls with the pompadour? When you raise your hair a little bit using gels and so on, you get a curly pompadour. Not difficult to create at home. This is a perfect hairstyle for events and outings and if you want to make an impression with your curls, this is the hairstyle to go for.

#4 – Wavy Slick Back
We've all seen the Dicaprio hairstyle in the movie Titanic. The slick back. But how does a person with wavy hair pull off a slick back? Of course, you can! When you do a slick back of a wavy hairstyle, your hair stays put, while the waviness brings about a pattern.
This is a super popular style and gives you a European look. This is a must-try style for people with wavy hair. A lot of people with wavy hair have problems of the hair not behaving. In that case, it's best to use a gel to keep the hair in place. A wavy slick back is a super sexy hairstyle.

#5 – Wavy Side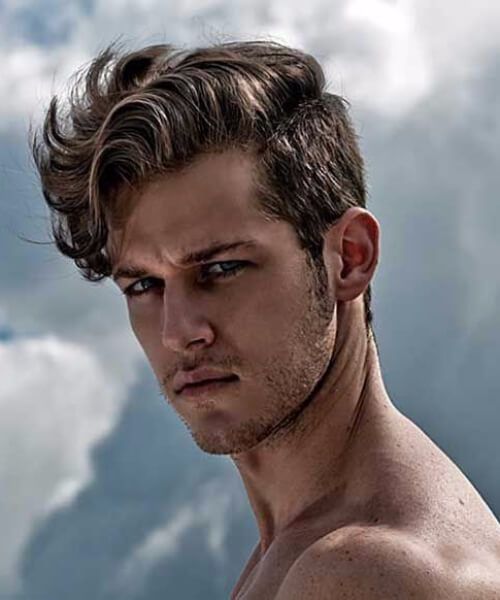 When you have wavy hair, there are not many hairstyles that you can do with it. The wavy side is a classic take on the wavy hairstyle. It's super simple. You need to comb your hair towards the left or the side and let your waves flow naturally. This is a super hairstyle for people who have curly or wavy hair and want it to look good and neat! It's a perfect hairstyle for any occasion and even good for official events. If you aren't sure what to do with your wavy hair, go for the wavy side!

#6 – Wavy Quiff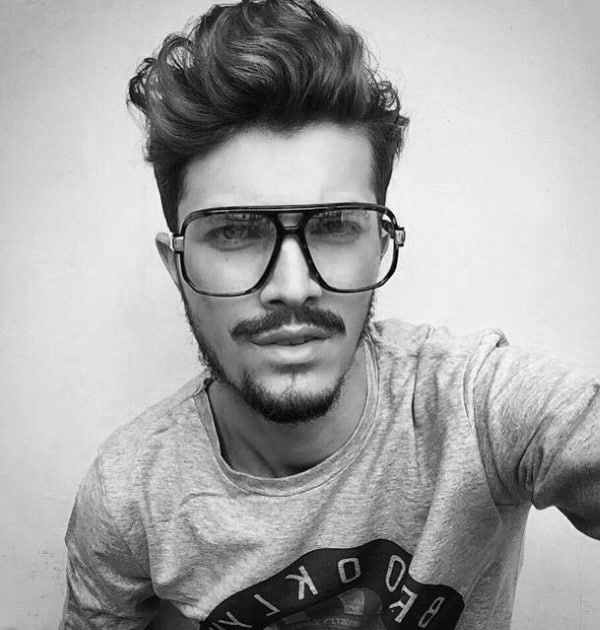 The Quiff has been a constant hairstyle for teenagers and youngsters for many years since the '90s. The quiff is generally worn by people with straight hair. But, I have wavy hair and I've had a quiff all my life. It's one of my favourite styles and looks super awesome because the waviness of the hair gives the quiff a super unique style. The wavy quiff is one of the classic hairstyles for men with wavy hair! Try it today!
#7 – Beach Curls
Let's get a little hippy! When you got curls, you got to flaunt them. If you have a laidback lifestyle or you are going on a long holiday, then it's time to unleash the beach curls. The beach curls are basically your curly hair that is grown to the shoulders and left alone. This is a super stylish hairstyle and looks really really good. If you want to impress the ladies with your curls, this is the best way to show them off. This might not be appropriate for the work environment or a professional setting.

#8 – Man Bun
When you are unsure with a certain style, there are always some classics that you rely on. The buzz cut is one of the biggest classic hairstyles. It's the king of the short hairstyle. But there is a king of the long hairstyle and that is the man bun.
The man bun is a super popular and stylish hairstyle and is one of the best ways to tame curly hair. When curly hair is medium-sized, it's difficult to maintain them. But when they grow longer, it's easier to comb them and tie them up. This is a super style for people who like long hair and who have curls.
#9 – Curly Drop Fade
Who doesn't love a fade? But there's a difference between a short fade and a drop fade. A short fade is when your hair gradually is shorter on the sides until it reaches your neck.
Whereas a drop fade is when the sides of your hair shaved off. The curly drop fade is the curly version of the mohawk but with more hair on top and hair that is not spiked. This is a super hairstyle for curly haired men.
#10 – The John Snow Curls
Our beloved character from our beloved show, Game of Thrones might have given the wavy-haired and curly-haired men, probably the best curly/wavy hairstyle. For that reason, I call it the Jon Snow curls. The Jon Snow curls are characterized by shoulder-length hair and that is not fully groomed. It's smart, stylish and can even look super with a nice suit on!
#11 – Shoulder-Length Curly Hair Style
#12 – Medium Length – Disheveled Hair Style
#13 – Dreadlocks curly hairstyles
#14 – Bob men's curly haircuts
#15 – Messy Curls hairstyles
#16 – Waves Man Bun curly hairstyles
#17 – Glossy Curls
#18 – The Lob – Long Curly Hairstyles
#19 – Side Part men's cool hairstyles
#20 – Hard Part hairstyles for curly hair men
#21 – Bowl Cut men's curly hairstyles
#22 – Curly Pompadour men's hairstyles
#23 – Long Afro men's hairstyles
#24 – Undercut cool men's hairstyles
#25 – Fringe men's cool hairstyles
#26 – Beach Curls
#27 – Slicked Back
#28 – Short Afro cool hairstyle for men
#29 – Tight Curls
#30 – Quiff cool hairstyles
#31 – Curly man bun
#32 – Side part for curly hair
#33 – Taper fade for curly hair
#34 – Curly combover
#35 – Slick back curly hair
#36 – Fringed curly hair
#37 – Undercut for curly hair
#38 – Fade for curly hair
#39 – Textured curly hair
#40 – Box braids curly hair
Is curly hair good for men?
We admit that curly hair can be slightly high maintenance and can require a LOT of attention but you've got to admit that when styles, nothing can beat the charm and style curly hair for men can ooze out.
All you have to do is choose the right kind of products to style your hair and condition your hair well for the best results. If you are struggling with maintaining it, then we would suggest you cut your hair in a way that will be in par with the activities that you are doing.
How do I style my curly hair?
With the above hairstyles you can keep your intact and in style for the time being. But what do you do to keep your hair nourished while also keeping up with the style?
A stylist is the best person you can reach out to, to know the style you need to abide by. There are hairstyles that will look amazing on certain occasions but bad on the others.
You need to find your signature style based on your hair type, facial features, and other bodily features.
As you can see, there are no limited options for men with curly hair. Most of the styles that suit other hair types, suit the curly-haired male too! Let your curls unfurl!
Also Read :
Best Keratin shampoos and conditioners for damaged hair
Best pH balanced shampoos for oily hair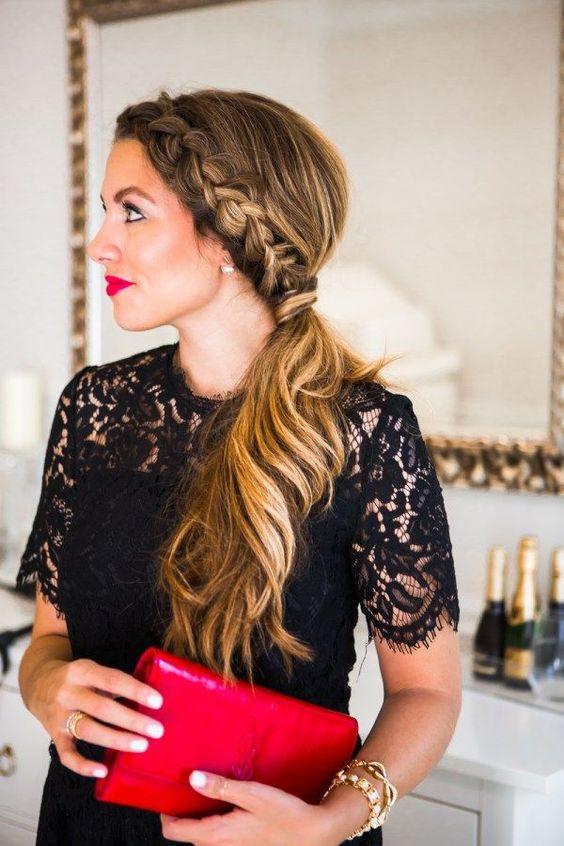 From hair care to soaring hair trends, we cover it all. We make sure you nurture your hair and stay on board with hairstyles and new hair trends. So hop on and make every day count with some of our creative and sassy hair trends.