Listen, I know how tempting it is to do things with your hair. Colouring, perming, straightening, and even hairstyles like tight ponytails and twisted braids.
So many other fun ways you can change your hair and looks! But sometimes all this styling gets too much for your hair. The result? Damaged, brittle strands. The solution? Keratin.
If you know your hair and beauty tips, you'd have definitely heard of keratin. What is it? In simple terms, it's the protein that forms the outer layer of your hair. When you damage your hair, you've stripped it of its outer keratin layer.
How do you fix it? Well, there are lengthy and expensive salon treatments that infuse this protein in your hair. But if you're looking for a quick fix the best way would be to use a top keratin shampoo and conditioner for damaged hair.
That's easy. Isn't it? But what products do you pick? We've reviewed 15 products that I've used and think are great for damaged hair. Check them out:
I have hunted online for the best keratin products that had the ability to rectify my damaged hair and revive my hair texture. I went online and found one product that looked like the solution to my hair problems.
Best Keratin Shampoo and Conditioner For Damaged Hair
Nexxus Keraphix Damage Healing Shampoo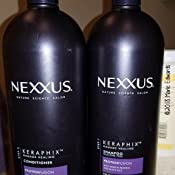 Products from the Nexxus Keraphix range are probably the top keratin shampoo and conditioner for damaged hair. The secret? Their Protein Infusion formula. It's a mix of keratin protein and black rice which is packed with glutamic amino acids. I love how this shampoo heals dry, brittle hair strands and infuses life into them. 
This shampoo also gets brownie points for being free of silicones. If you use them with the deep conditioning mask and conditioner, this Nexxus range gets your hair looking healthy and sleek in no time. I was, however, disappointed at one thing. The shampoo contains sulphates and is probably not the best choice if you have coloured hair or using them every day. 
Pros
Suitable for coloured hair
Hair reconstructor
Pleasant smell
Make hair easier to manage
Removes frizz
Enhances curls
Cons
Amika The Kure Repair Shampoo
If you're the person who loves experimenting with their hair, you should try out the Amika The Kure Repair shampoo. Why? It's perfect for colour-treated, Brazilian-treated or keratin-treated hair. Plus, it's free of ingredients like phthalates, silicones, artificial colours and sulphates that can be harsh on your locks. The main component of this shampoo, besides keratin, is sea buckthorn berry. It's packed with omega-7 fatty acids and helps restore elasticity and strength to the hair strands.
So with regular use, the shampoo nourishes hair, mends split ends, adds shine and leaves your tresses soft, healthy and manageable. I also liked this Amika shampoo better than other products on this list because it is vegetarian and cruelty-free. 
Pros
Vegan
Cruelty-free
Adds softness
Paraben and gluten free
Moisturizers hair
Revitalizes damages hair
Cons
It's A 10 Haircare Miracle Deep Conditioner Plus Keratin
How does this conditioner score in the damaged hair department? It's a 10 from us! But puns aside, this conditioner does manage to check all the boxes.
Frizz, tangles, split ends, dryness whatever your hair problem is the It's A 10 conditioner solves it all. Our favourite thing about this product is how good it is for coloured hair.
I like how it forms a protective layer on the strands so that your hair dye doesn't fade or lose its shine while you're out in the sun.
The keratin-infused formula coats the hair shaft and seals the cuticle, preventing further damage. Oh, and one more thing. The conditioner is cruelty-free too. 
Pros
Protects hair tangling
No color fading
Controls frizz
Nourishes hair
Strengthens hair
Cruelty-free
Protection from UV rays
Cons
Truss Infusion Conditioner
Bleaching, colouring, straightening, all this is fun to try out, but it leaves your hair dry. Overdo it, and the damage is inevitable. That's why I recommend you try out this Truss Infusion conditioner.
It does not just make hair manageable and soft, but it also restores its lost shine and elasticity. Plus, it's safe to use on coloured hair. So whether your blonde, brunette or have unicorn hair, the conditioner seals the cuticle, making colour last longer. 
I also like how this conditioner goes a step further and helps in controlling frizz and adding body to your tresses. If you're looking for beauty with a conscience, this Truss conditioner is just your thing as it is 100 percent vegan and cruelty-free.
Pros
Suitable all hair types
Enhance shine
Adss shine
Leaves hair soft
Moisturizers ahir
Reduces frizz
Protection from UV rays
Cons
CHI Keratin Reconstructing Shampoo
What makes the CHI Keratin Reconstructing shampoo so special in our eyes is its Keratrix formula. It slowly releases molecules of keratin protein into your hair strands throughout the day. Cool, isn't it? This way, your hair stays protected all day long. And it doesn't just shield the strands from further damage, it improves hair elasticity and prevents breakage too.
The shampoo also contains nourishing ingredients like jojoba oil and argan oil. So it leaves your hair looking softer, shinier and more manageable after use. What seals the deal for us is that the shampoo is free of sulphates, gluten and parabens. 
Pros
Cleanses hair gently
Strengthens damaged hair
Suitable all hair types
Intense hydration
Improves elasticity
No breakage
Cons
CHI Keratin Leave-in Conditioner
Just like the shampoo, the CHI keratin leave-in conditioner is formulated with Keratrix technology. The reason why we've included a leave-in conditioner, particularly this one, is because of how it protects hair through the day. If your tresses are prone to frizz, or if you have coloured hair or if the strands are severely damaged, then it's best to step out with some extra protection. And this is exactly what the CHI leave-in conditioner offers.
It seals the hair cuticle, replenishes lost keratin by the minute and hydrates the strands, leaving them soft, shiny and manageable.
Pros
Prevents split ends
Produces shine
Paraben and Sulfate free
Restores hair
Gives hair new life
No breakage
Cons
GLISS Hair Repair Ultimate Repair Shampoo
Another great damage-repair shampoo on our list is the Gliss Hair Repair Ultimate Repair Shampoo. What's so special about this one?
Well, it's formulated with liquid keratin that leaves your tresses at least 90 percent stronger than they were before use. Amazing, right? So if your hair is severely damaged and undernourished, I think you should pick this shampoo. 
The thing that sets this shampoo apart from most others on this list is its price. Gliss is a fantastic drugstore brand, and if you choose to invest in their hair repair shampoo and conditioner set, it won't burn a hole in your pocket. 
Pros
Controls frizz
Produces shine
Makes hair soft
Revives dull hair
Strengthen hair
Cons
Maple Holistics Silk 18 Hair Conditioner
We've included this conditioner from Maple Holistics on this list because of how skin-friendly and natural its formulation is. Seriously! It's great for your scalp (especially if you have a sensitive one) and it's amazing for the environment. The ingredients are responsibly-sourced, 100 percent natural, and the conditioner is totally cruelty-free.
The hypoallergenic product contains shea butter, aloe vera and silk peptide along with keratin. These ingredients keep your scalp nourished, reduce dandruff, repair damage, and seal in moisture. Since it helps seal the hair cuticle and increase shine, I think you should go for this shampoo if you've got coloured hair.
Joico K-PAK Reconstructing Shampoo for Damaged Hair
You might have heard of a smartphone or a smart TV, but have you ever heard of a smart shampoo? No? Well, it is exactly what the Joico K-PAK Reconstructing Shampoo claims to be. And it has a good reason too. It's created with Joico's unique SmartRelease Liposome technology. What's that do? Simply put, it continuously releases keratin, arginine and rosehip oil extracts into the dull and damaged hair strands.
The shampoo repairs hair strands, coats them with a protective layer, tames frizz and adds shine. I suggest following up with the Joico K-PAK conditioner after using this shampoo. 
Keranique Scalp Stimulating Shampoo
We've included the Keranique Scalp Stimulating shampoo on this list because it not only helps damaged hair stay healthy but keeps your tresses looking glamorous as well. How? It deeply cleanses the scalp without drying it out, leaving the hair soft, shiny and volumized. So it looks salon-styled with just one wash. Plus, the keratin formula also nourishes hair, protects it from damage and makes it more manageable.
The only thing that makes this one from being our favourite is its price. The shampoo is slightly on the expensive side. But if you like your shampoos cruelty-free and want a sulphate and paraben-free ingredient list, this shampoo could definitely be worth the price.
Suave Professionals Keratin Infusion Smoothing Conditioner
I recommend this keratin conditioner if you want silky and healthy hair on a budget. The Suave Professionals Keratin Infusion Smoothing conditioner has a pH-balanced formula that hydrates strands and leaves them frizz-free for at least 48 hours. 
Why do I have this drugstore product on my list? Well mainly because of its Keralock Technology that infuses keratin into the strands and seals the hair cuticle. So any flyaways are instantly tamed and smoothened. I also liked the pleasant fragrance it left behind on the tresses.
Keratase Bain Fluidealiste Shampoo
The two things that make this shampoo stand apart from all the others on our list is its sulphate-free formula and Morpho-Kératine technology. Now you've probably heard how sulphate free shampoos are gentler on hair and good for daily use. But what's the Morpho-Kératine? A special feature of this shampoo allows it to coat every hair strand evenly with keratin. The result? Smooth, nourished hair!
The surface protectors also help in detangling hair and keeping it frizz-free. You might have to shell out a bit more for this shampoo. But I think it gives you your money's worth. 
L'Oreal Paris EverSleek Sulfate Free Keratin Caring Conditioner
Drugstore price? Check. Good for color-treated hair? Check. No silicones or harsh ingredients? That's checked too! All in all, this conditioner has earned its place on our list. The conditioner repairs hair strands by replenishing its lost keratin. It also contains sunflower oil that softens and hydrates hair strands. This L'Oreal Paris conditioner helps keep your hair color glossy and protects it from fading as well.
Keranique Damage Control Replenishing Keratin Conditioner
The partner shampoo of this Keranique Damage Control Replenishing Keratin conditioner is already on our list. So it doesn't come as a surprise that this product is too. Just like the shampoo, the conditioner too repairs damaged hair and protects it from breakage. It, however, also helps with thinning strands.
This Keranique conditioner contains Panthenol (Vitamin B5) along with keratin that helps improve hair fibre quality from root to tip. Oh did I mention, it's free of parabens, dyes and silicones too.
What is the best keratin shampoo and conditioner?
Hair experts and stylists swear by the Nexxus damage healing keratin shampoo and conditioner which works at reviving hair texture and gives you smooth and soft hair for a long time. Costing about $18, it is a cost-effective and impactful product for those with damaged hair strands. The shampoo is free of silicones which caters to the most sensitive hair types. 
Everywhere you turn, every stylist or self-proclaimed hair guru is talking about just one thing. Keratin. There are keratin treatments, keratin shampoos, keratin hair masks. Phew! So what is it about this protein that's made everyone a fan? Is it actually good for your hair or just another fad? Questions, questions. We've tried answering a few below. Take a look.
Is Keratin good for hair?
Yes. Keratin is, in fact, the building block that forms the structure of your hair. Damaged hair is stripped of its outer keratin layer, and using keratin-based products can help replenish it. If you feel like your hair has been too frizzy and uncontrollable, you can just head to the salon to get a keratin or Brazilian treatment. But if your major concern is damage and split ends, using a good keratin-based shampoo and conditioner can help repair and rejuvenate the strands. Keratin works mainly by filling up the porous regions of your hair and making them smooth and strong again.
Can Keratin shampoos be used on coloured hair?
Oh boy, there seems to be so much confusion with regards to keratin and hair colour. So let's clear this out real quick. Keratin shampoos and conditioners are perfectly safe to use on colour-treated hair. It's the keratin salon treatments which you need to worry about. These treatments often use heat or chemicals to relax the hair, making it easier for the keratin to soak in. This could potentially strip the hair of any dye. But the keratin-based products on the markets do no such thing. It's the opposite really. They help lock the hair colour in and make it shine. So if you want to use keratin shampoos on your freshly-blonde, brunette or pink hair, go ahead. It's a yes from us.
Should I use a leave-in keratin conditioner or a rinse-off conditioner?
Keratin not only helps strengthen but also smoothen the hair strands. So every time you use a regular (rinse-off) keratin conditioner, your hair feels softer and looks straighter. But the effects of this might be short-lived. Especially if you have very frizzy hair. This is where a leave-in conditioner steps in. It's also a great idea to add a leave-in keratin conditioner or serum to your hair care routine if you have wavy hair. A leave-in conditioner keeps the static electricity at bay and leaves your hair looking sleek all day.
Ah, Keratin. It's almost as if the word has become a sort of spell for good hair. It's not exactly a must to use a keratin shampoo and conditioner for your hair unless you've got a keratin treatment done.
But if you've got damaged hair, keratin-infusing hair products are your best bet.
Want to get smoother, healthier hair in no time? I recommend adding a keratin hair mask to your choice of conditioner and shampoo. 
Also read
Best ginger shampoo for hair loss
Best biotin shampoo and conditioner for hair growth
Best shampoo for balayage hair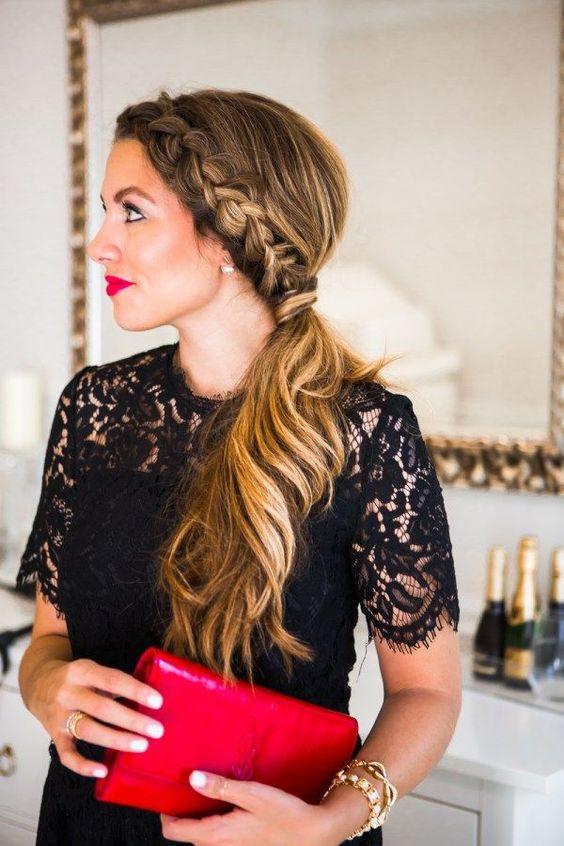 From hair care to soaring hair trends, we cover it all. We make sure you nurture your hair and stay on board with hairstyles and new hair trends. So hop on and make every day count with some of our creative and sassy hair trends.