It's definitely easy to ignore your young boy's hair. I'd go as far as to say, you didn't need to cut their hairstyle for up to 2 years. The standard hairstyle for a young baby boy is a small trim to keep their hair short. In this article, we cover a wide range of hairstyles for baby boys.

Parents can be a bit conservative when it comes to choosing hairstyles for their young toddler. But the truth of the matter is most styles suit, young boys. From undercuts to the shaggy look to even the fauxhawk, everything can look stylish.
Toddler Boy Haircuts
#1 – Baby Boy Hairstyles for Long Hair

One of the best hairstyles for a small baby boy is to let their hair grown long. They look utterly adorable and it makes them look different and super adorable. Kids hair takes time to grow as they are still developing and that's why with this style you don't have to take care much.

#2 – Baby Boy Haircuts Curly Hair

For a lot of young boys, their hair grows curly. Before they grow older and decide to straighten their hair, it's good to let them grow their hair when they are young. Curly hairstyles look great on young children. Especially the shaggy look makes them look super cute and it's a great hairstyle for a young baby boy.

#3 – Baby Boy Haircuts 1-year-old

There can't be much of a style for a 1-year-old baby boy. The truth of the matter is, their hair is still growing and for the first year, one should let it grow without cutting them too early and destroying their hair growth.
#4 – Boys first Haircut Ideas

If your young boy is having his first haircut, then it makes sense to give with an old school classic style such as a fade with hair on top. This is like a high and tight hairstyle where there is a bit of hair on top and the sides are cut short. This is a good hairstyle for your boy's first haircut, this way you can see the boys face and not let the hair control his look.
#5 – Fauxhawk for Boys

The Fauxhawk Style is one of those haircut styles that young boys and baby boys can pull off and it's not something that a lot of grown men can. Why? Because young boys don't have to go to the workplace and follow strict guidelines. So if you have a young boy at home, experiment with his hairstyle and give him the most interesting haircuts like the Fauxhawk. The Fauxhawk is basically like a Mohawk, but it is way better. It is characterized by high spiked hair on the top and shorter hair on the sides, but not as short like the mohawk.
#6 – Side Sweep for Boys

The Side Sweep is the most basic hairstyle you can give your child and that is when their hair grows you comb their hair towards a certain side. This looks especially good with long hair. It's easy to maintain and it's not a style that is too "out there" and will make your baby boy look super adorable.
#7 – Little Ponytail for Small Boys

A lot of people think that young boys cannot grow hair long enough for a ponytail. But the truth of the matter is, young boys, can grow really long hair because they are at a growing age and all the nutrients help them grow very soft and luscious hair. One of the best hairstyles for a baby boy is a ponytail. Gather up a bunch of hair at the back and make sure it is tied with a rubber band.
#8 – Spiked Hair for Boys

Spiked Hair is one of the most popular hairstyles for young men and it looks super nice on young boys too. Spiked Hair is pretty easy to maintain and you can prep a nice spiked hair right before any event in very simple steps.

Make sure the hair is clean and neat
Gel your boy's hair with some tightening hair gel
Shape it to whatever spikes you want and let it set
The spiked hair is a super stylish hairstyle that suits boys of any age. So if you are looking for a special hairstyle for your boy for a birthday party or an outing, you might want to consider the spikes.
#9 – Pattern Fade for Baby Boys

The pattern fade is something young boys will really really like. Young boys are into comics and superhero movies and you can give them a hairstyle representative of their favourite superhero. A pattern fade is basically where a particular pattern is styled onto the fade of your child's hair. It's not complicated at all and can be done by the barber's pretty easily.

Some of the popular pattern fade styles are Spiderman Web pattern, Captain America Shield Pattern and so on. Even names of the popular superheroes is a super duper hairstyle that will make you a popular parent.
The best part about this hairstyle is? If you don't like the pattern, it will get covered within a few weeks.
#10 – Quiff for boys
A quiff style is basically a mix of two of the most popular hairstyles that are the pompadour and the Mohawk. A quiff is basically when the front part of the hair is raised on top. Now, this should be differentiated from the spikes, as the Quiff does not have a spiked look. One also does not need gel for a quiff to stand. This is one of the most stylish hairstyles a young boy can sport. It makes them look good and well put up.

It also helps young boys understand different hairstyles such as the Quiff when they are young because this is a kind of hairstyle that can be sported when they are older too.
#11 – Buzz Cut for Boys

The Buzz Cut is a classic. It doesn't need any introductions. Personally, when I was a young boy, this is the haircut I got. A straight up buzz cut with no questions asked. It's perfect in hot weather, easy to maintain, easy to wash off and clean. The last point is very important because you need to understand a young boy in the house will be playing in the sand and getting dirty and they generally play rough. With long hair, it's hard to clean up and maintain the hair. Whereas with a buzz cut, it's super easy to wash off.
#12 – Combed Back with Fade for Boys

If you are looking for a hairstyle for an outing for your young boy that can also be used on a daily basis. Then the combed back with a fade is the perfect option. So what is the combed back with a fade? This is a type of hairstyle that is characterized by combing back the hair when it is wet towards the back of the head like Leonardo Di Caprio in the Titanic, while the sides of the hair get cut with an electric clipper. The sides get shorter as the hair goes downwards. This is one of the most classic hairstyles a kid can have. It's smart and beautiful looking.
#13 – The Side Swept with Fade for Boys

The Side Swept is one of the most popular styles for adult boys. So why shouldn't it be popular for young boys? It's a simple hairstyle where the top hair is pushed towards the side and the hair on the sides are kept trimmed and short. This is super easy to cut and can be done at home. You basically run the electric clippers across the back and the sides of your boy's head and keep the top hair intact and comb it towards the side. This is what makes a side swept with fade.
#14 – Pompadour for Small Boys

Imagine Elvis Presley's hairstyle on your boy. How cute would he look? The Pompadour is a classic look that was first popularized by the King himself. It's basically a comb back with raised hair and pushed back. This is a hairstyle for special occasions. So if you are going out to a birthday party or an event, then the Pompadour is a great look for your young baby boy.

This is a difficult hairstyle to maintain as you require a lot of gelling and combing work. So this is a hairstyle that is best suited for outings.
#15 – Long Fringe for Small Boys

The Long Fringe is a hairstyle that is well suited for young boys. It's characterized by letting the hair grow and falling on the face. This is a super adorable look for young boys. It actually makes them look like young kids instead of somebody uptight. This is pretty easy to maintain hairstyle, you don't need to do anything particular to maintain it.

The long fringe is a style that suits boys from age 2 to all the way to age 8 or 9.
#16 – Medium Length Hair for Baby Boys

When I mean medium, I don't mean medium short cut, but I mean medium shoulder length hair. This is a super stylish hairstyle that suits young boys. You want your young man looking dapper and stylish? This is the hairstyle you should choose.
#17 – Forward Swept Hair for Baby Boy

Forward Swept Hair is another good hairstyle for baby boys because when they are too young, boys hair doesn't grow thick. Sometimes it's thin and there isn't enough hair. The Forward Swept Hair is basically combing the hair towards the front that shows volume. This is a good hairstyle for young boys.

It is super easy to maintain and there is no difficulty at all.
#18 – Medium Top With Short Sides for Boys

A medium top with short sides is kind of like a hight and tight. A high and tight haircut is the military man's haircut where the top of the hair has medium length hair and the sides have super short hair. This is a super smart hairstyle that will look good on a young boy. There are many different types of high and tight haircuts and in fact, this is a style that can be cut in the house itself. All you need is some electric clippers to shave the sides of the head.

The top can be cut using scissors or can be cut using electric clippers as well.
#19 – The Short Mohawk for Boys

Young boys hair doesn't grow as much as girls hair. And if you leave that hair, it doesn't look like its styled. If you want your boy's hair to look styled, then you can consider the short mohawk. The short mohawk is like a full-fledged mohawk, but with the little amount of hair, your young boy has. This is one of the cutest hairstyles we've encountered and it's safe to say, this is one of the best-styled hairdos for your boy.

Sometimes the hair of young boys are very thin and soft and if you want this hairstyle you should consider adding some safe baby gel to the hair.
#20 – Messy Top For Boys

The Messy Top is a classic hairstyle for young men and also young boys. This is not a hairstyle per se and more of a letting the hair loose type of situation. With a messy top, you can take your boy's hair and ruffle it on the top a little bit to give it that messy look. The Messy Top is a classic and adorable hairstyle that will make your young boy look super cute and stylish at the same time.
#21 – Long Side Bangs For Boys
Side bangs are known as a hairstyle for women. But side bangs are the perfect hairstyle for small boys as well. All you need to do is let your boys hair grow long and comb it to the side and let the hair flow. Long Side Bags are one of the cutest hairstyles for a young baby boy.
#22 – Short Layers for Boys

Short Layers are basically when the hair is cut sideways which gives a layered look. This is a super cute hairstyle that makes your young boy look super dashing. This is one of those hairstyles which looks like it's styled a bit, but at the same time, it looks casual too.
#23 – Baby boy haircuts fades

The best baby boy hairstyle is definitely fades. Fades are super easy to style and plus if you are little boy is fussy at the salon and doesn't want to get his haircut, then you can use the fade style. Why? It's easy to use a clipper and it lasts only a few minutes, compared to a scissor cut which takes a long time. If you are clueless about what hairstyle to give your baby boy, give him a fade cut. 
#24 – Medium Middle Bangs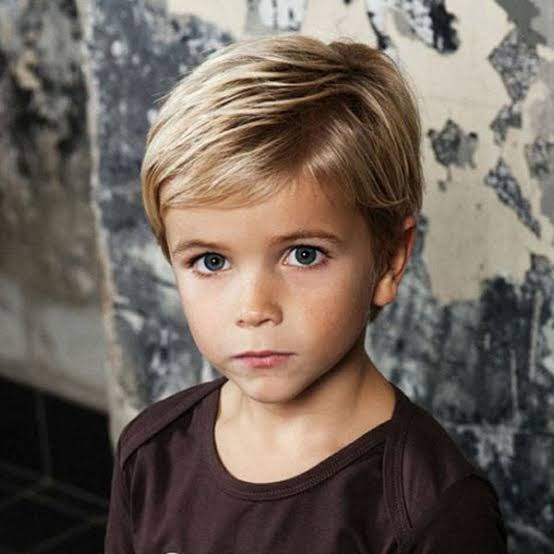 This style looks uber cute on a baby or a toddler. Especially when they have a bit of hair. Middle medium bangs are when your toddler is given a cut with a bit of bangs. This is a supercute cut which will make your young boy stylish and cute at the same time!
#25 – Baby boy combover hairstyles

The combover is such a classic hairstyle that it is well suited for toddlers as well. If you have a boy who has a bit of hair on top, you can use a small soft comb to comb his hair to the side. You can use some chemical free baby oil to style his hair in place. 
#26 – Baby boy haircuts black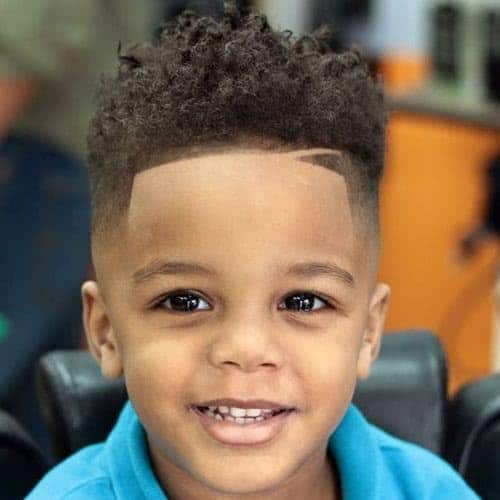 If you are looking for some cool hairstyles for your baby boy, then you can consider the uber cute small afro cut. This is a very cute hairstyle for a baby. It'll make your child look cute and the same time dapper! Who doesn't like a dapper 5 year old?!

#27 – Baby boy haircuts curly

Curly hair is one of the cutest hairstyles even for teenagers. For toddlers it's even better. You should let the natural curls flow without it getting out of hand. So you need to trim the hair at the right place, so it doesn't come in their way! 
#28 – Hairstyles for a 3 year old boy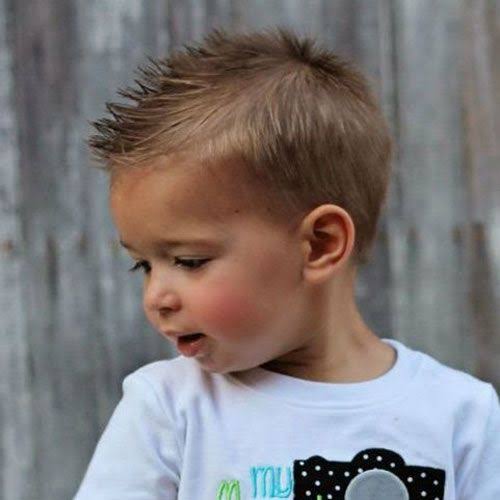 There are numerous hairstyles for a 3 year old. But if you are looking for something simple. I would go for the short hair with faded sides. This is super easy to maintain. It's a no fuss hairstyle that can be easily managed.
Kid Hairstyles for Boys
If you have the perennial question, what is a good haircut for a baby boy?
Here is the answer.
There is no perfect haircut for a boy. Different styles suit different boys. But a word of advice to parents would be. There is no perfect time to experiment with your young boy's hairstyle except when they are young. After they grow old and become teenagers, they won't let you go near their hair. Good starting styles for young boys are Messy Top, Short Layers, Forward Swept Hair and the Long Fringe.

If you are looking for the best style go through the article again and see the best styles for different occasions.
Also Read :
Fauxhawk

Little Ponytail

Bowl Cut

Long Fringe
Best Haircut for Baby Boys
What are the best haircuts for baby boys?