When you have a baby girl, you never run out of cute and adorable little girl hairstyles to try on them.
You can let your imagination run wild because any sort of updo will look too cute on them.
It is always good to teach them young about dressing up and grooming themselves. These habits will help them throughout their lives. 
Related: Cute Haircuts For Girls
Related: Easy Hairstyles For Girls
The first thing to consider when choosing a hairstyle for your child is their hair length.
Choosing a hairdo that is suitable for their hair length will minimize damages caused while styling. 
Adorable Little Girl Hairstyles 2021
Are you confused about what haircut to choose for your little one?
We have curated some of the cutest haircuts you can try on your young girl to make them look adorable.
#1 – Funky Sleek Hairstyle with Bangs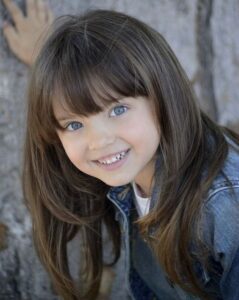 This haircut works best for little girls with long hair.
Bangs have always been known for their ability to shoot up the cuteness quotient of anyone who wears them.
And this haircut is no exception. It helps in creating a good frame for the face while using soft features to accentuate the layers of the hair.
You have to makes sure that the length of the fringes look uniform and not asymmetrical.
You should also make sure that the fringe meets your hair from both sides of your forehead. This would up the cuteness quotient of your baby's hair.  
#2 – Sleek Bob Princess Hairstyle
This cute and minimal haircut will make your little ones a head-turner. This could be a go-to haircut because of its practicality and versatility.
When your little girl first gets this haircut, it will look symmetrical. But when it grows out, it will start looking like layers.
It gives a curved shape to the head. You can part it either to the left or right.  
#3 – Deep side-parted coloured hair
A lot of parents would shy away from colouring their kid's hair, especially when you think about the harmful chemicals that might be in the ingredients list.
But you can easily find colourful extensions that are suitable for kids in your nearest store.
The hair rests on either side of the hair after getting the haircut. You can part it in the middle or on either of the sides.
You can then place the extensions onto the hair from the partition. This will give a cute and bubbly look to your little girl. 
#4 – Simple wavy hairstyle with curls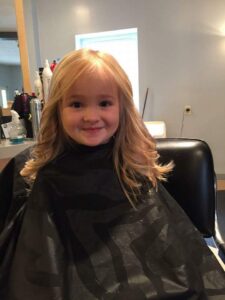 These soft romantic waves are often accompanied by naturally blonde hair. But this is a haircut that will suit all colours of hair.
You can ask the hairdresser to give a layered look from top to bottom and add fringes that join the hair on both sides of the forehead.
This haircut will enable your little one to pull off soft waves that complete the look.
This haircut will work on all types of outfits and is easy to maintain and groom. 
#5 – Vintage curls
You can never go wrong with this hairstyle for your girl. It automatically makes them 100 times cuter adorable.
You just have to preserve their naturally curly hair to pull off this look.
Make sure that you provide enough hydration to the hair by using gentle oils and creams.
This will also help in maintaining the bounce in their curls.
As the name says, this hairstyle has been popular for a long period because of the elegance and natural look it gives.
If you are looking to grow out your girl's curls, you can start with a layered cut which will give a good structure to the hair. 
#6 – Long Bohemian hairstyle
This hairstyle will make your girl feel like a total princess!
Although this one is a little difficult to maintain when compared to the rest of the hairstyles on the list, it is a total head-turner.
If your daughter does not have long hair, you can also use weaves on the hair.
This haircut is characterised by long tresses that go beyond your shoulder.
If you would like to try out this look, make sure to take care of their ends and oil the hair regularly.
You can also give long layers to give volume to the hair. An occasional blow dry will definitely spruce up the look. 
#7 – Short Bob haircut
This is similar to the sleek bob but tends to be a little shorter than that. It usually stays above the neck. Sometimes, It could be compared to a pixie cut. 
This is one of the most common hairstyles among kids. It is a cute haircut that is very practical.
It requires very little maintenance and gives your daughter a neat look.
The bob has a curvy accent on either side. It gives a good frame to your baby's face.
This is a great haircut to try if your child is transitioning hairstyles.
The best part about this is that it works on all types of outfits so you do not have to bother about changing hairstyles every other time.
#8 – Urban Fringe haircut
This is a classic look that you can try on your child. It is characterised by a uniform fringe and layers on the rest of the hair.
The length of the ends of the hair should be even.
This gives an adorable look to your little girl while keeping her well-groomed. 
#9 – Cute girl hairstyle
This is a temporary option that you can try on your daughter's hair. It helps in accentuating the texture and look of the hair.
You can also experiment with a lot of styles with this look irrespective of the length of the hair.
If you are looking for something more glamorous, you should definitely give this look a try.
This is a great option if your child has some special occasions or events to attend like a birthday party, school day etc.
You can also blow dry your little one's hair to get better volume and texture. 
#10 – Sleek and Straight hairstyle
This is another common choice for kids. The sleek straight hair is a no brainer when it comes to adorable hairstyles for little girls.
It can be enhanced even more if you blow-dry it. This hairstyle is usually accompanied by a straight cut at the bottom.
Another good thing about this hairstyle is that it requires very little maintenance.
You only have to comb it on either side to maintain the texture and curve. 
#11 – A-line haircut
The A-line haircut is one of the trendiest haircuts you could give your child.
This gender-neutral haircut gives an uber-cool look to anybody to wears it.
It is a short haircut with an inverted bob like structure at the back. The front part looks well structured and sharp.
This haircut can be easily done on children with medium length hair.
If your child's hair is short, allow it to grow a bit before trying on this haircut.
You have to comb and set your child's hair in the natural direction of growth. This will allow the hair to flow free and accentuate the cut.
#12 – Short braids with coloured beads
This is for all the African American babies out there. The beautiful coarse hair texture is truly something to be celebrated. 
The first step is to use the right products like hair moisturisers and hair oils that will take care of their coarse hair and make it manageable. 
You can then start braiding and tying your hair to your desired style.
Use bright coloured rubber bands and hair beads to decorate the hairdo and create a head turning look.
The best part about these hairstyles is that they can help in preserving your hair for a long time.
So, if you want a look that will stay for a long time so you can skip the routine hairstyling head-turning sessions, this would be a great choice. 
#13 – Sideways Fishtail hairstyle
This hairstyle gives a bohemian look to your little princess. It is usually done on kids with long hair. 
You will have to neatly comb and part their hair first. Make sure that it is free of any tangles.
You can then take a good chunk of hair from the bigger side of the parted hair and braid it in the direction of your natural hair growth. 
This is another glamorous hairdo that is suitable for special occasions and events like weddings. 
You can also decorate the braid with beads and colourful bands. 
#14 – Lovely Layers hairstyle
This is a hairstyle that will give an elegant and classy look to your little girl. So this is perfect for special events and days.
The lovely layers can be easily attained on girls will naturally wavy hair. 
Otherwise, you will have to use rollers or curling wands and tongs to get them. 
If you want to show some volume on your child's hairstyle, this is a great choice.
This hairstyle is usually worn by kids with long hair but it works for girls with short hair too. 
Young people have strong personalities that should reflect through their dressing and style sense.
So you should take an effort to understand your little girls' personalities before choosing a haircut for them.
But when you do, you can try out any of the above!
Also Read:
Best hairstyles for women over 50
Best shoulder length hairstyles
Best hairstyles for plus size women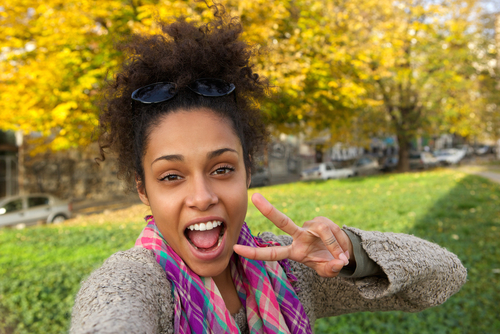 Helen is committed to bringing you the latest popular hairstyles, hair care tips, and hair-related products. You can check more of her work on besthairlooks to find fashion inspiration, product reviews, tutorials and more!