The thinning of hair can be the most worrisome thing about maintaining hair. It makes obvious changes in the way we look. That is no good for anyone!
Besides remedies like taking in nutritious food and preserving your hair from pollutants, hair extensions come as a savior for thin hair.
If you don't know where to find them we have for you the best extensions for thin hair.
For thinning hair, it is extremely vital to consider all the possible prospects before you choose a hair extension. The whole idea of wearing an extension is for your hair to appear thick. But wearing something heavy does not always work, in fact, it worsens the condition of your existing hair. There is a threshold that your hair can take in stress and weight and considering your hair is already weak it should be important to choose an extension which is lightweight.

Related articles
Best hair sellers on Aliexpress
Best Hair Extensions for thin hair

#1 – SARLA Synthetic halo hair extension for thin hair
This halo hair extension from SARLA is a time saver since it is super easy to wear and remove.
It is 100% synthetic and heat resistant allowing you to style it as you please.
The hair extension, besides how light it is on the hair is easy to wear without causing any damage to your natural hair. It has a way of displaying volume no matter how thin your hair is.
There are a large variety of colours these extensions are available in so that you can choose according to your features.
Note
Make sure to play around with wearing the extensions in different ways to rightly determine which one makes your hair look voluminous.
Click here to check out the product – $9.99
#2 – Reecho Full hair curly wave clips extension for thin hair
Reecho has a reputation for producing the best hair both synthetic and human. This extension is a synthetic piece that looks as real as human hair.
Reecho hair extensions are made up of heat resistant fibre which allows styling just like done to human hair. However, going above 350 degrees is not recommended as it is likely to damage the hair.
It has a matte look and can be styled using scissors or a curler.
It is easy to wash although you would have to opt for mild shampoo and conditioner.
Note
Since it is synthetic hair it is more prone to getting tangled often so it is necessary to get a spray that enhances easier detangling. Brushing will only make the hair frizzy.

Click here to check out the product – $9.99
#3- Sunny halo human hair extensions for thin hair

The sunny hair extensions are easy to wear and remove as it comes with a hidden clip and absolutely no glue at all. It adds volume to a great extent and gives you the benefit of making it look as voluminous as you'd like.
The hair extensions can be customised according to your head size. The width can be made possible depending on the hair volume that you prefer.
The hidden clip makes your hair look natural. The texture is also very human-like.
The absence of glue frees the natural hair from being affected by harmful substances.
Note
Since hair extensions may not cater to specified needs, you can take advantage of opting for the customized hair extensions that this brand allows.
Click here to check out the product – $ 48.94
#4 – Clip-in human hair extensions ombre balayage Remy hair

This is an updated grade 8 Remy hair with an elegant touch of ombre on the upper side of the strands.
This looks natural on your real hair and gives a certain texture once worn.
Like real hair, this can be styled and curled while keeping in mind the heat limit that the hair strands can withstand.
Customers have sworn by its natural looks and have given it a whopping 5-star rating.
Note
Since the hair strands are long, make sure to match it with short hair else it will look clumpy and thick.
Click here to check out the product – $ 32.59

#5 – Urbeauty Afro Kinky hair extensions for thin hair

Having Afro extensions is the easiest way to make your hair look lustrous. This ethnic hair type is a favourite among hair stylists for the way it complements sharp features making it look all the more prominent.
Unlike afro hair, this does not tangle easily and is easily washable.
It is easy to maintain and looks bouncy. The texture of the hair is also soft boosting the curls.
It has nine clips that fit well in your hair making it look as part of your hair. This way it does not come off and you can take it off at the end of the day.
Note
Make sure you attach the clips on the strands of your hair carefully since it can be prone to breakage of hair.
Click here to check out the product – $30.99

#6 – Seamlessly Remy tape hair extensions for thin hair

This tape on hair extension weighs only 30 gm easing into your natural hair.
It looks dream-like and soft that it catches your attention just for the way it looks.
The tape is hypoallergenic and double-sided which grasps the extension pretty well with your natural hair.
To make the hair look and feel even the more seamless, deep conditioning every once in a while is suggested.
Note
Adjust the tapes every week to make it sit well.
Click here to check out the product – $26.16

#7 – Micro loop ring hair extensions Remy's hair for thin hair
This Remy's hair is made of 100% human hair which looks lustrous and silky.
It is a pre-bonded micro ring extension which does not affect your natural hair or your scalp in any way.
The best part about using this hair extension is that you don't need glue or heat to attach it to your hair.
It is harmless which allows the hair to be even silkier.
Note
To maintain the texture and health of the hair it would be better if it is not treated with chemical dyes or strong conditioners.
Click here to check out the product – $38.90

These are some of the hair extensions that can tend to you thin hair without damaging your natural hair. Comparing your facial features while choosing your pick will be a step into making a perfect choice.
Types of hair extensions for thin hair
There are different types of hair extensions that make up for each of the needs. Some are super easy to wear and maintain while others require a lot more attention. Now that you know how to choose hair extensions, let me give you the types of hair extensions.
Tape-in hair extensions
Tape-in hair extensions are bonded with your natural hair so that it does not come off easily. But it works well with thin hair since it does not weigh heavy and because of which acts gently on your natural strands. Since they cannot be taken off easily, it is important to spend time figuring out the right type.

Tip
Don't bond two tape wefts together but instead attach one and stick the other one onto a one-sided tape. This way it relieves pressure off your hair.

Clip-in hair extensions
These hair extensions can be taken off regularly which gives space to your strands. However, since the clip in hair extensions require clipping on to the hair, it demands hair volume and strength to stay put.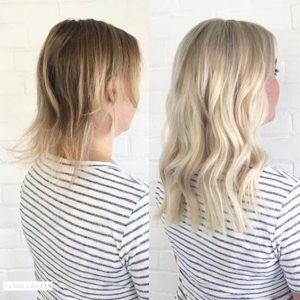 Tip
If you have thin hair, it is for the best if you didn't choose a clip in hair extensions.

Fusion hair extensions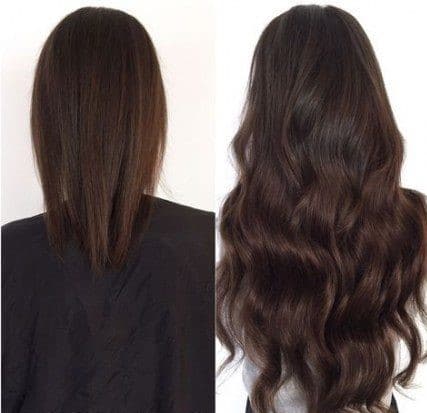 Unlike other hair extensions, these require ultrasonic waves to soften the strands of the hair following which the growth will be enhanced. Installing this extension can be a long process which in turn applies for the removal process as well. They are expensive given how much effort goes into it.

Micro links hair extensions
This is again a long process that involves the attachment of extensions to each of your hair strands. Since there are pressure and tugging, it is not advisable to get these hair extensions for thin hair.
Given the types of hair extensions, the most suitable extension for thin hair would be the tape in extension which complements the volume of the hair and acts accordingly to give you luster.
Thinning hair is caused either by genetics or lifestyle habits and if you're unlucky, both!
Genetics is unavoidable but lifestyle habits can be controlled. Here are some lifestyle habits that can cause thinning hair.
Harsh products on hair
Usage of products that react strongly on your hair can cause it to fall off or damage it. Not only does it depend on the strength of the product, it also depends on the threshold of your hair to take in such products.

Exposure to pollutants
This is unavoidable given we all have to go out at some point during the day! But you can reduce it to a great level by covering your head or gathering it together.

Stress
Constant stress can also cause your hair to fall off so the next time you overthink, consider your hair!
Are Halo extensions good for thin hair?
Given that you are looking for an extension to add to the volume of your hair, you don't want to add the damage!
That's why halo extensions are the best option. It is a single piece that can be attached to the hair without too much effort. The prime feature of the halo extension is that it lets your natural hair while being a temporary solution to the thin hair. So if you're wondering which hair extension is best for thin hair, it is definitely the halo extensions.
Is 20 pieces of tape in extensions enough?
Since the 20 piece of tape costs the least, it is preferred over higher volumes of extensions.
But the 20 piece extensions are barely enough strands to make it seem full. Considering you already have thin hair, you might want to consider the 40 pieces of tape to acquire thickness.
Can extensions make hair thicker?

Although hair extensions are widely used to make the hair seem longer, there are some extensions that allow the hair to look fuller and thicker. More than the kind of extension, it is how you wear the extension that will make the difference. Once it is plugged into the cap, it has to be spread and made a little buffy to achieve a sense of thickness. Fixing a couple of bundles in the middle of the back of your hair will also do the trick. Even though it will seem to get heavy over time, this trick will help you achieve thicker hair.
We hope we have helped you make an informed choice about tending to your thin hair and to pick out the best hair extensions for thin hair.
Read also
Best deep conditioners for women with natural hair
Afro kinky hair extensions
Urbeauty's afro kinky curly hair has the best hair wigs which pertain to all hair types.
Product SKU: HD743PLO
Product Brand: Urbeauty
Product Currency: USD
Product Price: 30.99
Product In-Stock: 1