One of the most respected cricketers in the world is Virat Kohli. He is not only known for his splendid batting, but also for his uber-stylish hairstyles that can make you swoon.

A lot of people consider Virat Kohli a very handsome bloke. But truth be told, he's decent looking because his styling skills are one of the best in the world.
So what are top Virat Kohli hairstyles? Let's take a look!
Best Virat Kolhi Hairstyles 2022
#1 – Virat Kohli's Side Part with Deep Fade Hairstyle

Virat Kohli loves to experiment with his hairstyle and one of the extreme styles is the side part with deep fade. Keep in mind, Virat Kohli always keeps a good beard for every hairstyle he tries. If you go for an extreme hairstyle with no beard, it might look weird!
So what is the side part with deep fade? Deep fade is when you clean shave the sides of your hair and the top of your hair is parted to the side. It's a very edgy and cool hairstyle and looks absolutely stylish and makes you look clean too!
#2 – Combover Virat Kohli Hairstyle

This is a classic hairstyle that is also loved by parents. This is a perfect hairstyle for a party as well as a formal event. It would look good with a shirt on and as well as a suit. So what is a combover?

When you go to the barber, ask him to cut the hair short and then whatever is left on the top is to be combed over in an uppish manner so as to not flatten it out.

You will need some gel to keep this hairstyle in place. This is a super stylish haircut!
#3 – Virat Kohli's Fauxhawk Hairstyle

This is one of the more adventurous haircuts from Virat Kohli. This hairstyle will not suit everybody and you need to be careful with this cut.
A fauxhawk is basically a softer and nicer version of the mohawk. For this haircut, the sides are cut and a little bit of the hair on top. Only the center portion, the hair remains in a straight line. This is a pretty cool cut and it's quite edgy.

If you are looking for an edgy hairstyle, then this is the look to go for! Is it easy to get a fauxhawk?

It's pretty easy. You need to cut your hair short and leave the center portion alone and cut all the sides.
#4 – Super Short Crop Virat Kohli Hairstyle
The super-short crop is one of the most stylish short hairstyles out there. This is different from a buzz cut because the hair on top is not flat. The hair is slightly spiked on top and the sides are super short. This is another style that looks great with a beard and gives you a neat and clean look. The most important aspect of this hairstyle is it shouldn't be cut too short.
#5 – Virat Kohli's Buzz Cut Hairstyle

The most classic of all cuts is the Buzz Cut. The Buzz Cut is one of the best hairstyles for the summer. Generally when there is a series in India in the summers, Virat Kohli chooses to get the Buzz cut with super short sides.
This is a no fuss hairstyle that is easy to maintain, easy to keep clean and easy for the barber to cut as well.
I personally don't like the Buzz cut because it doesn't look good on me. But this is a style you should go for especially in the summers.
#6 – Side Slick Back Virat Kohli hairstyle
One of the best hairstyles sported by Virat Kohli was in the Manyavar advertisement with his wife Anushka Sharma. Here he has a side slick back. This is a very stylish hairstyle that requires some gel to hold the hair. So how do you get this style?

You need to have enough hair on your head to spike it up. Then you need to scoop it up and then slick it back and to make sure it's in place, you need to add some gel to it. For the best effect, it's better to go to a salon to get it done.
#7 – Spiked Hair with Side Design Virat Kohli hairstyle
One of the funkiest hairstyles from Virat Kohli is the spiked hair with a fade and some styling on the side to add some funk to the style. This has been a very popular style for sportspeople.
To make the spikes stand you do need to add some gel. The sides have a fade and two blade cuts also adorn the side to make this style look even better.

If you are young, then this is an amazing hairstyle to go for. If you can't get the spikes to work by yourself, then you need to go to a barber to get it done.

#8 -Virat Kohli's Messy Hairstyle
You will rarely see Virat Kohli with a hairstyle like this anymore but it's a style that he has gone for from time to time. The messy look or the out of bed look is one of my personal favourite Virat Kolhi hairstyles.
To ensure it looks good, make sure you have a decent head of hair and don't comb it too much or style it too much, just run your fingers through your hair a little bit.

This is a great style!
#9 – Short Quiff with Undercut Virat Kohli's hairstyle
A style that I have personally used for a long time is the short quiff. Some people don't look good with flat hair and personally I don't think Virat looks good with short hair too.
So if you want a style that makes you look better, then check out the short quiff. This is a hairstyle that is super easy to style and that you can style at home.
Your hair needs to be short throughout except on the top. When you add some gel and push it up, you have a short quiff. The undercut, again is the most in trend hairstyle this year!
#10 – Thick Quiff with Thick Beard Virat Kohli style

It's similar to the hairstyle above, except with a lot more hair. This style looks good on most Indian guys and also looks great with a beard and facial hair. If you are looking for a thicker hairstyle, then this is the one to go for!
#11 – Virat Kohli's Side Part Undercut Hairstyle
One of the best and nice hairstyles that Virat Kohli has had is the side part with an undercut. A lot of the haircuts he sports is a little crazy for the average Indian male.
The side part with an undercut is a crowd favourite where you part your hair to the side and cut the sides very short!
#12 – Virat Kohli's Pompadour hairstyle
Virat Kohli has definitely pulled off the Pompadour because of his sharp features with the long hair only in the middle and the sides looking trim.
This hairstyle exhibits his side profile in a way other hairstyles haven't. In the above picture, Virat has slick backed his hair which is sophisticated and classy.
#13 – Tousled Virat Kohli hairstyle
The tousled look is absolutely effortless. The whole point of the hairstyle is to look messy and still on point.
Clearly, Virat Kohli has nailed the look!
A tip to acquiring this hairstyle is to apply some gel on your palms and then rub it on the strands of your hair. Then deliberately messy it up in a subtle manner.
#14 – Virat Kohli fringe hairstyle
The fringe for men doesn't necessarily be a bunch of hair right on top of your eyes like it is for women.
It can be as much a part of the rest of your hair and still be the highlight.
Virat Kohli has made the genius decision to sharpen his beard in respect to the hairstyle which has his best facial features highlighted even more.
Not only has Virat Kohli emerged as a memorable cricket icon but has been a symbol of glamour for sports.
From being known as an average cricket player under the wings of Sachin Tendulkar to now being the captain of the Indian cricket team, Virat Kohli has been through it all. Here are some of his hairstyles over the years.
#15 – Short Spikes | Virat Kohli Hairstyle 2008

The short spikes version of Virat Kohli was when he was emerging into fame and I am sure we can all agree that it is nostalgic to look at this image because it reminds us of the charming boy who made his way into the Indian cricket team.
#16 – Short spikes with combed sides | Virat Kohli 2009
The combed sides with the spikes is another nostalgic image which still shows him in his emerging period. All of these images were post his sudden fame so this is a memory lane for sure.
#17 – Spikes with bubble | Virat Kohli hairstyle 2010

The bubble with spikes is the signature Virat Kohli look which although is an old look can resonate well with his fans for how smart he looked then.
#18 – Spiky quiff and trimmed beard | Virat Kohli hairstyle 2011
The quiff with spikes might not have been his recognised and famous style but looking at these images sure strikes a chord with his die hard fans.
#19 – Natural textured with trimmed beard | Virat Kohli hairstyle 2012
There is not much you need to do to achieve this hairstyle except to have wavy hair and probably brush your hair all over. This is a super easy Virat hairstyle that we all can get.
#20 – Short fade with spikes and lines | Virat Kolhi hairstyle 2013

The lines were a great addition to Virat's then look. We have to admit that it did look rebellious and very very charming at the same time. This hairstyle is still making the buzz and resonating with a lot of his dear fans.
#21 – High fade with short boxed beard | Virat Kolhi 2014
#22 – High fade mohawk | Virat Kohli hairstyle 2015

#23 – Messy undercut with thick beard | Virat Kohli hairstyle 2016
#24 – Classic undercut with full beard | Virat Kolhi hairstyle 2017
#25 – Mid fade with spikes and full beard | Virat Kohli hairstyle 2018
Check out some of the best and stylish beard styles you can try out
#26 – Classic undercut with beard | Virat Kohli Chechairstyle 2019
Who cuts Virat Kohli's hair?
Virat Kohli has had a number of celebrity hairstylists over the years. However most recently he had posted a picture of himself getting a haircut at Mumbai-based hairstylist Aalim Hakim's hair salon. So we can say that Aalim Hakim is one of the few lucky hairstylists who gets to cut Virat Kohli's hair.
These hairstyles of Virat Kohli are some of the most memorable looks the cricketer has managed to pull off and impress his fans. He sure has a style that is one of a kind.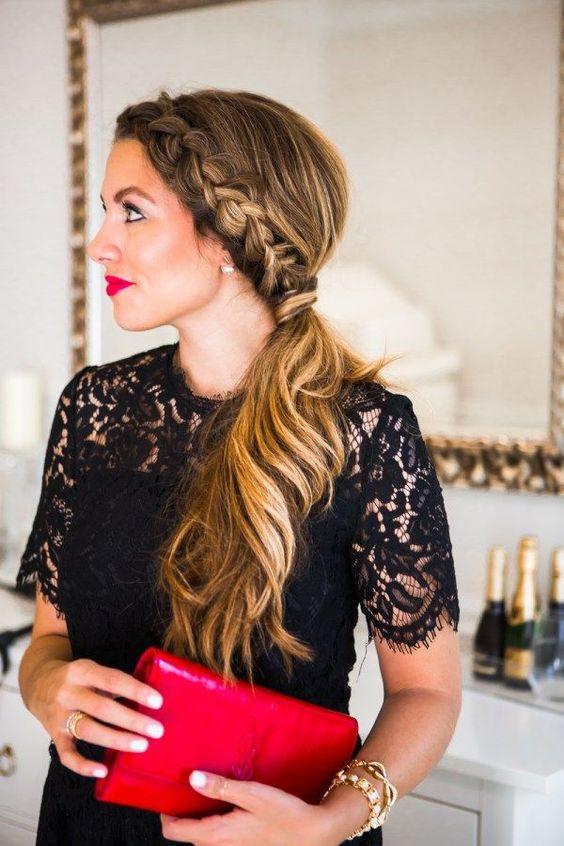 From hair care to soaring hair trends, we cover it all. We make sure you nurture your hair and stay on board with hairstyles and new hair trends. So hop on and make every day count with some of our creative and sassy hair trends.