If you have curly hair and you're not getting creative with it, you're missing out on the best part of having curls! Sure, it can get messy and unmanageable at times, but that's only because you haven't tried the half up and half down curly hairstyle yet. 
Imagine getting ready for a date and you are down with the outfit with the perfect shoes to go with it and then uh-oh, your hair is a mess. The half up and half down hairstyle will be your saving grace. It blends casual and outdoorsy in itself making it the go-to hairstyle for curly hair.
Best Half up and half down hairstyles for curly hair
Curly hair can be a boon for the hairstyles you can try out. Here is why the half up and half down is perfect for curly hair,
It tames the hair, making it look less bushy.
It is classy.
It goes with almost any kind of outfit.
It is easy and does not require much effort.
It is time-saving.
#1–Crown braid half up and half down hairstyle
The crown braid half up and half down hairstyle is a festive look that will look gorgeous on curly hair.
It gives a decorative look altogether from the front and back.
The hair below can be blow-dried or just let loose according to how your curls are.
Embracing your curls with this hairstyle can be easy as it is sure to bring out the best with its structure.
Tips
Use a hair gel or a hair spray to set the lower part of your hair.
#2–Half-up bun for curly hair
This look is chic and easy to do.
Irrespective of mood, it can play along with the occasion. All you have to do is put the effort into your outfit and this hairstyle will top it up!
It can exude subtlety and class on its own.
You can choose a messy bun or even comb the strands neatly to give the look class on its own.
You can match this look by wearing denim and a plain top.
Tips
Make sure not to make the bun too thick. Don't use more than the required amount of hair else it will look too clumpy.
#3– Braided bun half up and half down hairstyle
Although it is a little time consuming to do by yourself, it is a charming look that will make any day look gorgeous!
Braided the bun is the perfect look for outdoors. All that effort is sure to pay off!
Although you can just tie up the bun after braiding partitions of it, it can exude a whole other look when braided from the top as well.
The crown look will rock your entire look.
Tips
Start the braids on top from either end so as to create the perfect crown.
#4–Half- Ponytail hairstyle for curly hair
This high pony half updo can be the saving grace to all your parties hereon.
The look can both flaunt your curls and create a voluminous look for your hair.
The rubber band should be tied around the pony tightly so as to hold it high.
Make sure to take the right amount of hair for the pony. Too much hair or too little can cause the look to look unsettling.
Tips

Make sure to use a hairspray for the lower partition of your hair to make it look fluffy.
#5–Half-up curly bob hairstyle for curly hair
This is the best half updo hairstyles for short curly hair! It is easy to do and looks chic.
Create the half updo according to the length of your hair. It has to be proportional.
With the length of the hair, it highlights your best features since the hair is brushed backward.
This hairstyle looks effortlessly good when it is simply tied without combing it too much.
Don't worry about making it look neat, because the messier the better!
Tips
Gather the hair with your fingers rather than with the comb to create the messy look.

#6–Half up cornrows for curly hair
Highlighting your curls with cornrows is probably the best thing about having curly hair. And since it is half-updo the cornrows are highlighted even more.
The whole cornrow look can be adventurous and honestly not for everyone.
With the right amount of hair taken for the cornrows, you will be able to detect the volume of each cornrow strand. Because taking it overboard can ruin the look.
Tips
Putting it up to a bun will give it a more creative look.
#7–Pigtails with half updos for curly hair
Half-do pigtails are super cute. Period. It has a personality of its own and makes any outfit adorable.
Like the rest of the half-updo hairstyles, this one needs to have a minimal amount of hair strands gathered for the pigtails.
While gathering them up use a comb to brush it and to create a partition in between.
Tips
Make sure the pigtails are pulled further back. Let a few strands fall on your face for the perfect look!
#8–Curly Crochet Braided Half up Half down
This is by far the most unique type of half up half down hairstyle for curly hair.
Crochet braids look amazing on curly hair for its weave formula that just gives the hair a new structure altogether.
While using this hairstyle for a half up half down, make sure you know where you want the crochets highlighted because you don't want to make it look too clumpy. There has to be one side that is let loose.
Tips
Make sure you wash your hair and blow-dry it before you braid it.
#9–Twisted Half-Up half down for curly hair
Here's something creative that you can do with your half updos.
Twist the top half of your hair so as to create a casual braided look.
You can knot both partitions and intertwine it to make it one braid.
It is functional as well as casual.
Tips
Wear them with dresses rather than jeans.
#10–Messy pinned up hair with curls
An illusion of messy exuding lots of charm, this hairstyle is easy and simple.
Don't use a comb instead use your fingers to simply gather a normal amount of hair strands from the top part.
Part these into four different sections and use pins to simply pin it up. Don't worry about it not being aligned because that is the best part of this hairstyle.
You can wear this hairstyle outdoors with absolutely anything.
Tips
After you are done with the braids, use some hair spray on it to keep it in place.
#11 – Half up and half down lace loose braid
#12 – Braid variations half up and half down hairstyle for curly hair
#13 – Wild waves curly half do hairstyle
#14 – Royal half up and half down hairstyle for curly hair
#15 – Anti basic half updo for curly hair
#16 – Lazy half up and half down hairstyle for curly hair
#17 – Boho half up half down curly hairstyle
#18 – Luscious half up and half down hairstyle for curly hair
#19 – Messy braids and waves half updo for curly hair
#20 – Chunky balayage half up and half down hairstyle
#21 – Fancy french and fish half up half down curly hairstyle
#22 – Sweet bow half up half down hairstyle for curly hair
#23 – Wide crimped half up half down hairstyle
#24 – Short curly bob half up half down hairstyle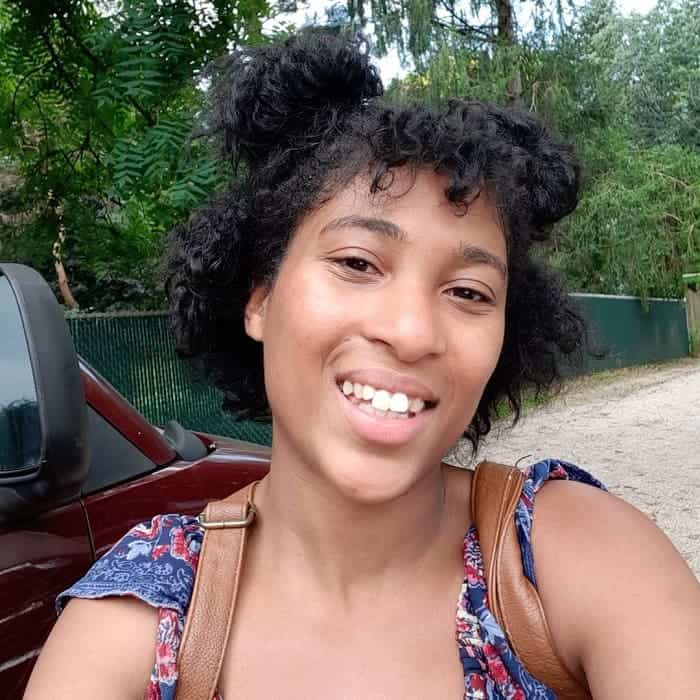 #25 – Sublte curls half up half down hairstyle
How to do half up half down hairstyle?
If you think it is hard to master and that it can't be achieved easily, you are wrong! Let us take you these simple steps to make it easier for you.
Part your hair into two, horizontally.
Brush the top part to make the upper surface of your hair smoother. If it isn't free of tangles, tiny strands of your hair are likely to come out of the bundle.
Tie it into a bun. You can either do the messy bun, the ribbon bun or just fold it into two.
If you're looking for something more subtly you can just use a rubber band and make it a half-ponytail.
The lower part of your hair can just be left as it is. Brushing it can cause frizz. Using a hairspray can also work.
Are Half up Half down hairstyles still in style?
Half up half down hairstyle has been a bold hairstyle which has been hard for various hair types to pull. Lucky for curly-haired girls, it has always been in their favor. Since curly hair is hard to manage, it tames it by parting it into two and gives a glorious look on the whole.
It is misunderstood that half updos don't go with certain outfits. But the wide range of types it has proves that statement wrong. Here are some of these types that go with different styles.

Casual
While wearing casual clothes, half up half down hairstyle is the perfect solution. The frizz calms down because of the partition and all is well! Try the pigtail half do or the half bun with casual outfits. It is effortlessly charming!
Wearing this hairstyle with denim can shatter the other looks you've been sticking to all this while.

Functional
When you have something formal to do, there are half up half down hairstyles that can make you look professional and neat. The high half ponytail and the half hair bob are the most appropriate for a formal event.

Party
Surprisingly, this goes very well for a night out with your friends. It is super convenient and looks great on party wear. You can try out the braided half up and half down which will look real class as well as fun.
How do you do half up half down curly hair?
Here is an easy way to nail a half up half down hairstyle for curly hair.
Wash your hair with a curl-enhancing shampoo and a conditioner that reduces frizz and keeps the hair from getting rough.
Comb the upper part of your hair and style it according to one of the above-listed styles.
Use a hair serum or hairspray to keep the curls intact so that they last an entire day.
Another way to make it look more functional is by adding accessories that don't look too much on your hair. You can base it on the length of your hair.
We hope these half up half downs are a solution to your confusing curly hairstyles given how easily it can be done.
Read also
Here are the best bangs and glasses hairstyles you can try out
Here are the most effective shampoos to elevate and boost hair growth