Buns have always been a symbol of sophistication and style. Over the years women have been wearing buns more than usual and it has caught up with the latest fashion trends as well.
We know how overwhelming it can get to nail a perfect bun. A messy bun or a slicked back bun for that business meeting! Not having enough options to pick from can be nerve-wracking. We have a ton of different bun styles that you can pick from depending on your features and other factors. 
Having shoulder-length hair is a boon! It is the perfect length to experiment with various hairstyles and it never has you regretting. But sometimes, it is just not possible to figure out what hairstyle to go with. We have a list of buns for shoulder length hair that you can definitely try out easily!
Hair updos for medium length hair 
#1 – Two Braided Bun for shoulder length hair

  This has got to be one of the most basic and classy buns for shoulder length. It is the easiest to achieve on shoulder length as it gives you the freedom to play around with the braids and still nail the bun. This is mostly occasional and can be worn on special events. 
Tips
Use a comb to part your hair into two and start braiding from either side till you reach the middle.
Tuck in the braids with a bobby pin.
Although you can make the bun in any way it is best if you can make a low bun. 
#2 – Stylised low bun for shoulder length hair
This low bun is a go-to if you have a business meeting or an interview and definitely completes a formal look. It is brushed back neatly and styled in the bun. You can either use a gel to keep it slick or leave it messy as shown in the picture above. 

Tips
Use bobby pins to keep your locks intact on the side. 
#3 – Messy Top bun for shoulder length hair
Being practiced by everyone this is the top of the most popular hair buns. It is perfect for shoulder length hair as it brings out the right volume for the hair. For short hair, the bun looks small and out of proportion and for long hair it is super thick and big. The shoulder length is the best length to nail the top bun. The best part of this hairstyle is that it is such a relief during summers. 

Tips
An easy way to make the perfect messy bun is to take the right amount of locks and let it loose on the sides and enclose it with the right scrunchie. 
#4 – Bun with side braids for shoulder length hair
With the looks of it, clearly this is an occasional wear and looks amazing with party wears. It makes the outfit look fancy. This bun highlights your side profile and gives a certain charm of its own. To rock the entire look, you will have to make sure the braids are on fleek.

Tips
You can do it either with two braids or one braid. Our suggestion would be the single braid as it gives a more festive look. 
Related articles
Best female Hairstyles for shoulder length hair
#5 – Lace braided bun for shoulder length hair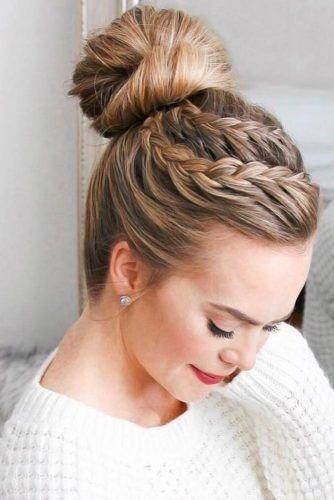 Though this is a little hard to achieve in a short amount of time, it can change your entire look. This gives a certain form to your face because of the braids that go around your face. This can be pulled off during weddings and other events.

Tips
Use a hair gel for the hair braids so that it can be more sleek. 
#6 – Stylised rope braid bun for shoulder length hair
This again is a very stylish hairstyle that can't be achieved in a short amount of time. Besides the hairstyle itself, there are a ton of things you have to do to your hair to keep it conditioned and in perfect form and shape. This is mostly used for bridal hairstyles and other such events. 

Tips
If you really want this hairstyle and you don't have the time for it, we suggest you go to the salon. 
#7 – Bohemian low side bun for shoulder length hair

The Bohemian bun is an exotic look that can be achieved easily and yet look so charming. It is the typical ' beach look' which is a fusion of casual and festive. We would suggest you leave enough locks on the sides so that it completes the look.

Tips
Use enough bobby pins to decorate the sides of your hair. The aim is to create an effortless look while also making it look festive. 
#8 – Twisted bun for shoulder length hair
The twisted bun for shoulder length hair is easy to do and looks super festive. It can be worn for literally any event and suit your mood based on what you're wearing. You can play around with how you wear it. Wearing it on the side is our suggestion as it looks exotic.

Tips
Use a hair spray to keep the locks and the braids intact.
#9 – Simple french knot bun for shoulder length hair
The french knot bun is a formal hairstyle which is the best suited for business purposes. It screams sophistication. Women can wear it with suits and even any other outfit which is mildly professional as we are sure the hairstyle will do the rest!

Tips
Use a hairspray to keep the hair intact as this hairstyle requires to be neat. 
#10 – Crown twist bun for shoulder length hair
This can be your new go-to hairstyle for any occasion!
Not only is it easy to achieve it gives your face a new form. Since the braids are formed below and around your head, it protrudes your facial features even more. Though the braids can be tricky to do by yourself, we promise you that it's worth it.

Tips
We suggest you get help for this hairstyle as it is difficult to maneuver alone.
Easy hair updos for shoulder length hair
 #11 – Asymmetrical Bun for medium hair 
#12 – Hair bun with a ribbon for shoulder length hair
#13 – DIY Braided Hair updo for shoulder length
#14 – Messy side bun for shoulder length hair
#15 – Chunky braid bun for shoulder length hair
#16 – Blonde Bouffant hair updo for shoulder length hair
#17 – Fancy rolled up bun for shoulder length hair
Source – Instagram 
#18 – Formal slicked updo for shoulder length hair
#19 – Loose bun with diagonal braids for shoulder length hair
#20 – Voluminous messy bun for shoulder length hair
#21 – Chignon for shoulder length hair

#22 – Messy wavy bun for shoulder length hair

#23 – Messy low bun for shoulder length hair
#24 – Delicate curly updo for shoulder length hair

#25 – Low flower bun for shoulder length hair
Latest hair updos for shoulder length hair

Now that we have shown you the different kinds of buns you can do with your shoulder-length hair, let us answer some basic questions that you may have ongoing about with the hairstyle. Knowing everything you need to do with your length and hair type is important before you go about trying to master the bun, so here goes. 

Is a messy bun unprofessional?
Messy buns are some of the most practiced among all buns. You're lucky if you have shoulder-length hair as it gives you the right volume for a messy bun. 
Usually, a bun is combed back for it to be professional, but a messy bun can also be professional depending on how messy you make it or what you're wearing with it. For instance, a messy bun with a tank top and ripped jeans will not be professional whereas you can match your messy bun with a tucked-in shirt and formal pants. 

How do you make your hair look thicker in a bun?
If you're someone with thin hair, we understand how difficult it is to pull off hairstyles. A bun is really out of the question for thin fine hair if not worn well.
But good for you, there are ways you can make your hair look voluminous with some easy techniques.
We suggest you go for the low bun instead of the high bun as it will not flaunt your lower scalp that much. 
Twist your hair as much as you can to create a messy look. Braids will also work in making your hair look more fuller. 
Use hairspray to hide your scalp and to keep it that way for a longer time. 
We hope these ways to style your hair bun has helped you figure out a way to get ready every morning without wracking your mind about a hairstyle!
Read also
Coolest bob hairstyles with weave for women