Recent years have seen an influx in the sales of hair wigs, not just to cover up your baldness but to make different style statements without damaging your natural hair.
Whenever you apply heat to your hair or do chemical treatments like perming or hair colouring, it takes a toll on your hair.
Wigs give you the freedom to experiment with different hairstyles without any time constraints or by sacrificing the health of your natural hair.
Celebrities like Kylie Jenner and Kim Kardashian have popularised the use of wigs as a style statement.
There are mainly two different types of wigs available in the market, Human wig and synthetic wig.
Although human hair wigs are slightly on the pricier side, they give you a natural look and feel.
Check out the best human hair wigs on Amazon.
Top Human Hair Wigs On Amazon 2021
ISEE Hair Short Bob Wig
Best Short Human Hair Wigs On Amazon
This wig is made up of unprocessed Brazillian human hair. The virgin hair has been collected from single donors and is free from any type of chemical treatment or processing. It is suitable for all hairstyles including curly hair even when it is wet.
This wig is easy to handle because it is tangle-free, clean, natural, soft, easy to comb and causes minimal shedding. It can also be styled in different ways such as dyeing, curling, bleaching etc.
The quality of these strands are really good and it will give you a natural and voluminous look.
It is recommended to wash your hair twice a week and not hold your hair upside down while shampooing since it might cause tangles. It is also important to dry your hair completely to prevent moulds.
Hermosa Lace Front Human Hair Wigs
Best Lace Front Human Hair Wigs On Amazon
This hair wig is made up of 100% unprocessed human hair with no blends or synthetics. 
These are pre-plucked straight human hair with baby hairs to achieve that natural and authentic look. It comes with lace that is a strong medium brown shade.
It also comes with adjustable straps, baby hair, elastic net and combs that help in securing the wig perfectly. The hair colour is natural black however, you can dye it or colour it as per your preferences to achieve specific styles.
It is important to make sure that you detangle your hair before washing to avoid tangles and breakage.
This is a great choice if you are looking for an affordable, voluminous human hair wig, this is a great choice and it guarantees up to 220% density.
Kun GangStraight Highlight Wig
Best Highlighted Human Hair Wigs On Amazon
This is a great choice for someone who is looking for a natural highlighted wig. It also has enough parting space which means that you can part your hair however you want.
The wig comes with a 22.5-inch medium-sized cap, adjustable straps and combs which help in tightly securing it to your head.
The thick and voluminous wig gives 150% density and looks exactly as depicted in the picture.
The highlights are blonde and it has been rising in popularity over the years. It is also cheaper as compared to its counterparts.
This wig can also be styles, dyes, curled or bleached according to your likes. It also has baby hair and light bleached knots that help in avoiding shedding.
Releek Human Hair Deep Wave
Best Deep Wave Human Hair Wigs On Amazon
This wig has a beautiful curly texture and it's length varies from 10 inches to 26 inches. This is a 100% unprocessed Brazillian Virgin human hair that is sourced from a single donor.
You can style it in different ways such as perming, dyeing, bleaching, highlighting etc just as you would do with your natural hair.
It gives you about 150% density and is 16 inches long. It also has two velcro adjustable straps that can be intertwined to a fixed position.
It can also be adjusted according to different head sizes. The swiss lace is medium brown in colour.
Liwihas Silky Brazillian Straight Human Hair Wig
Best Brazilian Human Hair Wigs On Amazon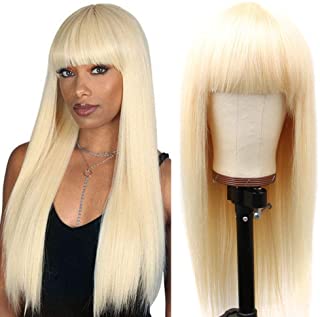 This human hair wig is a 100% unprocessed straight Brazillian hair that comes with bangs. It is soft, fluffy, light and bouncy hair that can be handled with ease.
It offers 130% density and comes in a natural black colour (but blonde, brunette versions are also available). The wig length ranges from 14 inches to 26 inches.
This is a machine-made human hair wig, hence it doesn't come with lace.
This wig can be used for a long time. It can be styled in any way but make sure the temperature doesn't exceed 150 degrees when being heat styles since it can shorten the lifespan of the hair. 
Also. make sure you use a wide-tooth comb to untangle the hair before showering since it could prevent tangles and frizz. Avoid combing wet hair since it could lead to breakage.
CYNOSURE Lace Front Human Hair wig
Best Curly Human Hair Wigs On Amazon
The texture of this wig is beautiful curls that are well defined to make heads turn. These are pre-plucked wigs with baby hair on the front and back that look natural. It has a 150% density that makes the hair look voluminous.
This is a high-quality wig that is natural, silky, soft, shedding-free and tangle-free.
The lace is brown in colour. It also comes with four combs and elastic straps that help in securing it well to your head.
It also has six adjustable straps on the back that helps in fitting it to any head size.
Make sure you do not use a comb on this wig. You should gently use your fingers to untangle your hair. Soak the wig in water mixed with a mild shampoo to clean it.
 Kun Gang Transparent Deep Part Wig
Best Deep Part Human Hair Wigs On Amazon
This is an affordable wig that has a deep parting. It enables you to part your hair however you like since the parting space is big and long.
The swill lace attached with the wig is light, soft and looks almost invisible. So it blends with your skin colour really well.
This wig is made up of 100% unprocessed Brazillian hair and is naturally black in colour. It can be dyed, permed, curled or styled as you would do to your hair.
Its cap size is 22.5 inches and it is a glueless lace wig that comes with combs and adjustable straps.
SuperNova Burgundy U-part Wig
Best U-Part Human Hair Wigs On Amazon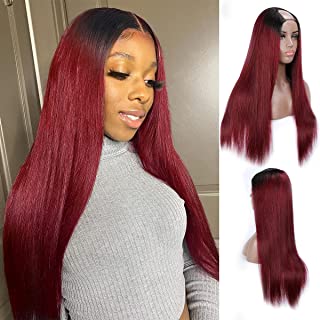 This is a Burgundy coloured wig with an Ombre effect made up of human hair. This is a clip-in wig that doesn't require glues, braids or sewing to secure it on your head.
This protects your hair from damage that could be caused by the other methods of attaching wigs. 
This is also convenient to use and much more steadier than the other wigs.
The "U" shaped opening can be adjusted according to your head and hair which makes it easier to blend your natural hair and wig seamlessly while exposing your natural hairline.
This is a grade 8A 100% human virgin hair that is obtained from a single donor.
It comes with six clips attached to it that help in securing the wig firmly on your head and reduces the risk of the wig slipping off or moving from the head. 
SUYYA Rose Pink Lace front wig 
Best Colored Human Hair Wigs On Amazon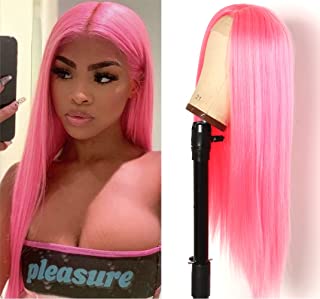 This wig is made up of 100% unprocessed Brazillian virgin Remy human hair. It is 10- 12 inches in length that is in the form of a short bob.
It comes in a Rose pink colour and it can be dyed, bleached, curled and styled however you desire. 
It gives 150% density to your hair and has a middle-parted hairline. The wig is free from chemical processes, synthetic hair mix, tangling, shedding and lice.
The T1B colourful hair root makes your hair appear natural, real, soft, healthy and glossy. The wig is available in different colours such as blonde, hot pink etc. 
How to choose the best human hair wig on Amazon?
You can keep in mind the following points when you go shopping for a wig next time.
Hairline Density: Synthetic wigs usually have noticeable and big knots in the hairline so hair experts recommend at least 115 to 120 percent density in the frontline and you can customize the wig yourself using a pair of tweezers to make it look less bulky.
Lace Types: There are also Swiss, French and HD lace types available in wigs and although Swiss lace is a little thick, it is more durable and the French lace may be the least realistic wig among the three types. Human hair is the perfect choice for a wig but it is a little more expensive.
Head Size: If you want a natural-looking wig, keep in mind to measure the circumference of your head before purchasing a wig. It does not matter how good the product is, you will not be happy if it does not fit.
Reviews on Amazon: The most important thing you can do is check reviews of the product on Amazon as although the product may look attractive, the ratings and comments can tell you otherwise.
How to take care of human hair wigs?
Although human hair wigs look really natural on your head, it requires some amount of maintenance to make sure that it lasts long and looks great even after prolonged use.
It is always recommended to remove tangles before washing. Allow the water to run from roots to end while cleaning it. Make sure to not twist or wring.
It is best to remove the wig while sleeping, showering or doing physical exercises since it could damage the wig. It is also best to store the wig on a wig stand so there are no kinks or crimps.
If you are styling the wig using chemical processes such as dyeing, perming, colouring etc, get a well-experienced stylist to get the job done. It is always best to avoid lifting or bleaching human hair to prevent dryness and damage.
Also read
Best conditioners for color treated hair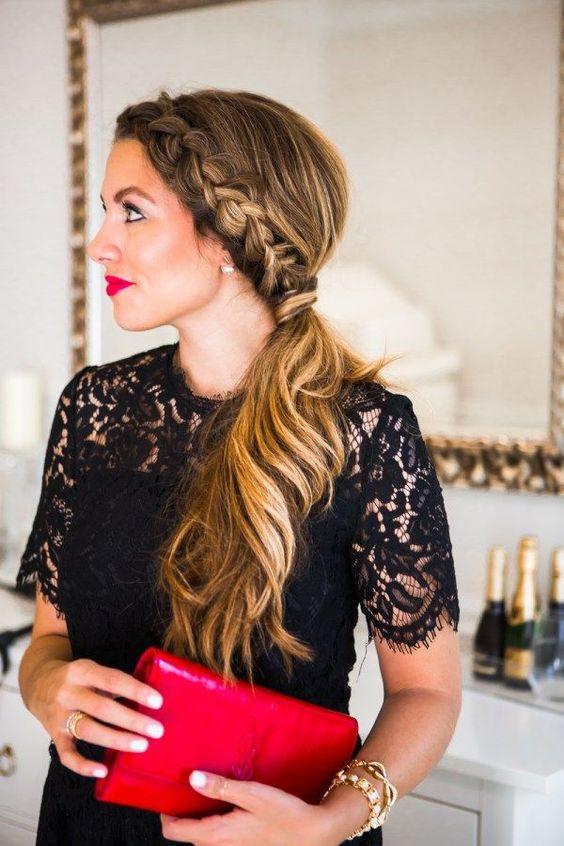 From hair care to soaring hair trends, we cover it all. We make sure you nurture your hair and stay on board with hairstyles and new hair trends. So hop on and make every day count with some of our creative and sassy hair trends.