Do you know who deserves more recognition? Hair clips! I mean, where would girls be without them? The different types of hair clips are what keeps our hairstyles looking as good as they do.
It doesn't matter if you're a messy bun person or a perfectly-blow dried waves person, the right hair clips can take them to a different level. 
These clips were a huge thing back in the 80s and 90s but lately have made a comeback in the fashion scene. And boy, aren't we glad for it!
There are different types of hair clips for short hair, curly hair, bangs and more. While chunky, colourful clips were the flavour back in the day, now you can find hair clips in different shades and designs. Love bling?
There are hair clips with rhinestones. Like experimenting with curls? There are clips for that too. Want to make a statement out of your hair? Guess what? Some hair clips literally spell out words for you. 
It can get a bit overwhelming, looking at the sheer variety of hair clips. And yes, we know what you're thinking, but hair clips are not all the same.
We thought we'd make it a bit easier for you, so we made this list of the types of hair clips and our favourites amongst them. Take a look! 
Types Of Hair Clips 2021
Claw Hair Clips
Claw clips are probably the first thing that comes to people's minds when talking about hair clips. These are designed with two large tooth-like combs held together with a spring. Now the spring allows the teeth to open and close, securing your hair in place.
Claw clips, especially the large, chunky ones were all the rage back in the day. But if you want something more modern and elegant, we suggest you try these slender, metal claw clips from Willbond.
They are sleek, durable and do not slip-off your locks easily. We love how this pack of six contains clips in chic colours like rose gold, gold, silver and black – a far cry from the dramatic designs of the 80s. 
Hairstyles:
Claw clips are great for holding up ponytails, sleek updos and messy buns.
Snap Clip
Who doesn't remember the snap clips from childhood? Looking back, we think almost all of us used snap clips when we were younger.
But this doesn't mean they are limited to a high schooler's wardrobe. Snap clips or contour clips are just as fashionable for adults.
The best thing about these clips is how convenient they are. You can use the snap clips to fix your overgrown bangs to one side. Or secure flyaways on a windy day. They also come in different sizes. So you can use it for all kinds of girly hairstyles.
We love this pack of 60 multicoloured snap clips from Asfos. They are high-quality, designed to be non-slip and suit all hair textures, whether it's curly, thick, fine or coarse. These snap clips come in 15 bright tones to go with your outfits.
Hairstyles:
Snap clips are great for bangs, loose curls or waves and puff hairstyles. The smaller snap clips help fix flyaways and loose strands in elaborate updos, braids and twists as well.
French Barrette Hair Clips (Classic Hinged Barette)
When it comes to different types of hair clips, the hinged barrettes are something of a classic. These hair clips are usually made from plastic and contain two separate parts held together by a hinge.
One part goes under the hair and over clamps over it to secure your tresses in place. Hinged barrettes were very popular for kids some years ago.
And they probably still are for some adults. While most of these hair clips were the plain, black kind, a lot of variety could be found today.
Our favourites are these Geyoga vintage hair barrettes. The intricate floral design and bronze colours are just the thing to add magic to your fancy updo.
They're perfect if you're looking for an elegant yet simple touch to your bridesmaid bun. Or if you're putting together a dreamy prom updo.
Hairstyles:
You can use these hinged barrettes for pinning back straight hair or loose waves, accessorizing an updo or holding a bun or braids in place.
Banana Clips
Ask any woman with long, thick hair what her favourite hair accessory is, and she is sure to say banana clips. About six inches long, banana hair clips are designed with teeth on both ends that help hold the hair in place.
If you've got naturally curly, 3a, 3b or 3c hair textures, then banana clips are your best friends.
We like this set of four banana clips from Willbond as they don't pull, damage or wrinkle hair despite being firmly non-slip. They have also got a rubber band at the end that helps secure them in place.
And since the four clips come in different sizes, they suit multiple hair thickness and textures too. 
Hairstyles:
Banana clips are perfect for putting curly Afro hair in buns or puff ponytails.
Alligator Hair Clips (Sectioning Clips)
Alligator clips are not just hair accessories, but they are styling tools too. They open and close with the help of a spring at the end. These clips also have a serrated surface to keep the hair secure. If you love experimenting with curls and blowouts, having alligator hair clips handy is a must.
We recommend this pack of 50 metal hair clips from Marrywindix. They are just the right size for both sectionings and keeping hair off your face throughout the day. These alligator clips come with wider teeth that latch securely to all hair textures and an extra-secure grip that prevents them from slipping.
Hairstyles:
Alligator clips help section hair while curling, straightening or colouring. They are great for holding loose strands away from your face while you're doing makeup, washing your face or working out.
Duck Bill Clip
If you want to ditch the salon and try your hand at colouring and styling your own hair. We say, good for you! So you've got your hairsprays, serums, scissors and blow-dryers. That's all you need, right? Well, not exactly. Don't forget these duckbill clips.
These simple clips can make styling and trimming hair so much easier. They're designed like alligator clips, only a bit longer and are great for sectioning large portions of hair.
We recommend this Glamfields set of 15 duckbill clips. They are professional grade, have a sturdy metal spring and come with a non-slip design. What's more, they hold up your locks without damaging or twisting them, even if the hair is wet.
Hairstyles:
Duckbill clips are more for hairstyling than for hairdos. But if you're at home and need something to keep the hair off your face, go ahead. It's not a crime. 
Double Prong Curl Clip
Like the duckbill clips, the double prong curl clips are also more for styling your hair than holding them up securely. They do not have any teeth on them, making them perfect for sectioning wet hair without curling or texturing them. Double prong curl clips are also great for holding curls in place on a roller and securing finger waves till they dry.
Check out this pack of 50 metal hair clips from Pangda. These double prong curl clips are rust-proof, have a smooth surface and are designed with a durable grip.
Hairstyles:
With the help of double prong curl clips, you can create finger waves, pin curls, and more.
Minimalist Hair Clips
Does your mind immediately flash to the chunky and gaudy accessories of the 80s whenever "hair clips" are mentioned? Well, we can't blame you. But be assured that today's hair clips are nothing like their vintage counterparts.
Check out these Jaciya minimalist hair clips for a more elegant twist to the chunky accessories. The pack of 15 hair clips come in simple geometric designs like squares, triangles and stars.
They're easy to use and hold your hair securely in place too. If you've got a friend's wedding to attend or have a fancy banquet to go to, just use these clips to keep your stylish hairdo in place.
Hairstyles:
These clips are great for buns, pinning up bangs or loose hair, half up half down hair and more.
Embellished Hair Clips
Embellished hair clips can come in any form. Mostly they are either barrettes, snap clips or alligator clips. If you're thinking why these are on our list, it's simply because we love a bit of glam and glitter on hairstyles. Embellished hair clips can have rhinestones, glitter, or even pearl decorations on them.
Check out this colourful, rhinestone-studded set of five barrettes from Okdeals. They're comfortable to wear and look just amazing on that party or prom dress. These clips are lightweight, non-slip and suitable for all hair textures.
Hairstyles:
Use these clips to secure elegant messy buns, elaborate updos, or simply pin-up bangs or hair strands on open hairstyles.
Bobby Pin
Okay, so there might be some debate about calling bobby pins "hair clips" as they don't really "clip" on to your hair. But they're such an essential part of hairstyling that we felt this list wouldn't be complete without them.
The bobby pin is a wavy, double-pronged pin that slides into place on your hair. Traditionally, bobby pins have been simple in design with black or neutral colours. But of late, they've evolved into a fashion accessory.
Like these glittery Messen bobby pins with letters spelling out 'GLAM', 'SWEET', 'LOVE' and more. They give a glamorous twist to the humble bobby pin. The pack of 28 pieces are perfect for adding a little bling to your hairdos.
Hairstyles:
Bobby pins are used to hold flyaways, loose strands, elaborate updos and even claw clips in place. The more stylish, rhinestone-studded or word clips, can just be slid on the parting as a fashion accessory.
Theme Clips
Theme clips could be in any form really – barrettes, pins or alligator clips. What sets them apart are the funky designs on them. And boy, are some of the designs eye-catching! We're talking polka dots, hearts, flowers, pop-culture characters and references. Phew!
Our favourites from theme clips just happen to be these Halloween-inspired ones from Lurrose. There's a pumpkin, a black cat, a witch's hat and all the other spooky essentials. We liked how the clips are cloth-covered too, which makes them gentler on kids' hair.
Hairstyles:
Everything really! These hair clips can be added as an accessory to short, long, curly or braided hair.
Butterfly Hair Clips
Butterfly hair clips are the miniature version of claw clips. They are also the preferred hair accessory for the toddler and pre-teen demographic. But that doesn't mean you cannot flaunt them with style too. These clips are called so because they mostly come in the shape of a butterfly.
They are great for securing flyaways, holding slender twists or braids together or simply as an ornament on your updo.
Our favourite butterfly clips are this adorable set of 18 clips from Manipepe. We love the vibrant, candy-toned shades and durable material.
Hairstyles:
Butterfly clips can be added to twisted strands on loose waves or curls, to the ends of front two-braids hairstyles or used as accessories on crown braids or cornrows.
U-Shaped Hair Pins
U-shaped pins on the first glance will look just like bobby pins. But the pins are actually wider than bobby pins. So they can hold thick hair with ease.
They are also stronger and hold up hair better. So you can use them for complex hair dos.
Bumpit Hair Pins
Bumpit hair pins will literally give your hair a "bump". They are just like hair combs but instead of being decorative, they come with a bunch of faux hair or sponge that will give your hairstyle a lift.
If you want to create 60s style beehive or a puff hairstyle, this is a good hair clip. You don't need several clips or hairsprays to pull it off.
Bumpit hair pins will slyly do the job for you.
FAQs about the types of hair clips
We think hair clips are often ignored as people tend to focus more on the products used on their hair. But in all honesty, clips and pins can make the difference between an elegant princess-style updo and a wicked witch-style mess. So to help you make the best of your hair clips, we've tried answering a few questions we often hear about them.
#1 – How do I get hair clips to stay in place on fine hair?
Ever put on a hair clip or barrette in the morning only to find it slipping off constantly and finally falling on a pavement somewhere? I think all the girls with fine hair can relate. Don't worry. We've got a few tips for you:
The first thing to remember is to clip back the correct portion of hair. If you take too little hair, the clip or barrette will slip off easily.
And too much hair escapes from the clutches of your hair clips, causing your entire hairstyle to unravel. A simple trick is to take the hair, which is the same as the width of the clip.
Another easy way to keep your hair clips in place is to use good, old-fashioned hair spray. A
fter you secure the barrette in a section of hair, use hairspray or texture spray to secure its hold. If you don't have hairspray on hand, you can always place a bobby pin underneath the barrette to prevent it from slipping off. 
#2 – Can I use hair clips for sectioning?
They aren't just a fashion accessory, some types of hair clips, like duckbill clips, prong clips and alligator clips are perfect for sectioning the hair.
Most professional stylists use these clips while they're cutting, colouring or styling your tresses. But if you've decided to take matters in your own hands, it's important to have the right tools in place.
#3 – Which hair clips are good for curly hair?
If you have naturally curly hair, hair clips can be a blessing. There are so many hairstyles you can do with natural hair. Trying out dreads? Use prong clips to help secure the roots while you're twisting the strands.
They are also great for securing strands on hair rollers overnight. Prong clips can also be used to twist hair into pin curls after straightening and curling.
And if you like the smooth, half-up half down styles instead, then alligator hair clips are your best bet. They are perfect for holding large sections of coarse, thick hair in place as you blow-dry or straighten them. 
As far as accessories go, hair clips will always hold a special place in our heart. And it's not just the 90s nostalgia speaking. These clips are dead useful and look amazing when styled right.
With our pick of the different types of hair clips, you too can jump the hair-clip bandwagon and join the ranks of celebrities and Instagram influencers. These versatile accessories are perfect for all types of looks and hairdos. 
Also read
Best hair vendors on AliExpress
Top Keratin shampoos for damaged hair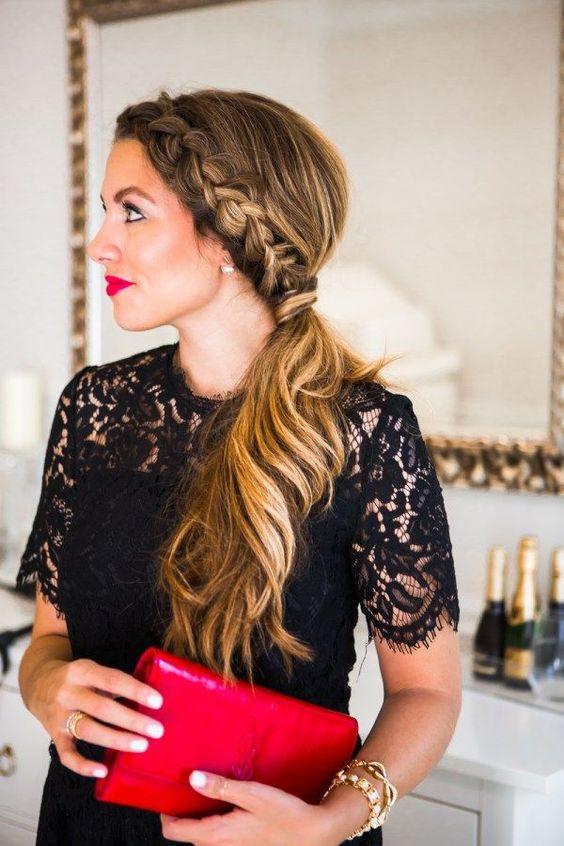 From hair care to soaring hair trends, we cover it all. We make sure you nurture your hair and stay on board with hairstyles and new hair trends. So hop on and make every day count with some of our creative and sassy hair trends.