A hair wax is a hair styling and setting product that has a thick, clay-like consistency that helps in achieving specific styles. It usually helps in giving a light hold to your hairstyles for a long time by moulding and shaping it. You can use the hair wax to give texture to your strands, bring volume and decrease frizz. It is usually made up of ingredients like Beeswax, Japan wax, Candelilla wax, Emulsifying wax etc.
Hair wax is not a common product in a girls vanity bag.It is commonly used by men to style and set their hair but we can see a lot of women depending on hair waxes to hold their hairstyles in recent times. The right amount of hair wax can let you whip up quick and simple hair styles over a matter of time.
Related: Best Hair Wax For Pixie Cut
Related: Is Hair Wax For Frizzy Hair
How To Use Hair Wax For Women with Pixie Cut
The hair wax is a very versatile product that lets you style your hair in your comfort. You can use certain hair waxes to restyle your hair even after you have used the product and styled your hair already. It can be used on both dry or damp hair so if you are running late, you do not have to go through the pain of drying out your hair before styling them. A little goes a long way when it comes to hair waxes.
How to use hair wax on damp hair
Take a dime size of wax in between your palms and rub them together. Apply it to towel-dried hair and it will settle while the hair naturally dries. You can also use a dryer to dry your hair after applying the hair wax.
You can either use your fingers or a comb to apply it on your strands, just make sure that you dispense the right amount of hair wax so the hair doesn't look greasy or weighed down.
Check out the best dry shampoos for colored hair.
How to use hair wax on dry hair
Warm the hair wax between your palms and use your fingers to apply it to your strands. Warming the product helps in avoiding any snagging and pulling that might occur.
It is recommended to handle your hair gently while applying the wax so that the style is not compromised. You can also use your fingers to achieve twists or curls at the tip of your hair.
A hair wax can be a prerequisite to perfect a lot of updos and styles. It makes your hairstyle last longer and appear fuller while maintaining the texture of your hair. You can apply the wax at the end of longer hairstyles to get a neat look. If you are looking to get a beachy look, you can just apply some wax at the end of wet hair. As the hair dries, the ends of the hair take on a beautiful wavy texture.
Let us take a look at some of the cool hairstyles you can perfect at the comfort of your home using a hair wax:
How to use hair wax for short hair
The hair wax can bring in the much-needed definition and texture to those with short hair.
You only have to use a pea-sized amount to get your desired look. A hair wax helps in easily achieving the spiky style on short hair in a matter of time.
Apply the wax evenly on your palms before starting to distribute the product evenly on your hair from the nape of your neck.
Check out the best short hairstyles for Indian women.
How to use hair wax for Pixie cut
It can be hard to tame a pixie haircut because of the small and uneven strands.
There is also a chance of having flyaways with this haircut. A pixie cut is one of the most popular styles that can be refined using hair wax.
You can make yourself look put together and sleek, or go for a lazy and tousled just-rolled-out-of-bed look with the help of wax.
Distribute the product evenly on your palms before working it through your hair. It is also recommended to focus on the front part of your hair while applying the wax.
If you tend to have wavy or curly hair, you can scrunch your hair for some added definition and character. Use your fingers to twirl your hair to perfect those bouncy curls and waves.
How to use hair wax Bob cut
Bob cuts are usually a low-maintenance hairstyle but they tend to have annoying flyaways that can be easily tackled with the help of a Hair wax. If you are looking to get definition, heat the hair wax by rubbing it between the palms of your hand and then apply it from the mid-lengths to the bottom.
You can also apply the wax after blow-drying your hair on shoulder-length bobs. It gives a good definition and texture to make it look sleek. If you tend to have soft and fine hair, you only need to apply a very small amount
How to use hair wax Lob cut
Lob cuts are bobbed hair that is longer than your average bob. If you are too lazy to wash your hair, you can opt for a wavy look with the help of hair wax. Apply the product in the palms of your hair and rub it together before working it through your hair. You can scrunch your hair using your fingers to get the wavy texture.
The wavy lob is one of the popular hairstyles this season and can make heads turn with minimal effort. You can also achieve this by styling your hair using tongs or other curling products and then applying the wax for a finishing effect.
How to use hair wax for Straight hair
If your hair is stubborn and tends to go back to its wavy or curly texture a few hours after a blowout or flat ironing, you might have found the solution for it. Applying a hair wax right after blow-drying or styling your hair straight can prolong the structure and definition of the style to make your hair look smooth, sleek and free of flyaways.
Here's how you can choose a hair straightener.
How to use hair wax Dreadlocks
Dreaded hair can look untidy and directional after some time and it can also start having a lot of flyaways. A hair wax can help in binding the loose dreads to make them look neat and tidy. There are also specialised hair waxes available for dread hair to hold it together and maintain the dreads.
Make sure your dreadlocks are completely dry before applying the wax to avoid any musty smells that may arise. Apply the wax on knotted up hair to keep the knots in place.
Check out the best black ponytail hairstyles.
How to use hair wax Curly hair
A hair wax is a staple in a lot of curly-haired girls' hair care routine because of its ability to give hold and definition. It is important to maintain the texture of curls to make sure it looks good. The key is to find the right product that does not weigh down your hair or deflate your curls.
You can also use your fingers to twist your ringlets after applying hair wax to get some texture. Look out for waxes that have a rubbery texture instead of opting for something that is creamy or pasty.
It is important to find a product that feels lightweight on your fingers. You can also replace the hair wax with a mousse if you have short curly hair to maintain the bounce of your ringlets without compromising on the texture.
Check out the best hairsprays for curly hair
How to use hair wax for Braids
A hair wax can help in maintaining your braids by preventing flyaways. It also helps in easing the process of braiding by giving more grip, shine and texture. It is recommended to spritz some hair wax before you start braiding your hair for the best results.
Best hair wax for female
Hair waxes can play a role in disciplining your hair and adding that extra shine and texture. Let us look at some of the most effective hair waxes available in the market:
Tigi Bed Head manipulator
This cream helps in achieving maximum texture. It is important to start with a small amount and take more if needed so your hair doesn't end up looking greasy. It also helps give a firm hold to your updos and makes your hair look thicker.
Paul Mitchell firm style dry wax
This is a moldable hair wax that contains emollients and softening agents. It guarantees to provide a long-lasting hold while making your hair look matte. It also has a soft floral scent of watery greens and lily of the valley that leaves your hair smelling fresh throughout the day.
Check out the best hair mousses for wavy hair.
Paul Mitchell Flexible Style spray wax
This hair wax comes in the form of a spray and can be easily used for all hair lengths and textures. It helps in getting a satin finish while reducing frizz and gives a bendable texture to your strands.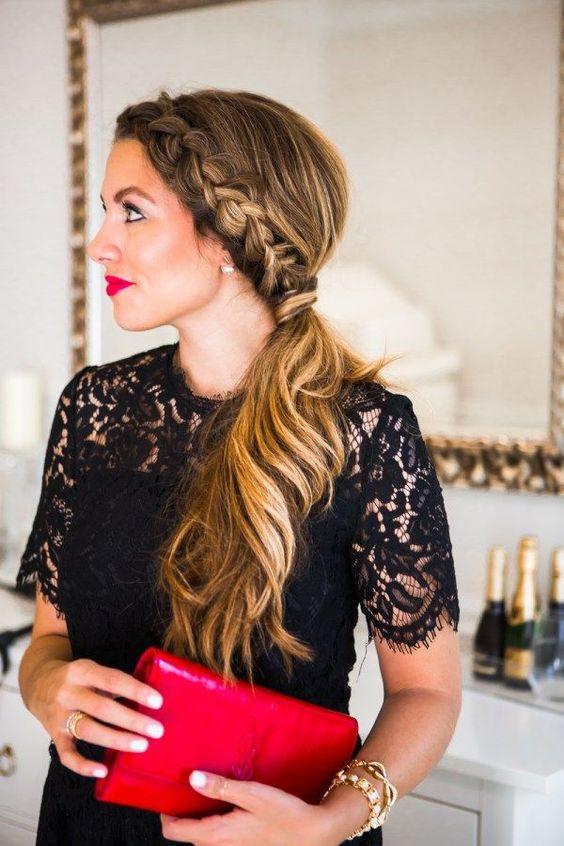 From hair care to soaring hair trends, we cover it all. We make sure you nurture your hair and stay on board with hairstyles and new hair trends. So hop on and make every day count with some of our creative and sassy hair trends.