Wahl made the first ever hair clippers back in 1919. So I trust the Wahl clippers more than any other brand.
This American company is based in Illinois and now has over 4000 employees worldwide.
Wahl has a long range of hair clippers and other grooming products for men.
You can find both corded and battery-operated, cordless clippers in their list of products.
These Wahl clippers are suitable for both home use and for professional barbers. 
Is Wahl made in China or USA?
Wahl is an American company that was founded in Sterling, Illinois in 1919. While the company has manufacturing facilities in various countries around the world, including China, some of their products are still made in the USA.
It is important to note that not all Wahl products are made in the USA, and the country of origin may vary depending on the specific product. If you are interested in purchasing a Wahl product that is made in the USA, it is recommended to check the packaging or product information to see where it was manufactured.
How I tested the best wahl clippers?
Wahl has an extensive list of products. I picked out the more popular ones and tested them on the following parameters with help from our team. We then rated them on a scale of 1-5.
Power – The clippers were tested for their power and capability in shaving off hair, even thicker, coarser hair with ease.
Price – A good hair clipper should be affordable, especially if you're going to be using it at home.
Attachments – A lot of hair clippers come with different comb lengths and attachments that help you create different hairstyles. This adds more value to the hair clippers.
Longevity – Here we looked for an extended warranty period and clippers that ran for a long time without needing much maintenance or repair.
Types of Wahl Clippers
Let's take a look at the best Wahl clippers in the market today!
The Wahl Professional Cordless Magic Clip
Best Wahl Clippers For Fades
This hair clipper by Wahl is a limited edition metal product. It's a great choice for both professionals and beginners.
The Professional Cordless Magic Clip is operated with a lithium ion battery. So you'll find that it's very easy to use and can fit easily in your suitcase when you travel.
What impressed me the most about these Wahl clippers was the staggered tooth blades. They have zero overlap and come with a very convenient taper level.
So if you love getting fades or tapered hairstyles then this is the best hair clipper for you.
Along with the clipper you also get attachments like the 1/16″, 1/8″, and 3/16″ hair combs. These combs help you cut multiple hair lengths with ease.
So this Cordless Magic Clip is a good pick for shorter hair as well.
There is also a cleaning brush, polishing cloth, and blade oil that makes maintenance easier.
The only problem with this clipper is that the battery doesn't last a very long time. And as it drains the power of the blade reduces as well.
Pros:
Good for fades and tapers
Staggered tooth blades
Metal body
Multiple comb attachments
Cons:
Rating – 4/5
The Wahl Clipper Elite Pro Model 79602
Best Budget Wahl Clippers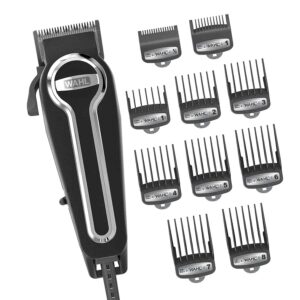 A lot of professionals prefer using powerful, corded hair clippers. But they are not very easy to operate.
But the Wahl Clipper Elite Pro manages to combine power and ease. So if you're a beginner who wants a no-nonsense, efficient hair clipper, this is the one.
These clippers come with more than 10 styling combs, which makes it easier to use them on any hair length.
Another thing that I like about this clipper is the self-sharpening blades. You don't need to unscrew the blades and go through a whole deal of trouble trying to sharpen them.
A great relief for someone who doesn't know how to (or want to) deal with all the hassle of maintenance.
This product has a limited lifetime warranty. But only if you use them as personal hair clippers. Despite being corded, they are not for professional use.
The Wahl clippers come with styling combs, scissors, cape, blade oil, cleaning brush, blade guard and a drawstring pouch to store all of these.
Pros:
Affordable
8-foot cord
Protective blade guards
Self sharpening blades
Powerful motor
Cons:
Not for professional use
Motor gets overheated
Rating – 4.5/5
Wahl Professional 5-Star Series Lithium-Ion Detailer
Best Professional Wahl Clippers
These Wahl clippers are the ultimate barbers tool. But if you love experimenting with your beard styles at home, you can try them as well.
The Wahl Professional 5-Star Detailer is amazing at creating sharp lines, precise facial hair detailing, and giving a close trim.
It's speed is unmatched and at 5000 RPM, perhaps the best out of all the products on this list!
This T-blade detailer is very easy to use as well. Despite having such a powerful motor it is very lightweight and can be easily maneuvered by your hands.
The 8-foot cord also helps make manipulating the hair clipper easier.
There are three different types of hair combs to help in cutting different lengths of hair. And there's a cleaning brush and blade oil to help maintain your clippers.
We do think the number of blades could have been more as this is a professional clipper, but it's obvious the clippers were made specifically for detailed trims and short hair. So I'll give it a pass.
Another downside to these clippers is the quality of the cord. If you're not careful the cord can break quite easily. The blades are also more prone to rust.
If you love a crisp beard or sharply-detailed lineups, this is a great hair clipper.
Pros:
Powerful motor with high speed
Ergonomic design
High precision blades for lineups and trims
Adjustable T-blade design
Cons:
Cord could have been better
Not for amateur use
Limited hair combs
Rating – 4/5
Wahl T-Styler Pro Model 9686-300
Best Corded Wahl Clippers
If you're looking for an everyday hair clipper that is both cheap and efficient then this is it!
I just loved how these Wahl clippers can multitask. They are hair clippers, beard clippers, and detailers in one.
The T-blade comes with 0.2 millimeter, zero overlap blades that help give fine, precise lines and a close trim.
These are high carbon precision ground blades, so they stay sharper than most other clippers.
What's more, these hair clippers come with 12 adjustable combs ranging from 1.8" to 1". So you can use them to cut a variety of hair lengths.
The powerful rotary motor helps cut through thick, coarse hair easily, which means you can use it for African American hair textures.
This grooming set includes not only the clippers and attachments, but also a beard oil, cleaning brush, beard comb, beard brush, and scissors.
All in all, this is one of the best Wahl clippers out there. But not even this T-styler is without its share of drawbacks.
Despite being a corded hair clipper, this product is quite slow. It's very precise, but it's slow.
It might take you several minutes if you're going to shave completely and balding can be a huge ordeal.
Pros:
Removable high-precision blades
12 attachment combs
Good for African American hair textures
Comes with comb, brush, and blade oil
Affordable
Cons:
Not travel-friendly
Clippers are very slow
Rating – 4.5/5
Wahl Professional Super Taper II Hair Clipper
Best Wahl Clippers For Black Hair
This Super Taper Hair Clipper comes with a 5000 RPM electromagnetic motor, making it one of the more powerful Wahl clippers on the market.
As this is a full-size clipper, and was designed for professional use. So you might have to take some time to get used to operating the clippers at home.
What I liked about this product is that it's suitable for both dry shave and a wet shave.
There are also 8 different attachment combs ranging from 1/8 inch to 1 inch in length. So you can use it on a variety of hair lengths. The 8ft cord also makes maneuvering easier.
The power of the motor and sharp precision blades make it one of the best hair clippers for coarse and coily African American hair.
I did notice however that the blades require a lot of maintenance and can get dull very fast.
Pros:
Powerful motor
Good for black hair
Long, 8ft cord
Can be used for wet and dry shave
Cons:
Blades can get dull very fast
Size not travel friendly
Rating – 4.5/5
Best Wahl Clippers Buying Guide
Before you get down to buying a pair of Wahl clippers for yourself. Here are a few things to keep in mind.
Cord – You need to decide beforehand if you want a battery operated hair clipper or one with a cord. Battery operated clippers are more versatile and compact while corded clippers are more powerful.
Accessories and attachments – It's also important to see what kind of accessories you get with the hair clippers. Some products offer blade oil and brushes and other maintenance accessories while others give you grooming accessories like beard brush and comb as well
Guide combs – If you're a professional then you'd require guide combs of different lengths to satisfy your clientele. However, just 3-4 combs are enough for home use, especially if you always keep your hair a certain length.
Price – A quality hair clipper will cost more but will last you for a long time, so don't skimp on the price. Also note if the price you're paying will match the number of accessories, combs, etc. you'll be getting along with the clippers.
Conclusion
That concludes my review of the top Wahl clippers. You can select among these products, a clipper that best suits your needs and budget.
There are several great companies that cater to men's grooming needs. But Wahl is among the oldest and most-trusted of these brands.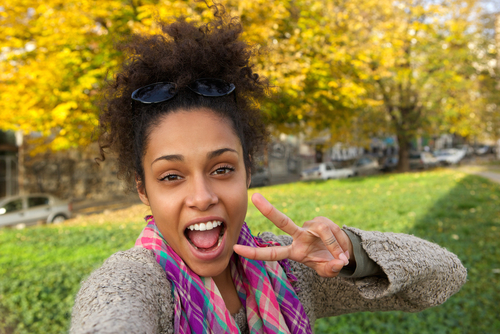 Helen is committed to bringing you the latest popular hairstyles, hair care tips, and hair-related products. You can check more of her work on besthairlooks to find fashion inspiration, product reviews, tutorials and more!