It's not only about the powders, tints, and creams we use as part of our cosmetic routine to keep our brows looking their best. It all starts with grooming your brows on a regular basis. keeping your natural form and controlling unruly hairs are crucial to having attractive brows. Waxing, threading, and tweezing are the standard methods for grooming our brows, but two of them are time and money-consuming, while the third is not only inconvenient, but also causes more difficulty than it's worth.
For those times when you don't have time to go to the waxer, for those of us who never seem to have time to go to the waxer in the first place, and for those tweezer addicts out there, Eyebrow trimmers are a quick and easy way to keep your brows in shape at home.
Eyebrow trimmers come in a variety of shapes and sizes, and unlike tweezing; they won't induce hair regrowth or ingrown hairs. It's just as cost-effective as tweezing but without the risk of negative effects. Electric gadgets that remove the bulk from bushy brows or handheld manual equipment like eyebrow trimming scissors or eyebrow razors that can address even your arch are the two major sorts of eyebrow trimmers.
Face hair trimmers with an attachment for grooming eyebrows are known as electric brow trimmers. What kind of instrument you'll need depends on how far you want to take your at-home grooming.
Let's face it: brows grow quickly, and we all have hectic schedules. However, if you want your brows to stay in place, you'll need to keep them trimmed and groomed. Men aren't the only ones who have to keep their bushy brows in check. Women's brows are defined and contoured by removing excess length. Eyebrow trimmers are simple at-home grooming products that assist keep your brows tidy and clean.
The Benefits of Using an Eyebrow Trimmer
Eyebrow trimmers are more than merely a beauty accessory for men; they're a necessity. An eyebrow trimmer specifically designed to cater to men's needs can help elevate your grooming game. The benefits of using eyebrow trimmers are manifold:
Efficiency and Speed
Traditional methods of grooming eyebrows, such as tweezing and waxing, are often time-consuming. With an eyebrow trimmer, you can trim both brows to perfection in a fraction of the time. It is a quick and effective solution for men who lead a busy life.
Precision and Control
An eyebrow trimmer offers a level of precision that is hard to match. This grooming tool allows you to control the length and shape of your brow hair with precision, ensuring a symmetric and clean look that complements your facial features.
Safety
Unlike razors, eyebrow trimmers lawfully provide safety from cuts and nicks. These grooming tools usually come with different attachments and safety caps that protect your skin. This makes them a safer choice, especially for those who have sensitive skin or are prone to cuts.
Versatility
Many eyebrow trimmers offer multi-use functionality. Apart from grooming the eyebrows, they can also be used to trim the hair in the nose, ears, and other parts of the face. This versatility makes them a valuable addition to your grooming kit.
Cost-effective
Investing in a good quality eyebrow trimmer can save you money in the long term. It eliminates the need for regular trips to the salon and purchasing additional grooming tools for different areas.
In a nutshell, an eyebrow trimmer is a powerful, practical, and indispensable tool in a man's grooming arsenal. Embrace it, and you will experience a new level of confidence in your appearance.
Top Eyebrow Trimmer for Men
Sure, you can use a comb and scissors, but getting the perfect form and length with this method is more difficult than it needs to be. You also don't want to remove the incorrect hair. Have you ever plucked just one hair and completely damaged the curve of your brow? Imagine doing all of that with a scissor-full of hair.
Micro Touch Titanium Lighted Hair Trimmer
This all-in-one personal trimmer is made of German stainless steel and features a non-slip rubber grip. It'll look good on your brows and sideburns. It's also great for hair on the bridge of the nose, around the ears, and around the neckline. This Microtouch MAX men's hair trimmer has a built-in light and is simple to use. Two AA batteries are included.
Other Features:
Multi-purpose tool
Great for everyday use
Easy to use
Non slip grip
Stainless steel
Micro Touch MAX Hair Trimmer
Micro touch max is a tiny trimmer with a built-in light for simple hair removal for that professionally groomed look. With micro-precision, the micro touch max trims hair wherever. It's simple to use and gets rid of unwanted hair quickly and painlessly. It gets as close as a blade while remaining safe to touch. Strong enough to take on the toughest challenges. A bright built-in light helps you see what you're doing, and the small form makes it easy to transport. Colors may differ.
Other Features:
German stainless steel
Rubber Non slip grip
Safe to touch
Powerful enough
Super bright light
Wahl Ear, Nose, & Brow Trimmer
The Wahl 3 in 1 Battery Ear, Nose, and Brow Trimmer can help you achieve that clean, fresh look on a daily basis. You can choose from three replaceable heads: a reciprocating head, a detail trimming head, or a rotating head. Made with professional-quality steel cutting blades that rinse clean under running water, the Wahl ear, nose, and brow trimmer is perfect for all your shaving and detailing needs.
It's the best way to get rid of unwanted hair without nicking or pulling the skin. The included heads have easy-to-maintain steel blades that will last a long time.
Other Features:
Easy to clean
Stainless steel heads
Lightweight
Deliver a smooth shave
It used by professionals 
Zorami trimmer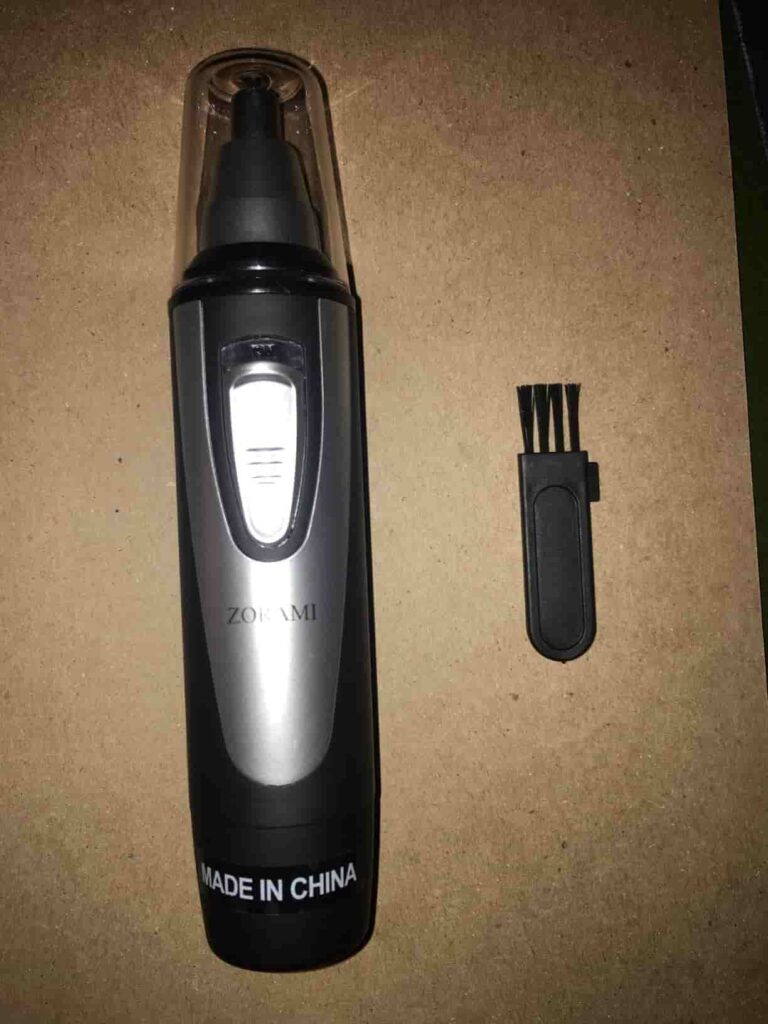 This nasal hair trimmer has a dual-edge spinning blades system with a protected cover and an interior 360° revolving design that removes hairs smoothly and precisely without causing pain or discomfort. It is convenient and comfortable to use. Allow you to put your best foot forward at work or during appointments.
The improved motor is more powerful yet consumes 5% less energy. 1 AA battery (not supplied) can last up to 6 months when used for 5 minutes at a time. This nose trimmer is ideal for trips and road trips. Use the nose hair clippers freely if the working noise is less than 50db.
Other Features:
Waterproof
Easy to clean
High quality stainless steel
Safe and effective
Energy saving
Panasonic Facial Hair Trimmer
Trimming sensitive, fragile areas and acne-prone skin in locations like the neck, chin, upper lip, and sideburns is simple and straightforward with the Panasonic GM40-K Detail Trimmer with Flexible Head. This facial trimmer's blades include thin gaps and rounded edges, which reduce skin stimulation and irritation. A tiny, flexible swing head enables safe, soft, and precise trimming to 0.12 mm (1/212 in), expertly working around skin imperfections and gently trimming in-between eyebrows. The GM40-K face shaver includes an eyebrow comb for grooming brow hair to a thickness of 0.12mm to 7mm, as well as an eyebrow cover to protect lashes when cutting brow hair.
Other Features:
Flexible swing head
Long blade life
Easy to hold and carry
Eyebrows comb and cover
Skin protective blade
Philips Norelco Eyebrow Trimmer
Using the Philips Norelco Nose Trimmer 5000, a premium precision trimming kit, groom unsightly facial hair. While the rotary and detail trimmers cut close, the Protective Guard System provides the maximum in comfort. Trim your brows evenly with the eyebrow attachments. The trimmer's long-lasting lithium battery allows for several uses, and the pouch makes it easy to transport. The nose trimmer is completely washable and can be cleaned by running it under a warm faucet.
Other Features:
Effectively trim hair
Dual-sided steel blade
Water resistant
Long lasting performance
Has a barrier
SCHON Stainless Steel 3-in-1 Nose, Eyebrow & Facial Hair Trimmer
This three-in-one trimmer comes with an easy-to-use hair attachment for trimming sideburns, earlobes, and other facial hair. Schon's one-of-a-kind design carefully removes hairs without tugging, leaving you feeling clean and comfortable!
Cleaning is a breeze with the attractive brushed steel finish, and it looks great on your bathroom counter! When cleaning the blades, run them under the tap.
Other Features:
Rechargeable for a lifetime
Stainless steel
Easy to clean
Painless
All metal design
Zexeller 9 in 1 Eyebrow Trimmer
Personal trimmers are manufactured by Zexeller. Our micro detailer comes with an electric eyebrow trimmer, eyebrow razor, eyebrow brush, eyebrow scissors, eyebrow tweezers, eyebrow pencil, eyebrow comb, eyebrow grooming stencils, and a small storage bag for achieving the perfect look on the go or at home.Our electric eyebrow kits come with an electric eyebrow trimmer, eyebrow razor, eyebrow brush, eyebrow scissors, eyebrow tweezers, eyebrow pencil, eyebrow comb, eyebrow grooming stencils, and a small storage bag for achieving the perfect look.
Makes wonderful personal gifts for both women and men! This top rated exact self-care travel small trimmer is perfect for dads, moms, husbands, wives, boyfriends, and girlfriends for any occasion. Cordless and battery driven characteristics make it easy to carry. Anywhere and at any moment.
Other Features:
Safe and effective
Painless eyebrow shaping
Easy to clean
Long lasting performance
Leaving skin feeling soft
Eyebrow Trimmer
This electric brow trimmer features a led light design that you can adjust to your preferences, so if you want to get rid of little short hairs, this is the tool for you. The blades on this brow trimmer are hypoallergenic and may be used on all skin types. Hair removal is rapid, clean, and more confident with 12,500 RPM!
Other Features:
Compact and portable
Safe and painless
Light weight
Cordless
Hypoallergenic blade
Upgraded Eyebrow Trimmer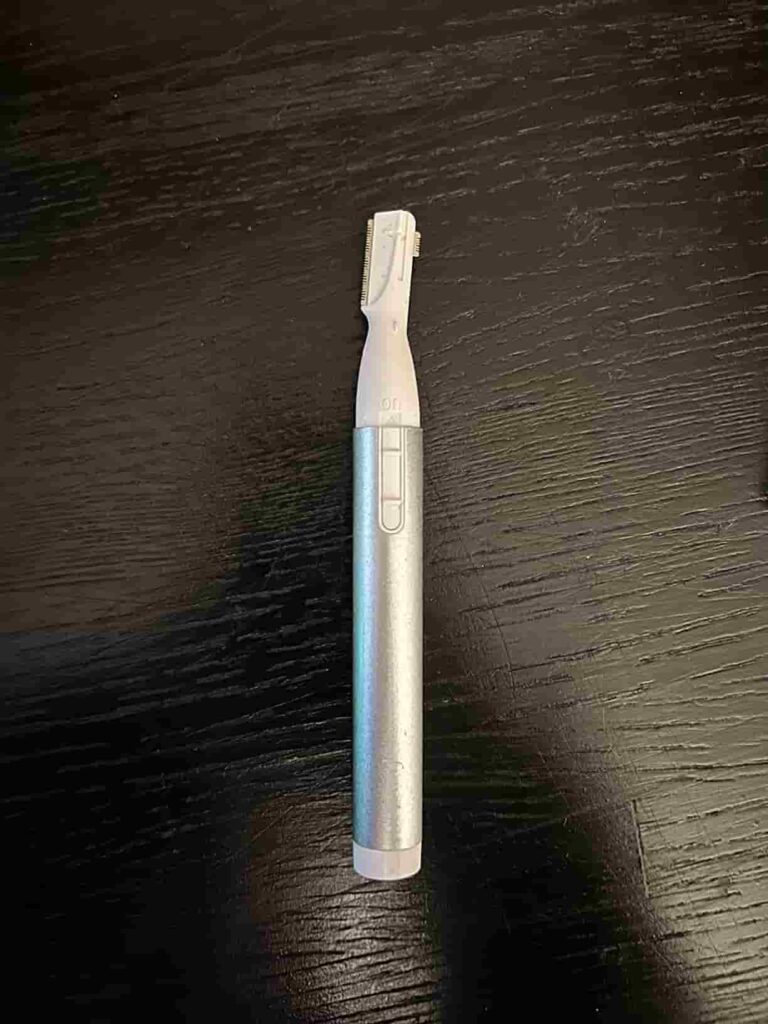 The electric eyebrow razor has a trendy slim wand design that fits comfortably in your palm, is very easy to use, and follows the natural shape of your skin with precision. The eyebrow epilator is small and slim, easily fits into any pouch or makeup bag, making it ideal for both travel and home use.
This one-battery personal eyebrow trimmer delivers efficient and effective trimming for the face, chin, upper lip, neck, eyebrows, cheeks, ears, and peach fuzz, and allows you to remove unwanted hair in no time.
Other Features:
Efficient dual blade
Safe and gentle
Easy and effective
Hypoallergenic
Multi-functional
How to Choose the Best Eyebrow Trimmer
Purchasing an eyebrow trimmer isn't a one-size-fits-all endeavor as different trimmers cater to different needs and preferences. Here are the fundamental factors to consider to ensure you choose the best eyebrow trimmer for your grooming needs:
Trimmer Type
There are generally two types of eyebrow trimmers: manual and electric. Manual trimmers better suit people who prefer more control and precision, while electric trimmers are excellent for speed and convenience.
Blade Quality
The blade is one of the significant components of an eyebrow trimmer. It should be sharp and robust, capable of facilitating smooth, clean cuts without pulling or tugging at the hair. Stainless steel and ceramic blades are ideal due to their sturdiness and longevity.
Attachments
Many trimmers come with various attachments like guides and detail trimmers, enabling you to maintain different parts of your face. These attachments enhance the versatility and functionality of the trimmer.
Battery Life (for electric trimmers)
If you opt for an electric trimmer, consider its battery life. A trimmer with a long battery life will be more convenient, especially if you are a frequent traveller.
Ergonomics
The design of the trimmer should be comfortable to hold and easy to maneuver around your face. A non-slip grip is a good feature to look out for.
Waterproof
Some trimmers are waterproof, meaning they can be used in the shower, making the grooming process a lot easier. Furthermore, waterproof units are typically easier to clean.
With these factors in consideration, you can make an informed decision and invest wisely in a tool that caters to your grooming needs.
How to Use an Eyebrow Trimmer
An eyebrow trimmer is quite simple to use once you understand the proper technique. Here's a step-by-step guide to using an eyebrow trimmer:
1. Preparation
Begin by cleaning your face to remove any dirt or oils. This will help the trimmer glide smoothly on your skin.
Comb your eyebrows upward with a brow brush. This will make it easy to see uneven lengths and areas that need trimming.
2. Trimming
Turn on the trimmer and hold it so the blades are perpendicular to your skin.
Use the trimmer to slowly and carefully cut the unruly or long hairs.
Continually step back and assess your brows to ensure they're evenly trimmed.
3. Fine-Tuning
After the primary trimming, you can use tweezers to remove any stray hairs for a sleeker look.
Comb your brows again to check if you missed any spots. Repeat the trimming process if necessary.
4. Aftercare
Rinse your face with cool water once you've finished trimming. This will help close the pores and minimize any potential irritation.
Apply a soothing lotion or gel.
Maintenance and Cleaning Tips
Clean After Use: Maintain your eyebrow trimmer by cleaning it after every use. Many trimmers come with a brush for easy cleaning. For waterproof units, rinsing under running water will usually suffice.
Lubricate: Periodically oil the blades if recommended by the manufacturer. This can reduce wear-and-tear and prolong its lifespan.
Replace Blades: Occasionally, you need to replace the blades to ensure the trimmer remains effective. Always refer to the product's manual for specific instructions.
Storage: Always store the trimmer in a clean, dry place. Avoid leaving it in damp areas like bathrooms to prevent rusting.
Caring for and using your eyebrow trimmer properly can not only improve its efficiency but also extend its lifespan, offering you a better return on your investment.
Getting the Best Eyebrow Trimmer
What appears to be a little step isn't always evident, yet keeping your brows groomed is the foundation for perfect brows. Whether you have bushy brows that need to be trimmed on a regular basis or just need a little help keeping your brows in shape at home, eyebrow trimmers are a cost-effective and simple alternative to tweezing, which can create ingrown hairs and impede hair regeneration.
Read More:
5 Best Hair Dryer For Fine Hair 2022
6 Best Trimmers For Lineups In 2022
Best Heated Roller Brush for Short Hair 2023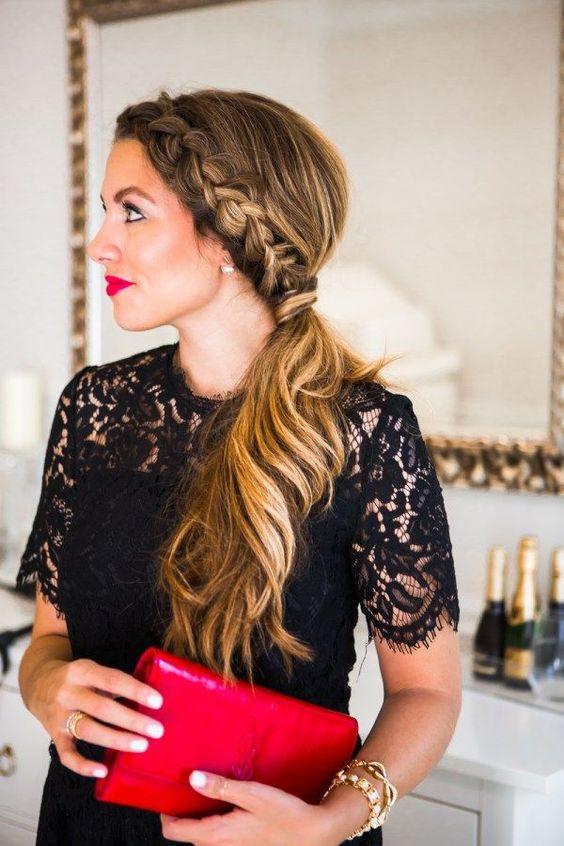 From hair care to soaring hair trends, we cover it all. We make sure you nurture your hair and stay on board with hairstyles and new hair trends. So hop on and make every day count with some of our creative and sassy hair trends.