Brow trends change constantly. Thick full brows are what make the cut today. And to get the perfect Instagram brows, you need the best eyebrow trimmers!
This doesn't mean you no longer need to groom them to look their best. It is almost hard to imagine the time when pencil brows were the trend. 
Related: Best Goatee Clippers
Related: Best Facial Hair Removal Cream
Today however you can see a blend of both bushy and finer brows.
You can find various ways to tame those brows, some might wax but that is a painful, expensive and at a salon type of situation.
Finding an eyebrow trimmer is a way to do this painlessly and with total control. It is a good idea to keep a brow brush handy while trimming. 
Best Eyebrow Trimmers
Best For
Specifications
Tweezerman Brow Shaping Scissors & Brush
Sensitive Skin
Stainless Steel Razor, Nylon Bristle Brush
Schick Hydro Silk Touch-Up Disposable Razors
Fine Hair
Stainless Steel Disposable Razors
Reazeal Rechargeable Eyebrow Hair Remover
First Time Users
Ni-cd AAA Battery, USB Charger
Yehuonu 15 pcs Eyebrow Kit 
Multipurpose Kit
Tweezers, A Razor, Scissors, Six Stencils, Comb And Brush
Tinkle Eyebrow Razor
Eyebrow and Facial Hair
Stainless Steel Razor
Panasonic Facial Hair Trimmer
Electric Trimmer
AAA Batteries
Two Comb Attachments
What to keep in mind while buying an Eyebrow Trimmer? 
Razor Vs Electric
You can find a few different types of eyebrow trimmers you can find. The brow scissors are a staple in any salon, these are generally small and have pointed blades made of stainless steel.
These are really good for precision trimming.
Then there are razors. These are usually made of small blades with lightweight handles made of plastic. This makes them pretty easy to work around the eyebrows with accuracy.
Then we have the electric hair removers. These often come with a bunch of attachments for the eyebrows and surrounding areas.
These are very handy and do the job fairly quickly and can help you avoid nicks. 
Ergonomic Design
It is incredibly important to look for a product with an ergonomic design. Getting the right angles and turns can be difficult while trimming your eyebrows.
The design can really improve your method as well as result.
If you have tried trimming your eyebrows before, you know that you will have to place your hand in various positions to get it right.
That is why it is highly recommended to use an instrument with an ergonomic design.
Depending on your preference you will have to look out for a razor that might have a slightly slanted handle, a scissor that has comfortable handles or preferably angled blades.
Or you might want an electrical hair remover that has a pretty light shaft or a head that can pivot. 
Portability
Most eyebrow trimmers out there are quite compact. Although some are more portable than others, you might want to look for one that can fold or at the least has a safety cap.
While traveling make sure you always check your toiletries so that you don't get stopped by the TSA. 
If you opt for an electric hair remover, make sure you pick one that is lightweight and can be recharged with preferably a USB cable or is compatible with standard batteries. 
Top Eyebrow Trimmers 2021
Tweezerman Brow Shaping Scissors & Brush
Tweezermen Brow Scissors are a great choice for a grooming tool. These are often recommended by professional brow artists.
These scissors have ultra-thin and pointed blades that allow you to achieve utmost precision. The handles are ergonomically designed for the best hold.
The finger loop design offers optimal control. These are comfortable to hold and move around for extended periods of time.
The blades are made of top-quality stainless steel. The blades can help you get a straight cut even over a couple of millimeters of growth.
Along with the scissors you also receive an eyebrow brush which you can use to comb out the brows between the trimming process.
Brushing the brow up before trimming the top will help create well shaped brows.
The thick bristles made of nylon brush the brows out into a feathered and natural look.
These scissors feel great on the hand. These were pretty easy to hold and maneuver around the forehead.
They are light and compact enough to carry. The brush was a really good addition as it let me brush the brows into place before I made any snips.
I could use the point of the scissors to isolate a hair if I needed to before cutting.
Cleaning the tools was really simple, you can wash them both with soap and water. You can also use alcohol to clean the scissors if you like.
I tried using them with my left hand too. I faced absolutely no hindrance. These were by far one of the best eyebrow scissors I have used.
Pros
Maximum precision
Ergonomic design
Light and compact
Eyebrow brush included
Cons
Finger loops may be too small for some 
Angled blades are trickier to use 
Schick Hydro Silk Touch-Up Disposable Razors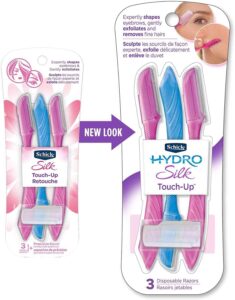 If you are looking to save some money while also being able to get your brows in shape, Schick Hydro Silk Touch Razors are the deal for you.
These high-quality blades are expert at creating well shaped arches and trimming away any excess hair. Being such a versatile tool, it is well-loved in the beauty community.
The Razors have been uniquely designed with inbuilt micro guards which makes them absolutely safe and easy to use.
To shave precisely and perfectly you can slide the attachments included over the blades to make them much small or bigger, as required. Shaving brows or around the hairline is a breeze with these razors.
I was able to remove fine hair easily with these razors. They were easy to use and having a long handle, they did not hinder my visual to the brows.
The attachments are actually super handy when it comes to trimming between my brows.
I was not worried about accidentally shaving off too much as the blades also gently exfoliate the skin which was nice. I was able to easily clean them by rinsing them with water.
These are incredibly cheap for three sets of blades making them a no brainer for me.
Pros
Easy touch-ups, removes fine hairs, and even smoothes skin
High quality blades with micro guards
Includes an extra attachment for precise eyebrow shaping
portable size
Cons
Razor burn 
Not recommended for sensitive skin 
Reazeal Rechargeable Eyebrow Hair Remover
If you want your eyebrow grooming process to be much quicker and easier, you might want to look into electric hair trimmers.
The Reazeal Rechargeable Eyebrow Hair Remover is one of the best you can find in terms of eyebrow trimmers.
The tip of this tool, shaped like a pen, has a bunch of tiny blades made of stainless steel. These blades can get you a close shave on your eyebrow hair that is clean and precise. This tool is incredibly easy to use.
The product itself is pretty lightweight making it easy to hold and move around the face. The blades are superfast and sharp this avoids any hair from getting caught or pulling on the skin.
The shaving process is painless and no need to worry about any irritation or redness.
You never have to worry about running off charge as it comes with a built-in rechargeable Ni-Cd AAA battery compatible with the included USB charger.
This eyebrow trimmer was incredibly easy to use, all I needed to do was hold the skin and move the device in a small circular motion. 
It was easy to target even small areas. I think this is a perfect substitute for waxing or tweezers that are known to be highly precise.
The only thing is, the trimmer heats up fast while using it, making it uncomfortable to hold. I found this device fairly lightweight and small enough to carry along. 
Having the rechargeable battery made it easy for me to use this anywhere I required.
Pros
Highly precise
Stainless steel blades
Painless
USB-Rechargeable
For all skin types
Stylish and portable
Cons
Yehuonu 15 pcs Eyebrow Kit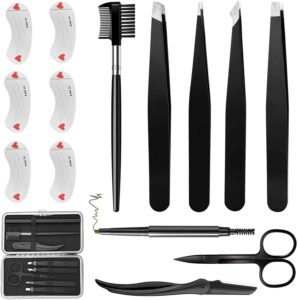 The Yehuonu 15 pcs Eyebrow Kit is a bang for your buck. This is hands down the best value-for-money deal you can get when it comes to an Eyebrow Kit. 
This awesome kit includes a variety of items that will fulfill all your eyebrow trimming needs. This kit includes four different tweezers, a razor, scissors, six stencils, comb and brush, and more.  
The razor material is dermaplaning, removing dead skin by physical exfoliation. The blades are made of stainless steel making them highly durable and strong.
The handles are made of plastic making them lightweight, the design also includes a non-slip grip much easier and safer to use. 
The kit comes in a storage pouch which makes the whole kit incredibly travel-friendly. The pouch is also small enough to place into a backpack or a cosmetic case.  
I find this kit to be incredibly beginner-friendly as it includes almost all the things you might need in a neat and compact kit.
Additionally, I enjoyed having a razor that allows dermaplaning exfoliation, causing fewer breakouts. 
One of the tweezers was disappointing as it did not hold the hair to be able to pull, being so sharp it would just cut the hair where it held.
Pros
Large number of items in one kit
Portable and compact
Value for money
Dermaplaning razor
For all skin types
Stylish and portable
Light weight
Cons
Tweezers are too sharp and may just cut the hair  
Eyebrow pencil in not pigmented enough 
Tinkle Eyebrow Razor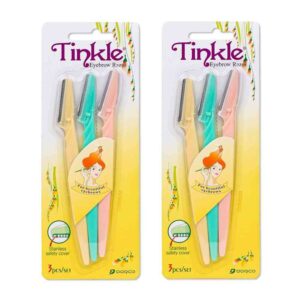 Tinkle razors became incredibly popular a few years ago, when the beauty industry was hyped with dermaplaning.
Almost every beauty guru was talking about shaving off the peach fuzz along with exfoliating the facial skin. Although great for the face, these tinkle razors work very well as eyebrow trimmers.
These are disposable razors that come 3 in a pack. In addition to being fairly cheap, they also get the job done.
The body is made of lightweight plastic while the blades are sharp stainless steel. The handles are easy to grip and long making them easy to hold at awkward angles.
This is a fairly straight forward product that does as it advertises. These come with a stainless-steel safety cover on each razor, making them safe to use for anyone with sensitive skin.
This is another no-nonsense product that I would recommend to anyone who would consider themselves a beginner.
This is incredibly easy to use and really forgiving as the handles make it easy to shave parts that may be difficult otherwise.
I find this especially useful to shave the lower part of the eyebrow which is usually very tricky. The blades are sharp and do a good job of trimming and exfoliating the skin around my eyebrow.
I preferred wet shaving with this razor as dry shaving would sometimes irritate the skin.
Pros
Sharp stainless steel blade
Includes stainless steel safety cover
Great for most skin types
Dermaplaning
Great for beginners
Portable
Light weight
Cons
Dry shaving rash 
May be too wide for some eyebrow types 
Panasonic Facial Hair Trimmer
The Panasonic Facial Hair Trimmer is a sleek electric eyebrow trimmer. That looks incredibly stylish. Along with the stunning look, this is a well-designed, highly functional machine.
The design is pretty unique with its pivoting head that allows you to work around with intricacy.
This allows you to go over the natural contours of the face, trimming close to the skin. Eyebrows being such a small area with awkward angles around the face is a feat on itself to maintain.
Additionally, it is a facial feature meaning messing this would mess up your entire look.
The two comb attachments that come with this device help shape the brows to your liking. These attachments work similar to trimming combs that come with electric razors.
The trimmer uses AAA batteries to work its magic. This personal shaver comes with a round tipped blade that is super thin and hypoallergenic.
Making it very safe to trim over sensitive skin without causing any irritation.
This is hands down my favorite design for an eyebrow trimmer. Sleek, modern and super stylish. The hand is also really easy to hold in either hand.
As the head pivots, the device is friendly for left-handed folks as well. I found this especially handy while trying to tidy up my brow arch.
As this is one the cordless eyebrow trimmers, I can always slide this into my makeup bag in case of emergencies.
Pros
Well designed, good grip
Super stylish and sleek
Compact and travel friendly
Pivoting head for total control
Cordless
Comes with 2 sizes of shaving attachments
Cons
Battery lasts 8 shaves 
Blades become dull fairly quickly 
Not suitable for thick coarse hair 
The above-mentioned list holds various types of eyebrow trimming solutions, this is especially helpful as we understand that everyone's needs and requirements are never the same.
Taking all the factors into consideration, pick one that works best for your needs including the price range.
Although, one thing I would stress on is that eyebrow trimmers are devices you have to hold for a long period of time and move around intricately.
So picking one that has a good grip and light weight would really change the game for you.
Hope we were able to find you a practical and suitable solution for eyebrow needs. Any of the tools here can get you the shapely brows you have been dreaming of.
No more running to the salon at the last minute. Work that magic at home, in full control! 
Also Read: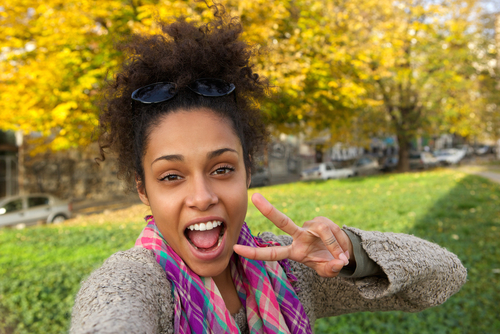 Helen is committed to bringing you the latest popular hairstyles, hair care tips, and hair-related products. You can check more of her work on besthairlooks to find fashion inspiration, product reviews, tutorials and more!