One of the most versatile and time-tested hairstyles are the Black Ponytail Hairstyles. This hairdo can be modified to suit every occasion and every mood.
Even a simple ponytail has a charm of its own. However, a little tweak can make it chic instantly. This classical hairstyle can be done up in many styles.
Here is a list of our top favourite black ponytail hairstyles you can try this year!
Related: Classy Ponytail Hairstyles For Women
Related: Best Black Braided Hairstyles
Best Black Ponytail Hairstyles 2023
#1 – Sleek and shine Black Ponytail Hairstyles
This hairdo is apt for the office as well as for a party in the evening. It takes minimal efforts. Ensure that you have properly straightened hair and zero frizz.
Comb thoroughly and tie a firm ponytail. To cover the base, wrap a strand of hair. Spray a high-gloss spray to keep the style intact and in position.
#2 – Curly high ponytail
For the curly beauties, there is no reason to shy away from the classical ponytail. The best way to keep your hair up is to keep it mildly tied. You can bind the curls with a soft scrunchy. I wish more black women would wear their natural hair without silk pressing or weaves. Just look at these natural curls, the puffed up updo looks adorable. It is funky and super stylish.
#3 – Bubble tie-up
An outing with the girls calls for a fun hairstyle. To suit the mood, try the bubble tie-up. After trying a low ponytail, add bands at equal distance. You can add 5 or even more, depending on the length of your hair. Pay attention to the spacing, adequate distance lets the bubble form better.
#4 – Senegalese twist
If you are looking for a hairstyle suitable for a formal occasion, then try the Senegalese twist. It is a fancy updo, appropriate for an evening dinner or a party.
The intricate structuring of this hairstyle makes it so appealing. A peony or a daisy at one side would make it look more sophisticated.
#5 – Extravagant pompadour
This dressy updo is fit for any occasion. It looks splendid and has a royal and lavish touch to it. The volume at top is dressed with strands of braids, making it a delicate and sophisticated hairstyle. You can finish it with a simple ponytail. Or may curl the length of your hair along with the ponytail.
#6 – French braided Black Ponytail Hairstyles
A nice décor at the crest is the ideal accessory for your ponytail. French braids will never go out of fashion. The details of the braid make it so attractive.
To add to the uniqueness of the style, braid only a side of your hair along the left or right parting. You can also use beads for a more casual yet dressy look.
#7 – High ponytail and bangs
Super high updos are very in fashion. Tie it along with the crown. For a high fashion look, you can knot the hair, an only half inch away from the root of the bangs.
They look amazing on all face types. But people who already have sharper jawlines will be more benefitted by this structuring updo. The bangs are the compliments that your long and stylish ponytail needs.
#8 – Half and a half ponytail hairstyle
This hairstyle is so stylish and quite effortless to achieve. Perfect for curly hair, it accentuates the face by giving it more shape and form. Keep your curls tightly done, if your curls are loose and wavy, try extensions. It is the girl next door look that everybody craves. It is cute and vivacious. This hairstyle is ideal for girls and women alike.
#9 – Ponytail ending in Ringlets
One of the most sophisticated hairdos for a ponytail is the ringlets option. It is a very subtle style that exudes elegance. Start with your ponytail, do a sleek tie.
Cover the base, if you want to keep it understated, or use a flower or ribbon wrap. For the ringlets, cover your hair with a heat protector and form the waves with a curler.
#10 – Micro braids
One of the classic hairstyles, made popular by many superstars of the 60s, this updo is here to stay. The detailing of the hairstyle is amazing and anyone sporting it can look nothing short of gorgeous.
If you are planning this style, prepare in advance. Part your hair in sections and braid as tightly as possible. To finish, tie a ponytail. The detailing of this style requires a lot of time and patience.
#11 – Woven magic ponytail
This ponytail is the best way to highlight your curls. Keep the hair on the scalp as straightened as possible. Pull them neatly in a ponytail. Do not straighten the rest of your hair.
The cascading rings of your curls add more volume to your hair. This hairstyle is unique and a perfect blend of straightened hair meeting curls. This hairdo rocks with your custom suits as well as your jumpsuits.
#12 – Fishtail ponytail
This hairstyle is a regular favourite of the diva Alicia Keys. You can see her rocking it in her joggers as well as at the Grammys. The beauty of this style is it can be casual as well as elegant. Depending on the occasion you are dressing up for, add hair accessories for a more formal look.
#13 – High yet low ponytail
This style is at for women with long hair. If your hair is not up till your waist, try a fake bun. If your hair is long enough, make a flat topknot at the crown, braid the rest of the hair. Keep the hair tied closely so that the volume does not push it to open. Wrap a few braids along with the bun, tie the rest as a low ponytail. To dress it up, use scarfs or ribbons.
#14 – Bouffant tie
This is a chic and trendy hairstyle. Bouffant used to be popular among the royal circles of France and England. This style has not lost its regal charm. To make it look as elegant as it should, keep the bouffant loose. Get bangs and side sweep them for a more relaxed yet gorgeous look. Wear drop earrings or chandelier to complement your flowing ponytail and rock the outing.
#15 – Top braid and ponytail
This no-nonsense style requires meticulous attention to details for the designing. Start by parting your hair at the middle. Make three sections of frontal hair along the scalp.
The middle one should be a thicker braid, the two on the sides thinner ones. Tie the rest of your hair in a ponytail. Apply a live-in serum and comb through with a serum to get rid of any frizz and tangles. Spray to keep the style in place.
#16 – The topknot and low ponytail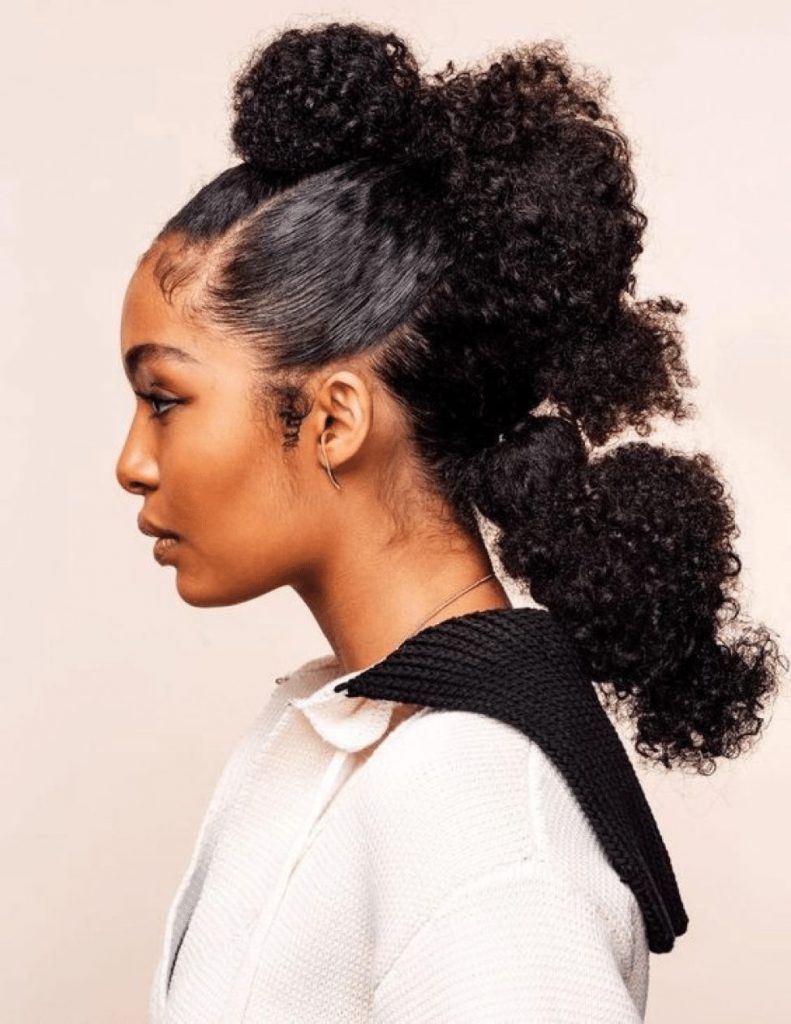 For those girls who have thick and chunky curly hair, ponytail might not seem a great idea. But this hairstyle will change your mind.
This look adds a cool Mohawk vibe and easy to maintain. Section the hair at the front, tie a half top-knot and leave the end open. For the rest of the hair, knot and a voluptuous ponytail would give you an outstanding look.
#17 – Twin ponytails
If you are looking for a hairstyle that is chic yet cool, then this is the style for you. This is a classic hairstyle that is cute and sexy. Tie two ponytails at either side of your parting.
You can get a middle or side parting depending on your preference. For the open part of the hair, get loose and big waves. This effortless hairstyle is perfect for a casual day out or party night.
However, avoid this hairstyle for formal occasions.
#18 – Ponytail with a twist
This is an epic style that glams you up instantly. To get this style epitomized by none other than Serena Williams, you need straightened hair to start with.
Tie the hair in ponytail across the top of your head. To gain the volume, try back brushing the straight hair. Tie two to three bands at a fixed interval. Accessorize each knot with a special band for the maximum dramatic effect.
#19 – Frontal ponytail
This is a stunning style fit for all the divas out there. Perfect for prom or a date night. This hairdo is also suitable for an evening out with family. The frontal ponytail is sleek and simple. It meets the open hair at the back, and together they form a waterfall through loose waves of hair. It works well with any texture of hair after it is straightened. The fact that it is not flawless adds more bounce to the whole look.
#20 – The messy ponytail
For a supernatural and ethereal feel try this hairstyle. The low tie, messy ponytail is a delight for the eyes. To sport, this hairstyle keep your makeup minimal and accentuate your best features. it works best with naturally wavy hair. The knot is the key to this hairdo. Keep it as loose as possible. Comb inside out from bottom to top for the finished look.
#21 – Accent braids for black female hair
#22 – Waist length black hair with bangs
#23 -Curly Senegalese twists black ponytail
#24 – Curly Braided pompadour black ponytail
#25 – Sky high pompadour female hairstyles
FAQs about black ponytail hairstyles
Do ponytails hurt black hair?
Not if done right! Black hair or rather type 4b or
4c hair
is very fragile than other hair types. Ponytail hairstyles add to the friction and cause tugging and pulling that can damage this hair type.
But not if you wear your hair correctly. Always use a moisturizing leave in conditioner or hair cream before setting your ponytail and do not tie it very tightly.
Make sure the scrunchies or hair ties you are using do not rub against the hair or damage the strands. So avoid materials like rubber or elastic and go for silk or satin scrunchies.
If you are trying out a ponytail with your weave or twists, make sure they are not very heavy and you are able to carry it off properly.
What kind of hair do you use for a sleek ponytail?
Our answer is definitely a
weave ponytail
which is nothing but a type of weave hair extensions that comes in a readymade ponytail.
You can take the help of hair pins to secure it naturally and it looks just as realistic as your normal hair.
It comes in different kinds of weave hair textures such as straight high ponytail, wavy low ponytail, and curly ponytail.
This is guaranteed to change the way you look everyday as they are incredibly versatile.
And the best part is that you will be able to get a beautiful collection of weave ponytail extensions for black women to help you achieve the kind of look you want.
How do I keep my black ponytail sleek?
The ultimate sleek ponytail is the signature look of none other than Color Wow's brand ambassador Hollywood's famous hairstylist Chris Appleton.
From Jennifer Lopez to Kim Kardashian; we can see his craftwork on these Hollywood celebs and now even you can learn to achieve this look
First, blow dry your hair in the same direction as your ponytail.
Next, with the help of a bungee cord secure the ponytail tight and apply some gel around the hairline.
You can finish off this gorgeous look with a three inch curling iron on the ends to create a bend in the hair and use some hairspray on the ends for a sleek and glossy look.

Ponytails are practical as they are very easy to achieve. It is perfect for a day or a night event. The best part is, no matter how long or mid-length your hair is, there is a ponytail style for everybody.
Also read:
Best Black Hairstyles With Bangs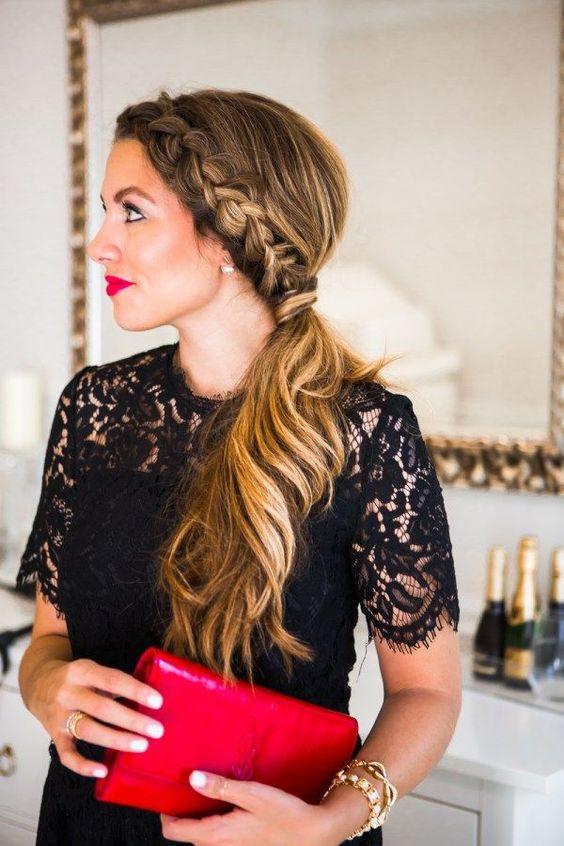 From hair care to soaring hair trends, we cover it all. We make sure you nurture your hair and stay on board with hairstyles and new hair trends. So hop on and make every day count with some of our creative and sassy hair trends.