If you have a small forehead, you might be hestitant to wear fringes! But you still can with these stylish bangs for short forehead.
Who says bangs can go only with a bigger forehead?
Bangs have been especially associated with those who have a bigger forehead and have not made much of an entry in the styles of smaller foreheads.
And hey, if you want to style these bangs, there are always products like the Kipozi Pencil Flat Iron that can give you a helping hand. The tapered plates are perfect for handling your extra-short fringe hair
Related: Bangs and glasses hairstyle ideas
Related: Best black hairstyles with bangs
Can I have bangs if I have a short forehead?
Yes, you can have bangs even if you have a short forehead. However, it is important to choose the right type of bangs that will flatter your face shape and forehead size.
If you have a short forehead, it is generally best to avoid blunt, straight-across bangs, as they can make your forehead look even shorter. Instead, opt for softer, side-swept bangs that are longer on the sides and shorter in the middle. This will create the illusion of a longer forehead and help balance out your facial features.
Another option is to go for curtain bangs, which are longer in the middle and shorter on the sides. This style can be flattering for those with a short forehead, as it creates a soft, face-framing effect that can help elongate the forehead.
Ultimately, the best type of bangs for you will depend on your individual face shape and features. It is recommended to consult with a hairstylist who can help you choose the right type of bangs for your face and provide you with tips on how to style and maintain them.
Bangs for short forehead 2023
We are here to put that misconception to rest and tell you that there are a bunch of bangs hairstyles that will work exceptionally well with smaller foreheads.
Not only will this give you a chic look but will also balance out the rest of your features well and give you a cute look.
So here are the best bangs for short forehead.
Full Blunt fringe for small forehead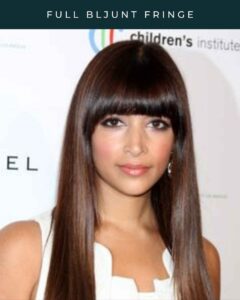 The common misconception most women have about the blunt fringe is that the hair in front is longer and hence best suits those who have bigger foreheads.
But the truth of the matter is that and I think the above image has clearly proved, the bangs have to be started earlier on from your forehead. This has become a common and trendy style that is going around those who have a smaller forehead.
The best hair type this goes with is those with straight hair.
Hair type: Straight, wavy
Long side-swept bangs
Long side-swept bangs come in handy if you are looking at being casual and bendy in the way you look. Some people have a fine line on how they look. It is always functional or casual. But with the side-swept bangs, your short forehead is complimented and not too fuzzy.
All you will have to watch out for is that your bangs are combed and not too frizzy so that it does not look like you just rolled out of bed.
This looks amazing with curly hair and straight hair.
Pro tip: Wearing your hair in lob form is the most stylish you can get with this bangs style.
Hair type: Curly, Straight
Graduated bangs
The beauty of these bangs (besides the fact that it was once tried out by Taylor Swift!) is that it sits well and adjusts with your hair type and give the flowy and silky look.
The gradual layers in front works great in framing the face and making you look extremely stylish and chic.
You might want to try out short lobs with the graduated bangs for the best look!
Another major advantage is that brown ombre looks super cool with this look.
Hair type: Straight, wavy
KPOP Bangs
Still thinking how these KPOP girls style their bangs? Check this guide out.
Soft wispy bangs for small forehead
Wispy bangs are super stylish and common now because of how well it goes with every face shapes. The advantage of trying out wisps with a small forehead is that you can adjust it every now and then. This way when you are tired of the look you can just sweep it to the other side.
All you need to be careful of is that you don't make it too thick and lush but maintain it thin and subtle.
Another major tip for this particular look is that you can make the wispy bangs gradual so that it frames your face better.
Hair type: Straight, wavy
Textured bangs
Creating textures has always been a trend and a favorite among hair stylists.
But when it comes to getting bangs, the textures take another level of rocking and nailing.
This especially works with thicker hair strands and gives your hair a certain sense of style.
This goes with shorter foreheads because you can decide how thin or thick you want the textures to be done so it effectively works out in creating the perfect look for you.
This looks amazing on plump and chubby girls!
Hair type: Wavy
A shaped bangs for small forehead
A-shaped bangs are a certain style that creates a beautiful frame for the face no matter the shape of the face.
If you are someone who has a considerably small forehead then you might want to check this look out.
A special mention in the salons about how thin or thick you want the bangs to be will go a long way in garnishing your entire hairstyle.
One thing to look out for is to moisturize the front part of your hair at all times just so that it looks flawless and silky.
Hair type: Semi curly, straight
Crescent bangs for small forehead
The crescent bangs is that ONE look you can't look away from!
Not only does this frame your face super accurately but it makes sure that your hair sits well with everything else.
Another major pro is that it effortlessly rocks any outfit that you have planned without demanding too much attention or hair care routines from your side. The only thing that you have to take care of is combing the bangs and keeping it knot-free
Hair type: Straight, Semi wavy
Brow grazing fringe bangs
Brow grazing bangs are perfect for those who want an accurate length for your bangs and not go too overboard with the look.
As the name suggests, the bangs just subtly touch your brows without exceeding the length and making too much of a mess on your face. This goes really well with those who have a small forehead and a broader other half of the face.
You can modify this look by making the layers longer till your chin and adjusting it according to the length of your hair.
Hair type: Thin hair, wavy hair.
Eye grazing Bangs For Small Forehead
Bangs that exceed a bit down from the forehead as well is a stunner for those with smaller foreheads.
It does you more help if you have longer hair. You can also texture and layer your bangs according to the length of your hair and gives you the best experience flaunting your long hair.
You can also get a slight side-swept bang to look with the same to up your hair game a bit.
On the whole, we love this look and think it is going to change your entire look.
I mean, if Heidi Klum tried it on, there has got to be something right!
Hair type: Long and straight
Feathered Bangs For Short Forehead
Feathered bangs are a fantastic choice if you have a short forehead and a large face. These cover a large portion of your face and do not make your short forehead stand out.
These are slightly layered bangs that end just below your eyebrows or near the end of your eyes.
Feathered bangs for short foreheads are a very feminine and romantic-looking choice.
Bardot Bangs For Small Forehead
These styles for bangs for short forehead became popular in the 60s thanks to the French actress Brigitte Bardot. As shown in the picture above, Bardot bangs are the perfect combination of full bangs and layered bangs.
The best thing about this bangs hairstyle is that you can change it up anyway you like. You just have to part it differently.
Bardot bangs are great if you have a short forehead and a round or heart-shaped face.
Tapered Bangs For Short Forehead
If you have an asymmetrical face and fear bangs on short forehead will make things worse, you can go for a tapered haircut.
These are similar to side-swept bangs, but here the bangs are not parted on the side. You have to take a center parting as usual.
However, the bangs themselves are cut in a asymmetric way with one side being longer and the other shorter. This is a very edgy hairstyle and looks good if you have a small face with a small forehead.
Feathered Curtain Bangs For Short Forehead
If you have wavy hair, you must try the feathered curtain bangs look. It is also a great style if you have a large face as it adds shape and softness to your features.
This bangs hairstyle differs from regular feathered bangs as the fringe does not rest on the forehead but is parted like a curtain at the sides.
So if you like showing your forehead, this is a good choice.
Short Bangs For Small Forehead
Another bangs hairstyle if you like a certain part of your forehead visible is the short bangs style. Here the bangs are cropped a few centimetres (from a quarter of an inch to an inch) above the eyebrows.
So a small strip of forehead is peeking out through the bangs.
It's a good style if you have a very small, pixie-like face and need your forehead to add some length to your facial structure.
Asymmetrical Fringe For Small Foreheads
Want to try something out of the box? You can go for the asymmetrical fringe hairstyle.
Most women think it can't be created on short foreheads. However, it is very possible and might I say, looks even better on shorter foreheads.
The bangs here are cut very close to the forehead on one side and gradually progress in length as they move from one side of your face to another.
Baby Bangs
These are perfect if you have a smaller forehead as it tricks people into seeing a longer forehead and at the same time, it adds more volume to the top and front of your haircut.
Request your stylist to keep this look choppy with an unequal perimeter line.
Textured Bangs For Small Foreheads
If you want an excellent haircut, then go for textured bangs and feathery sides.
This hairstyle will help an undersized forehead by evening the space above your eyebrows and hairline and is best suitable for girls with a short forehead.
Arched Bangs
These bangs really help in bringing out your eyes.
Make sure when you request this cut, you show off your best features by cutting it in a blunt line below your eyebrows, with a slight curve to highlight your cheekbones.
You can try some waves for textured contrast.
Rounded Bangs
This is suitable for ladies who tend to have a slight rounder face shape.
This will suit almost any hair length and works best for dense hair.
Definitely need to try this look which is a fabulous twist to the original full bangs.
Bettie Bangs
This retro inspiring hairstyle is just perfect for the girl next door. It is best suitable for girls with an oval face shape or rounder face shape with small foreheads.
It is also best for dense hair. Style it using a flat iron and finish it off with a sleek look.
FAQs about Bangs For Short Foreheads
How to cut bangs for a short forehead?

The rules for cutting bangs for a short foreheads are the same as cutting bangs otherwise.You need to firstly make the "bang triangle" by parting your hair a little from the left and right of your middle parting. Then you can take the front section of your hair in your hands and start cutting your bangs.
The one rule that is most important here is to use the scissors vertically and not horizontally. This means you don't cut your hair straight across in a line.
Using the scissors bump of the ends until you find the right length. With a short forehead, it's easy to cut your bangs shorter than intended. So remember this rule.
It's also better to cut your bangs when they are wet as wet hair allows for more precision.
What are some of the best bangs for oval face shapes?
I'm envious of oval shape faces as these are the luckiest when it comes to bang hairstyles. There are no worst bangs for them! Almost any style goes very well with this face type.
The best style of bangs for oval shape faces includes blunt, straight-across bangs, Sideswept bangs, Choppy bangs, Blunt bangs, Straight bangs, Layered bangs, baby bangs, curtain bangs, heavy bangs.
Can you have bangs with a short forehead?
Bangs are a neutral style to have and can go well with those with big and small foreheads. The only thing to consider while getting bangs is to have a good balance between the length of the bangs so that your whole face isn't buried in your fringes.
What are the bangs to avoid if I've got a short forehead?

Just like the bangs mentioned above help frame small foreheads better, there are certain styles that do not suit people with short foreheads. They should avoid the following unflattering bang hairstyles:
Wispy bangs if you have a round face features
Rounded bangs with a round face
Long rounded bangs if you have an oval face
These were some of the best bangs for short foreheads. With this style guide, you can choose a face-flattering hairstyle.
You can also use this article as a reference for the next time you visit the salon.
Read Also: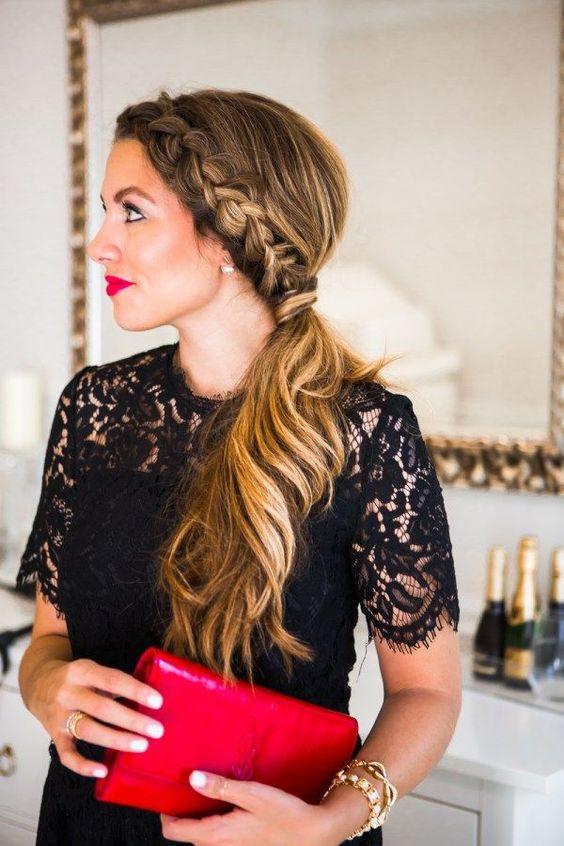 From hair care to soaring hair trends, we cover it all. We make sure you nurture your hair and stay on board with hairstyles and new hair trends. So hop on and make every day count with some of our creative and sassy hair trends.