I've always admired a good haircut. A haircut can actually make sure that you look good, no matter how blessed you are with natural looks. Bangalore is a perfect city for the latest styles and fashion and trends as there are a lot of young people in the city who like to take care of themselves. Salons and Parlors are super underrated when it comes to making you look good. Today we cover the best hair salons for haircuts in Bangalore.
Best Salon in Bangalore for Haircut
#1 – B Blunt

B Blunt is one of the most popular salon chains in Bangalore. A lot of people aren't aware of this, but they've been around for 20 odd years. They are a salon chain and have stores in various parts of the city. B Blunt has won numerous style awards for their salon services. They are by far one of the top salons in Bangalore. They have stores in Six locations in Bangalore and that is Koramangala, Frazer Town, Ashwath Nagar, Indira Nagar, HSR Layout and Ashok Nagar.

If you are looking for different range of professionals, then B Blunt is the perfect destination for you.

#2 – Bodycraft
Bodycraft is another super popular salon chain that has more than 10 stores in Bangalore. Founded by Manjul Gupta, Bodycraft is one of the premier salon companies in Bangalore. They offer a wide range of services that includes salon services such as haircutting, dye and hair styling and spa, skin care services, clinic, nail salon and bridal services. They have stores in the following areas in Bangalore.

100 Feet Road
HRBR Layout
Indiranagar, Defence Colony
Frazer Town
Koramangala
Sadhashivnagar
Lavelle Road
Jayanagar
Whitefield
They are known for their professional services and also their lovely ambience. This is perfect for people who want an overall service that is dedicated to grooming.

#3 – Bounce
One of the premier salons for haircuts in Bangalore and in India is the Bounce Salon. They are a super trendy and in-style salon that is popular among young people in the city. Bounce has close to 14 stores in Bangalore with a presence in areas such as Whitefiled, Indiranagar, Kammanahalli, Koramangala, JP Nagar, HSR Layout, Sahakar Nagar and Jayanagar.

Bounce specializes in haircuts and hairstyling as well. They do the washing, conditioning and fringe cuts. In styling, they use the blowdry, flat iron, curling and toppik.

Bounce in a premium offering with brilliant hair stylists and service professionals. If you are looking uber stylish haircuts that are in-trend, then Bounce is the destination you are looking for.
#4 – YLG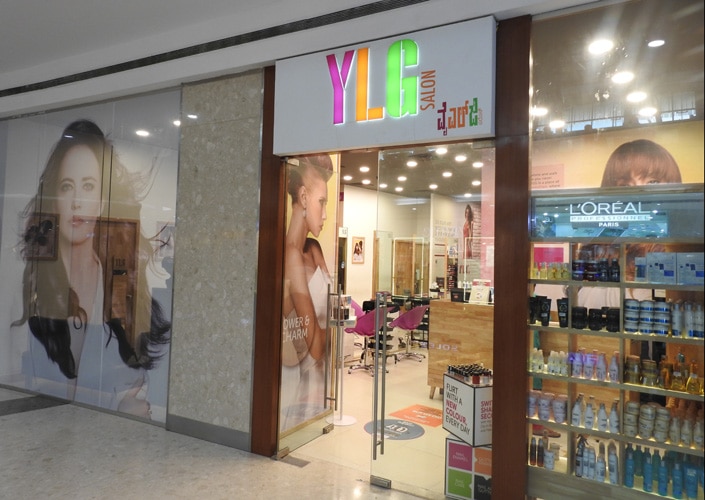 YLG that is short for "You Look Good" is a very popular salon chain. They are estimated to have over 57 salons in Bangalore. Pretty new in the game, having started only in 2009, they have gone on to become a salon to be reckoned with. They offer a variety of services that includes Hair Cut, Coloring, Straightening, Perming, and other Hair Treatment services.

Their first store was in Airport Road and their other popular stores are in Indiranagar, Kasturi Nagar, Banaswadi, Gopalan Mall, HRBR Layout, Frazer Town, Yelahanka, Brookfield, Langford Town, Koramangala and JP Nagar.

#5 – Peaches
If you are looking to get your mind blown and indulge in the lap of luxury, then Peaches Salon is the destination for you. Located in Ulsoor, close to the popular Gurudwara, Peaches is the ultimate grooming destination. The interiors of the salon are well done and brightly lit. Their experienced hair stylists know exactly what you want and offer a range of services that are hair coloring, hair cutting, hair styling, hair loss treatment, hair straightening, perming, permanent and hair straightening.

This is one of those eclectic places that will give you an experience you won't forget.

#6 – Perimeter Unisex Salon and Spa
Perimeter is a salon located in Banashankari. Their USP is, they offer premium services at super affordable prices. They are one of the most affordable salon services in Bangalore. They are known for their hair cuts, hair styling and also skin treatment related services. They also have packages that you can take that are super affordable and give you the best grooming experience.
#7 – Green Trends
Another popular salon that has been around for quite sometime is Green Trends. Green Trends have over 20 stores in Bangalore. They are most popular for their bridal services and offer some of the best value for the price they charge. Their popular locations in Bangalore are CV Raman Nagar, Rammurthy Nagar, HRBR layout, Kundanahalli and more. The services they offer are advanced hair styling, detan and bleach, hair cutting, facials, hair colouring, threading, pedicure and manicure. They offer a lot of combo services that is value for money.

If you are looking for a good and nice haircut, visit Green Trends.

#8 – The Roots
Roots is a unique hair salon in Bangalore. They have two stores in the city, Whitefield and Sarjapur Road. They are unique because they offer Ayurveda services along with their haircutting services. They specialize in Haircuts, Waxing, Hair Removal, Manicure and Pedicure. They have a team of expert stylists who give you the haircut that you want. The ambience is great and the staff are courteous. Some of their popular services are facials and hairstyling.
#9 – Naturals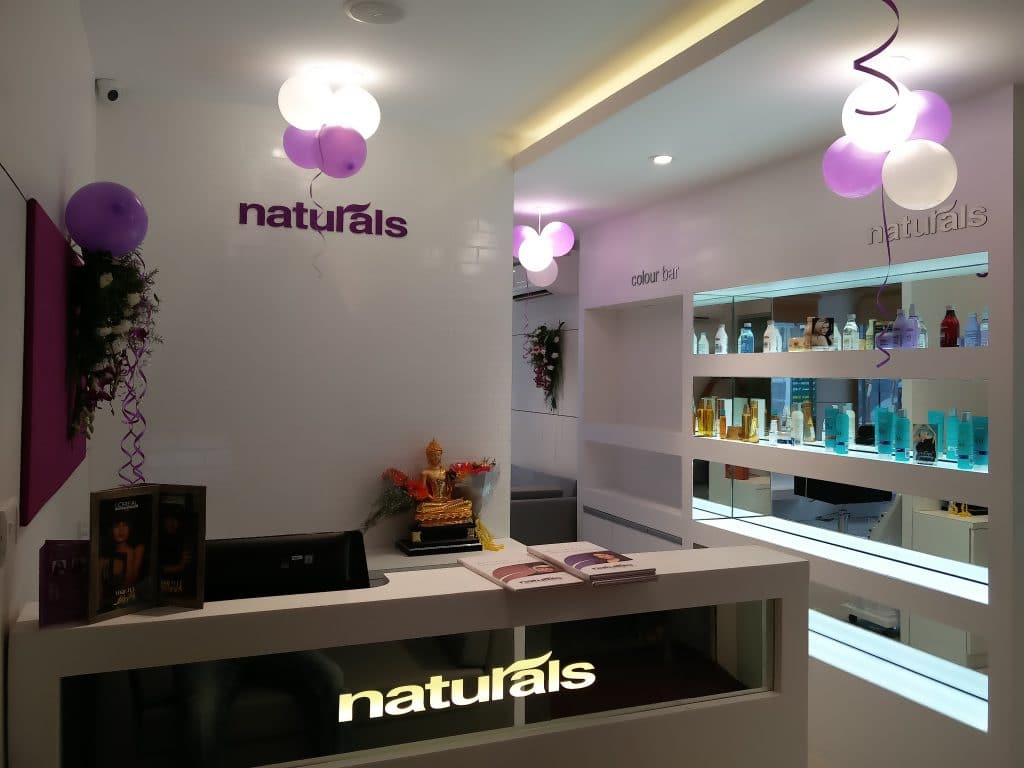 Considered India's number one salon. Naturals is the most popular salon not only in Bangalore, but in India. They are the biggest brand, with Kareena Kapoor being their brand ambassador. They have a presence in 8 states and over 50+ cities. They have stores in Pai Layout, Jeevanbheemanagar, Channasandra, Horamavu, HRBR Layout and more. They have 10+ stores in Bangalore. Their service offerings are pretty wide. Their main categories are Hair care, Skin Care, Body Care and Bridal. In Hair Care, they provide hair styling, hair cutting, hair colouring, hair spa, hair straightening, hair highlights, hair extensions among others.

#10 – Enrich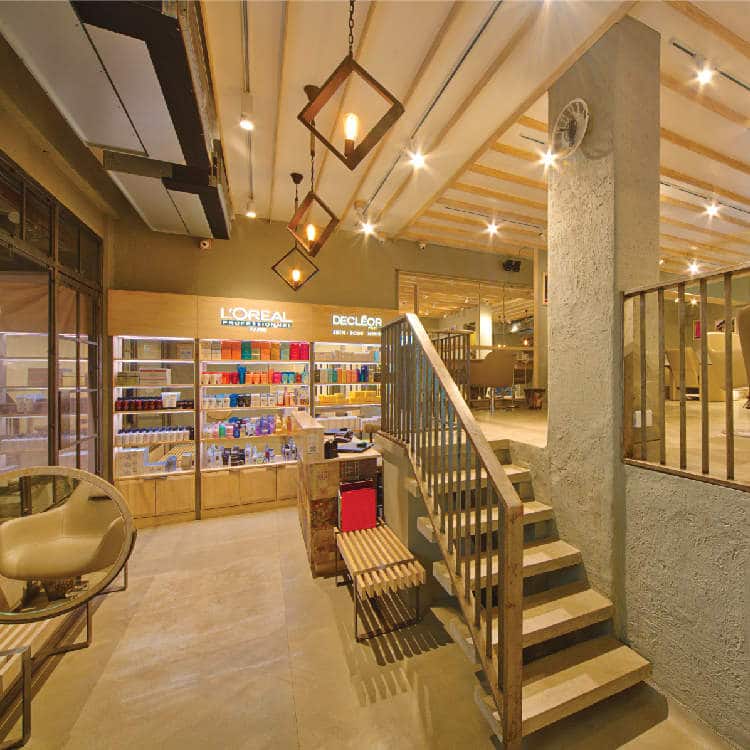 Enrich Salon is one of the oldest salons in Bangalore. They were established in 1997 and have 8 stores in Bangalore. They have a presence in Indiranagar, HSR layout, Kammanhalli, Jayanagar and Whitefield. They have one of the nicest looking salons in Bangalore. They also offer Salon at Home services. They run a salon academy that trains future hairstylists. Their services include hair cutting, hair styling, spa, hair treatment, hair extensions, hair straightening and more.
#11- Margaret's Hair Dressing
Margaret's is one of those hole in the wall sort of places. It's a stand alone salon shop that has become extremely popular in recent years. This salon gives you a makeover and up do of your choice. The stylists at this parlour are extraordinary and can give you a haircut of your choice. Want complicated haircuts like layered bangs or deep fringes? Then this is the place to go to. If you have a haircut in mind, the stylists at Margaret's will execute. This salon is located in Koramanagala and they offer all hair related serivces such as hair cut, hair straightening, hair trimming, hair styling and more.
Best Hair Salons in Bangalore
There are numerous hair salons in Bangalore that cater to your specific needs. Most of the big chains have bridal services, haircutting services that have professionals with varying experiences. You can choose to work with an amateur or a professional for your haircuts.
Also Read:
Body Craft

BBlunt

YLG

The Roots
Best Hair Salon in Bangalore
What are the best hair salons in Bangalore?