Hair

Jet Black Ginger

Blow Hair Bali

Christophe Coiffure
Best Hair Salons in Bali
What are the best hair salons in Bali?
Bali is one of the hottest holiday destinations in the world. It attracts millions of tourists from all over the world. Travellers from Australia, UK, US and other Asian countries come to Bali every year. Bali is a potpourri of cultures and that makes for some very interesting fashion and art. People from these myriad cultures bring their own styles and thoughts and have made Bali one of the most stylish holiday destinations in the world.

When it comes to style, we can't not talk about hairstyles and haircuts. Bali, being a small island, still has numerous salons and parlors that can compete with the best salons in New York, London and what not.

Today we cover the best hair salons for haircuts in Bali.
Haircut in Bali
#1 – Hair
Simply named 'Hair'. This boutique salon has two branches – Seminyak and Canggu. Hair is one of the best looking hair salons in Bali. It has a distinctive 'grunge' feel. They have a team of professionals from all over the world. Their services include hair cutting, hair styling, hair treatments such as Keratin Smoothing, Chlorine Removal and Olaplex. They also provide hair colouring services such as Balayage and Bleach Roots.

'Hair' is one of the top salons that are priced reasonably and offer one of the best services in Bali. It's a must visit if you are visiting Bali and looking to get a good cut.
#2 – The Shampoo Lounge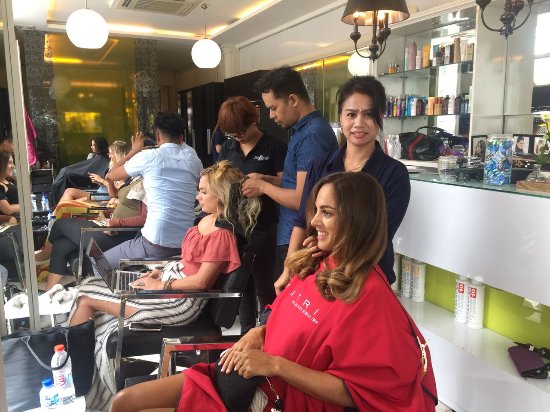 The Shampoo Lounge is one of the quirkiest hair salons in Bali. They are a full service salon and spa and offer numerous services that will keep you coming back for more! This is a popular salon in Bali because of their full range service. A lot of women who are planning to get married in Bali, visit The Shampoo Lounge. They have two main salons located in Seminyak and Nusa Dua. They also have tied-up with Bali Barber which is an exclusive men's salon where a man can get cold beers, massages, cuts etc. While your man is getting relaxed, you can relax yourself at The Shampoo Lounge.
#3 – Jet Black Ginger
Jet Black Ginger is a new age salon that offers many services. They are located in Canggu and they are booked weeks in advance. So if you are looking to get your hair done at Jet Black Ginger, then make sure to fix your appointment, weeks or months in advance. They have some pretty amazing hair services such as haircuts, blow dry, hair colouring, highlights. They also have other offerings such as cream bath with head massage, alfaparf treatment etc.

Apart from that they are known for their facials, eyelash extensions, manicures and pedicures. You can make a booking via text, Whatsapp or email.
#4 – Manik Beauty and Hair
Manik is one of those solid salons that you can always rely on to get a fabulous cut. They have been around for more than ten years and it was first set-up by an Australian who moved to Bali for good. They have two stores in Bali – Canggu and Seminyak. The best part about Manik is the consultation prior to the actual service where they get to know what you want and understand your requirements and make sure to give you exactly that. They also have a Goldwell Blonde Specialist who colours your hair blonde to give you golden hair that will shine under the Bali sun. Manik is known for its fusion cuts which is state of the art in the world of haircutting. They are also great with colours and styling.
#5 – Rob Peetoom Hair Spa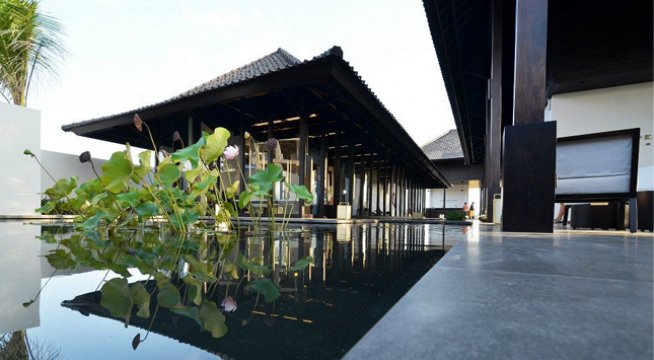 Rob Peetoom is one of those places which is a perfect embodiment of Bali. Their interiors have a lot of natural greenery and a small water body. So when you get your haircut, you can be outside with nature and enjoy the natural greenery of Bali. Coming to the salon itself, Rob Peetoom is known as a hair stylist for celebrities. Rob Peetoom has done styles for the likes of Paris Hilton. Their store is located in Seminyak.

Rob Peetoom salons have been around 1969 and are one of the veterans in the business. You can also choose the experience of the stylish you want to work with.
#6 – Toni & Guy Bali
Toni & Guy is one of the biggest hair salon chains in the world. They have a huge presence in the biggest cities in the world. Toni & Guy Essensuals is the hip version of T&G. Toni & Guy Essensuals has 126 branches worldwide.

Located in the heart of Seminyak, this is the best of Toni & Guy. If you want the familiar quality of T & G that you are used to in your home country, get it here in Bali. They are open till 10 at night every night. So if you are looking to pamper yourself over the weekend, then this is the right place to go.
#7 – Spring Spa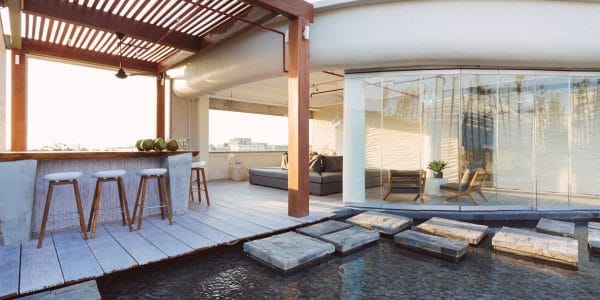 Spring Spa is a New Zealand based Spa chain. They have over 4 stores in New Zealand and have over 3 stores in Bali with a fourth one coming up. They have two stores in Seminyak, one in Canggu and the fourth one opening up in Nusa Lembongan in 2020.

They have a range of services such as hair cuts, hair removal, scrubs, hair treatments, make-up, facials, massages, and hair colouring. It costs about 365,000 IDR for a hair cut for long hair.

The ambience is quite beautiful and they have some unique services such as 'Hair Rescue'. If you want a quiet, private grooming sessions, Spring Spa is the place to be.
#8 – Christophe Coiffure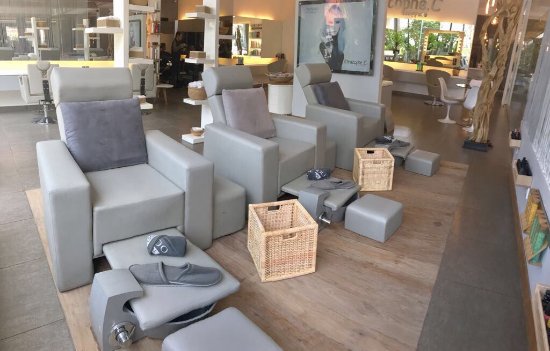 Named after the founder Christophe Coiffure, this salon was opened in 2007 in Bali. Christophe is a French hair stylist and brings his very own methods and hair styling techniques from France. This salon has an international team of hair experts that are great at hair cutting, hair styling and other hair services such as colouring.
#9 – Glo Day Spa Bali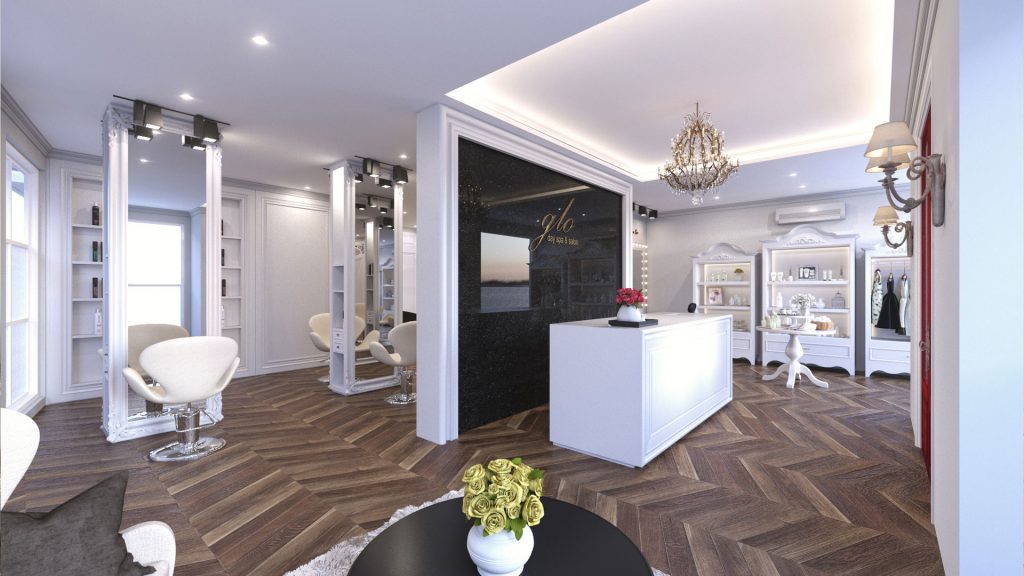 Glo Day Spa in Bali is truly a salon chain with over 4 stores in Bali. They are located in Canggu, Sanur, Seminyak and Nusa Lembongan. They have various hair styling options and due to their Indonesian hair stylists who focus on amazing hair care treatments such as Cream Bath Hair Spa.
#10 – Blow Bar Bali
If you are on holiday and want to pamper yourself, then there is nothing better than Blow Bar. Blow Bar is a premium hair salon in Bali that pampers you in numerous ways. Located in Seminyak, Blow Bar is a combination of a cocktail bar mixed with a salon. So when you are getting your treatments done, you can kickback, relax and get a nice tasty cocktail to keep you company.
#11 – Spoiled Hairdressers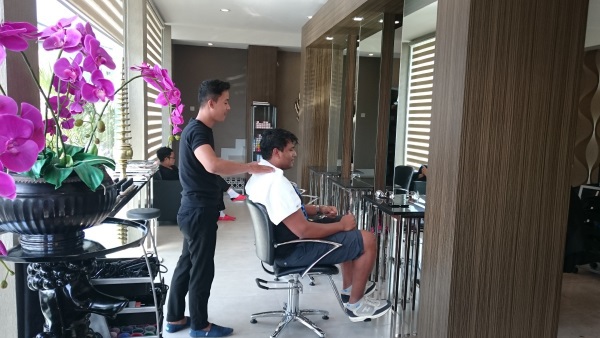 Spoiled Hairdressers is a unique salon founded by Max. Max is one of the premier hair stylists having started his career in Holland. Today he specializes in creating the best styles and cuts for women who come to Bali. They have an international team of hairstylists who focus on the trendiest and most stylish cuts. Their store is located in Umalas.
#12 – JazB Beauty Space
JazB Beauty Space is the ultimate mix of style and substance. This stylish salons has various services such as washing, cutting, drying and they also offer hair extension services. While you are getting pampered, you can enjoy their free snacks and drinks!
Salons in Bali
Bali has some of the most unique salons that you will ever find. So if you are looking for the best hair salons for haircuts in Bali, make sure to check out the list above.
Also Read :