London! One of the most cosmopolitan cities in the world. London is a pot-pourri of cultures and stories that makes it one of the most fashionable cities in the world.
And when you talk about fashion, you have to talk about salons and styling.
The underrated aspect of London fashion is its salons.
Related: Best Hair Salons For Haircuts in New York
Related: Best Hair Salons For Haircuts in Singapore
London has some of the best hair salons in the world that come up with unique styles and cuts for its patrons that makes it one of the top destinations to get your haircut.

Enough about London. If you are a Londoner, you are probably wondering what the best hair salons for haircuts in London are?

Well, we have a list to help you out!
Best Hair Salons for Haircuts in London 2021

#1 – Hare & Bone
Hare & Bone is founded by Sam Burnett, one of the biggest names in the hair styling/ salon business. Sam has worked with the biggest celebrities in the world.
The likes of Jessie J and Dua Lipa have had their hair styled by Sam Burnett. Hare & Bone's stylists take from Sam's school of hairstyling.
They understand their client's personality and try to match a hairstyle to the face structure and shape.
So if you are one of those people who does not know what to get, but are willing to experiment, then step into Hare & Bone to get your haircut and styled.

Their service range includes cutting, colouring, finishing, treatments and other make-up services.
#2 – Percy & Reed
Named after the iconic founders – Paul Percival and Adam Reed, Percy & Reed is one of the best salon chains in all of London.
Founded in 2007, this salon chain has become one of the top in London. They have stores both in the east end and the west end as well.
The best part? You can get your haircut and styled by Adam Reed and Paul Percival themselves. That cut will set you back by £300, but it's totally worth it.

The services they offer is pretty wide – Hair colouring, hair cutting, bleaching, straightening, Brazilian Blowdry.

They are one of the most professional salons out there. One example of their professionalism is the fact that they take a patch test 48 hours before the appointment.
With this patch test, they want to ensure that you don't have adverse reactions to the colour.
#3 – Bleach London
Located in Dalston, Bleach London has quite a reputation. As the name suggests, the stylists at Bleach are known for their hair colouring techniques.
Apart from haircutting and styling, they also make their own products which they sell through their website and salons.
The story of how Bleach started was pretty interesting.
Alex Brownsell, one of the founders, got tired of experimenting with her friend's hair at home, he decided to take her craft to the world and founded Bleach. His co-founder is Sam Teasdale.
They proudly suggest that their salon is the first salon in the world that focuses on colouring more than cutting. So if you are looking for some basic streaks to the extreme colours, then this is your place.
#4 – Taylor Taylor London
Taylor Taylor is an uber popular salon. They have three stores in London located in Shoreditch, Portobello and Soho – Liberty.
Everything about Taylor Taylore is dreamy. They have some of the best looking salons in the country. Taylore Taylor has been in the news for their unique offerings. Their super popular service is the 'Tie it up'.
They do up your hair with some amazingly designer scarves and ties. If you are looking for a hairstyle with a tie, then this is the place to go to. The services they offer are cutting, styling, blowdry, colouring, and a Brazilian blowout.
The wash, blow out and dry start off at £65 for the basic stylist and costs only £95 pounds for the creative director of Taylor Taylor.
#5 – Salon64
Salon64 is a very unique offering that is more than just a salon. This is a salon cum social hub. This means, ladies can come here and get their hair and nails done.
If you don't want to get your hair or nails done, it's quite alright, because Salon64 is a social hub too. You can get a coffee or some bubble tea at the cafe and at the same time you can get your hair and makeup done as well.

Their services include Extensions, Make Up, Hair Colouring, Cut and Blowdry.

So if you are looking for a truly unique salon experience in London, then Salon64 is at your service.
#6 – Josh Wood
Josh Wood is one of the most popular colourists in the UK Hair Salon scene. He has worked with top of the crop celebrities such as Kylie Minogue.
Josh keeps experimenting with colour and ensures that each person gets a hair colour that chooses their personality. Their team comprises of the best stylists and colourists in the business.

Their services include hair cutting, hair styling, hair colouring, trims, straightening and more. You can find his salon at 6 Lansdowne Mews, London.
#7 – Ned's Parlour
The Ned London is one of the premium and iconic hotel landmarks in London. It's known for its posh 250 room property that is chic, historic and stylish.
This hotel has 10 restaurants, spa services among other things and they have a salon as well. This salon is probably the most underrated aspect of The Ned.
They have only two stations at The Ned, so make sure to set-up an appointment much before.
The design of a lot of the suites are 1920's old school victorian themed rooms and the salon 'Ned's Parlour' also has an old school vibe which is pretty great.

Their services include signature cuts, colours, blow dries and up-do.
#8 – Glasshouse Salon
The Glasshouse Salon is one of those salons that is known for its natural products. They use only organic conditioners and other products.
Their USP is, they want to focus on long term health of your hair. So if you truly care about organic products, then the Glass House Salon should be in your radar. They are located in Westgate Street.

The haircut for a junior stylist starts at £58 and if you want the director to cut your hair, then it will set you back by £80.
#9 – Paul Edmonds London
Paul Edmonds is known for their partnership with EE British Academy Awards. They have a wide range of services such as haircuts, hair colour, hair treatment, extensions, beauty services and bridal services.
#10 – Jo Hansford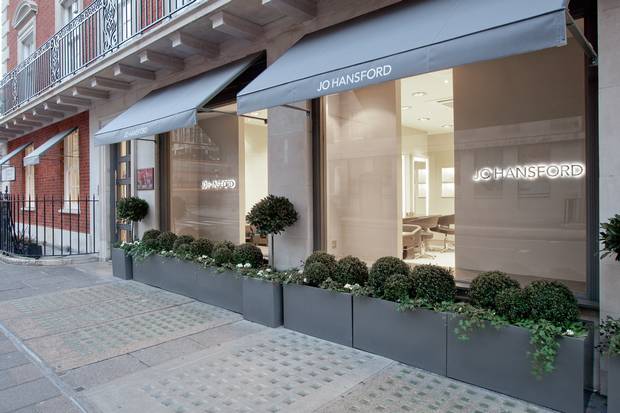 Jo Hansford is known for its colouring services. They are a social center where you can get a fancy breakfast or lunch while you're getting your hair or nails done.
This is a supremely professional salon where you can work personally with your stylist to get the look of your choice.
#11 – Hershesons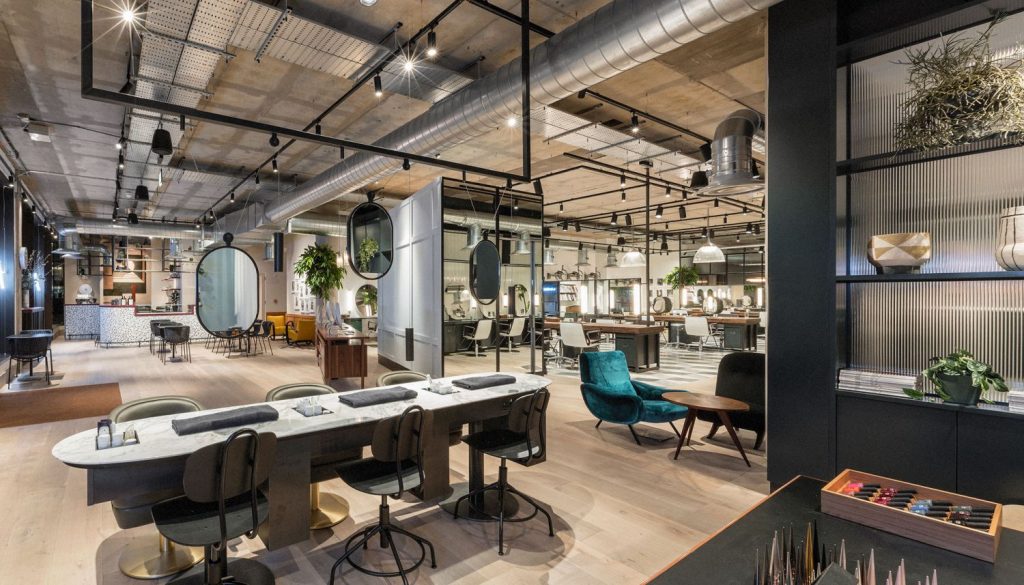 Hershesons is a unique salon located on berners street. It's a salon cum cafe and they have a wide range of offerings. There are pre-built services for hair coloring, hair cutting and skin treatment. One of the best salons out there.
#12 – Larry King salon in London
One of the most poshest and dignified hair salons in London, Larry King is best known for working with David Bekham and we all know how flawless Bekham is!
The salon has beautiful interiors which gives out palace-like vibes from the huge mirrors on the wall. The salon is known for its affiliation with celebrities and its effortlessly splendid work and amazing staff!
#13 – Hari's Fulham Road hair salon for haircuts
Hari's is the biggest thing in London because of the long years it has been around to create the name and reputation for itself.
For over 40 years, Hari's has acquired trust and some really dedicated clientele. The staff it has is super efficient and gives the best of services.
The surrounding and the mood of the salon is very serene giving the customers more calmness. 
#13 – George Northwood
People go to George Northwood for complete makeovers and come back satisfied and content.
Once you go there, the team knows what will make you look fab and will work their best to provide you with the same. They are best known for their bob cuts which comes in a very professional and sleek look. 
#14 – Hair Lounge
The Hair Lounge is the perfect hub for everything that needs your hair to be perfect and flawless. From root touch ups and colouring to kinks and curls, they do them all.
The staff is limited and they have only the professionals to bring out the top results in their customers. 
#15 – Trever Sorbie Convent Garden
Trevor Sorbie is known for its super convenient personalised services that work theor hand at giving the customers what they need according to their instructions.
Their scalp exfoliation is so refreshing and a must need in this time and age when it comes to having a hard day.
One thing we can assure you for sure is that once you are out of Trevor Sorbie, you will go back!
FAQs – Hair Salons For Haircuts In London
Where do celebrities get their hair cut London?

Some of the most famous places where you can see
celebrities
get their hair cut include:
– 7 Percy Street, Fitzrovia
– George Northwood Salon, 24 Wells Street
– Hershesons, 29-32 Berners Street
– Gielly Green, 42-44 George Street
How much does a haircut cost in London?

London is quite an expensive city. The cost of living their is a bit high. So you can expect the
hair salon
prices to match this as well. On average, you can expect a haircut to cost anywhere between £5 – £15 in London city. And this is at a mid-rate salon. But if you're opting for a fancy, high status establishment, especially if it's known for it's famous clientele, a
haircut
can cost between £20 – £100, or maybe even more.
Who is the most famous hairdresser in the UK?
Here is a list of the most famous hairdressers in the UK. The most popular names include:
– John Frieda
– Josh Wood
– George Northwood
– Charles Worthington
– George Northwood
– Nicky Clarke
– Daniel Hersheson
If you are looking for the best hairsalons for haircuts in London, then look no further than the 12 we've covered above.
Also Read :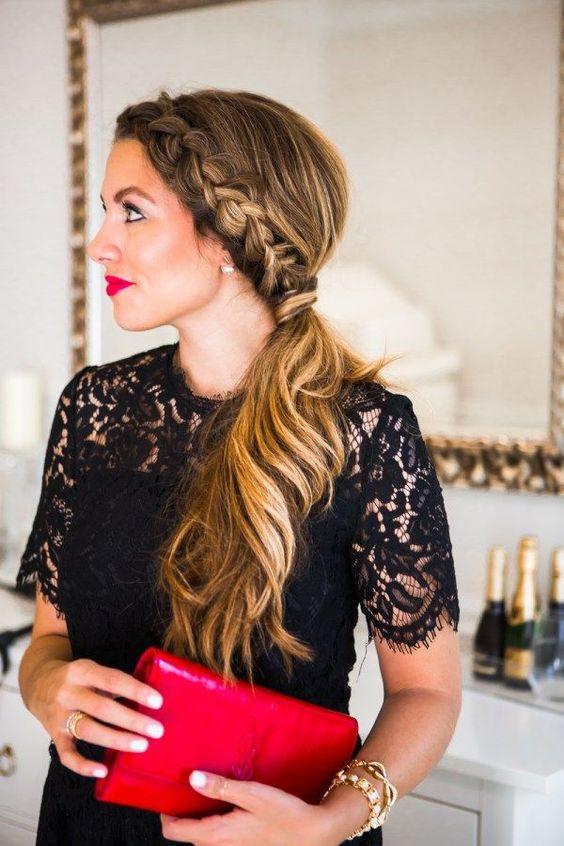 From hair care to soaring hair trends, we cover it all. We make sure you nurture your hair and stay on board with hairstyles and new hair trends. So hop on and make every day count with some of our creative and sassy hair trends.