If you have green eyes, then congratulations. You are a rare minority! Did you know that only two percent of the world's population has green eyes? 
For a lot of people, their emerald beauties are a defining feature. So why not make them pop with the right hair color?
Choosing the best hair color for green eyes and light skin will ensure the compliments don't stop pouring in.
But how do you know which is the right tone for your skin?
It depends on something called your skin's undertones. Even if you are light-complexioned, there are several shades underneath your skin.
The most flattering hair colors are ones that complement your undertones. Oh boy. That sounds like a lot of work. Doesn't it? 
Don't worry. We've already got it all sorted for you. Just check at what your undertones are, and choose the best hair color for green eyes and light skin from our list.
Related: Best Hair Color For Grey Eyes
Related: Amazing Brown Ombre Hair Color Examples
Having hazel green eyes, it has been really difficult to choose the right hair color shade that would protrude my face the right way and give my face the right balance of color.
Light or dark brown shades are the best hair color for those with green eyes. It allows your face to be well balanced and the light shades gives the eyes the right attention and keeps you radiant altogether.
Top Hair Color For Green Eyes 2021
Best Hair Color For Green Eyes And Light Skin With Warm Undertones
Ever heard of someone's skin being compared to porcelain? Ever wondered what on earth that is? It's just light skin with warm undertones.
People with this kind of skin usually see red or pink shades under their skin. The best hair color with green eyes and light skin with warm undertones are those that neutralize that redness. 
Think icy blonde, platinum, and ash-colored hues. The lightness of the shades creates a flattering contrast with the bright green tones of your eyes as well.
People with warm undertones and green eyes should avoid hair dyes that are blue, violet, or purple, or have those shades.
Black is out too, and so is dark brown. These colors make you look washed out and bring out the yellowish tinge in your skin. 
Platinum Blonde
L'Oreal Feria Absolute Platinum Hair Color
The best way to get that icy platinum color without damaging your hair is by using this L'Oreal Feria Absolute Platinums Hair Color. It leaves your blonde hair up to seven shades lighter and gives a gorgeous shimmer to it.
If you've naturally brunette hair, you might have to bleach your hair a lighter shade before you try this L'Oreal Feria hair color.
The dye is perfectly safe on hair and does not contain ammonia. We suggest using a purple shampoo to after using this hair color. 
Ash Blonde
Amika Bust Your Brass Cool Blonde Shampoo
If you're planning to go platinum blonde, purple shampoo is a must-have. And this one by Amika is one of the best. Bleaching your hair can leave harsh, brassy undertones on it. A purple shampoo cancels out the ruddiness, leaving your tresses a cool blonde shade.
Plus, this Amika shampoo is packed with vitamin-rich ingredients like sea buckthorn oil and wild cherry bark extracts that nourish the hair.
This is an absolute blessing, as bleached hair often appears dry and straw-like. 
The Amika Cool Blonde shampoo also comes with an ultraviolet filter that protects your hair dye from fading.
Best Hair Color For Green Eyes And Light Skin With Cool Undertones
Okay, we'll give you a quick tip. The most flattering hair dyes are the ones that are the opposite of your undertones. That means if you've got cool undertones, the best hair color for green eyes and light skin would be those with warm shades.
So you should go for dark honey blonde, caramel, amber, and butterscotch-toned hair dyes. You can even choose to add a darker blonde highlight or opt for a balayage.
It adds depth to your hair color, making green eyes pop. And contrary to their appearance on warm undertones, hair dyes with a blue and violet base look amazing on cool skin tones. 
As for the colors to avoid, steer clear of anything with orange tones. Ginger hair is a no-no if you've got green eyes and cool undertones.
Golden Blonde
Clairol Natural Instincts Semi-Permanent, 8G Medium Golden Blonde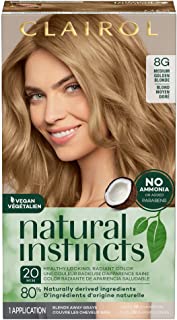 This long-lasting hair dye is the perfect pick if you want that warm golden color on your tresses.
The medium golden blonde shade compliments cool undertones and brings out the green tints in your eyes. Plus, it covers any greys too.
The Clairol Natural Instincts color lasts for about 28 washes. And as it comes packed with nourishing ingredients like aloe vera and coconut oil, the dye leaves your tresses shiny and soft.
There is no ammonia, paraben, or any other component here that'll be harsh on your mane.
So if you're looking to switch up your hair color, the Clairol Natural Instincts Medium Golden Blonde is the best choice. 
Light Brown
Adore Semi-Permanent Hair Color Spiced Amber 046
The Adore Spiced Amber hair color is another fantastic pick for cool undertones and green eyes. The best part about this dye is that it is 100 percent vegan and cruelty-free.
Plus, there are no damaging ingredients like ammonia, peroxide, or alcohol in it. 
This 046 shade leaves your hair a dark blonde color with brown tints adding depth. Users of the Adore dye seem to love its lasting power, which is great for a semi-permanent dye. 
Best Hair Color For Green Eyes And Light Skin With Neutral Undertones
The best thing about skin with neutral undertones? Almost any color looks good on them. So if you've been blessed to have green eyes and neutral undertones, we've got just one advice for you. Experiment! 
Try going for pastel hair color shades. A light pink or sea green is just the thing to bring out your eyes.
But if you're looking for something more conservative, try a strawberry blonde, auburn, or coppery hair dye. The red tints in these hair colors highlight your emerald eyes. 
Or maybe try a hair color that is not too flashy or too common. A metallic rose gold shade is the best hair color for green eyes and light skin with neutral undertones.
Auburn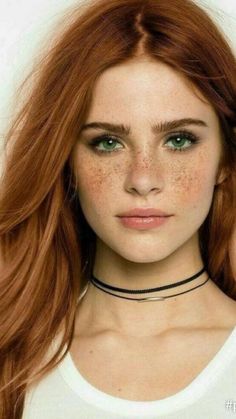 Garnier Olia Intense Auburn Hair Color
Light auburn shades are just the thing for green eyes. And the Garnier Olia Intense is among our favorite hair dyes. More than 60 percent of the formulation is oil.
So no worries about drying or damaging your hair! And this dye doesn't have ammonia in it either. So it's all good.
The Garnier hair dye is permanent and long-lasting. It leaves the hair shiny and soft thanks to the flower oil formulation. We absolutely love the natural floral fragrance as well.
Rose Gold
Clairol Color Crave Semi-Permanent Hair Color, Rose Gold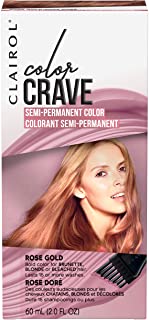 One of the best things about having neutral undertones with green eyes is the freedom you get to experiment. So why not try this metallic rose gold color?
This one by Clairol is the best. The semi-permanent hair color lasts for at least 15 washes on brunette hair, and even more if you're naturally blonde.
We think the best thing about the Clairol Color Crave hair dye is that you don't have to bleach your hair. The color looks just as vibrant and shiny on dark hair tones.
Moroccanoil Color Depositing Hair Mask
Even with a neutral undertone, some women are hesitant to experiment with funky, bright colors. Enter the Moroccanoil Color Depositing Hair Mask. We absolutely adore how this product nourishes your hair while leaving it richly-tinted.
You can even choose from different tones like Aquamarine, Hibiscus, and Rose Gold. Using it is simple. Just put in on like any other hair mask, leave it on for 7-10 minutes, and wash off. Tada! You've got colored hair now.
Plus, the blend of apricot kernel oil, argan oil, and amino acids will leave your tresses soft and nourished.
Best Hair Color For Green Eyes And Light Skin With Peach Undertones
As delicious as this undertone sounds, it can leave quite a few people confused. What in the world is a peach undertone? It's simply a type of warm undertone.
The only difference is that warm undertones include shades of gold and yellow, while peach undertones are predominantly red and pink.
And the best shades of this type of skin tone are dark reds. And green eyes make it all the better. The dark red shades bring out a natural blush in your skin, making you glow.
Pro tip! We think you should avoid red if you have olive undertones. They bring out the green in your skin tone, giving you a sickly look.
Dark Red/Crimson
Manic Panic Vampire's Kiss Hair Dye
The best hair color for green eyes and light skin, the Manic Panic Vampire's Kiss Hair Dye leaves bleached hair a dark red. On virgin hair, the dye leaves light-red tones, which are surprisingly prominent.
This is a semi-permanent dye, so it gives you time to get used to the color if you're not a natural red. So you'll get your natural hair tone back by 4-6 weeks. Like it? Keep it.
Or you can experiment with another color. You can even try the Manic Panic hair color if you're not keen about coloring your hair. It sits on top of your hair shaft and doesn't penetrate the cortex. 
We love this product because of how gentle it is on the hair. It's free of phthalates, ammonia, and PPD. Cool, right?
Burgundy
Garnier Nutrisse Permanent Hair Color Cream Deepest Intense Burgundy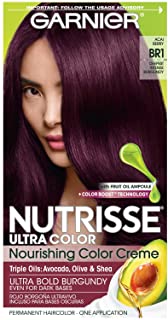 The Garnier Nutrisse Burgundy hair color is one of the best and affordable hair dyes on this list. It leaves your hair a deep wine tone that's perfect on peach undertones. This color is long-lasting and covers greys too.
We loved the nourishing blend of avocado, shea, and olive oils that nourish hair, adding softness and shine. The dye's color boost technology makes its super-reflective burgundy tones show up on naturally dark tresses as well.
Picking the best hair color for green eyes and light skin can get confusing. One question that remains on everyone's mind is "How the heck do I know what my undertone is?"
Read on to know the answer to that and several other hair dye-related questions that readers ask us.
FAQs – Best Hair Color For Green Eyes
How do I find the undertones on my skin?

Right. Before checking the best hair color for your skin tone, it's important to know your undertone. Most people fall into four categories of undertones: warm, cool, neutral, and peach. You can figure out yours by using these simple tricks.

– Check your wrist: It's the simplest way to know your undertones. If the veins under your skin appear blue or purple-toned, you most likely have cool undertones. On warm undertones, the veins appear green. 

– Check your eyes: another way to know your undertones is to check your eyes. People with warm undertones have a lot of gold flecks in their green eyes, while those with cool undertones have tints of blue mixed with the green. Also, people with olive undertones usually have hazel-toned eyes instead of green.

– Match yourself with a celebrity: Do people compare you with Emma Stone or Tyra Banks? Look for celebs with skin tones and eyes the same shade as yours. Chances are they might have already tried the hair color you want to get. The way it looks on your celeb doppelganger is how it'll look on you. 


What hair colors are best for green eyes and olive skin tones?

If you look at the veins on your wrist and see that they don't either distinctly green or blue, you might have something called an olive undertone.
People with this type of skin tone have a mix of yellow, green, and greyish tinge to their skin. Sometimes foundation shades can come out as too orange or yellow on olive skin tones. 
The perfect hair color for people with olive undertones and green eyes are rich chocolate brown tones. Even black color (which can make people with cool undertones look ashen) goes with olive skin tones.
Just go for a rich black dye and avoid those with blue tones underneath. Warm auburn hair also helps highlight green eyes in people with olive skin tones. 


I have green eyes and light skin. Which hair colors should I avoid?

It's true that the best (and worst) hair colors for a skin tone depend more on the undertones than the general lightness or darkness of the skin. But there are some no-no colors, especially if you've got green eyes. 
Vibrant jewel-tones like fuchsia, magenta, dark blue, and emerald green are the worst offenders. These contrast harshly with green eyes and are not the best choice for light skin either.
Then comes the super light colors like ivory or very dark tones like black with purple undertones that wash out your skin tone. 
Picking the most trendy hair dye can be tempting. But you can see the best results by choosing a color that matches your eyes and undertones.
More so if you've got a pair of gorgeous green or hazel eyes. The world can talk about the beauty of baby blues, but green eyes have a charm of their own.
And with the right hair dye, people won't be able to take their eyes away from them. 
Also read
Nourishing shampoos for relaxed hair
Creative hair extensions for festivals
Effective hair growth shampoos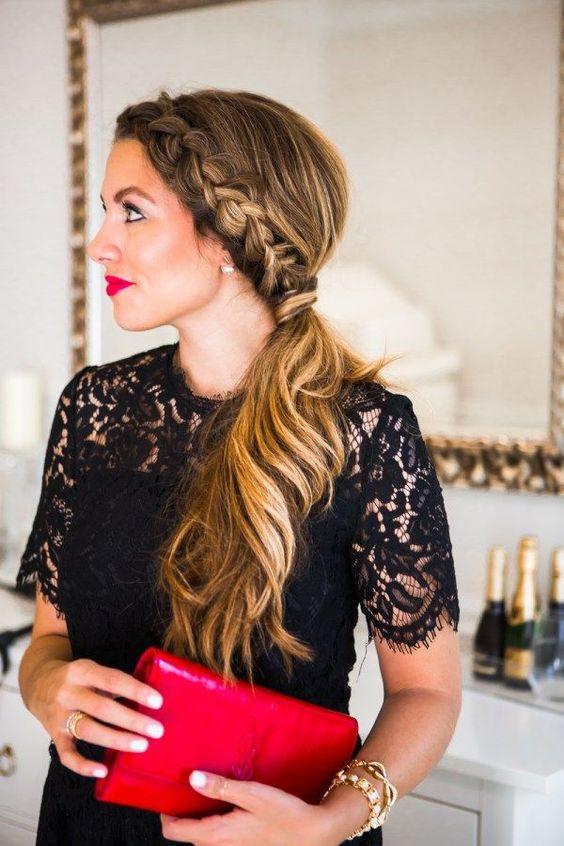 From hair care to soaring hair trends, we cover it all. We make sure you nurture your hair and stay on board with hairstyles and new hair trends. So hop on and make every day count with some of our creative and sassy hair trends.