One of the styles that does not have enough takers but is in the spotlight a lot are Braids Hairstyles For Black Men. Braids are a culturally powerful hairstyle that looks super awesome and stylish.
But not a lot of men have shown an inclination towards the braid.
But in 2021, as cultures have been criss crossed and the world has become more open and connected, the braids are making a comeback.
There are numerous braid styles going around and you don't have to restrict yourself to just a few. So what are the braids hairstyles for men? 

Let's find out!
Braids Hairstyles For Black Men 2021
Braids have now become a symbol of style as well as classiness and I don't think anyone should be exempt to this trend. So we have decided to give you our verdict on the braid style that is becoming the most popular.
Cornrows are the easiest and the style that can be worn by all hair types. Most of all, it favors black ethnic hair by keeping it together and not allowing frizz. This is a hairstyle that is very common and even seen in celebs like Travis Scott.
Cornrows Braids Hairstyles For Black Men
One of the most iconic braids hairstyles in the world is the cornrows. It's named that because of the way it looks. It looks like a row of corn.
Many famous black personalities have worn this hairstyle and one of the most popular cornrows celebrities was the basketball star, Allen Iverson.
This is an intricate hairstyle that requires bunching up groups of hair together and making a very tight plait.
Be sure to test this hairstyle before you get started because it doesn't suit everybody and you need to make sure you can pull it off.
You can try to photoshop a picture of you before trying cornrows to see if the style suits your face! 

Layered Braids
You would have seen many rappers sport this style. The Layered braids are basically similar to cornrows, but a ponytail is made out of your hair in different areas of your head. You can easily let them hand and they are one of the most stylish braid hairstyles for men out there.
You will look like a certified badass with this hairstyle. It's also slightly easier to maintain compared to cornrows and lesser damage to your hair. This hairstyle surprisingly can look good even with formal clothing which is pretty awesome!

The Single Plait
How many times have you seen a man with a plait? Not often is my guess! The plait is one of the most underrated braid hairstyles for a man.
Not a lot of men have the patience to grow their hair for this hairstyle, but when they do! Boy, does it look good? The
Single plait is a simple braid style that men with very long hair can try. It works beautifully well with long straight hair that is braided in a simple criss-cross style all the way to the end.
This is a super elegant hairstyle and a great way of taming your long hair when you are going to a black-tie or a formal event.
Even if you aren't it's a perfect style hairstyle for everyday living. Bear in mind, you will need some time to make your braids every day. 
Box Braids Hairstyles For Black Men
The Box Braids! If you have ever wondered what sort of hairstyle that a lot of these Rastafarians sport, then it's the box braids. When you braid super long hair and make it into a bun of sorts, then it's called a box braid.
This style will make you look wise and also give you the Rastafarian vibes! It takes a very long time to prep this hairstyle and you will need to spend hours to get it done in a salon.
This is also a not so easy hairstyle to maintain as you cannot wash your hair and so on. So if you are wearing box braids, make sure to remove them from time to time to care for your hair!

Braids with Bun
There are these extreme braid hairstyles like cornrows and box braids and so on.
If you don't want to go that extreme and do something more easy to do and reasonable, then you can consider the braids with bun look. These braids are your simple braids and work super well with long straight hair as well.
With this hairstyle, you create simple braids that aren't too tight that criss-cross on the top of your head that goes all the way back to create a bun.
This is a super awesome hairstyle and it's the perfect marriage or braids with the man bun! 

Viking Braid
The last hairstyle with braids is only for the fearless and the super awesome.
The Viking Braid is a different take on your normal single plait but with a huge difference. It's called the Viking Braid, because the Vikings used to sport this style a long time back. So how does it work?
To pull off a Viking braid, you need to shave off the side of your head and grow your hair really long and one single set of hair from the top of your head is made into a single plait bread.
This is a super awesome hairstyle only restricted to certified badasses. If you are in the mood for a wicked hairstyle, then do consider the Viking braid. 
Cornrows with man bun
If you already have cornrows then pulling your hair up into a bun is a classy way to flaunt your man braids. Not to mention how comfortable it feels with your hair off your back. Phew!
Man bun with middle parting and braids
For those of you blessed with a well structured face, this hairstyle favours you in bringing out only the best in your face.
We suggest you use a hairspray to keep your tiny hair strands down so that it looks neat.
Male braid into a bun
A male braid is nothing more than improvising on your man bun and make it more classy and sophisticated. The twists in the male bun are comparatively more than one a man bun.
Mini braided bun for men
The intricate braids in this hairstyles makes it a hairstyles that can be worn for occasions and for outdoor events.
Short dread braid hairstyles for men
Male braids for tattoos 
Long braids with shaved sides 
Lil Yatchy Beaded braids hairstyles 
Man braids with lines
Half and Half Braids with bushy hair
ZigZag braids with temp fade
High fade braids with braided ponytail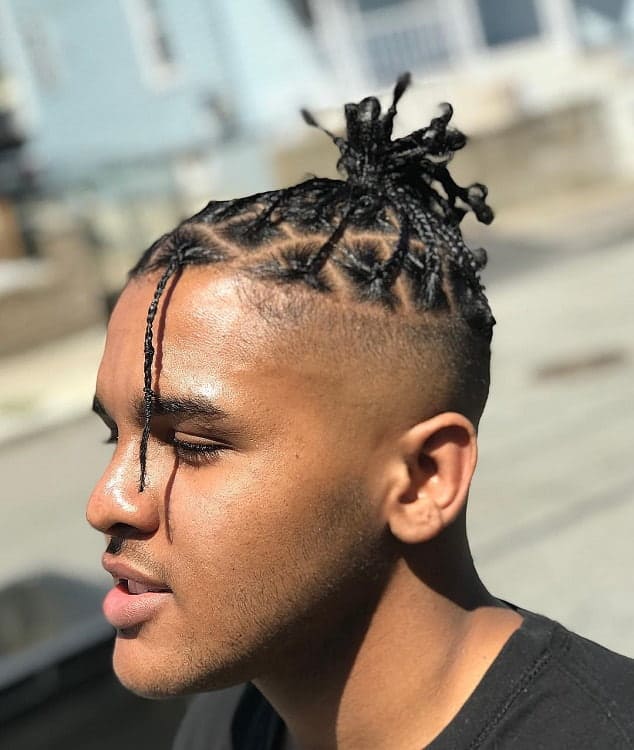 Mohawk braids bun
Dyed braids for men
High fade braids for temp
Travis Scott Braids Hairstyles For Black Men
Bun with two braids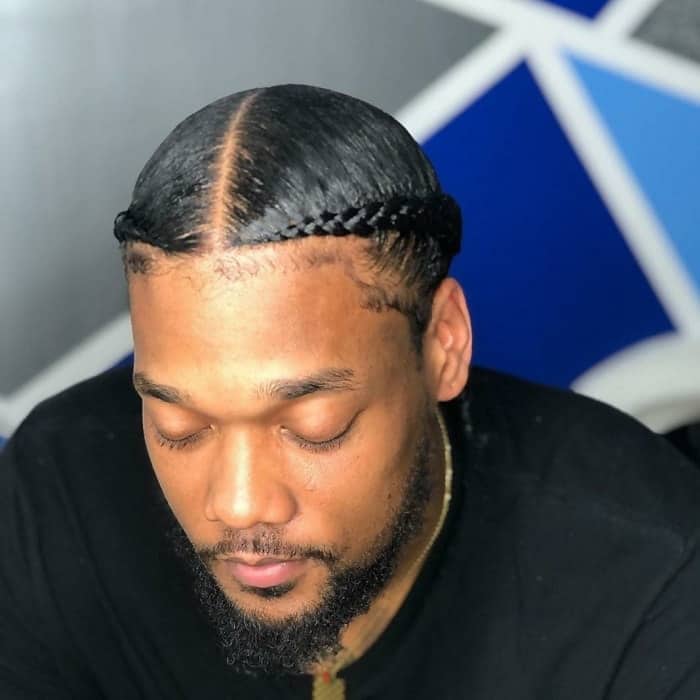 Black Dreadlock Top Knot
Keep those long dreads out of the way with this top knot braids hairstyles for black men.
Long Intricate Cornrows
Want something more fun and eye-catching? You can try these intricate cornrow braids hairstyles for black men.
Long Pulled Back Dreads
If you want a combination of the ponytail hairstyles for men and dreadlocks this is a great option. The hair is pulled back from your forehead at the front and then braided like usual.
You can choose to add corn rows at the ends or keep them as dreads. This style goes well with shaved sides as well.
Long Black Micro Dreads
This is a fantastic hairstyle for black men with very long hair. It not only keeps your long hair manageable but also protects it from damage and breakage.
The micro braids are uber stylish and do not require much maintenance.
Who can sport a braid hairstyle? 

First things first, a must for braids is long hair. If you don't have long hair, you can forget about having braids. If you have short hair, your braids won't stand.
This is a big concern for people with short hair. The only way to kill it with braids is to have long hair. You need at least 3-inches of hair for you to sport braids comfortably. If you want other styles, then you need a lot more hair! 

Generally, straight hair is most coveted as it can be styled in various different ways. But when it comes to braids, the perfect hair types are wavy and curly hair.
Straight hair, more often than not is too smooth for braids and for braids you need a bit of friction and angles for holding. 

Lastly, your hair quality should be impeccable. This is a type of hairstyle that is not well suited for poorly maintained hair or low-quality hair. If you have a receding hairline, then don't go for braids.
Braids kept on for months on end can really damage your hair, so if you have a problem of hair fall, then skip this hairstyle completely. 
The truth of the matter is, there are braids of all types. There are braids for black men and then there are braids for white men too. Without too much cultural appropriation, you can pull off some good looking braid styles!
Also Read :
Coolest Bob Hairstyle with Weave
Long Length Hairstyles for Men
Best Hair Vendors on Aliexpress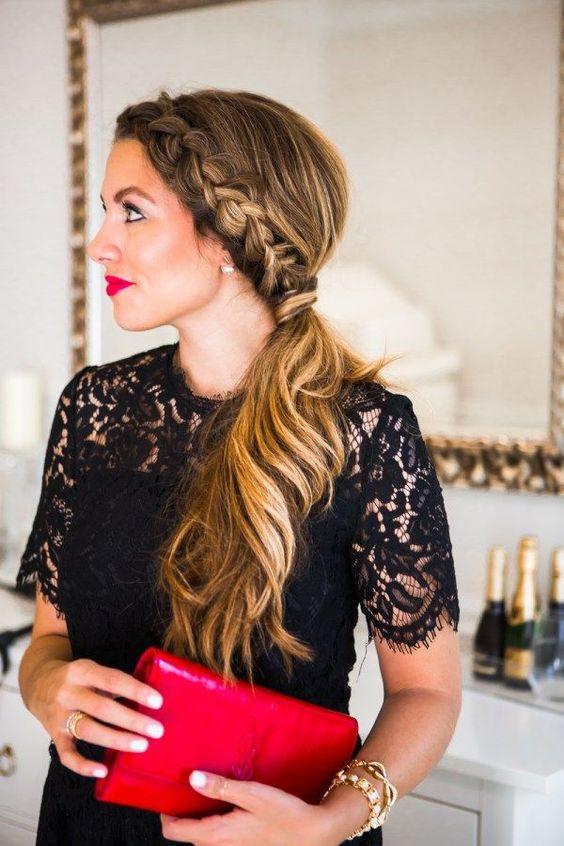 From hair care to soaring hair trends, we cover it all. We make sure you nurture your hair and stay on board with hairstyles and new hair trends. So hop on and make every day count with some of our creative and sassy hair trends.