Relaxed hair does take away the stress of dealing with knots and twists, and gives you a sleek and smooth look. But, relaxed hair also needs to be taken care of with the right shampoo to ensure that you don't end up with dryness and split ends. Relaxed hair requires the right amount of hydration and nutrition, while also getting rid of unwanted oil and dirt, giving you the dreamy locks you desire. Read on for the reviews of the best shampoos for relaxed hair:
Top shampoos for relaxed hair 2021
#1- Pantene Moisturizing Shampoo
When it comes to shampoos for relaxed hair, don't be afraid to try out some of the regular drugstore brands like Pantene.
The Moisture Renewal Shampoo by Pantene contains Protein and vitamin B5 to build back the strength of the hair and nourish it.
It moisturises the hair, replenishes the oil in the scalp and helps revive dry and lifeless hair.
It protects the hair from environmental damage due to exposure to heat and dust. Pantene also has a conditioner that goes hand in hand with this shampoo, which also intensely moisturises and helps lock in the hydration.
You will find that your hair is softer and smoother, soon after your first use.
Tips
Moisturize your hair and comb it and then wash it off with a good conditioner for relaxed hair.
#2- Paul Mitchell Tea Tree Special Shampoo
Relaxed hair needs a shampoo that gets rid of all the residual grime in the scalp, and protects it from dandruff and other infections.
Paul Mitchell Tea Tree shampoo is an excellent choice for cleansing the scalp and giving you a refreshing, tingling feeling.
Tea tree has good anti-fungal properties that keep away dandruff, balance the oil production in the scalp and keep acne and rashes at bay.
If you struggle with itchiness, this shampoo will offer you great relief. It is free of toxins and parabens, and very safe on your skin.
Tips
Since this shampoo is enriched with tea tree oil, you can leave it on for a while and then wash it off.
#3- Neutrogena Anti-Residue Clarifying Shampoo for relaxed hair
A clarifying shampoo is a good option for cleaning relaxed hair. While many clarifying shampoos might be a bit drying, Neutrogena Anti-Residue Clarifying Shampoo is just the opposite.
It can be used on any type of hair and it effectively cleanses the scalp, getting rid of residue built over the years.
It makes the hair visibly shinier, more lustrous and silkier. With no artificial colourants or dyes, this is safe on your scalp.
This is a shampoo that you can use probably once a week, along with your regular shampoo to maintain a squeaky clean scalp that will help the other hair products work better.
#4- BOTANIC HEARTH Argan Oil Shampoo for relaxed hair
Argan oil is quickly becoming the "go-to" ingredient in many hair and skincare products, and for good reason.
Argan oil is full of fatty acids that moisturise the hair while the vitamin E in it acts as an anti-ageing element to slow down the ageing process.
Botanic Hearth Argan Oil shampoo above and beyond just the argan oil and contains plenty of other ingredients like coconut oil, camellia seed oil and castor oil that intensely moisturise your hair, makes it softer and shinier.
These oils also renew the shine, glossiness and put the life back into your hair.
#5- Biotin Shampoo for relaxed hair
There is nothing Biotin can't do when it comes to helping revive dry and damaged hair. Relaxed hair, when not cared for properly can sometimes end up dry, lose its shine and with split ends.
You might also have the problem of dandruff in your scalp. Biotin shampoo handles all of this with its added provitamin B5 and rich botanicals.
These not only efficiently get rid of dandruff and relieve you from an itchy scalp, but also protect the hair from more damage, strengthen the hair and reduce hair loss due to breakage.
Biotin also stimulates the follicles and encourages the growth of hair.
Tip
Use this on alternatively and leave it on for about 10 minutes.
#6- Bellisso Argan Oil Sulfate Free Shampoo for relaxed
Sulphate is one of the ingredients in regular shampoos that can dry out the hair. It can also strip the hair off of its keratin coating. Try the Argan Oil Sulfate Free Shampoo by Bellisso for some wholesome nutrition and protection for your relaxed hair.
This shampoo contains moroccon argan oil to infuse your hair with moisture, and strengthens it with silk protein.
It also contains Vitamin E and collagen, two ingredients that are responsible for the elasticity, strength and youth of your hair.
These ingredients safe guard your hair from environmental damage and help it stay soft and gorgeous.
#7- OGX Anti-Breakage shampoo
One of the most recommended and popular shampoos for chemically treated hair is OGX. Though there are plenty of shampoos in the range by OGX, our pick for relaxed hair is the Keratin oil infused Anti-breakage shampoo.
No brownie points for guessing that "Keratin Oil" stands for Keratin and Argan oil, the two popular ingredients you should be using to strengthen your skin while also moisturising it.
The keratin also smoothens the hair, removing frizz and helps the relaxed treatment of the hair.
Hair feels more elastic and resilient, and you see a lesser amount of hair left back in your hairbrush.
#8- PURA D'OR Hair Thinning Therapy Biotin Shampoo
As important as it is to ensure that your nutritional intake of food is right, it is also equally important to ensure that your hair is receiving the nutrition it requires topically. Pure D'or hair thinning shampoo gives your hair the biotin it requires to build strength, stop hair fall and stimulate hair growth.
It also contains aloe vera to cool the scalp, reduce inflammation and redness while also moisturising it without making it too greasy.
As a result, you notice in a few washes that your hair feels thicker, shinier, softer and well hydrated. Even if you start with split ends, the aloe takes care of it.
Tips
Massage your hair with this shampoo for about two minutes and then wash it off.
#9- Moroccanoil Clarifying Shampoo
Moroccanoil is another popular brand widely recommended for gentle cleansing and protection of the hair and scalp.
Choose the clarifying shampoo for a super clean scalp to rid it off all the build up grime and gunk gathered in it.
This amazing shampoo almost immediately makes your hair feel free and weightless, with a healthy gloss to it.
It is free of parabens, colourants, and phosphates, so you can safely use this once a week. It is also a sulphate free shampoo, so your hair does not feel too dry after you use this.
#10- Carol's Daughter, Coco Creme shampoo
If your relaxed hair is feeling dryer and dryer day by day, you have your solution in the form of the Coco Creme shampoo by Carol's Daughter.
A beautiful blend of coconut oil and mango butter, you will be welcoming the tropical island of Hawaii into your shower.
Coconut oil not only moisturises but also has the unique properties of stimulating cell regeneration.
This means that your hair and scalp can heal, inflammations are reduced and you can enjoy softer and silkier hair.
Mango butter, along with the murumuru butter, hydrates the hair and infuses it with its fatty acids.
#11- Nairobi Normalizing Shampoo for relaxed hair
Nairobi Normalizing Shampoo is a mix of clarifying shampoo and balancing shampoo. It helps balance the alkalinity of the scalp and restores its natural pH levels, while also removing impurities and dirt.
The clarifying aspect of the shampoo relieves the scalp of build up and mineral deposits from previous shampoos and hair treatment products.
These could dry your hair and leave it flat and lifeless if not removed from time to time. This brand may not be as popular as the other professional or drug store brands but it is worth a try as it delivers the desired results.
#12- MIZANI Thermasmooth Anti-Frizz Shampoo
Mizani Thermasmooth Anti-Frizz Shampoo is one of the most efficient shampoos you can use for relaxed hair as its formula gets rid of the frizz and helps tame even the wildest of tresses.
It contains coconut oil that soothes the scalp, intensely moisturises it, helps it heal from bruises and inflammations, and encourages blood circulation.
Coconut oil also stimulates cell regeneration and the growth of new hair.
It also contains ceramides that do a good job of hydrating and softening the hair, thereby also smoothing it down.
This conditioning shampoo cleanses completely and leaves your hair feeling and smelling great.
#13- Nexxus Keraphix Shampoo
Using a shampoo meant to revive damaged hair is always a good choice for relaxed hair. These shampoos contain extra vitamins and ingredients that infuse your hair with more moisture, to replenish and revive it, compared to regular shampoos.
The Nexxus Keraphix Shampoo is our suggestion for relaxed hair as it contains keratin protein and black rice for strengthening your hair.
Keratin also coats the hair with a layer of shine and reduces the frizziness, apart from strengthening the strands.
Black rice contains the all-important vitamin E to protect your hair from damage caused by environmental heat and pollution.
#14- Gold Series from Pantene
Your hair deserves nothing less than gold, and the Pantene Gold Series is a good place to start.
Moving away from the regular drug store brand image, this range of paraben-free and sulphate-free shampoos by Pantene is free of artificial dyes, and deeply moisturising as it is infused with argan oil.
This is a co-wash, which is a combination of shampoo and conditioner that is to be used in between your weekly regular shampoos.
Your hair turns noticeably silky and sleek, easier to detangle and a lot healthier. It is super gentle on the hair and puts life back into your locks.
#15 – Design essentials peppermint shampoo
Design essentials is a renowned brand that works wonders for all hair types.
This peppermint shampoo makes sure your scalp is clean while also nourishing your ethnic hair in the relaxed form.
The pyrithione zinc works wonders in nourishing and strengthening the strands and giving it more silk and shine.
The only drawback about this shampoo is that its not easily available.
How often should relaxed hair be washed?
Relaxed hair cannot be washed the same number of times you wash regular hair since this goes through a brief method to appear such. So washing you hair once a week would be right to maintain your relaxed hair while cleansing and keeping your scalp clean and neat.
How to grow relaxed hair?
Relaxed hair is harder to maintain, I'll give you that. With all the chemicals and arrangements done on your hair strands, sometimes there is too much pressure on your hair strands and how they tend to grow. I have some hacks for you that will increase the growth rate of your relaxed hair.
Apply coconut oil to your relaxed hair before you shampoo it. Massage it for about 5 minutes and leave it on. Like it does with normal hair, coconut oil has the ability to make the hair thick and lush and gives your hair strands more strength and thickness.
Spread out your hair strands every now and then. Giving your hair strands space and allowing them to grow separately is an important part of maintaining and caring for your relaxed hair. You can get on it when you are sitting idle or even just before a shower. I like to do it when I have my conditioner on so that the hair strands are separated.
How long after relaxing hair should you wash it?
I'd say one week is a good duration for the relaxer to seep into your hair strands. Not that immediately washing your hair after getting a relaxer on is going to ruin it but I'd say you should wait for the chemicals to settle in so that it stays longer. Once the chemicals get attached to your hair strands your relaxed hair will be in better form and condition to remain like that for a long time.
My relaxed hair is always dry. What should I do?
Apply a moisturizer to your hair and do this process often. Deep conditioning of your relaxed hair every once in a while will also help keep your hair nourished and silky smooth. Due to the chemicals and other aspects of the relaxing process, it can be tough to keep your hair hydrated, these simple steps will help take the pressure off of your hair.
Also read
Maintain your colored hair with these dry shampoos
Hair mousses for wavy hair that you need to buy
Maintain your balayage hair with these top shampoos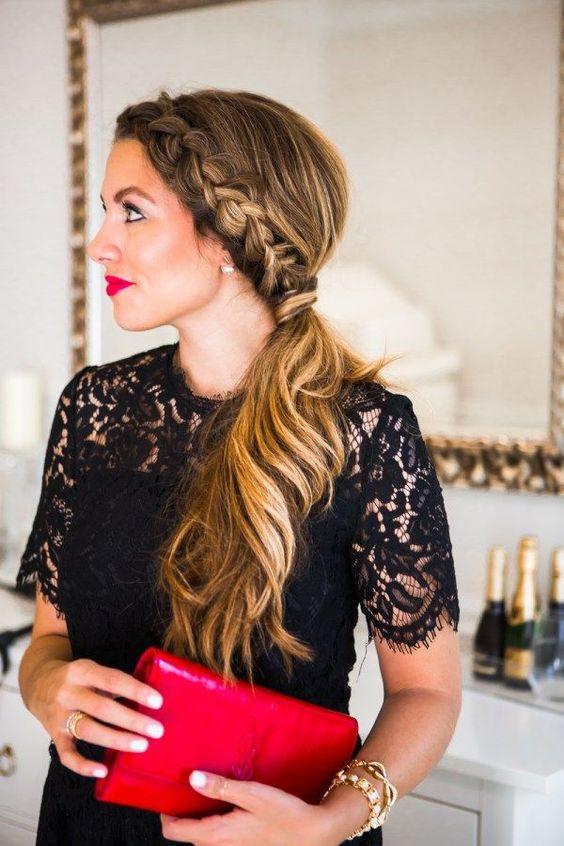 From hair care to soaring hair trends, we cover it all. We make sure you nurture your hair and stay on board with hairstyles and new hair trends. So hop on and make every day count with some of our creative and sassy hair trends.