Got that weave? Here are some middle part weave hairstyles you can try with your new hair wigs!
You don't need to have the hair of your dreams before you can create a certain celebrity look that you fell in love with.
Thanks to weaves, you can sew-in hair and make it look like your natural hair while showing off new and trendy hairstyles whenever you want.
Middle part weaves have a great potential and depending on the type of weave, you can create hairstyles that suit your personality and create your unique style. Here are some middle part weave hairstyles to inspire you.
Top Middle Part Weave Hairstyles
Short natural curly weave
The middle part can be playful like in this hairstyle. This short and natural curly weave gives your hair the extra bounce and fun element to your style. You can leave the deep waves as they are. Or if you want to get creative, you can loosen them up more so they appear more natural.
The black and short curly hairstyle suits all occasions as you can wear it to a meeting or to Disneyland! It is low maintenance too which is great because you can just sew it in and then forget about it. Enjoy the whole day without worrying about your hair. It doesn't get more effortless than this one.
You can even add accessories just as a bandana or a sparkly headband to complete the look if you want to elevate this style even further. Leaving it as it is will also look stunning on you. This weave doesn't shed and you can even dye it to your preference.
Dreadlocks weave
The middle part isn't as visible in this dreadlocks weave but it is subtly hiding underneath all that gorgeousness. If you want to experiment with dreadlocks then try this weave which nearly reaches the waist.
The three-colour ombre looks stylishly sleek and chic giving your hair incredible colour and depth. The dreadlocks look neat and while they look pretty heavy, they are actually quite lightweight. You can easily work with them to create a braided hairstyle too.
Or you can leave them open and add beads to some of the locs for a more glamorous appeal. You can even use it for daily wear if you wish. They don't require too much maintenance which is best for those who want this look every now and again.
Short spiral curls weave
Want to get short spiral curls without chopping your hair? Then get this weave which looks really natural and cute. You can style it with a side part as shown or you can create a simpler look with a middle part. These spiral curls hairstyle is unapologetic and oozes style.
This weave comes in natural black colour but you can bleach it or dye it with your favourite shade to go for the look you want. Some options are red, purple, and blonde. You can leave the spiral curls as they are and sew them in or you can break them apart for a messier curly hairstyle look.
You can even make a middle part and then take one section from each side to tie it at the back. If you want to curl it even further or if you want it a little wavyer rather than curly, then you can do so with ease too.
Short waves with bangs
This wine-red weave with short waves and bangs is a style that is always in season. The bands will cover your forehead and they look naturally styled. You can use your fingers as a comb and make them a little messier
The beach waves go well with a range of styles such as with summer dresses or official meetings. This colour and style go well by itself but you can take it even further by adding hair accessories if you are attending an event where you want to shine like a star.
This weave can be washed and you can even use heat to straighten it and turn it into a straight weave with bangs if you wish. The weave comes with a middle part but you can still change it up and make it into a half-up and half-down hairdo.
Wavy weave
For those who like to try different hairstyles every now and then should get this weave. This loose waves weave can be easily installed onto the scalp and instead of going for the middle part look you can try the double knot hairstyle.
This means, one knot on each side of your hair while the rest of the wavy hair is left flowing. This wavy weave is long and pretty. If you want to try Rapunzel hair then you should try this wavy weave. Even if you have wavy hair this can add more volume for those days when you want to stand apart.
The wavy weave is natural-looking and as you can bleach it to your preference, you can turn it into the shade you want. You can even try highlights on this weave for a more fashionable take on the weave and it will look marvellous.
Layered Middle Part Weave Hairstyle
Layered hairstyles can put life into lifeless hair. If you already have hair you love but you want to experience the layered effect, then try this weave. This ash blonde weave is a sun-kissed beauty that looks beautiful without being dramatic.
As the weft is tight, it ensures the hair remains in place at all times after you install it. It will look best if you have a middle part and then add this weave to your natural hair if it is ash blonde. You can create a range of hairstyles with this but letting it do its magic is fun.
This layered weave does not shed and it is tangle free making it easy for beginners to handle and use as well. Layered hairstyle is a hairstyle that is popular among celebrities and if you want to look like a glam diva then definitely check it out.
Long straight weave
Hair that falls straight down is mesmerizingly breathtaking. This long straight weave with a middle part looks glorious by itself. It is shiny and looks absolutely natural. Plus it is the way to go when you are giving off boss vibes.
The long straight hairstyle is thick and silky soft which makes it work with minimal makeup too. It doesn't have any split ends either making it seem like you have long lustrous and shiny hair. It is quite easy to manage when left open but you can always tie it in a low ponytail by using the hair.
This middle part straight hairstyle is suitable for anyone who dreams of long hair but doesn't have the patience to let their hair grow. Plus not all of us are lucky to have hair that grows fast! As you can dye and bleach this hair, you can get super creative with the colours you want on your hair.
Fluffy shoulder-length weave
Want something that is simple yet ultra-modern? If you love voluminous hair then you must try this fluffy shoulder-length weave. It is a middle part hairstyle and it makes your hair look even more stunning and natural.
If you have super short hair then you can get this weave to make your hair fluffier and cuter. The weave is pretty easy to work with but if you are a beginner, it is best to ask your stylist for help to ensure the weave gets installed properly.
The fluffy middle part hairstyle is great on its own. However, if you don't want the hair to have a mind of its own then you can use a hairband or use clips to keep back hair that is closest to your face. The hairstyle will look good on anyone.
Long curly weave
How can this list be complete without a long curly weave hairstyle? This ombre brown curly hair looks appealing and stylish. The long flowing curls look phenomenal and they suit everyone. Curly hair is like the universal hairstyle that looks amazing on every individual.
You can style it with a middle part so the curls fall equally on both sides. These curls are somewhat tight and they are also shiny which makes them appear healthy and gorgeous. It will look incredible when paired with a bow-shaped hairband or headband.
Want to look effortlessly chic? Then leave the hair open without any extra effort and the hair will do the talking for you. You can easily make a messy bun if you don't want to leave it open and even a waterfall hairstyle will do justice to this hair.
Middle part weave hairstyle is the best if you want that neat and tidy look. It pairs well with short hair, long hair, and medium hair.
It goes well with bangs or no bangs hairstyles too. Whether you are opting for a straight hair weave or tight curly hair, the middle part hairstyle will do well with them all.
You can easily switch it up by changing your hairstyle or adding colour. Which middle part hairstyle do you want to try? 
Also Read:
Stylish quick weave hairstyles
What Is An Invisible Part Weave
Coolest bob hairstyles with weave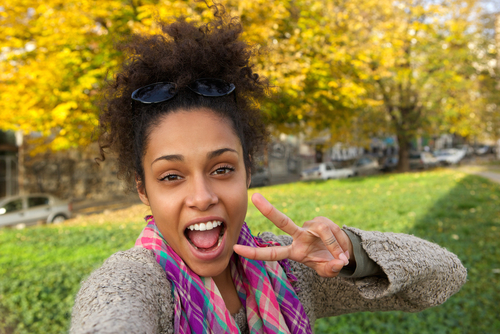 Helen is committed to bringing you the latest popular hairstyles, hair care tips, and hair-related products. You can check more of her work on besthairlooks to find fashion inspiration, product reviews, tutorials and more!