Thinning hair should be cared for in a lot of different ways.
But what do you do when you want some temporary yet effective alternative to that? Enter clip in hair extensions for thin hair. 
Related: Best hair extensions for thin hair
Related: Best hair extensions for festival
Related: Best hair extensions for braids
Attaching clips in hair extensions for thinning hair is the best choice if you have thin hair since they do not harm or damage your hair in any way.
There are some really gentle and cool looking extensions that are made for thin and fine hair which work wonders in allowing you to experiment with different hairstyles while also tending to your hair. 
Top Clip In Hair Extensions For Thin Hair
Check out some of the best clip in hair extensions for thin hair and our reviews below:
My Fashion Hair Brown Clip In Hair Extension
My fashion has some of the best clip hair extensions that you can find online.
Lucky for you, these are available on Amazon itself so the whole process got a lot easier.
The brown clip in hair extensions are remy hair and are of great texture since it is soft and smooth and can be worn with women who have brown hair. 
Or if you are looking to get creative and mix up the colors, go ahead and wear it with black hair as well.
We love the fact that these clip in hair extensions are tangle free which reduces a lot of stress on your side.
Tangled hair can break off and that can really affect the longevity of your hair wig.
They are delicate when attached to the hair which does not allow you hair to be affected in any way.
Pros:
High quality,100 percent human hair
Comes in different colors
Cons:
Too fine, so you might need a lot of bundles
Clip is a bit chunky
La Betti Platinum Hair Extensions
Platinum blonde hair is rare and is something you can obsess over for how elegant it looks!
The clip in hair extensions of the same shade are no exception either!
The platinum blonde hair extensions work so well with thin hair. La Betti has made sure that these hair extensions do not weigh heavy on your thin fine hair but instead hangs in gently without ruining the texture of your hair strands.
It comes with two wefts which makes sure it sticks on your hair without falling off.
The texture of these hair extensions is bouncy so it is sure to give your hair more texture and thickness as well.
These hair extensions last longer than others and are an excellent choice for those who would use this on a regular basis.
The only downside to this is that it can get frizzy when you wash the hair extension.
A solution to this would be to use the right hair spray suitable for hair wigs which will solve the issue and bring the texture back to normal.
Pros:
High quality Remy hair
Can be straightened, curled and permed
Affordable
Cons:
Can get frizzy when washed
You need more bundles to build volume
Licoville Balayage Clip In Hair Extension
We love balayage hair extensions just because it goes with all hair colors.
They are the most popular hair color that is used by women these days and we are loving it!
Licoville brings in texture and a favorite color of the mass with this hair extension allowing it to bring more volume to thinning hair.
The weight of these hair extensions is light and does not bring your hair strands down in any way.
It can be easily worn and removed without pulling out hair strands which is one of the major concerns women with fine hair might have.
They are Remy hair extensions which means it lasts long and also has a very natural look to it.
Even though they have 7 pieces in pack, it might not suffice for those who have extremely thin and fine hair.
Pros:
Natural looking
Lightweight
Doesn't pull on your real hair
Very affordable
Cons:
Not enough hair in one bundle
Color might vary depending on the bundle
Ve Sunny Dark Brown Hair Extensions
VE has brought out these Halo hair extensions as a relief to those who cannot find REMY hair easily.
They have a dark and intense brown shade which looks so cool on those who have dark hair which does not necessarily have to be black.
It blends in well with all hair types with how smooth and gentle it is.
Even though the one we have presented is brown, there are several colors that it comes with.
We think this is a safe choice for those who have fine hair since it does not cling on to the hair strands and can be taken off without much exertion.
They come at an affordable price and are easily available to everyone.
Pros:
Beautiful intense hair colors
Doesn't pull on actual hair
Affordable
Cons:
Ubetta Blonde Clip In Hair Extensions
If you thought styling on hair extensions is rare, it is because you missed out on Ubetta.
These blonde hair extensions from Ubetta come with ash highlights making your style even better!
These extensions are gentle on thin hair and gives you a soft feel when clipped on to the hair.
The hair of these hair extensions are made for styling and does not get affected with heat application.
They are very safe on the hair as they do not rip off the texture when it is being attached or removed from the hair strands.
The only con about these hair extensions is that you might need more than one pack to bring out a fuller texture.
Pros:
Good for highlighted hair
Can be permed and colored
Feel soft on hair
Cons:
Too little hair in one pack
Vario Blonde Balayage Clip In Hair Extensions
Here's another balayage hair extension for you!
Considering the significance of the color we have picked another one of our favorites from Vario.
They are made up of human hair and have a very natural texture which goes with different hair types without making an exception to those who have thin fine hair.
They are heat-friendly and do not change texture when they are straightened or curled. They make it easy for you to wear on your hair and remove it at the end of the day without affecting your hair strands.
Each pack comes with 7 pieces which is more than enough to give you a voluminous look.
The only thing that you might want to look out for is the availability of this product since it is hard to get.
Pros:
Heat friendly
Human hair
Lots of quantity in one pack
Cons:
Easyyouth Platinum Clip In Hair Extension
Easy youth has really hit the nail on the head with this hair extension.
It gives you a wide range of hair colors and hair lengths to choose from and make suitable for your hair type.
It allows you to flaunt your hair texture and gives you the best options.
We love how light these feel on your hair. This comes as an important feature to those who have really sensitive hair strands and cannot afford to use the slightest weight on their hair.
They only have single shade tones of hair extensions but we have got to admit that we love all
of them!
These can be styled very easily and do not ruin the texture of the clip in hair extension.
On the downside, these are priced on the higher side and might not seem affordable for those who are looking for rare usage.
Pros:
Lightweight
Natural textures available
Wide range of colors
Cons:
More Soo Ash Blonde Clip In Hair Extensions
These colored hair extensions from More Soo are for those who want to get more creative with their hair in spite of having fine hair.
Besides the blonde that we have for you, More Soo comes with a ton of other shades that work in the favor of our likes.
They come with stainless steel clips which are ever so gentle on the hair and do not rip the hair off. They are also super easy to handle when you clip it on and remove it.
These do not come cheap because of the variety it has but we would say it is completely worth it!
If you have very thin hair and are looking for something more voluminous, we suggest you get another pack of this.
Pros:
Stainless steel clips
Color-treated extensions
Cons:
Valiilo Brown Hair Extensions
Made with human hair and giving a natural texture to the hair, we love the fact that Valiilo is more than just about the quality of hair.
It comes with a lot of options that you can choose from including hair length and hair color which is important to consider when you are looking for clip in hair extensions.
They are lightweight and do not exert anything on your hair and can be worn with ultimate comfort.
Another major feature of these hair extensions is that they last long so it works if you want to wear it on a regular basis.
Pros:
Available in various sizes and colors
Do not snag or pull on hair
Do not get knotted or break easily
Takes heat styling
Cons:
Hair's too thin so you might end up buying more bundles
Having thin hair could be a real struggle for so many people given the constraints it has.
Clip in hair extensions for thin hair come as a blessing for those who want to turn those blues around.
They have a wide range of options you can choose from and best of all, it is completely safe to use on your hair.
The ones on our list have the right treatment on thinning hair and can be an absolute delight to those who have struggled finding their style. 
Also Read:
Best curling wand for fine hair
Best hair wig vendors on Aliexpress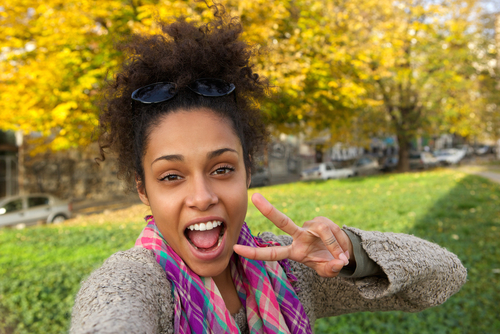 Helen is committed to bringing you the latest popular hairstyles, hair care tips, and hair-related products. You can check more of her work on besthairlooks to find fashion inspiration, product reviews, tutorials and more!