Mothers definitely experience a lot after giving birth to their child and there's really a lot of changes that are quite challenging. Some were changes in their mood and physical appearance just like their scars, hips might get wider than usual, which may be temporary or worse than that, is permanent. The same goes for your feet, and that happens during and after pregnancy. Hair loss is also one of the inevitable changes after the wonderful yet painful process of giving birth.
Hair loss really makes us all aghast, of course not just because of the mess of our multiple hairs on the floor but also it is one of the worries of a mother. Hair is one of the important things in our body, and it can lessen our appearance to others. Who wants to have thin, split ends and unequal hair, right?
Well, I want to help you all to stop that kind of problem of yours. Mostly, to those who are at the phase of their lives after childbirth or should I say, in their postpartum days.
Below are some shampoo brands that you should use and would absolutely lend you a hand and can save you from your sufferings as a parent because it can help you to prevent losing your hair.
These are the finest, top, and world-class shampoos that are truly worth the investment that you should probably buy if you want your hair to be nicer than ever! Let's start the list going and start adding these items to your carts.
Understanding Postpartum Hair Loss
Postpartum hair loss, a common phenomenon affecting many new mothers, is a temporary condition caused by hormonal changes in the body after giving birth. In this section, we will take a closer look at why postpartum hair loss occurs and explore various remedies and solutions.
Why Postpartum Hair Loss Happens
During pregnancy, elevated estrogen levels prolong the growing phase of the hair cycle, resulting in thicker, fuller hair. However, once the baby is born and estrogen levels start to decline, the hair shifts from the growing phase to the resting phase. This causes increased hair shedding, leading to postpartum hair loss.
It's important to note that postpartum hair loss is a temporary and natural process that usually peaks around three to four months after giving birth and lasts up to a year. By the time your baby turns one, your hair should have returned to its pre-pregnancy state.
Remedies and Solutions
Although postpartum hair loss cannot be entirely prevented, there are several remedies and solutions that can help in reducing the severity and promoting hair growth.
Maintain a Balanced Diet: Eating a balanced diet rich in vitamins and nutrients like iron, zinc, vitamin D, and biotin can stimulate healthy hair growth and reduce hair loss.
Gentle Hair Care: Avoid excessive heat styling and harsh chemical treatments, as these can cause additional hair damage. Use a wide-toothed comb and be gentle when brushing your hair.
Shampoo & Conditioner: Choose gentle, sulfate-free shampoos and look for ingredients like keratin, biotin, and zinc that can help strengthen hair and prevent breakage. Use a conditioner to keep your hair moisturized and prevent tangling.
Hair Supplements: Consider taking postnatal vitamins or specific hair supplements after consulting with a healthcare professional. These supplements can provide essential nutrients and promote healthy hair growth.
Hair Styling: Opt for looser hairstyles that put less strain on your hair, such as ponytails and braids. This can help to minimize breakage and hair loss.
Scalp Massage: Regularly massaging the scalp can stimulate blood flow and promote hair growth. You can use essential oils like lavender or rosemary for added benefits.
Stay Hydrated: Drinking plenty of water can help maintain overall health, benefit your skin, and promote hair growth.
Be Patient: Remember that postpartum hair loss is temporary, and your hair will likely grow back to its pre-pregnancy state within a year. Focus on caring for your hair and yourself during this time.
By understanding postpartum hair loss and employing some of these remedies and solutions, you'll be better prepared to manage and cope with these normal hormonal changes.
Top Shampoo for Postpartum Hair Loss
Postpartum hair loss is a common issue faced by many new mothers. As hormones rebalance after giving birth, it's normal to experience thinning and shedding hair. To help you maintain a healthy and lustrous mane, we've researched and rounded up the Top Shampoo for Postpartum Hair Loss. These specially formulated shampoos will not only combat hair loss but also nourish and strengthen your locks, giving you the confidence to rock your new-mom look.
PHYTO Phytocyane Fortifying Densifying Treatment Shampoo
Do you have hair thinning and breakage after giving birth? Phytocyane Densifying Shampoo is a good option for you. The shampoo prevents hair loss by making your hair healthier, denser, and stronger at the roots.
It also has a wonderful natural scent that is not overpowering. As a result, shampooing your hair becomes a relaxing hair spa break from your baby. It is precisely one of the finest things to buy especially after giving birth to your baby, to make your hair improve thickness, density, and luster of temporarily thinning hair due to stress, fatigue, diet, pregnancy, and hormones.
Key Features:
Brand: PHYTO
Hair Type: Thin
Liquid Volume: 250 Milliliters
Item Dimension: 6.89 x 1.65 x 6.89 inches
Pros:
Hair growth is stimulated.
Hair strands become more dense as a result of this treatment.
Hair thickness has improved.
A light, natural scent.
It's good for greasy hair and scalp.
Cons:
Can leave hair dry .
Expensive.
Oribe Gold Lust Repair & Restore Shampoo
After giving birth to your child, this sulfate-free shampoo is one of the finest and trusted products for preventing hair loss. In fact, it was produced specifically to address the problem of thinning, weakened hair, using hair development components such as BioRestorative Complex and Amino Acid Complex.
The shampoo promotes scalp microcirculation, increases oxygen intake, and stimulates hair growth follicles. It contains no parabens, alcohols, hormones, or harsh chemicals, making it totally safe for new mothers to use. It's also cruelty-free and vegan! This shampoo helps to prevent postpartum and age-related hair loss, leaving tresses strong, thick, and lustrous.
Key Features:
Brand: ORIBE
Scent: Cote d'Azur
Hair Type: Damaged
Liquid Volume: 8.5 Fluid Ounces
Item Weight: 250 Grams
Pros:
Shine your hair.
Vegan and free of animal testing.
Hair is moisturized without being oily.
Suits color-treated or keratin-treated hair.
Cons:
Not recommended for people who have dry scalp or hair.
Strong scent.
Expensive.
Marc Anthony True Professional Volumizing Collagen Bamboo Shampoo
Hair's thickness and shine, which are enhanced by the pregnancy glow, sometimes fade after birth. Only to be replaced by postpartum hair that is thin and fragile. This is where the Marc Anthony Bamboo shampoo comes in.
Biotin, silica, and bamboo extracts are included in the composition, which aid to add plumpness and shine to hair strands. In addition, the silica helps to keep hair fall under control. Another feature we appreciate about this Marc Anthony shampoo is how affordable it is. Furthermore, it lathers nicely without sulfates and in soft water. As a result, you get a lot of bang for your buck when purchasing this shampoo for your thinning hair.
Key Features:
Brand: Marc Anthony
Hair Type: Curly
Liquid Volume: 8.4 Fluid Ounces
Item Dimensions: 6.01 x 4.75 x 8.75 inches
Pros:
No sulfates and only mild surfactants are used.
Helps decrease hair loss.
Thickens hair.
Cons:
Expensive.
Perfumes and artificial coloring are present.
Ultrax Labs Hair Surge
Are you looking for a hair cleaner that is both purifying and beneficial to postpartum hair loss and thinning? Well, you're very lucky that you found this product! 'Cause, this is exactly what Ultrax Labs Hair Surge shampoo does.
Caffeine is the main element in this product, and it helps to promote and lengthen the hair development phase (anagen phase) in the follicles. After weeks of continuous use, your hair will be longer and stronger.
Caffeine molecules are also thought to prevent testosterone's effects, which are a key cause of postpartum hair loss. What we appreciate about this shampoo is that it contains ketoconazole and saw palmetto, both of which are anti-inflammatory and antifungal. If you also suffer from scalp issues such as itching, psoriasis, or dandruff, this Ultrax Labs shampoo is for you.
Key Features:
Brand: Ultrax Labs
Item weight: 8 ounces
Item Form: Liquid
Age Range: Adult
Pros:
Soothes the scalp.
Removes product build-up and oil from the scalp, detoxifying it.
Hair growth is stimulated.
Cons:
Too expensive.
Not suited for curly hair.
Not for dry scalps.
Pure Biology Hair Growth Stimulating Shampoo
Pure Biology Premium Hair Growth shampoo is one of the best shampoos to use if your hair is falling out after giving birth. Biotin, keratin, vitamin B, vitamin E, and natural oils like rosemary oil make up this nutritious blend in one bottle of shampoo. These ingredients aid in hair growth and prevent breakage-related hair loss. In addition to that, the shampoo contains DHT blockers such as saw palmetto extracts and green tea, which stimulate hair follicle growth.
Key Features:
Brand: Pure Biology
Scent: Citrus Lemon
Item Weight: 0.66 Pounds
Item Form: Liquid
Pros:
Cruelty and Paraben free.
Budget-friendly.
It suits all types of hair including straight, curly and even color-treated ones.
PURA D'OR Biotin Anti-Thinning Shampoo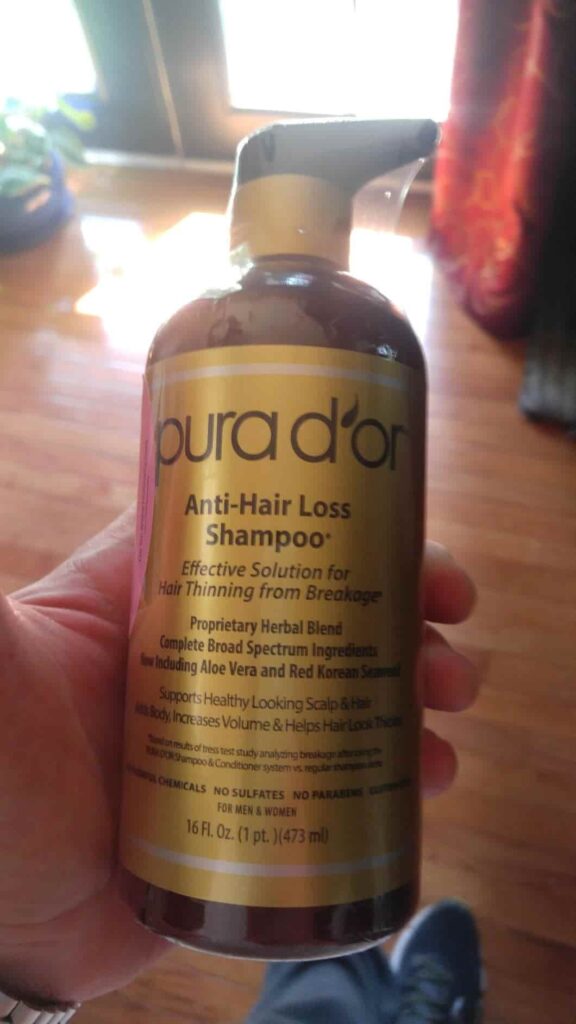 Wanting to have a product that contains all of your wants as a mom? Including, chemical-free formula that is gentle to your hair and also plant-based. Well, along with shining colors, this PURA D'OR Biotin Anti-Thinning shampoo passed all of your wants!
So no sulfates, phthalates, parabens, or preservatives are allowed. Biotin, argan oil, saw palmetto, nettle leaf extracts, and other natural compounds are also used in this item. This product can protect your sensitive scalp, and also contains 15 DHT blockers, which helps to promote hair follicle growth, and prevents hair loss.
Key Features:
Brand: PURA D'OR
Material type: Sulfate-free, Phthalate free, Artificial color free, formaldehyde free.
Hair Type: Thin
Special ingredients: Argan-oil, Biotin.
Pros:
All hair types.
Free to us either Men or Women.
Vegan and Cruelty free.
Cons:
Hair Restoration Laboratories Hair Restore Shampoo
This Hair restoration Laboratories Hair Restore shampoo, has 25% more DHT blockers than its competitors, making it an excellent shampoo for reversing hair loss and breakage.
Pumpkin seed oil, pygeum bark extract, caffeine, and cayenne pepper are among the active components.
This shampoo does not only increases hair follicle growth but also make strands grow thicker and stronger. Hair Restoration Laboratories' postpartum shampoo, like most others, is free of sulfates, silicones, parabens, and other unnatural chemicals.
Key Features:
Brand: DHT Halting Technology
Active Ingredients: Vitamin E
Material type free: Sulfate free
Age Range: Adults.
Item weight: 16 oz
Pros:
Effectively thickens hair.
Prevents thinning & hair loss.
Really does work well.
Cons:
OGX Thick & Full + Biotin & Collagen Shampoo
If you're on a budget, this is one of the finest postpartum shampoos for hair loss. OGX is now nearly a cult beauty brand, with a wide range of shampoos to address a variety of hair issues.
The nourishing blend of biotin and collagen in this OGX shampoo helps fill up those thin, fragile postpartum strands. The mixture is light and leaves your hair full of volume. But it's also a conditioning shampoo that hydrates your hair.
Key Features:
Brand: OGX
Item weight: 800 Grams
Material type free: Sulfate free
Hair Type: All, Color Treated, Curly.
Pros:
Can be used in different hair type.
Color protection.
Cheap.
Hairgenics Pronexa Hair Loss Shampoo
This shampoo can help with postpartum hair loss as well as a variety of other hair issues. It contains DHT blockers, which promote growth.Such a thing, this shampoo, on the other hand, goes a step farther by repairing thin, damaged hair at the cellular level.
Biotin, seaweed extract, saw palmetto extract, citric acid, and other nutritional ingredients are included. The shampoo enhances hair elasticity, strengthens strands from the cortex, and aids in the growth of thicker, stronger new hair with regular use.
Use the entire Pronexa Hair Care System, including it's Pronexa Hair Growth Supplement, for the greatest results, which feeds hair from the inside out to attain full, thick, and healthy-looking hair and stops hair loss and thinning in its tracks.
Key Features:
Brand: Pronexa
Age range: Adult
Item weight: 8 fl oz.
Pros:
Blocking for thinning hair.
Improves hair finestly.
Nioxin Postpartum Shampoo
Whether your hair is thinned after childbirth or for other reasons, this Nioxin Postpartum shampoo can help your hair to thicken and fullen in no time. This shampoo contains peppermint oil, humectants, and a variety of other botanicals and vitamins are among the constituents in this postpartum hair loss shampoo.
Toxins and product buildup are removed with this solution. It promotes new hair development by clearing channels for nutrients to reach hair follicles. It helps your hair to be better than ever after giving birth.
Key Features:
Brand: Nioxin
Scent: Peppermint oil
Item Form: Liquid
Product Dimensions: 3.39 x 2.87 x 10.63 inches
Pros:
Leaving hair grows healthier with body, volume, and shine.
Removing product build up, minerals, pollutants, and toxins.
Cons:
How to Further Prevent Postpartum Hair Loss
While postpartum hair loss is natural and nearly impossible to prevent entirely, there are several tips and best practices that you can employ to promote healthier hair and lessen the impact.
Healthy Eating Habits
Protein is the building block of hair. Including high-quality protein like fish, eggs, lean meats, and beans in your diet will contribute to healthier hair. Also, incorporate foods rich in Omega-3 fats (like walnuts and flaxseeds), biotin (found in eggs, nuts, and whole grains), and vitamin C.
Stay Hydrated
Water plays an important role in flushing out toxins from our bodies. Drinking ample water also helps keep hair hydrated and healthy.
Gentle Hair Care
Avoid tugging and pulling while combing or brushing. Use a wide-tooth comb to detangle wet hair and minimize hair breakage.
Limit Use of Heat Tools
High-heat styling tools such as curling irons or straighteners can weaken hair and promote hair loss. Try natural methods for drying and styling, or use heating tools on the lowest setting, if necessary.
Regular Scalp Massage
Massaging the scalp at least once a week increases blood flow and nourishment to the hair follicles, promoting hair growth.
Consider a New Haircut
Long hair tends to look thinner overall. A shorter cut can give the appearance of more volume, thus minimizing the appearance of hair loss.
Avoid Tight Hairstyles
Ponytails and braids may exacerbate hair loss by causing tension on the hair. Opt for looser hairstyles instead.
Regular Exercise
Regular physical activity improves overall blood circulation, which ultimately keeps the hair follicles active. Consult with your doctor to decide on a suitable postpartum workout regimen.
Adequate Rest
Rest is essential, particularly for new mothers experiencing postpartum stress. Getting sufficient sleep can help alleviate stress, thereby reducing hair fall.
Consult with a Professional
If hair loss continues beyond your baby's first birthday or if hair loss occurs in patches, it may be time to consult with a healthcare professional or dermatologist, as additional treatment may be necessary.
Remember, patience is crucial in dealing with postpartum hair loss. In most cases, your hair will regain its normal fullness within a year's time. However, these practices can help ensure you are doing everything you can to help your body along in the process.
Getting the Best Shampoo for Postpartum Hair Loss
Hold true, a lot of shampoos are the best in their brands ways. It is such a big help to us, especially to the newly-mothers who are suffering because they have to experience this kind of chapter in their life after a lot of pain while giving birth to their child. But, afterall agony can be replaced with joy, babies are blessings and as long as you're happy with it, nothing's difficult.
Just, always take care of ourselves, and choose what's the best for us. Choose what's the thing that could help us sort out our problems reminiscent of our shampoos. Buy the finest, trusted, good and high quality one's for your own good. 
Read More:
Types of Men Shampoo For Oily Hair
Types of Dry Shampoo for Keratin Treated Hair 2023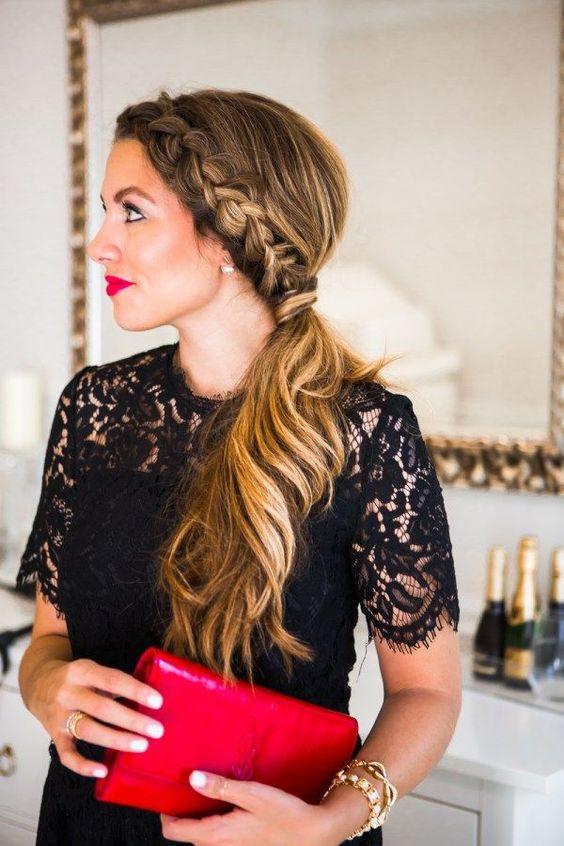 From hair care to soaring hair trends, we cover it all. We make sure you nurture your hair and stay on board with hairstyles and new hair trends. So hop on and make every day count with some of our creative and sassy hair trends.